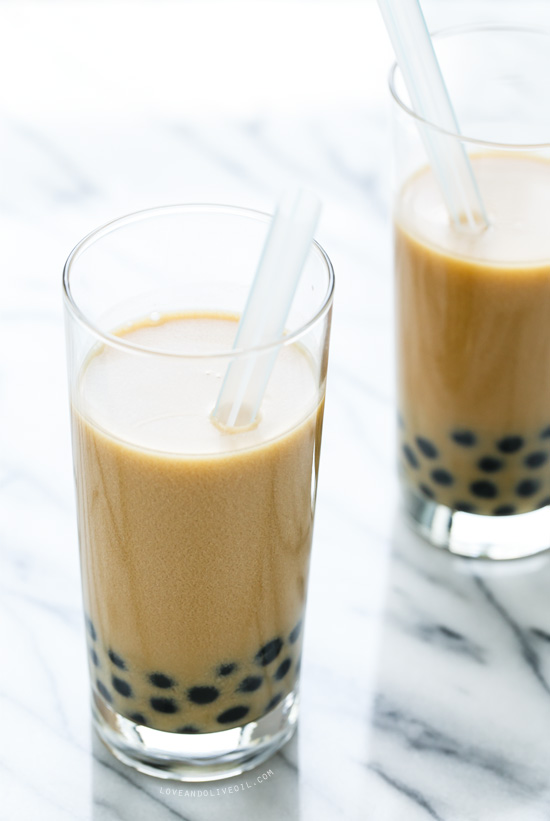 Bubble tea… love it or hate it, you have it admit it is pretty darn fun.
Typically a traditional Thai bubble tea is made with Thai tea mix (similar to black tea) and sweetened condensed milk, along with a base of chewy black tapioca pearls. This twist on the traditional was inspired by a drink I enjoyed in New York City earlier this summer (the same trip where I pretty much went on a passion fruit binge, sparking an obsession that won't likely abate any time soon).
The passion fruit adds a surprising brightness to the tea, slightly tart with a tropical tang that is offset perfectly by the creamy sweet tea.
This was my first time making boba at home, and I simply followed the package instructions, covering the pearls with a sugar syrup once they were tender, and you can definitely do the same (they are ready in about 10 minutes). I do recommend checking out Julie's instructional video on the subject, however, if you are looking for a more authentic texture from your tapioca pearls. Her process is slightly more complex but the results are well worth it.
For creaminess I added a splash of homemade almond milk (recipe coming soon!) Since it was homemade, I was able to use less water, therefore making the milk thicker and richer and more like heavy cream than the thin almond milks you can buy in the store. It was, to put it bluntly, incredible. I used the rest in my cereal and it was pretty much the most decadent bowl of Joe's Os I've ever had.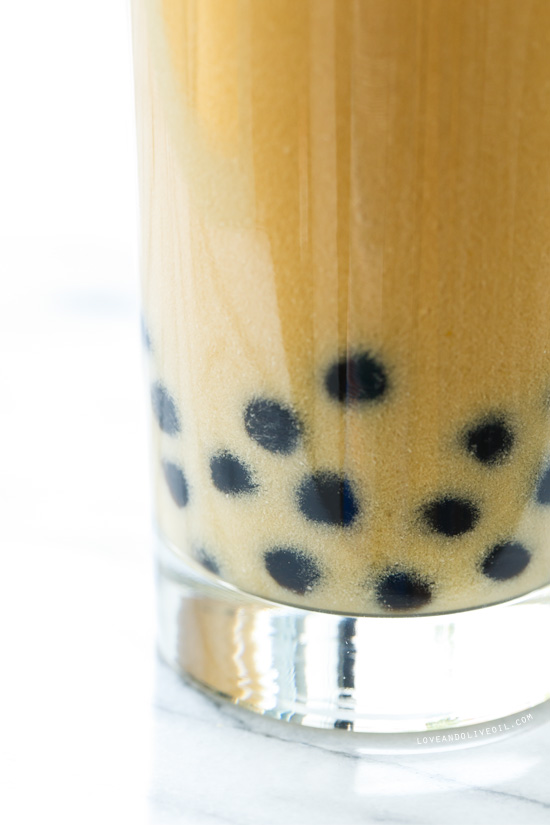 The passion fruit concentrate I used does give the drink a slightly curdled appearance, however it tastes just as smooth and creamy as you'd expect from traditional bubble tea. Something like a passion fruit syrup would probably produce a visually-smoother consistency, although who knows what sorts of chemicals make up the passion fruit flavors in that stuff. But I'm sure that's what the boba shops use in their flavored drinks, as opposed to, you know, real fruit.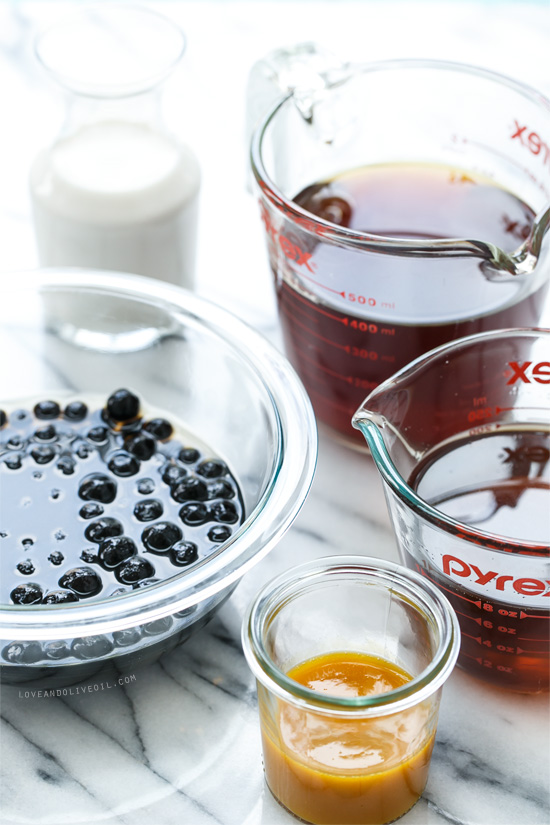 You could certainly make this recipe without the passion fruit for a more traditional thai tea. And while I used almond milk for an entirely dairy-free refreshment, you could use cream or half-and-half or even sweetened condensed milk in your own version. I don't think you can go wrong either way.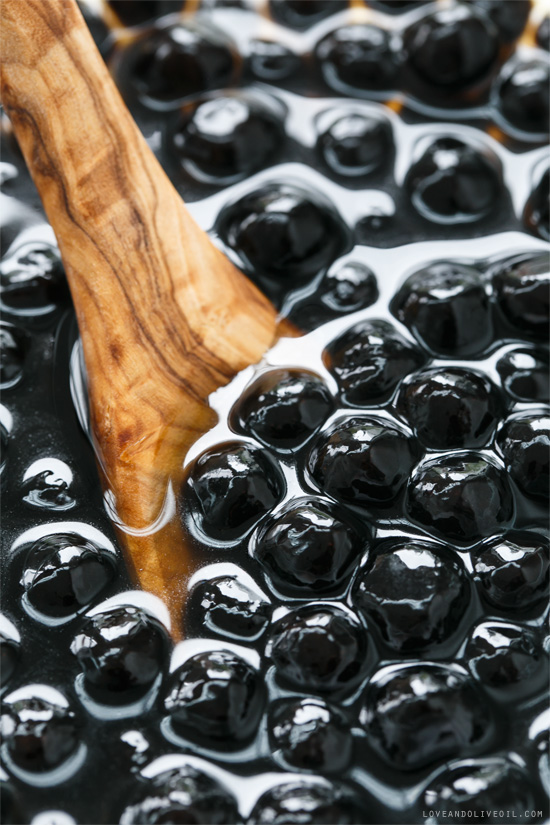 I was curious, though, what exactly IS boba? These black tapioca pearls look a bit like giant caviar. Or fish eyes. With a gelatinous texture that I know some people just don't like (I happen to love it, however!)
Tapioca itself is a starch extracted from the cassava root (a widely cultivated root that is a major dietary staple in many developing countries, since its basically pure carbohydrates). It's an incredible thickener, as I discovered in my cherry pie experiments, producing a filling that was practically a solid mass of gummy candy (obviously I used too much, but still, point made). Tapioca pearls are made by passing processed starch through a sieve under pressure. Black pearls are the most common, but you can also find white and pastel versions, all starting out opaque but turn shiny and somewhat translucent when fully cooked. The texture should be soft and only slightly chewy all the way through the center of the pearl.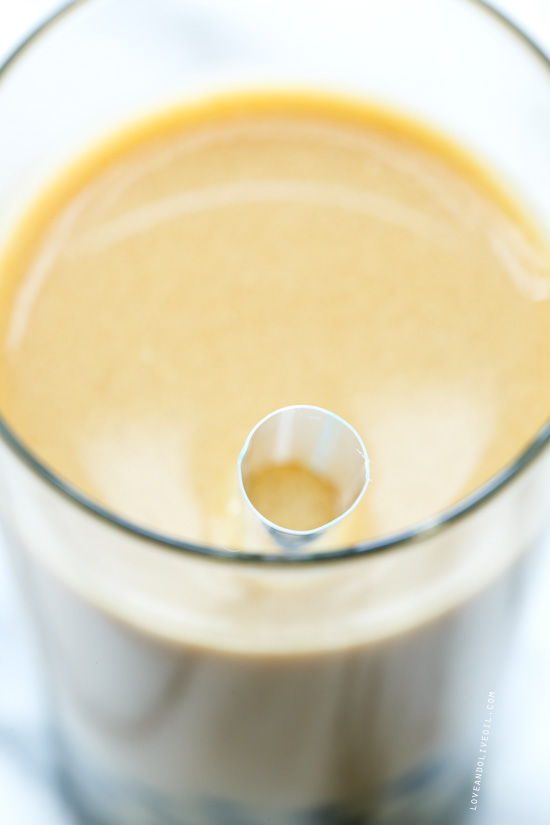 And don't forget your fat straws! It's pretty much the only way you can properly consume bubble tea, liquid, boba, and all (side note: they're also great for smoothies and milkshakes!)
Passion Fruit Bubble Tea
Ingredients:
1 cup tapioca pearls
1 cup natural cane sugar (or 1/2 cup granulated and 1/2 cup brown sugar)
6 bags black tea
4 ounces (1/2 cup) passion fruit concentrate
almond milk, to taste (alternatively you can use cream or half-and-half)
Directions:
Bring a large pot with at least 10 cups of water to a boil. Cook boba according to package directions (alternatively, Julie over at The Little Kitchen has developed an alternative method for cooking boba that she swears by. It's worth checking out if you are looking for authentic boba). Drain and transfer to a bowl.
Meanwhile, bring 1 cup water and sugar to a boil in a small saucepan, stirring until sugar is completely dissolved. Pour half of sugar syrup over boba, or enough to fully cover the pearls (reserve remaining syrup). This will sweeten and preserve the boba. Refrigerate until cool. (Boba are best enjoyed within a few hours of cooking, however they will keep in the syrup for a day or two. If they become hard and chewy, simply microwave the boba in the syrup for a minute or until soft).
Steep black tea in 32 ounces (4 cups) of very hot water for about 10 minutes (depending on how strong you want your tea). Remove tea bags and refrigerate until cool (plop in an ice cube or two to help speed up the cooling process.)
Just before serving, stir in passionfruit concentrate and 1/4 to 1/2 cup of reserved sugar syrup to tea (add more or less syrup to taste). Spoon boba into serving glasses. Fill glasses 3/4-full with tea mixture, then top off with almond milk or cream to taste.
Did you make this recipe?
Let us know what you think!
Leave a Comment below or share a photo and tag me on Instagram with the hashtag #loveandoliveoil.
*This post contains affiliate links.