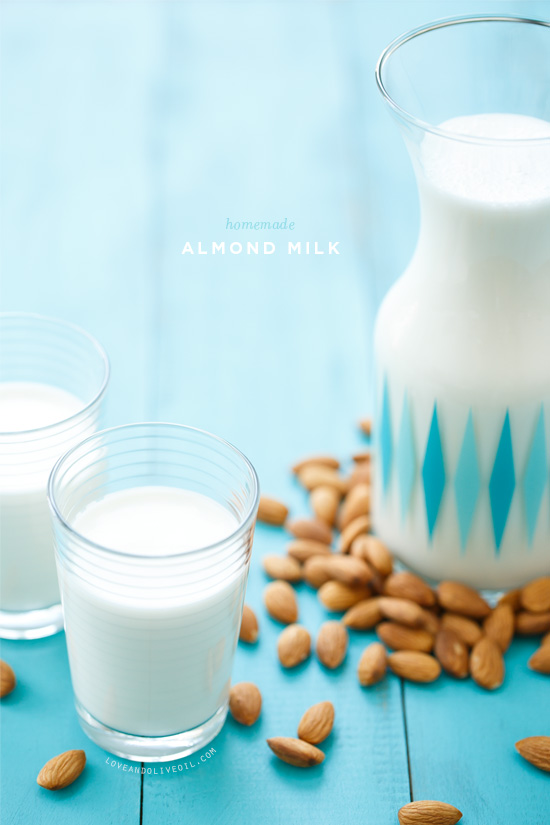 I adore almond milk. It's my preferred milk of choice for my daily bowl of cereal.
One time I accidentally grabbed the whole milk (that I usually have on hand for baking, mostly) and poured it into my cereal without even realizing. I've become so accustomed to almond milk that it was truly shocking, to say the least, and I could barely finish the bowl.
Recently I set out to make a homemade almond milk, as I wanted something richer and creamer than you can buy in the store. Turns out making it is surprisingly easy. I'm talking two ingredients. And one of those is water so it doesn't even really count.
And, get this, IT ACTUALLY TASTES LIKE ALMONDS. Shocker, I know. But once you taste fresh homemade almond milk, the store-bought stuff is basically water in comparison. Sure, you could add sugar, honey (or other sweeteners) or even vanilla extract if you like, but I found the flavor of the homemade version subtly sweet and perfectly flavorful on its own, and didn't feel any other additions were necessary.
The total amount of water you use in the recipe will determine the thickness and creaminess of your milk. If you plan to use it more like heavy cream or creamer (as in the Passion Fruit Bubble Tea I posted earlier this week) use about 6 cups of water. If you want to extend your yield a little bit and are ok with a thinner milk (more akin to store-bought or 2% milk), then use the full 8 cups of water.
The process of making almond milk is very similar to our homemade horchata recipe, just with entirely almonds instead of an almond/rice mix. And in fact, you could use this exact same process to make any kind of nut milk, including cashew, pecan, or pistachio (doesn't that sound amazing?)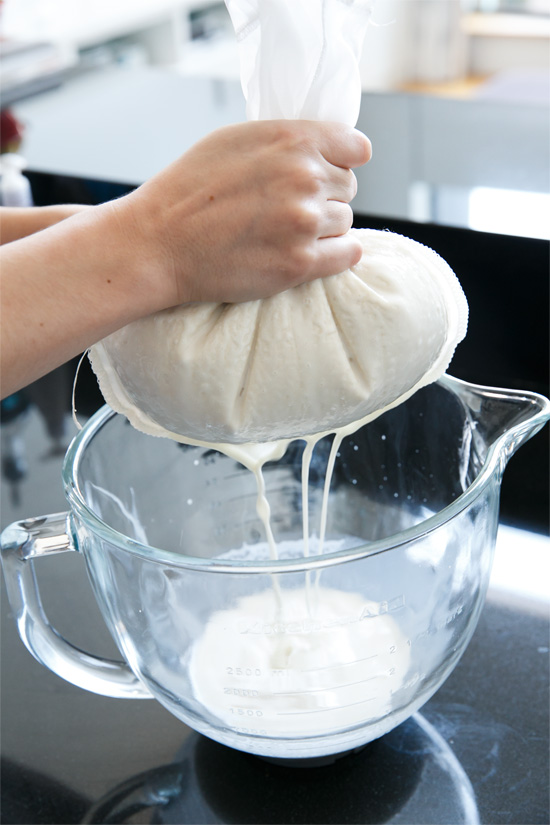 If you plan to make homemade almond milk on any semblance of a regular basis, I'd highly recommend purchasing something called a nut milk bag (yes, yes, I know, snicker if you must, but that's really what it's called). While you can use a cheesecloth-lined sieve to strain the almond milk, a nut milk bag is so much easier: you can literally squeeze every last drop of milk out of the almond pulp.
This is one of those recipes that is worthwhile to make homemade for sheer flavor alone. And if you are one to be wary of all those weird additives that come in store-bought almond milk, you'll definitely love this. I will say, however, that you definitely won't save any money making homemade, unless you have some super secret source of cheap almonds that I don't know about (and if you do, please share!) The best price I've found is at Trader Joe's, where you can get a 16oz bag of almonds for $5.99. Elsewhere they typically run about $7-$8 per pound, moreso if you buy whole blanched almonds. So it's easily twice the cost of store-bought almond milk, but I will say that this is one situation where it is entirely worth it.
Homemade Almond Milk
All you need for homemade almond milk is 2 ingredients: almonds and filtered water. The 'double blended' method I use ensures the maximum yield for every pound of almonds you use.
Ingredients:
3 cups (16 ounces) whole blanched almonds*
6-8 cups filtered water
Directions:
Place blanched almonds in a bowl or large jar and fill with filtered water until almonds are entirely submerged. Cover and refrigerate overnight.
The next day, drain and rinse almonds. Place in a blender along with 4 cups of filtered water.
Blend on high speed for 1 to 2 minutes or until smooth and frothy.
Pour into a nut milk bag or a fine mesh seive lined with multiple layers of cheese-cloth and place over a large bowl. Squeezing firmly, force out as much liquid as you can. Once you can no longer squeeze any liquid out, put pulp back in blender along with an additional 2-4 cups of filtered water (use less water for a thicker, creamier milk, and more water for a thinner milk more akin to store-bought). At this point you can also add any sugar, honey, vanilla, or other sweeteners/flavorings as desired. Blend on high speed for another 1-2 minutes, then pour into nut milk bag and squeeze out as much liquid as possible. Discard leftover pulp.
Pour milk into glass jars or other container. Cover and keep refrigerated for up to 1 week. Slight separation is normal, simply shake or stir before using.
*If using whole almonds with skins, you'll first want to blanch the almonds in a pot of boiling water for 20-30 seconds. Drain and rinse with cold water, then squeeze the almonds out of their skins. Spread out on a baking sheet and bake at 350 degrees F for about 5 minutes or until dried, then proceed with the recipe as instructed. To skip this step you can also buy whole blanched almonds online, although they do tend to be a bit more pricey.
Did you make this recipe?
Let us know what you think!
Leave a Comment below or share a photo and tag me on Instagram with the hashtag #loveandoliveoil.