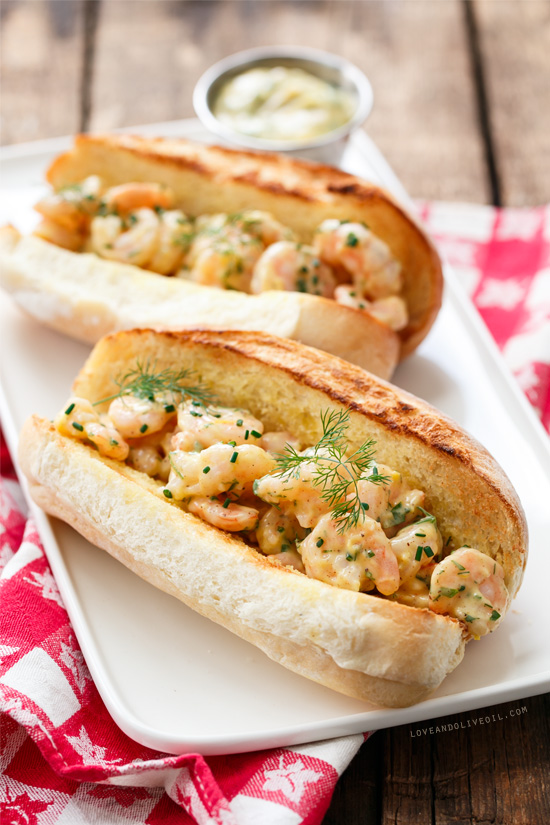 This is a poor-man's lobster roll. Not that we're poor, and not that shrimp is really all that cheap, but it's a heckofa lot cheaper than lobster and much easier to prepare too. So maybe it's more of a lazy-man's lobster roll than anything.
Poor and lazy aside, what makes this shrimp roll spectacular is the brown butter mayo, which truly is a revelation. Part mayonnaise, part hollandaise, if hollandaise were cold and made with toasted brown butter instead of just melted. It's tangy and buttery and speckled with fresh herbs like chives, parsley, and dill.
I figured, since lobster/shrimp rolls are usually tossed with mayo and drizzled with butter, that making a mayo with some butter mixed in would serve double duty.
I first tried making the mayo with all brown butter, replacing it 1:1 for the oil in a typical mayo recipe. The result, while decadently buttery, was almost too much so. It was missing the zip that mayo brings to the party.
The second try was more of a hybrid, incorporating some oil in addition to the butter to even out the flavor and keep the consistency soft, plus an extra splash of vinegar for kick.

If you've never made homemade mayonnaise before, you're in for a treat. An arm workout, yes, but a treat nonetheless. And if you're worried about the mayo breaking, just take some advice from that little blue fish and JUST KEEP WHISKING. Wait, that's not how it goes, is it? But in all seriousness, whisk like you've never whisked before. You can also do this in a food processor, however I found whisking to be more effective since my food processor doesn't do well with quantities under 1 cup.
Shrimp Rolls with Herb Brown Butter Mayonnaise
Ingredients:
For Brown Butter Mayo:
1/4 cup unsalted butter
1 egg yolk
2 teaspoons lemon juice
1 teaspoon white wine vinegar
1/4 cup vegetable oil
1 teaspoon chopped fresh chives
1 1/2 teaspoons chopped fresh dill
1 tablespoon chopped fresh parsley
1 teaspoon lemon zest
1/4 teaspoon salt
1/8 teaspoon freshly ground black pepper
For Shrimp Rolls:
1 1/2 pounds small shrimp, peeled and deveined
6-8 hot dog buns or potato rolls, buttered and lightly toasted
Directions:
Melt butter in a skillet set over medium-high heat. Continue to cook, whisking occasionally, until solids at the bottom of the skillet begin to turn golden brown. Watch this carefully, as the brown bits can burn if not closely monitored. Remove from heat and transfer to a heat-proof bowl or measuring cup. Let cool to room temperature.
Meanwhile, bring a large pot of water to a gentle boil. Add shrimp and boil for 3 to 4 minutes or until no longer opaque (slightly longer if using larger shrimp). Drain and chill until completely cool.
In a bowl, whisk together egg yolk, lemon juice, and vinegar until smooth and light yellow in color. Very slowly drizzle in vegetable oil, a scant teaspoon at a time, whisking vigorously until completely incorporated before adding more. These first minutes are crucial to forming a stable emulsion, so be sure to add the oil in the tiniest of drizzles, even drops at a time.
Once oil is completely incorporated, drizzle in cooled brown butter, whisking vigorously until thick and smooth. Stir in herbs, lemon zest, and salt and pepper to taste. Fold in shrimp until evenly coated.
To assemble, split buns (leaving a small hinge) and lightly toast. Spoon shrimp down the center of each roll. Top with additional chives or dill, if desired, and serve at room temperature.
Did you make this recipe?
Let us know what you think!
Leave a Comment below or share a photo and tag me on Instagram with the hashtag #loveandoliveoil.