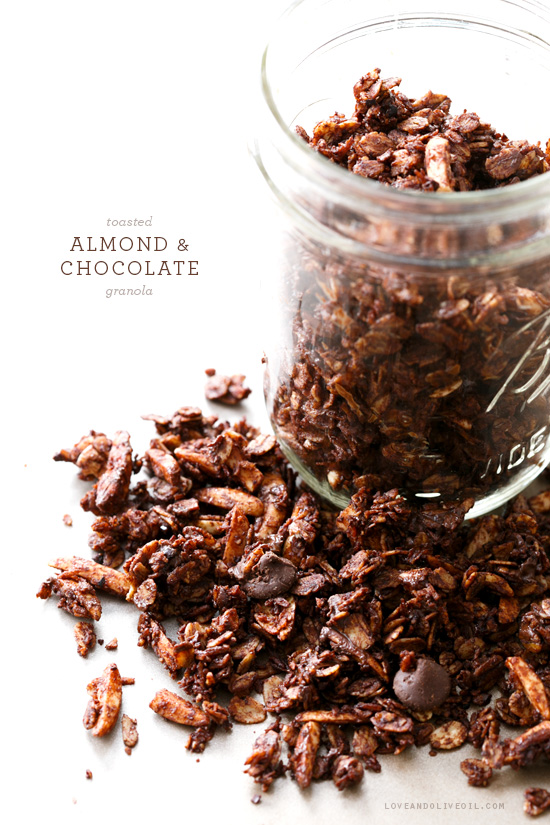 Is this breakfast? Or dessert? Or a salty sweet afternoon snack?
I'd argue all of the above.
This chocolate granola is sweet, but not too sweet to be eaten at sunrise with a dollop of vanilla yogurt and fresh fruit. It's hearty, but decadent enough to sprinkle over vanilla ice cream. And it's perfect by the handful when you just need a bit of a boost during the afternoon lull.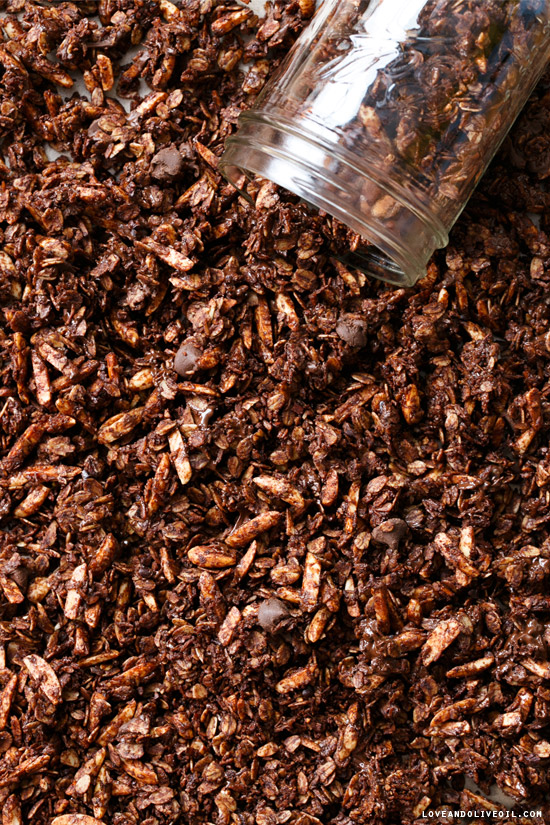 The recipe was inspired by a Trader Joe's product, although I have to say my addition of chocolate chips was nothing short of brilliant: they're added at the very end when the granola is just barely warm so they soften and stick into globs of granola gold (believe me, you'll find yourself digging for the chocolate globs like they were marshmallows in Lucky Charms).
The cocoa powder brings a rich chocolate flavor to the granola without added heaviness, and like my go-to granola (a recipe you can find in our book, where we use it in our chewy granola cookies) it's sweetened with nothing more than a little honey.
I also swapped out the vegetable oil here for coconut oil, which brings an added nuttiness, but not (for you coconut haters) a heavy coconut flavor. It's the chocolate and almond that take center stage here, with the oats, honey, and coconut simply along for the ride.
Toasted Almond & Chocolate Granola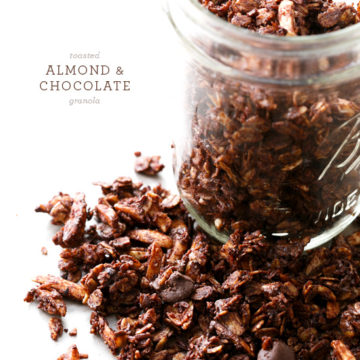 Ingredients:
2 cups old-fashioned rolled oats
1 cup unsweetened shredded coconut
1 cup slivered almonds
3 tablespoons cocoa nibs
1/8 teaspoon salt
1/2 cup honey
1/4 cup coconut oil
1/2 teaspoon vanilla extract
1/4 teaspoon almond extract
1/4 cup cocoa powder
1/2 cup chocolate chips
Directions:
Preheat oven to 300 degrees F. Line a baking sheet with aluminum foil; spray lightly with cooking spray.
In a large mixing bowl, stir together oats, coconut, almonds, cocoa nibs, and salt.
In a heatproof bowl or glass measuring cup, microwave honey and oil on high power until mixture is hot and bubbling, about 45 seconds. Whisk in cocoa powder until smooth. Stir in vanilla and almond extracts. Pour over dry ingredients and toss to coat.
Spread granola onto prepared baking sheet in an even layer. Bake, stirring every 10 to 15 minutes, until granola is fragrant no longer sticky, about 30 to 35 minutes. Let cool, stirring occasionally to break up the large pieces, for about 20 minutes. When granola is just barely warm, stir in chocolate chips. You want the chips to soften ever so slightly so they "stick" to some of the granola, but not melt completely. Granola will keep, stored in an airtight container, for up to 4 weeks.
Did you make this recipe?
Let us know what you think!
Leave a Comment below or share a photo and tag me on Instagram with the hashtag #loveandoliveoil.