If you thought cookie dough ended with chocolate chip, well, I'm here to tell you otherwise. There are as many different kinds of cookie dough as there are, well, cookies. And pretty much all of them can be adapted into a safe-to-eat-raw version, perfect for dipping and turning into truffles.
I've done chocolate chip. Mexican chocolate. Inside out (they're in the book). The basic recipe is so flexible and open to adaptations, the possibilities are endless. I envision snickerdoodle. Chocolate mint. Oatmeal raisin (minus the raisins, of course). Peanut butter with salted caramel (absolutely brilliant).
And now, gingerbread.
Just in the (Saint) Nick of time, too.
The recipe is a simple variation on the original, with added spices and molasses and dipped in white chocolate candy coating. Considering they were headed to the annual Nashville Food Blogger holiday shindig, the festive filling wasn't quite enough. So I pulled a jar of edible glitter out of my sprinkle drawer (or was it my sprinkle cabinet?) and dusted the tops of the still wet coating with fresh, glittery, "snow." I think they came out looking fabulously wintery. You could use holiday sprinkles of any sort for a festive touch (because everything is better with sprinkles, obviously).
Your holiday dessert table? Check and check.
Gingerbread cookie dough is entirely underrated, in fact, I'd argue that gingerbread cookie dough is even better than the cookies themselves (as is the case with most cookies; I think even Santa would agree with me here). But in this case, the dough itself is made from sugar and spice and everything nice, without a speck of raw egg and its associated risks and worries.
Make them now. You'll thank me later.
Gingerbread Cookie Dough Truffles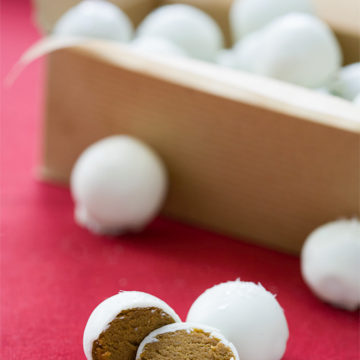 Ingredients:
1/4 cup unsalted butter, room temperature
1/4 cup unsulphered molasses
1/2 cup brown sugar, packed
1/2 teaspoon vanilla extract
1 1/4 cups all-purpose flour
1/2 teaspoon ground allspice
3/4 teaspoon ground cinnamon
1 1/4 teaspoons ground ginger
1/4 teaspoon salt
8 ounces white-chocolate candy coating
Directions:
In a large bowl, beat butter, molasses, and sugar with an electric mixer on medium speed until light and fluffy, 2 to 3 minutes. Mix in vanilla. Stir in flour, spices, and salt and mix on low speed (or by hand) until incorporated. If for some reason your dough is crumbly at this point, simply add milk or cream, 1 tablespoon at a time, until it comes together. Cover and chill dough for 30 minutes or until firm enough to handle.
Form dough into 1-inch balls and arrange them on baking sheets lined with parchment paper. Place sheets in the freezer for at least 15 minutes. Meanwhile, melt candy coating in a double boiler or microwave according to package directions, being careful not to overheat it. Using a fork or dipping tool, dip truffles one at a time in candy coating to cover. Tap fork on the edge of the bowl to shake off excess coating, and return truffles to baking sheets. Quickly top with decorative sprinkles or edible glitter (if desired), before coating sets. Truffles will keep, refrigerated in an airtight container, for up to 5 days.
Did you make this recipe?
Let us know what you think!
Leave a Comment below or share a photo and tag me on Instagram with the hashtag #loveandoliveoil.