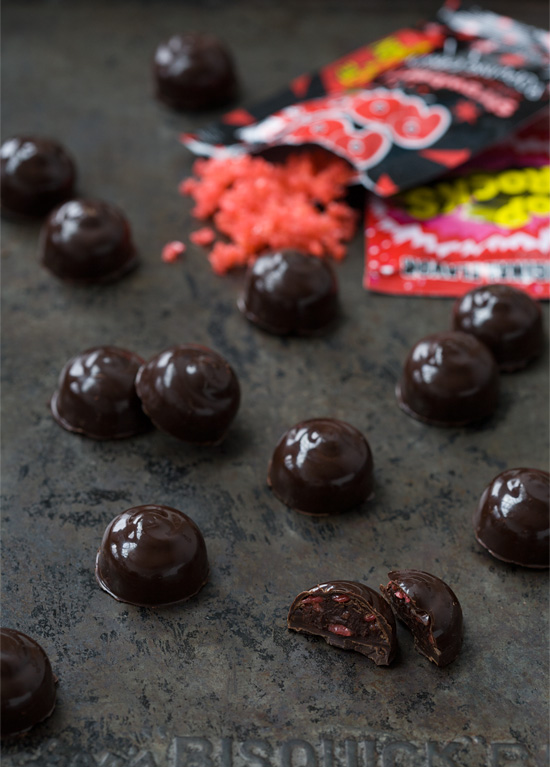 I will preface this post by saying this: if you don't like to smile, smirk, giggle, or grin, or if you can't stand the feeling of pure, child-like happiness, don't make these truffles.
Because the minute you rip open a bag of poprocks (and be honest, when was the last time you did this?) and the candy begins to crackle and pop, you won't be able to help yourself. When they continue to crackle as they are rolled around soft ganache, you'll smirk. And when you take your first bite of the finished truffle, well, you'll be grinning from ear to ear.
Talk about a flavor explosion.
Not to mention when you go to do the dishes, washing the candy remnants down the sink. Your drain pipes will sound like miniature fireworks. And, yes, you will smile. Again. While doing the dishes no less.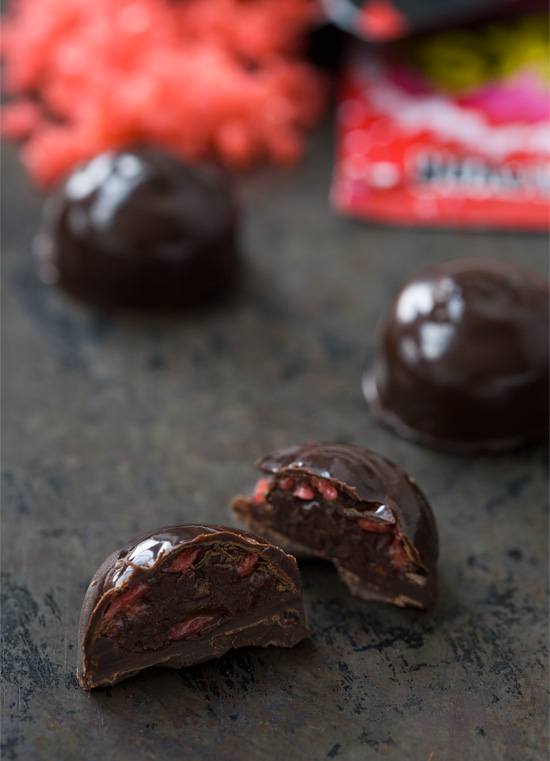 The truffles are simple, really. Just a soft ganache center, rolled in poprocks, and coated in a snappy chocolate shell. I used a truffle mold for mine, but you could most certainly dip them as well.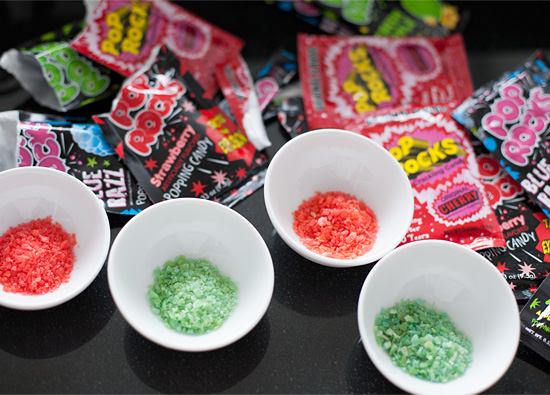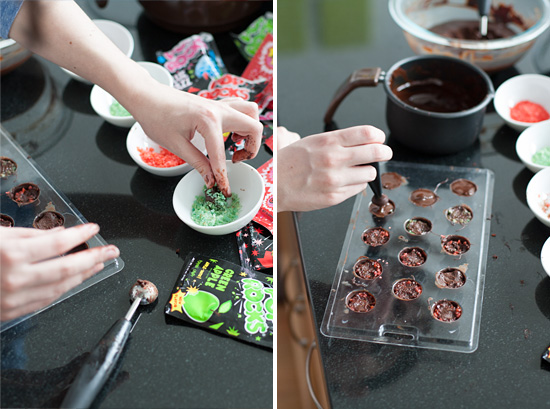 I tried 4 different flavors of poprocks, with the resounding favorite being the Strawberry followed by Cherry. Raspberry was pretty good too, although I'd maybe pass on the apple. Sour apple + chocolate = not so much.
Not that that stopped me from eating them, of course.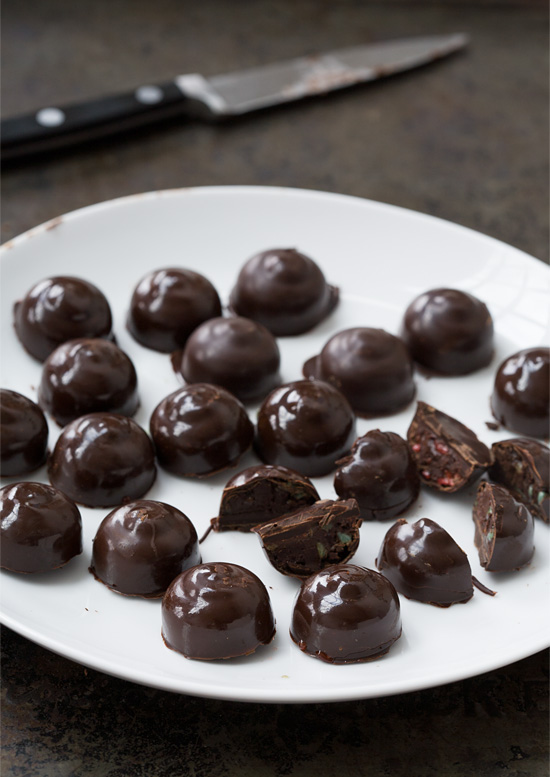 I will note that these truffles don't last long. Or, they last just fine with the exception of the popping part. That fades pretty quickly (once the pop rocks come in contact with air and/or moisture their pop begins to dissipate). So you will want to enjoy these the same day they are made for the most dramatic effect. After that, the fruit flavor of the candy still lingers, so they kind of taste like cherry/strawberry cordials, which is definitely not a bad thing, just not quite as fun.
Oh, and if you're looking for pop rocks (because they are surprisingly hard to find), I got an assorted flavor pack online.
Poprocks Truffles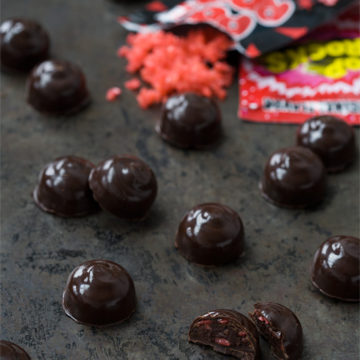 Ingredients:
12 ounces dark or bittersweet chocolate, finely chopped and divided
3/4 cup heavy cream
8 packages Pop Rocks candies
Directions:
Place 6 ounces of the chopped chocolate in a heat proof bowl.
Heat cream in a small saucepan over medium-low heat until it just begins to steam. Pour over the chopped chocolate, and let sit for 60 seconds. Gently stir until smooth. Refrigerate for about 2 hours or until ganache is set firmly enough to handle (if you are making dipped truffles–rather than molded–you'll want to refrigerate slightly longer).
Gently melt remaining chocolate. If you can do this (whether in the microwave or double boiler) without the temperature going above 88 degrees F, the chocolate will retain its temper and create a very shiny outer shell.
For molded truffles, pour 1/2 teaspoon or so of melted chocolate into each mold, and then coat the inside of the mold with a thin layer of chocolate. I found a small measuring spoon or clean craft brush work well here. Refrigerate for about 10 minutes or until set.
Pour one package of pop rocks into a small dish. Only open one package at a time to keep them as fresh as possible (prolonged exposure to air will cause them to lose their 'pop').
Remove the ganache from the refrigerator. Using a small spoon or melon baller, scoop out about 1 teaspoon worth of ganache. Roll in poprocks, and then press into shells, leaving room at the top for another layer of chocolate to seal.
Refrigerate for about 10 to 15 minutes or until set, then remove from molds. Repeat with remaining ganache.
For dipped truffles, roll the centers in pop rocks and then dip into melted chocolate. Arrange on a parchment lined baking sheet and refrigerate until set.
Truffles are best enjoyed the day they are made. After one day they begin to lose their 'pop' very quickly.
Did you make this recipe?
Let us know what you think!
Leave a Comment below or share a photo and tag me on Instagram with the hashtag #loveandoliveoil.