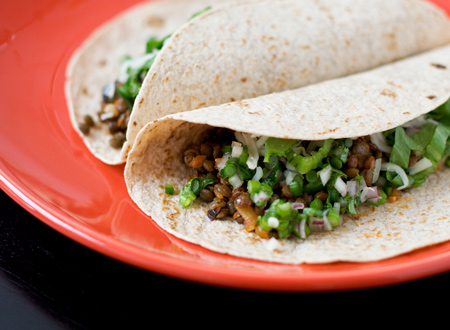 This was one of those meals that just worked. It came out of nowhere, mainly out of necessity and the need to use up more of those doggone green onions.
These are some meaty tacos. Meatless meaty tacos. Somehow, Taylor managed to make lentils taste like ground beef. The simple addition of some smoked paprika (maybe one of our favorite and most used spices of all time) and a dried ancho chili turned lentils into a delicious taco that even the most ardent carnivore would devour. Even Taylor ate these without commenting that they'd be better with meat of one kind or another.
The salsa on top may seem incomplete (and to be honest, we totally forgot to buy a tomato for it, that was our original intention), but the result is a bright and refreshing salsa with just enough crunch and spice to complement the lentils perfectly. You could add a tomato if you want, but it's totally not necessary.
Make the effort to find French green lentils if you can; they hold their shape much better than the standard brown lentils, not nearly as mushy. But if you can't, that's ok, you won't be missing out on any of the flavor. Just adjust the cook time accordingly.
More often than not, we follow recipes. Or mostly follow recipes. But sometimes, like for this dish, we just wing it. Pull out a bunch of random ingredients and turn them into something delicious. And to to be honest, those are the nights we enjoy the most in the kitchen. We just have to remember to write it down, or at least post it before we forget what we did.
Lentil Tacos with Onion Jalapeño Salsa
Ingredients:
Salsa:
1/4 cup red onion, finely chopped
1/4 cup green onion, thinly sliced
1/4 cup garlic scapes, thinly sliced, or 2 garlic cloves, minced
1 jalapeño, minced
3 tablespoons lime juice
1 tablespoon olive oil
Lentils:
1 cup french green lentils
1 medium onion
3 garlic cloves, minced
1 dried ancho chili, finely chopped
2 teaspoons smoked paprika
salt and pepper, to taste
8 whole wheat flour tortillas, warmed
1 cup lettuce, torn into small pieces or sliced into strips
1 cup shredded mozzarella cheese (optional)
Directions:
For salsa, combine all ingredients in a small bowl and toss to coat. Set aside.
Rinse lentils with cold water and sift through, making sure there are no small stones mixed in. Bring a pot of salted water to a boil. Add lentils, and cook for 20 minutes or until tender but still slightly al-dente. Drain.
Heat a few splashes of olive oil in large skillet over medium-high heat. Add onion, garlic, and chili and cook until onion begins to soften, 3 to 4 minutes. Add lentils and paprika and cook until coated and heated through.
Spoon lentil mixture onto warmed tortillas. Top with salsa, lettuce, and mozzarella cheese.
Did you make this recipe?
Let us know what you think!
Leave a Comment below or share a photo and tag me on Instagram with the hashtag #loveandoliveoil.