With an ultra-creamy sauce (made with surprisingly little cream), plus bright baby spinach and flavorful pan-fried chicken tenders, chicken Florentine linguine is a satisfying and well-rounded pasta recipe perfect for dinner tonight!
I'm all about quick and easy dinners that don't sacrifice flavor just to save a few extra minutes. This pasta recipe is all that and more: it's quick and creamy and downright dreamy, and definitely one you'll want to put in your weekly rotation!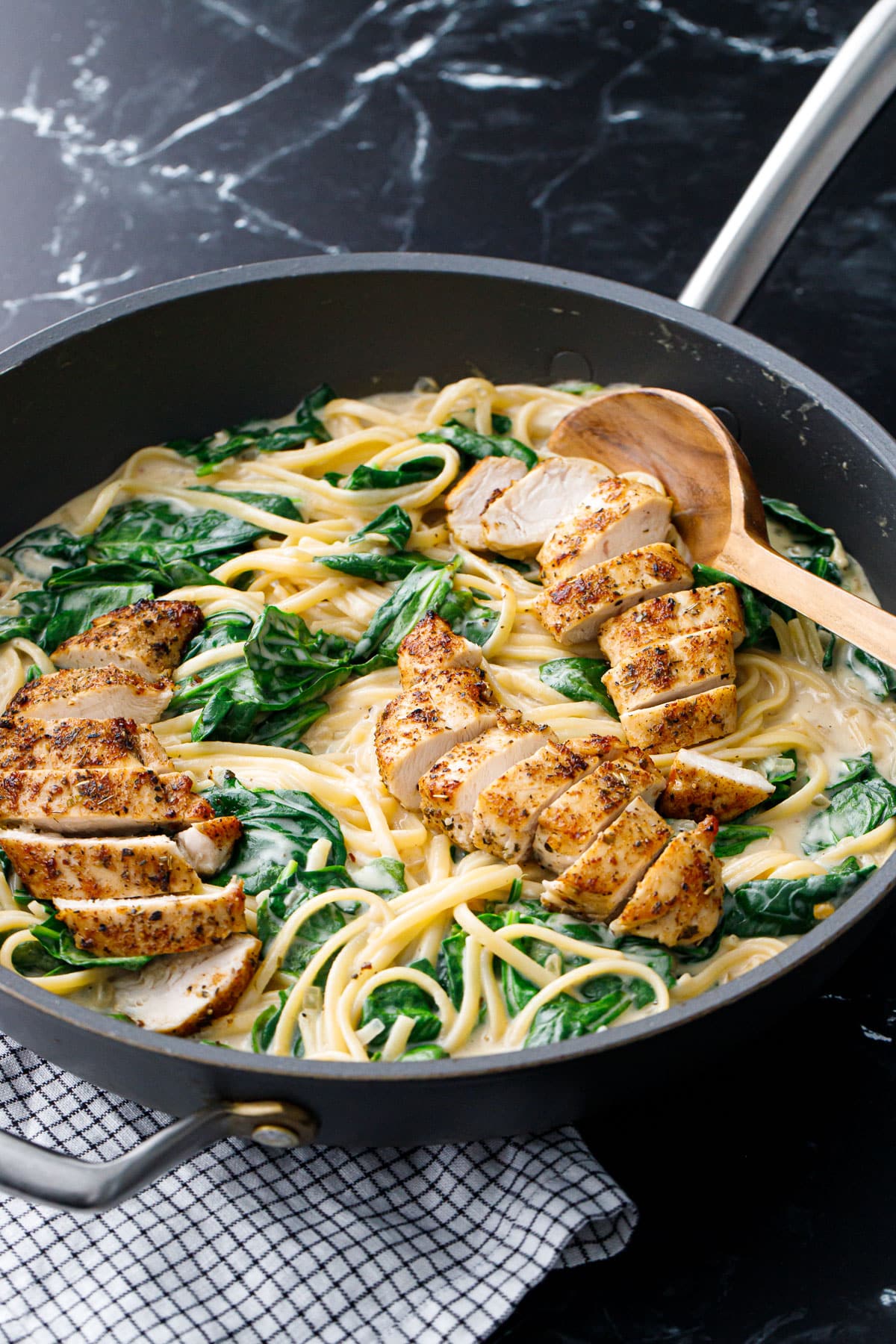 Time for a different kind of Florentine! A savory one this time.
In this instance, Florentine refers to a dish featuring spinach and a protein in a creamy sauce, often a dairy-rich mornay or cheese sauce, though this recipe use primarily chicken stock with just a splash of cream for a perfectly creamy result with a fraction of the dairy.
Much like Florentine cookies, the name is misleading, in that this style of dish probably isn't Italian in origin at all, but actually French. Stories go that Catherine de Medici, the Florentine-born queen of France, had an affinity for spinach, and dishes containing the dark, leafy green were named as such in her honor. How much truth there is to this story is certainly up for debate. These days it seems any dish featuring spinach is labeled as Florentine, though I think the creamy sauce is non-negotiable as well.
(Side note, while we're talking about all things Florentine, there is also a Florentine-style steak dish [bistecca alla fiorentina] that's neither a crispy cookie nor a creamy spinach dish, but an extremely large slab of meat that is an actual, truly Florentine dish and one you can and should sample should you ever visit the Tuscan capital city. Maybe we'll attempt this recipe next for a Florentine trifecta, shall we?)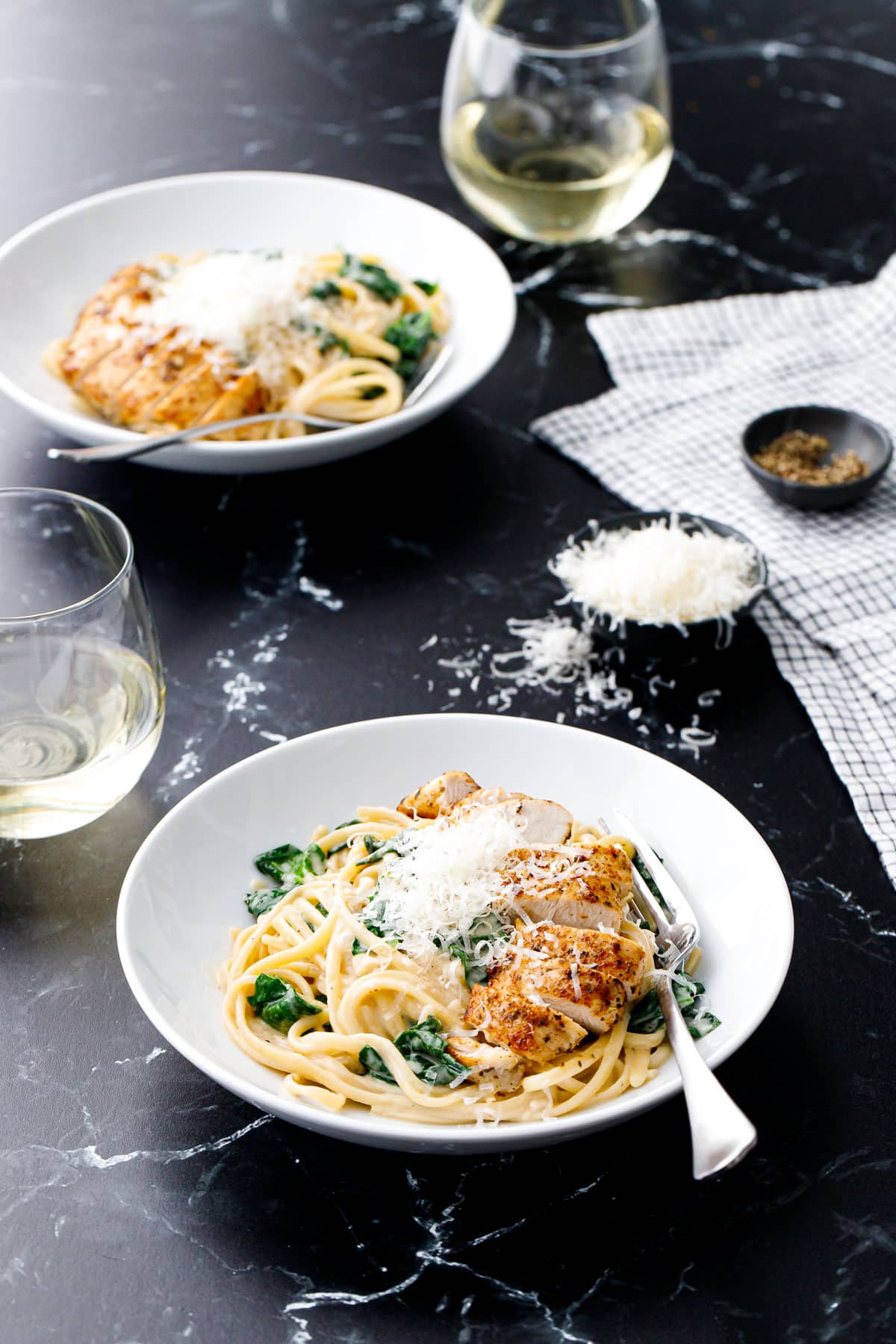 This recipe is a variation of our creamy garlic chicken pasta recipe from a few months back, with a similar base sauce made from a roux, white wine, chicken broth, and just a splash of cream.
In this version we've mixed up the seasonings a bit for a different flavor profile, adding Italian dried herb seasoning to the chicken, some onion and mustard to the sauce, and a bevy of baby spinach for some added roughage (it's got your protein, pasta and salad all in one!)
The first time Taylor made this we neglected to write it down (after 15 years of blogging you think we'd know better by now). It was so good we knew we had to share it, but stupidly let enough time go by that we forgot exactly what changes we'd made. Our next attempt wasn't nearly as good, but we couldn't remember what critical ingredient we'd forgotten.
Mustard. The secret missing ingredient was mustard: just a few teaspoons in the sauce gives it a stunning depth of flavor (without being overly mustardy). A little mustard goes a long way!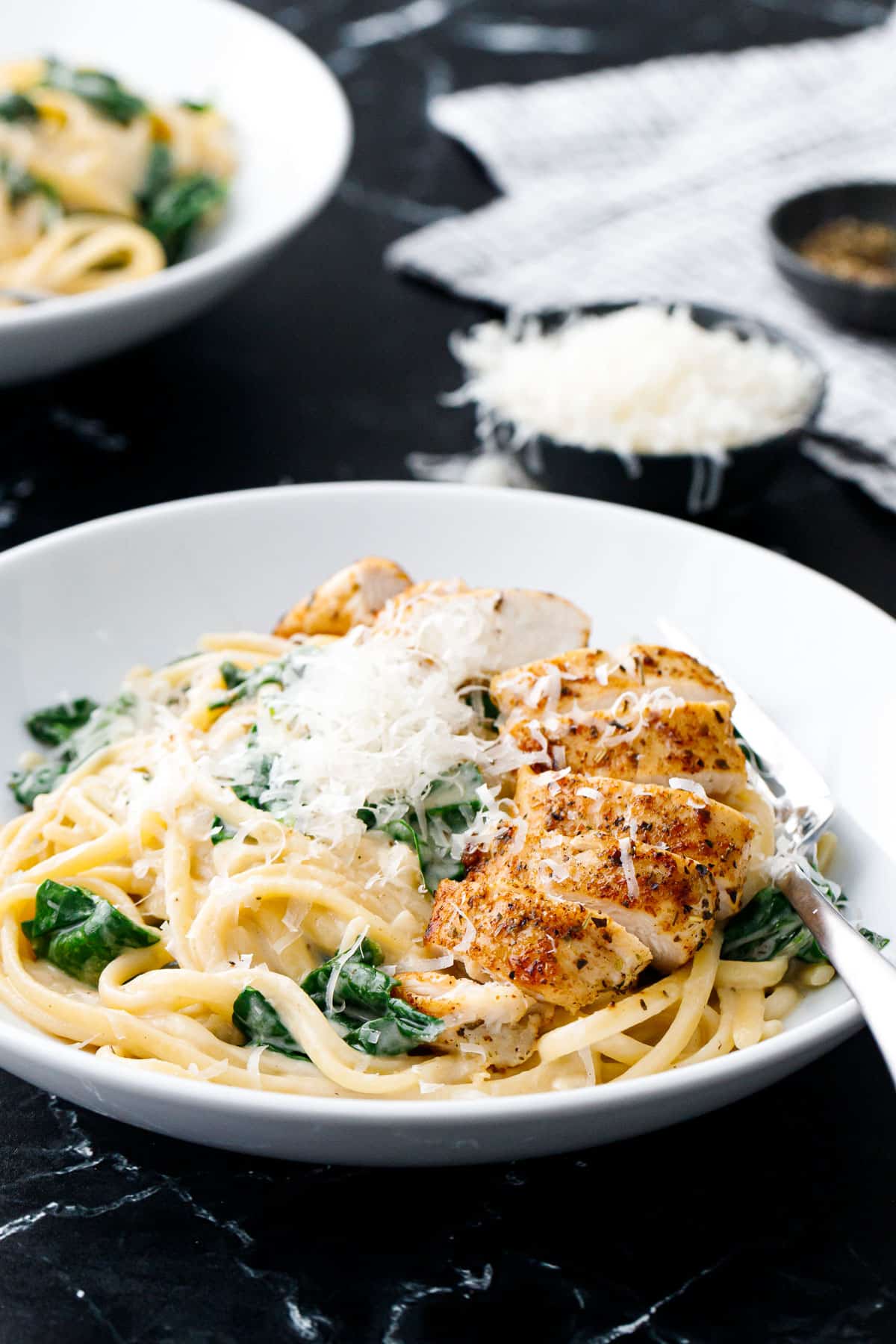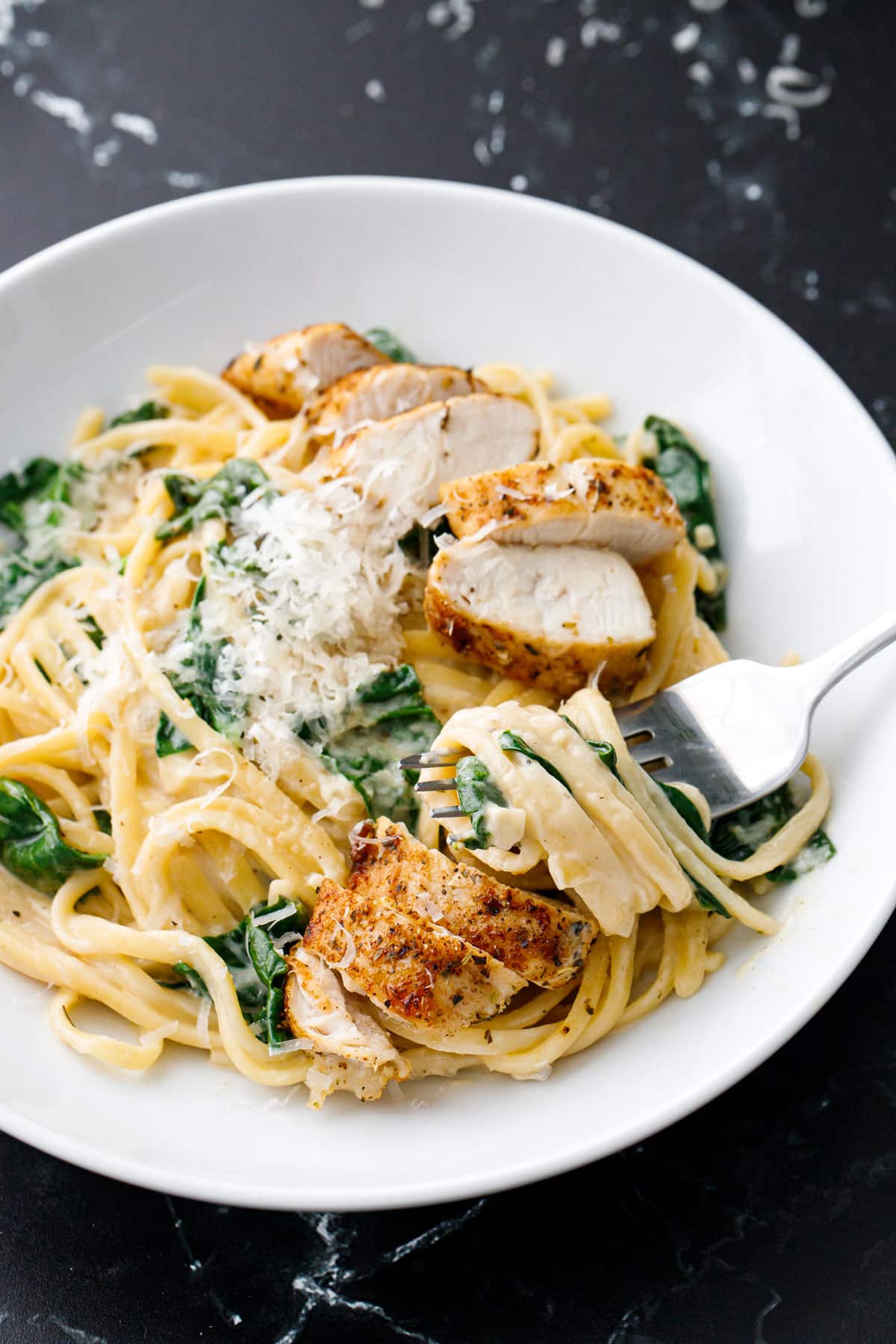 We opted for linguine since that's what we had on hand, but fettuccini or spaghetti would work just as well, as would farfalle like the original version. Find a bronze-cut pasta if you can, as the rougher exterior texture of the noodles can really grab onto the sauce.
You'll notice this recipe calls for only 8oz or half a bag of pasta, which, when combined with a pound of chicken tenders and a bag of spinach, is more than enough for 4 servings.
Don't be tempted to throw in the whole bag of pasta, or you'll be disappointed at the lack of sauciness in the final presentation (that pasta absorbs way more liquid in the sauce than you think it does, and twice as much pasta absorbs pretty much all of it).
Getting the right sauce-to-pasta ratio is key to preserving the creaminess of this recipe, hence the call for only half a bag that I encourage you to heed.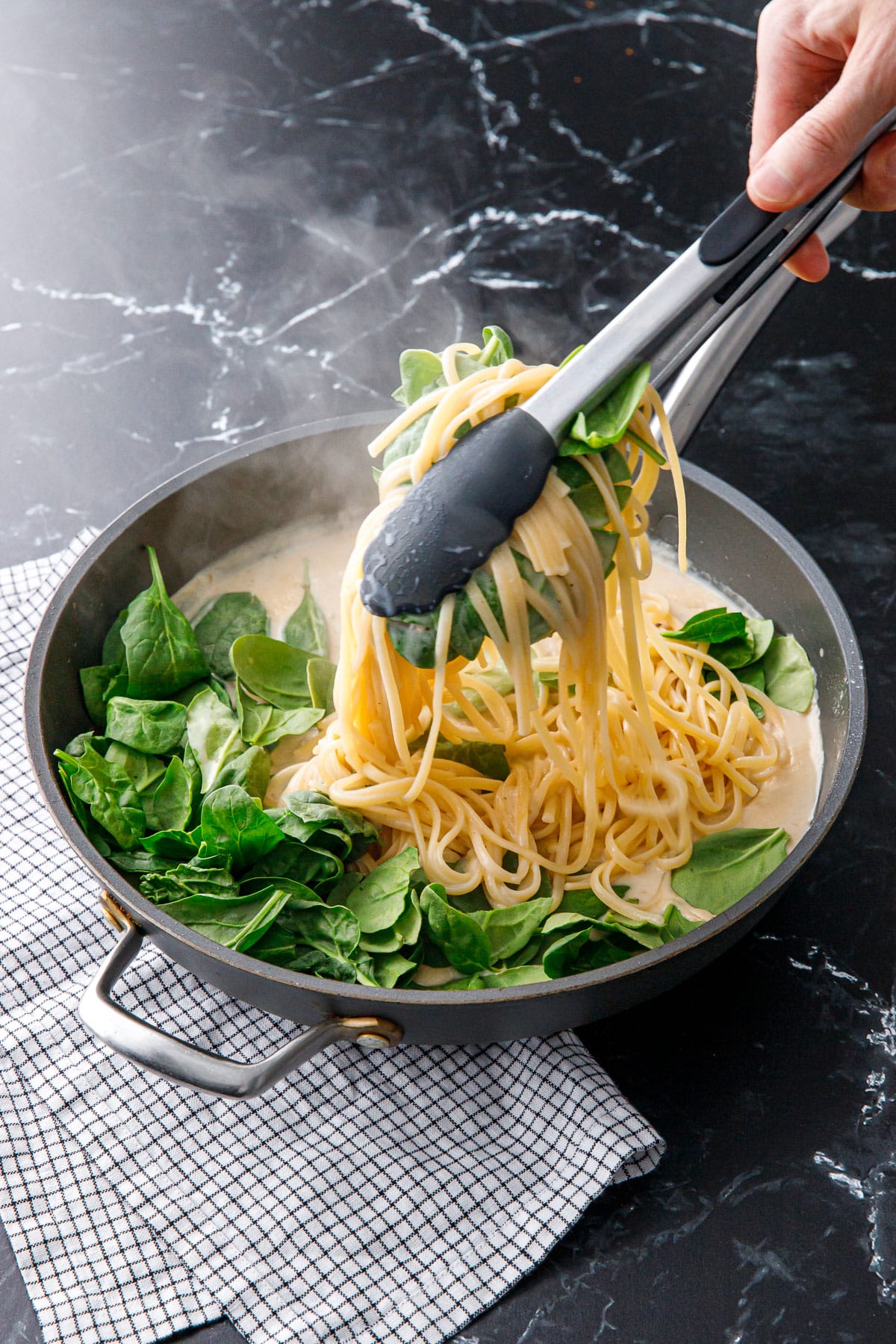 While this isn't technically a one-pan recipe (the pasta is cooked in a separate pot), the chicken and the sauce are made in the same pan, reducing the clean up even more.
You'll start by cooking the chicken, then transfer to a cutting board and set aside. Then you'll use the residual fat in the pan (if the pan feels dry, add a splash of olive oil or a pat of butter as needed) to make the roux (fat+flour), which will thicken the sauce.
What that means is that you'll get all the flavorful bits leftover from cooking your chicken, making for a flavorful foundation for your sauce. Not to mention fewer dishes (score!)
Then finish everything in the same pan, tossing the drained al-dente pasta in with the sauce and baby spinach. Finishing the pasta in the sauce will help to further meld the sauce and pasta together. If it feels too thick at this point, just add a splash of reserved pasta water (a magic ingredient if there ever was one).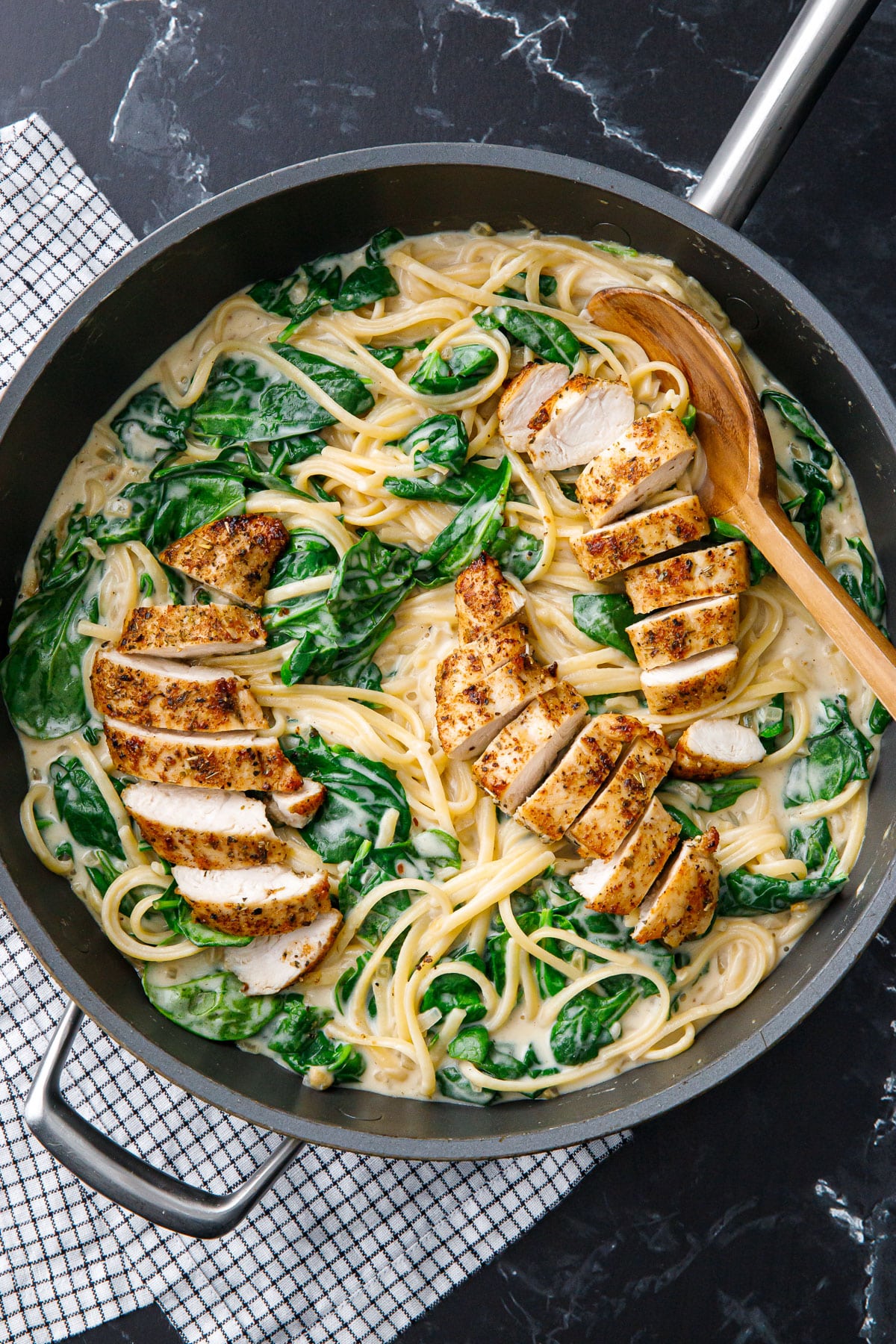 Ingredient Notes & Substitutions
Italian seasoning is a mix of dried herbs. The actual blend will vary greatly from brand to brand, but generally includes basil, oregano, sage, rosemary, and sometimes thyme and/or marjoram too.
Chicken tenders make for even faster prep as they require no additional cutting or preparation before cooking (just season and sear!) Chicken breast strips are simply cut up strips of chicken breast and will work here too. You can also start with boneless skinless chicken breasts, and cut them into 1-inch strips. The cook time will vary depending on how thick your strips are, just keep that in mind when cooking.
Chicken broth makes up the bulk of the sauce. Depending on if you use regular or low sodium chicken broth you may want to adjust the salt as necessary. Remember, you can always add salt later, but you can't take it out, so taste and season accordingly!
Fresh spinach adds color, flavor, and healthful nutrients to the final dish. We used an entire bag of fresh baby spinach, coarsely chopped. You can also use frozen chopped spinach here too, though I do recommend thawing it in the microwave first so it doesn't bring down the temperature of the sauce too much. Don't worry too much about the extra liquid.
Serving & Leftovers
The creamy nature of this sauce is best enjoyed immediately, as the sauce tends to set up and lose its creamy consistency (the longer it sits, the more liquid the pasta absorbs). It will reheat just fine for leftovers, it just won't be as creamy and saucy the next day.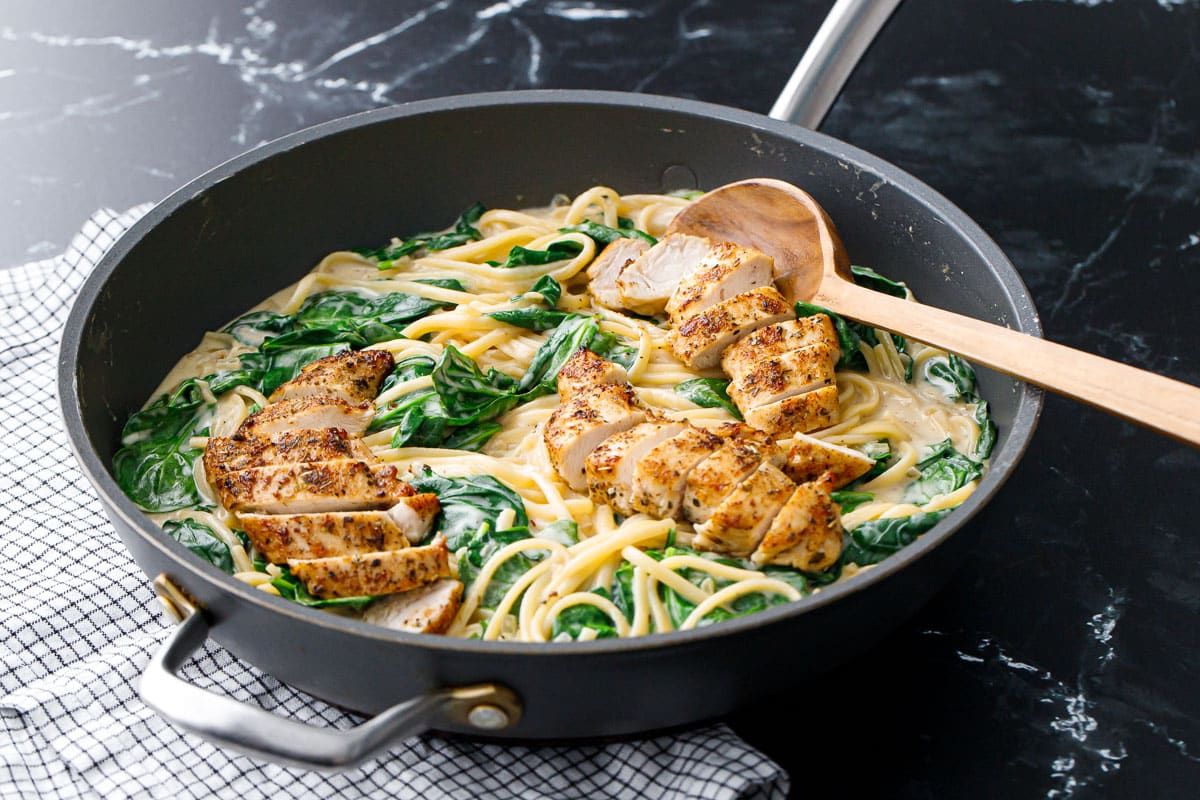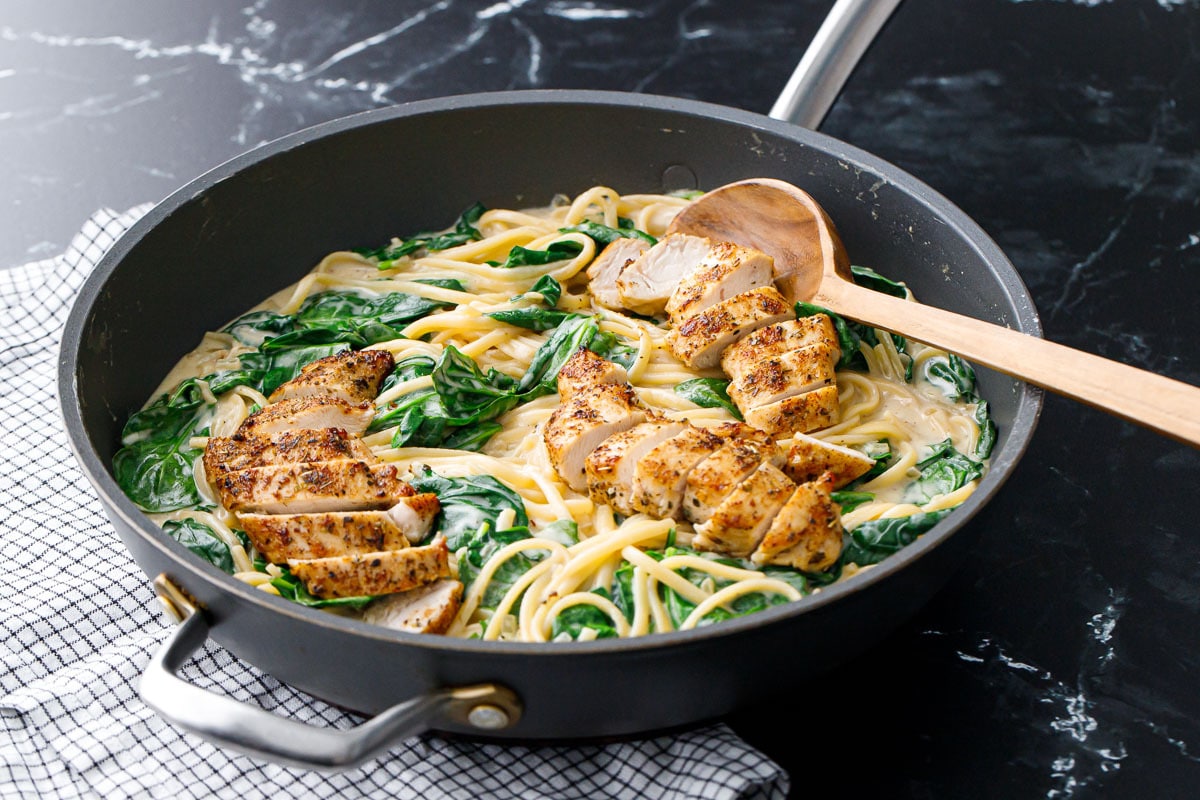 Creamy Chicken Florentine Pasta
With a delightfully creamy sauce made with a surprisingly small amount of cream, this fast, filling, and flavorful pasta recipe is the kind of recipe you'll want to make again and again.
Ingredients
For Chicken:
1

pound

/

453

g

chicken tenders

,

or chicken breasts cut into 1-inch strips

1½

teaspoons

garlic powder

1

teaspoon

Italian seasoning

½

teaspoon

kosher salt

½

teaspoon

freshly ground black pepper

2

tablespoons

olive oil

2

tablespoon

butter
For Sauce:
8

oz

/

 227

g

linguine pasta

,

or other shape as desired

1

small

onion

,

diced (about 1/2 cup diced)

3

garlic cloves

,

finely chopped (about 3 tablespoons)

½

teaspoon

red pepper flakes

,

more or less to taste

2

tablespoons

all-purpose flour

¼

cup

white wine

1½

cups

/

300g

g

chicken broth

2

teaspoons

dijon mustard

½

cup

/

75

g

heavy cream

2

teaspoons

lemon juice

,

more or less to taste

½

teaspoon

kosher salt

,

more or less to taste

½

teaspoon

freshly ground black pepper

,

more or less to taste

6

oz

baby spinach

,

coarsely chopped

parmesan cheese

,

for topping
Instructions
Bring a large pot of lightly salted water to a boil.

Lay chicken tenders out on a plate and pat dry. In a small bowl, mix together garlic powder, Italian seasoning, salt and pepper. Sprinkle half of spice mixture evenly over chicken tenders, flip and season with remaining half of spice mixture.

Heat a large skillet over medium-high heat. Add oil and butter; when butter is melted and sizzling, arrange chicken tenders in a single layer. Cook for 4 to 5 minutes or until bottom is nicely browned, then flip and cook for another 3 to 4 minutes or until cooked through (internal temperature in the thickest part of the largest tender should read 160 degrees F). Transfer chicken to a cutting board and cut into bite sized pieces.

Add pasta to pot of boiling water and set the timer for about 1 minute less than the package instructs (the pasta will finish in the sauce). For example our linguine package specified 10 minutes, we cooked ours for 9, until it was just barely al dente.

Return the skillet in which you cooked the chicken to the stove (no need to clean it) over medium heat. If the skillet seems dry you can add a splash of olive oil or a pat of butter as needed.

Add onion and cook until softened, 4 to 5 minutes. Add garlic and red pepper flakes and stir for 30 seconds until fragrant. Add flour and stir until no dry bits of flour remain. Add white wine and whisk until mostly evaporated. Add chicken broth, a splash or two at a time, whisking constantly until smooth and all of the broth has been incorporated. Whisk in mustard.

Continue to whisk sauce mixture over medium heat until it starts to bubble gently and thicken, about 5 minutes, then whisk in cream. Add a splash of lemon juice and salt and pepper to taste (if you used unsalted or low sodium chicken broth, you'll probably need 1/2 teaspoon of salt or more; if your broth was on the salty side already use less). Your pasta should be just about done at this point, if not, reduce the heat on the sauce to keep it warm until the pasta is just barely al dente.

Use a large slotted spoon or colander to drain pasta and dump it straight into the saucepan with the sauce, reserving a cup or so of pasta water. Top with spinach, then gently fold to coat the pasta completely with sauce, and let it finish cooking for a minute or two until the sauce is nice and thick and coats the pasta completely and the spinach is gently wilded. Add a splash of pasta water if needed to loosen up the sauce a bit more.

Fold in chicken until warmed through. Spoon pasta into serving bowls, top with shaved parmesan cheese; serve immediately.
All images and text ©
for Love & Olive Oil.
Did you make this recipe?
Let us know what you think! Leave a Review below or share a photo and tag me on Instagram with the hashtag #loveandoliveoil.