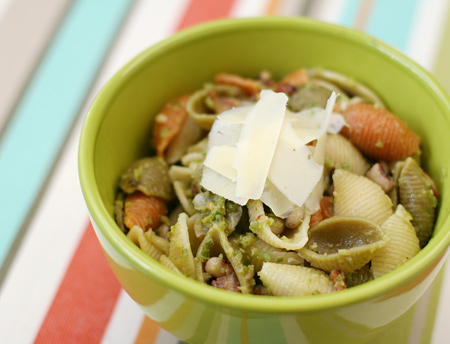 I think the garlic scapes are finally gone, we didn't get any last week and the few precious ones still in the fridge on their way out. We've found some pretty unusual and delicious things to do with these vegetables (are they considered vegetables?), but seems like the typical go-to recipe for them is garlic scape pesto. This is the first and only time we actually made it, and even then it was more of a vehicle for the pasta and other ingredients than the star of the show. But I guess when you throw in tasty things like black eyed peas and bacon it's easy to let something like the pesto get overshadowed.
Ok, I lied. Just a little. We actually made this recipe in early June, with one of our first bunches of garlic scapes. We've been cooking so many good things lately I can barely keep up with the posting. And unfortunately, the poor helpless victims of that overload are the meals we might consider less exiting. Like the pastas, who often get pushed to back of the blogging queue in lieu of more novel things. Sure, those garlic scape beef skewers might be fancier, but this pasta is just as delicious. Better late than never, right?
Shell Pasta with Garlic Scape Pesto, Bacon, and Black Eyed Peas
Ingredients:
1 lb. dried shell pasta
3 oz. thick sliced bacon, diced
2 cups dried black eyed peas, soaked in cold water overnight
1 cup garlic scapes, finely chopped (3-4 scapes)
1/4 cup olive oil
red pepper flakes, to taste
salt & pepper
Parmesan cheese
Directions:
Bring a pot of salted water to a simmer. Add soaked beans, cover, cook for 30-45 minutes or until tender. Drain and set aside.
Meanwhile, combine garlic scapes, olive oil, red pepper flakes, and salt & pepper in a food processor. Pulse until the mixture forms a minced paste.
Cook pasta according to package directions until just barely al dente. Drain, reserving 1 cup pasta water.
In a large sauce pan, cook bacon pieces until crispy. Add drained beans and saute for 1-2 minutes or until coated. Add cooked pasta and pesto and stir well, adding pasta water as needed if the mixture is too dry. Season to taste with salt and pepper. Top with freshly shaved parmesan cheese and serve immediately.
Did you make this recipe?
Let us know what you think!
Leave a Comment below or share a photo and tag me on Instagram with the hashtag #loveandoliveoil.