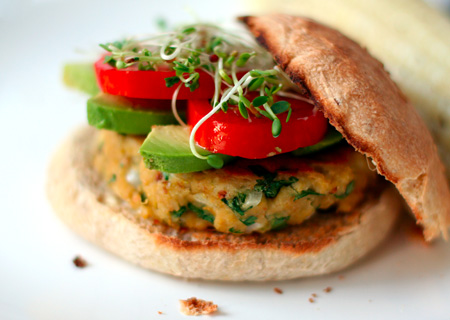 We've tried our hand at a good number of veggie burger recipes. Some work (Lentil Walnut Burgers and Eggplant Burgers), while some don't (Black bean burgers… a crumbly mess on the bun can not be called a burger.)
Finding the right combination of legumes, greenery, and various other forms of vegetation to simulate the patty-forming prowess of meat is tricky business. If you don't get the right texture, you'll either end up with something that crumbles to bits in the pan, or something that tastes oddly like library paste.
This recipe is spot on.
Topped with some fresh tomato, avocado, and broccoli sprouts (for me at least, don't you dare feed Taylor sprouts – he'll never forgive you – so don't tell him these have sprouts inside the patty too.), on one of the homemade burger buns we made earlier, and you've got yourself a killer burger. Without the killing part, of course. :)
Ultimate Veggie Burger
Makes a lot… halve the recipe for 4 good sized servings.
Recipe from 101 Cookbooks.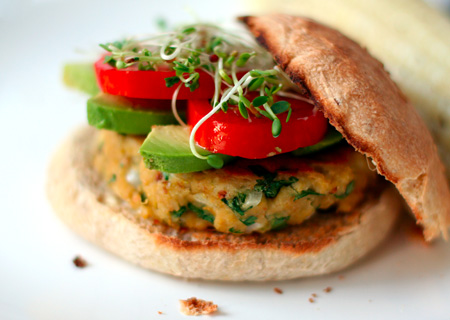 Ingredients:
2 1/2 cups sprouted garbanzo beans (chickpeas) OR canned garbanzos, drained and rinsed
4 large eggs
1/2 teaspoon fine-grain sea salt
1/3 cup chopped fresh cilantro
1 onion, chopped
Grated zest of one large lemon
1 cup micro sprouts, chopped (try broccoli, onion, or alfalfa sprouts)
1 cup toasted (whole-grain) bread crumbs
1 tablespoon extra-virgin olive oil (or clarified butter)
Directions:
If you are using sprouted garbanzos, steam them until just tender, about 10 minutes.
Most of you will be using canned beans, so jump right in and combine the garbanzos, eggs, and salt in a food processor. Puree until the mixture is the consistency of a very thick, slightly chunky hummus. Pour into a mixing bowl and stir in the cilantro, onion, zest, and sprouts.
Add the breadcrumbs, stir, and let sit for a couple of minutes so the crumbs can absorb some of the moisture. The mixture should be moist enough to easily form and hold a patty shape. Add more bread crumbs a bit at a time to firm up the dough if need be. Conversely, a bit of water or more egg can be used to moisten the batter. Form mixture into 12 patties.
Heat the oil in a heavy skillet over medium low, add 4 patties, cover, and cook for 7 to 10 minutes, until the bottoms begin to brown. Turn up the heat if there is no browning after 10 minutes. Flip the patties and cook the second side for 7 minutes, or until golden. Remove from the skillet and cool on a wire rack while you cook the remaining patties. Serve on buns topped with avocado, tomato, onion, and more sprouts, if desired. Alternatively, you can make extra-thick patties (1 1/2 inches), and slice them in half after cooking. Put the filling inside the patty, and you have a self-bunning-burger.
Did you make this recipe?
Let us know what you think!
Leave a Comment below or share a photo and tag me on Instagram with the hashtag #loveandoliveoil.