Some weeks, we do good (see: last week). Everything we cook is delicious and perfectly seasoned and nice looking to boot.
Other weeks, not so good. What sounds like a good recipe sometimes turns out to be bland, boring, or just plain bad. This was one of those weeks.

Black Bean Burgers with Salsa and Avocado.
Good concept, not so good execution. The patties had virtually no flavor, and they were practically impossible to cook. The recipe is here if you really want to try them. I'd suggest tripling the spices and seasonings at the very least. Also baking them might be a better solution vs. sautéing them, if anything just to avoid having to flip them. Again, it's an intriguing concept, but just needs a little (ok, a lot) of refinement.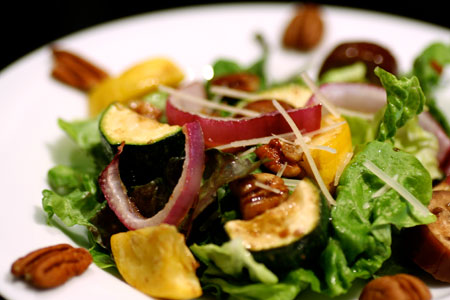 Roasted Balsamic Vegetable and Pecan Salad
Again, just a bit boring. It needed more of a dressing than just the little juice left from the veggies. We also made the mistake of adding Chinese Eggplant, which has a very tough and almost bitter tasting skin. It is a healthy meal, but needs some more work before we'll make it again.

Bobby Flay, this time, you've not done so great. Maybe because we didn't grill it, or because we used frozen salmon, or maybe because we used canned artichoke hearts, but this one was not so great. I liked it a bit more than Taylor did… the olive marinade was STRONG but had potential. The artichokes had potential as well… they just weren't fabulous. The salmon burgers we made last week would have been a much better use for this salmon!
Oh well. You win some, you lose some.