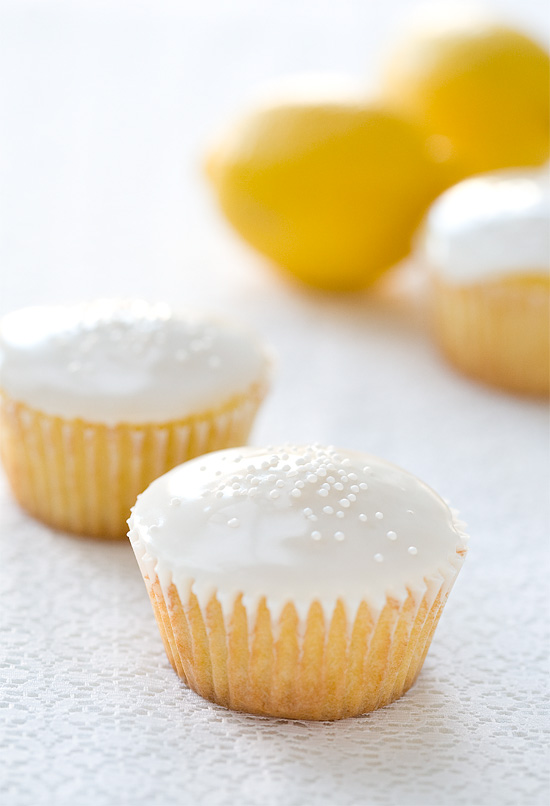 This blog has been cupcake-less for far too long. I've been neglecting cupcakes for other sweets like cookie dough and layer cakes. Shame on me.
These delicately tart cupcakes are the perfect way to welcome springime (which, to me, is marked officially by daylight savings time – it's when I can finally start photographing dinner again!) The lemon flavor is subtle enough so as not to overwhelm their delightful texture; the addition of a bit of cornmeal in the cake gives them that little something extra. Like a sweet corn muffin, they're bright and buttery and topped with a sweet lemon glaze and nonpareil sprinkles.
This week Taylor and I are off to sunny Florida for a little R & R & FBF (rest and relaxation and Food Blog Forum). I'm not going to leave you hanging, though – keep your eyes peeled on Friday for a very special (and super fluffy) post and giveaway!
Lemon Buttermilk Cupcakes
Ingredients:
For Cupcakes:
1 1/2 cups all-purpose flour
3 tablespoons cornmeal (preferably coarse ground)
1 teaspoon baking powder
1/2 teaspoon baking soda
1/2 teaspoon kosher salt
3/4 cup granulated sugar
1/2 cup (1 stick) unsalted butter, room temperature
2 eggs plus 1 egg yolk, room temperature*
1 lemon, zested and juiced (should yield 1 teaspoon finely grated lemon zest and 2 tablespoons lemon juice)
1 teaspoon vanilla extract
1/2 cup buttermilk
For Glaze:
3/4 cup powdered sugar, sifted
2 tablespoons lemon juice (from 1 lemon)
Food coloring (optional)
Directions:
Preheat oven to 350ºF. Line a standard-sized muffin tin with cupcake papers.
Sift together flour, cornmeal, baking powder, baking soda, and salt in a large bowl. Set aside.
In a large mixing bowl, beat together butter and sugar on medium-high speed until light and fluffy, 3 to 5 minutes. Add eggs and egg yolk and beat until smooth, scraping down the sides of the bowl as needed. Mix in lemon zest, juice, and vanilla.
Add flour mixture, 1/2 cup at a time, alternating with buttermilk, beating well after each addition. Mix until no dry flour remains.
Divide batter evenly among prepared cups. Don't overfill, each cup should be no more than 2/3 full, or about 3 tablespoons each. Bake for 16 to 18 minutes or until edges are lightly golden brown and a toothpick inserted into the center comes out clean. Place pan on a wire rack and cool for 10 minutes, then remove cupcakes from tin and allow to cool completely.
Meanwhile, to prepare glaze, sift powdered sugar into a bowl. Slowly add lemon juice and whisk until smooth; add 1 to 2 drops of food coloring if desired. Dip tops of cooled cupcakes in glaze, then quickly flip and place on wire rack. Sprinkle with nonpareils or sugar pearls, if desired. Glazed cupcakes are best enjoyed the day they are made, although unglazed cupcakes will keep, stored in an airtight container, for up to 5 days.
*Room temperature eggs will be easier to incorporate into the batter. Set them out for 30 minutes before you start baking. If you're in a hurry, simply place your eggs in a dish of lukewarm water for 5 to 10 minutes.
Did you make this recipe?
Let us know what you think!
Leave a Comment below or share a photo and tag me on Instagram with the hashtag #loveandoliveoil.