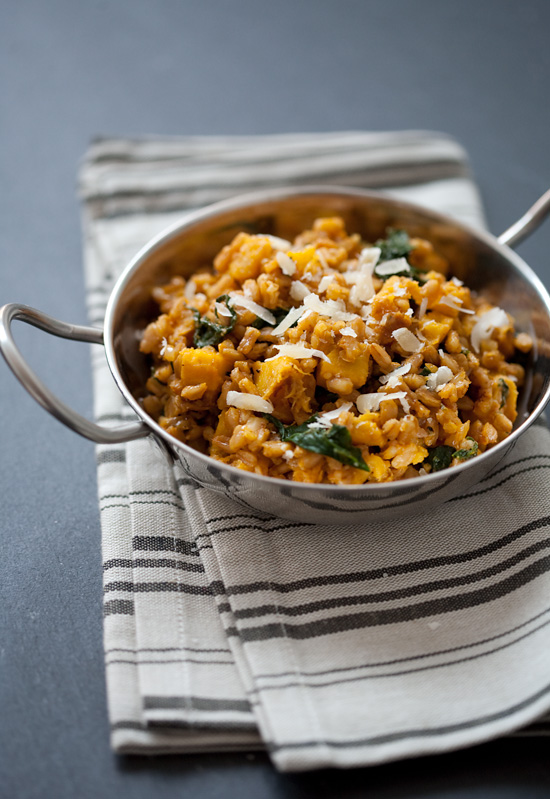 Farro isn't something we'd cooked with before. Arborio, barley, bulgar, quinoa… all grains with regular shelf space in our pantry. But farro was a new one. In fact I had to spell it out for Taylor when I first mentioned it, and ever since then he bursts into song, "The fairest daughter of the Pharaoh's son" (from Josh Ritter's Monster Ballad) every time I say the word farro (leaving the tune stuck firmly in our heads during the entire hour and a half preparation). It's a dish with its own soundtrack! To be honest, I don't even know if it's pronounced farro (like fair-oh) or farro (like far-oh). But I do know that it was gosh darn tasty.
Hearty enough to fill us up, healthy enough to feel good about it. Paired with the sweetness of the acorn squash (we've also made this with butternut with just as stellar results) and the lovely bitterness of the kale, it's a vegetarian meal that is worth repeating. And repeating. And indeed, we've made it three times since. Use a good vegetable broth (homemade if you have it, Trader Joe's broth is also fabulously carroty), because, like any risotto, the grain absorbs nearly all the liquid, the broth is one of the biggest contributors to the overall flavor of the dish.
It wasn't until we started cooking that we realized this was Sean Brock's recipe. Sean Brock as in the chef at Husk in Charleston. A restaurant we visited back in August when we went to Charleston for a mini-vacation. I have not forgotten their bourbon glazed biscuits with lard butter. I don't think I ever will.
So we closed our eyes and imagined we were sitting on the porch, soaking up the sun and the sea breeze in Charleston once again. Isn't that what you imagine when you're eating a hearty winter risotto?
Farro Risotto with Acorn Squash and Kale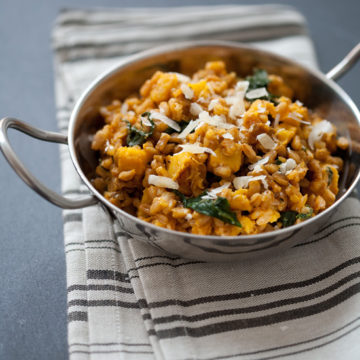 Ingredients:
4 tablespoons unsalted butter, divided
1 small acorn squash, peeled, halved, seeded, cut into 1/2″ cubes
Kosher salt, freshly ground pepper
1/2 bunch red Russian or other kale (about 5 ounces), center stems removed, leaves torn
1 tablespoon vegetable oil
3/4 cup farro
1/4 cup diced white onion
1 small garlic clove, very thinly sliced
1/4 cup dry white wine
2 cups vegetable stock mixed with 2 cups water, warmed
1/4 cup finely grated Parmesan
Directions:
Preheat oven to 375°F. Melt 1 tablespoon butter in a medium saucepan. Add squash, season lightly with salt and pepper, and toss to coat. Spread out on a rimmed baking sheet. Roast, turning squash every 10 minutes, until tender, 30–35 minutes.
Cook kale in a large pot of boiling salted water until wilted, about 2 minutes. Transfer to a bowl of ice water to cool; drain.
Heat oil in a large ovenproof skillet over medium heat. Add farro; toss to coat. Roast in oven until toasted, stirring once, about 6 minutes. Transfer to a bowl; wipe out skillet.
Melt 2 tablespoons butter in same skillet over medium heat. Add onion and cook, stirring occasionally, until translucent, about 4 minutes. Add garlic; stir until aromatic, about 2 minutes. Add wine; increase heat to high. Stir until almost evaporated, about 2 minutes. Add farro and 1/2 cup warm stock mixture. Stir until almost all liquid is absorbed, about 3 minutes. Continue cooking, adding broth by 1/2 cupfuls and allowing broth to be absorbed between additions, until farro is tender, about 1 hour.
Add kale, squash, remaining 1 tablespoon butter, and cheese; stir gently until butter and cheese are melted and vegetables are heated through, about 2 minutes. Season to taste with salt and pepper.
Did you make this recipe?
Let us know what you think!
Leave a Comment below or share a photo and tag me on Instagram with the hashtag #loveandoliveoil.