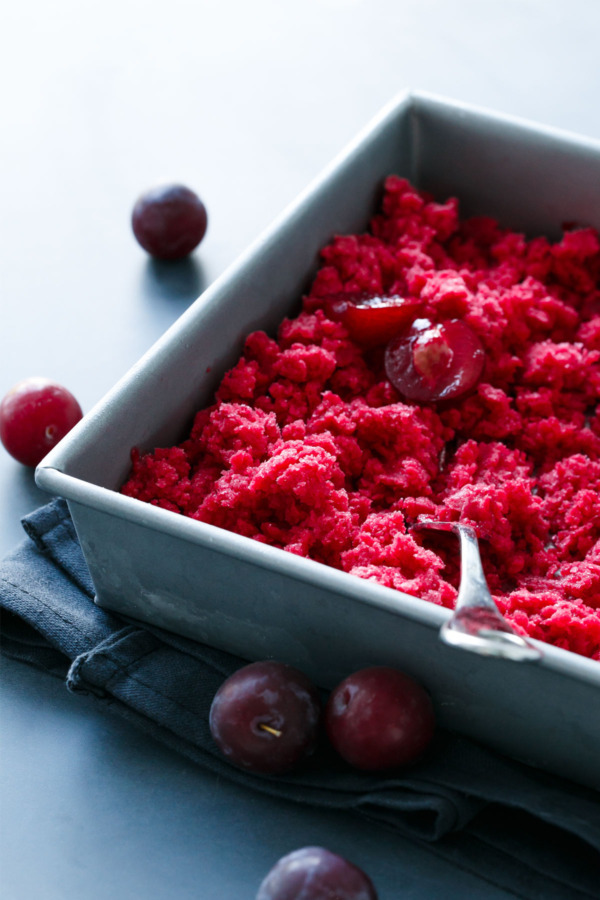 I think there's something wrong with me.
Just thinking about granita or sorbet or popsicles or anything even remotely ice makes my entire body break out in goosepimples. Like, instantly.
Seriously. It could be eight hundred degrees outside and I'll still get full body chills at the mere thought of something cold and icy.
It's like nails on a chalkboard, just thinking about scraping ice and frost and OH MY GOD LINDSAY PLEASE STOP DOING THIS TO YOURSELF YOU'RE MAKING IT WORSE. Go think about hot soup or warm chocolate cake or something because this is torture. Pure torture.
I mean, if I'm going to be covered in chicken skin, I may has well have something to show for it, eh? The chill is worth it if I'm actually digging in to a tart and tangy plum granita and not just sitting here thinking about it.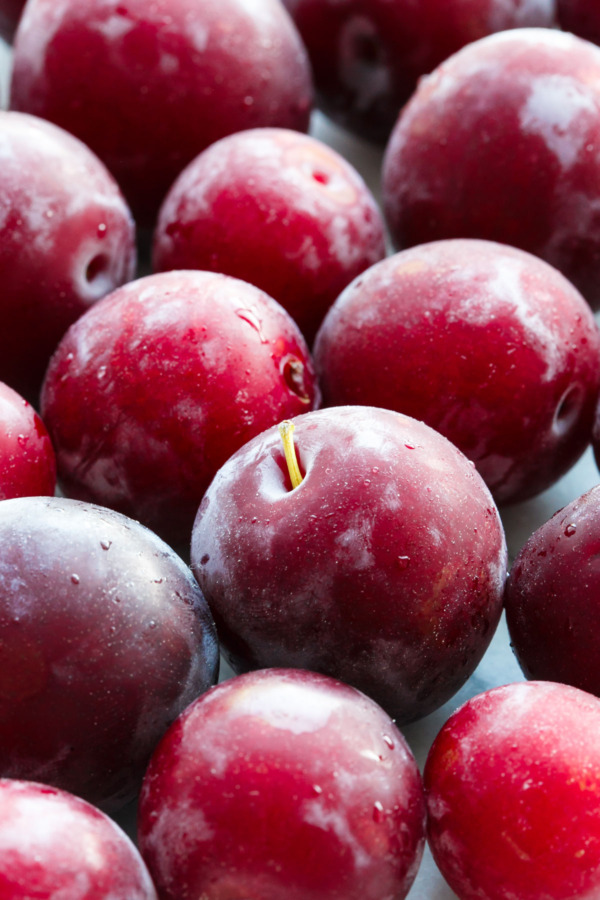 I spotted these sweet little 'sugar' plums at the farmers market last week, and overheard the vendor telling someone else they only had a two week season. Well, twist my arm why don't you, that's pretty much the quickest way to get me to buy something.
While they are, indeed, sweet little plums (as their name implies), they aren't exactly suited to the most common plum recipes out there, you know, the ones that call for perfect slices of pitted plums arranged into rosettes atop a tart crust (for example). Rather, much like my beloved Damsons in the fall (though far sweeter), these guys cling to their pits like a toddler to their binkie, making a clean extraction nearly impossible.
So I tried to think of ways (other than jam, because I'm pretty jammed out at the moment) that I could use these precious plums, and, seeing as we've hit summer hard and fast and have the humidity to prove it, something crisp and frozen seemed like the perfect solution.
Granita is a fancy way to say no-churn sorbet, or lazy man's sorbet, if you will. Basically, the granita base gets frozen in a baking dish and periodically stirred and broken up with a fork, ideally every 30 minutes or so. A little bit of booze doesn't hurt either, allowing the granita to stay softer and a little less frosty than, say, shaved ice.
The plum is sweet and tangy and shockingly refreshing, with an underlying mellow spice from the ginger. And did I say tangy? Surprisingly so, enough that you really wouldn't want to sit down and eat an entire bowl of this stuff. Rather, think of it like a palette cleanser, served in between courses during dinner to fresh your guests' tastebuds like a fancy French restaurant.
This recipe is incredibly versatile, and you could easily substitute any summer fruit in place of the plums (blackberries perhaps? or raspberries or even melon) and whatever fancy liqueur will best compliment your fruit (Chambord, Grand Marnier, straight up tequila… anything goes). Add more or less sugar to your liking (knowing that less sugar will result in an icier granita), and go crazy.
And, cue goosebumps.
But boy is it worth it.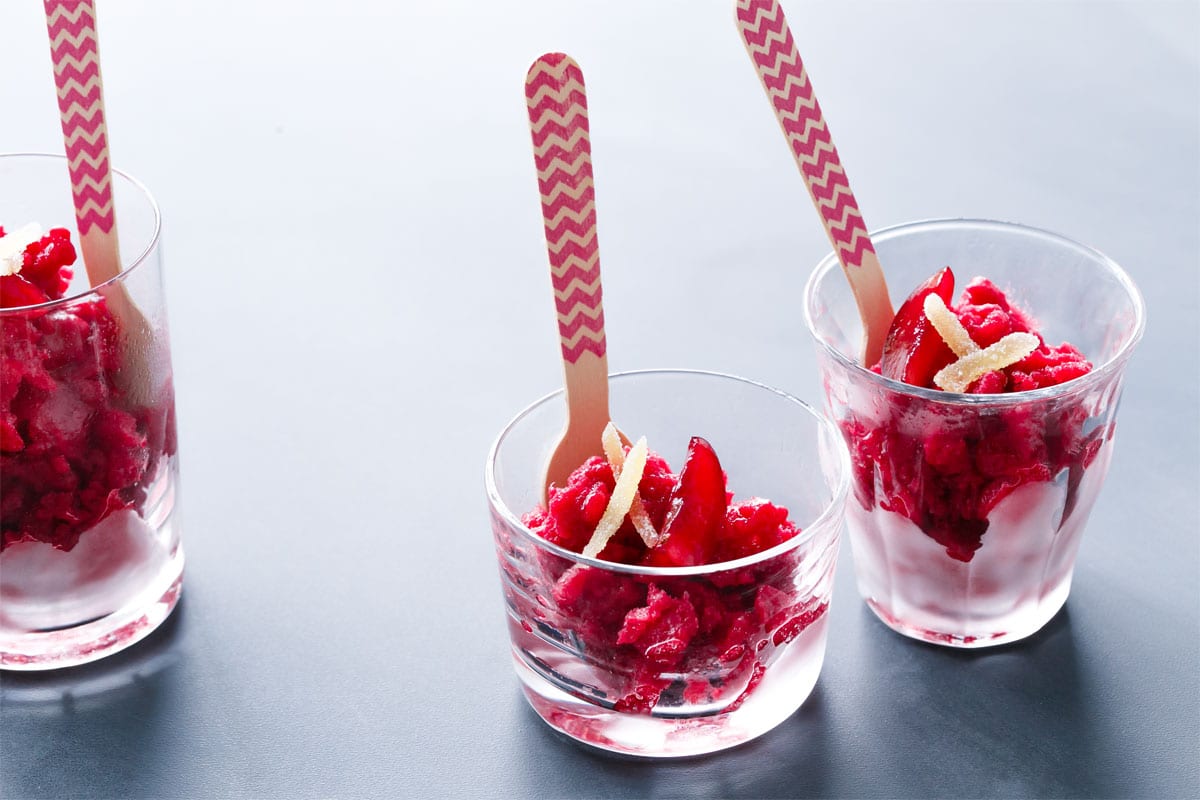 Ginger Plum Granita
Bright and refreshing, this plum granita with a hint of ginger and ginger liqueur would be perfect served as a palate cleanser between courses.
Ingredients:
1 pound ripe plums (I used sugar plums, but any sweet red plum will work here)
1/3 cup granulated sugar
1/2 tablespoon lemon juice
a few pieces candied ginger
2 tablespoons Domaine de Canton ginger liqueur
Directions:
In a saucepan, combine whole plums, sugar, lemon juice, and ginger. Smash plums to release their juices, and bring to a simmer over medium heat, stirring occasionally. Simmer for about 5 minutes or until plums or softened and the pits and skins float freely. Remove from heat and strain through a fine mesh sieve, discarding the solids. Stir in ginger liqueur.
Pour plum mixture into an 8-by-8-inch baking dish and place in the freezer for 4 hours, stirring and scraping the pan with a fork every 30 minutes to break up the larger frozen pieces and produce a snow-cone-like texture. Spoon into chilled serving dishes and top with a sliver of plum and some candied ginger for garnish.
Did you make this recipe?
Let us know what you think!
Leave a Comment below or share a photo and tag me on Instagram with the hashtag #loveandoliveoil.