Your favorite summer cocktail is now an ultra-refreshing sorbet! Made with prosecco, aperol, and freshly squeezed orange juice, spritz sorbet is bright and boozy and utterly delicious.
Just how refreshing is it? On a scale of 1 to 10, where 10 is a plunge into a crisp blue lake on a summer day, this sorbet ranks right up there. It's bright and fruity, and just boozy enough to get your tastebuds grooving. Needless to say, you need to stop wallowing in the heat and whip up a batch, stat.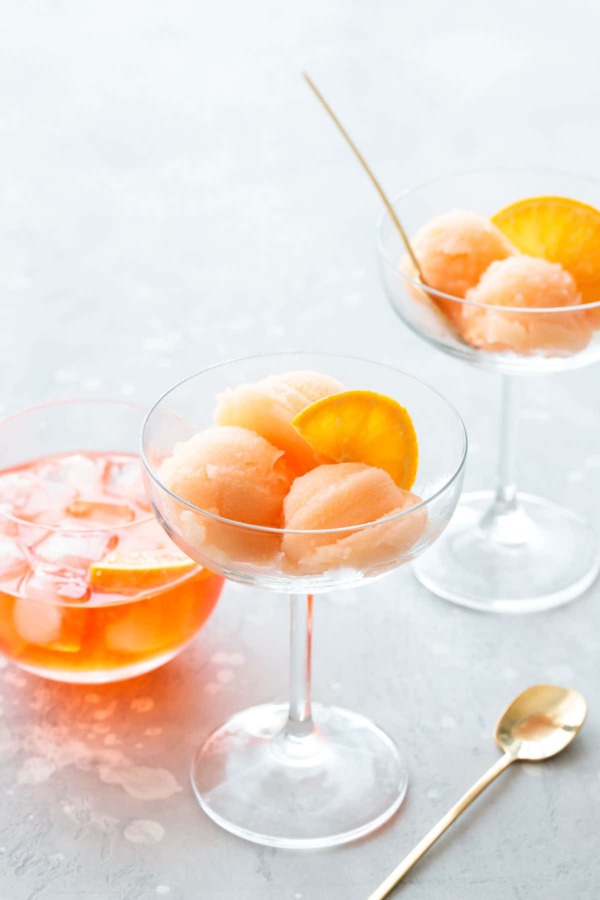 Taylor has been drinking Spritzes pretty much non-stop since we got back from Italy last summer (he's obsessed, I tell you!), but this summer the spritz has officially invaded the states. Is it just me or are they everywhere now?
Not that I'm complaining, the Spritz is perfect for these hot summer days—vibrant in color, bold in flavor, and simple in preparation—so it's no wonder people love them so much.
It's officially the summer of spritz.
Turning summer's iconic cocktail into a sorbet took a bit of strategy, as we all know that alcohol doesn't freeze completely, so I couldn't just dump a big batch of spritz into the ice cream maker and call it a day (it's never that easy, is it?)
Instead I cooked the prosecco down along with the sugar, both concentrating the flavor and cooking out the alcohol just enough so the sorbet will freeze.
But the beauty of still having some of the alcohol left is that the sorbet doesn't freeze solid; rather, it takes on the perfect consistency right at the threshold of ice and slush.
We opted to use Aperol, an Italian aperitif made from bitter orange, rhubarb, and other ingredients. It is the sweeter of the Italian aperitifs and probably the one most often associated with a spritz. If you prefer your spritz on the bitter side, you can certainly use Campari here instead.
There are a number of other aperitifs as well, including Cynar and Cappelletti, among others, that are becoming more and more common as the popularity of cocktails like the Spritz and the Negroni continue to grow. (Taylor will be sharing a recipe for the classic Italian Spritz later this week, and we'll go into a bit more detail about the different varieties available and the differences between them).
No ice cream maker? No problem!
This recipe also makes a fabulous granita.
Just pour the mixture into a baking pan and pop it in the freezer. Set an alarm for yourself to remember to go stir it every hour or so, mashing it up and mixing with a fork (this breaks up the larger ice crystals). After about 4 hours you'll have yourself a perfectly icy granita.
I should also add that you can combine the spritz and the spritz sorbet. Plop a scoop of the sorbet in your glass in place of ice cubes, and top with chilled prosecco.
Summer never looked so good.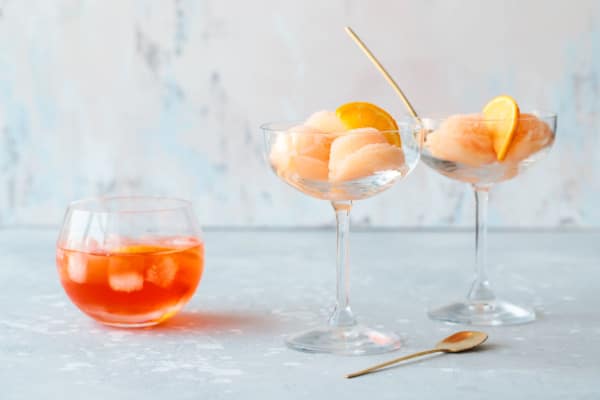 Spritz Sorbet
Your favorite summer cocktail gets a whole new look in this ultra-refreshing spritz sorbet recipe made with prosecco, aperol, and freshly squeezed orange juice.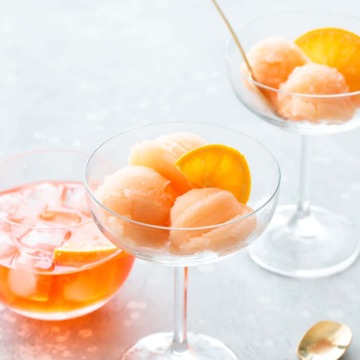 Ingredients:
1 1/2 cups prosecco
3/4 cup granulated sugar
1 tablespoon corn syrup
3/4 cup sparkling water
3/4 cup freshly squeezed orange juice
1/4 cup Aperol or Campari
1 tablespoon lemon juice
Directions:
Combine prosecco, sugar and corn syrup in a saucepan and bring to a boil, stirring occasionally until sugar is dissolved. Simmer for 10 minutes or until liquid is reduced to 1 1/2 cups total.
Remove from heat and add sparkling water, orange juice, Aperol and lemon juice. Chill completely (either in an ice bath until thoroughly chilled or, better yet, refrigerate the mixture overnight).
Churn in an ice cream maker according to manufacturers instructions. Transfer to a freezer-safe container and freeze overnight until firm.
Did you make this recipe?
Let us know what you think!
Leave a Comment below or share a photo and tag me on Instagram with the hashtag #loveandoliveoil.