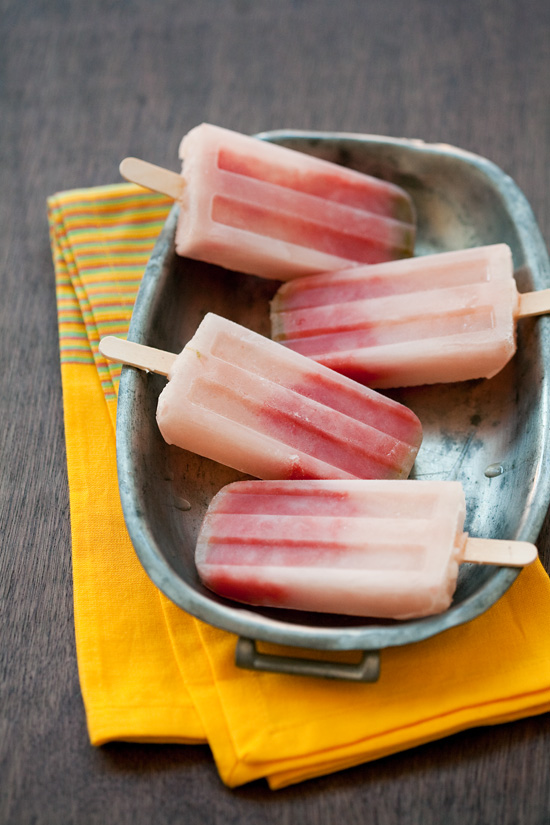 Sometimes, you find yourself with way too much watermelon.
Seriously. We're just two people. Do you really expect us to eat an entire watermelon all by ourselves?
We've been able to pick and choose the cantaloupe-sized melons from our CSA most of the summer, which, although they always made fun of us and our puny melons, were really the perfect size for two.
And then… the little melons turned into bigger melons and then even bigger melons the week after that. And, well, I wasn't NOT going to take a watermelon just because it was a little on the big side.
We ended up with two big melons, just sitting there, taunting us.
Time for action.
I cut and seeded and blended and strained; boiled and gelled and canned and froze.
And what do you know, I managed to eat/use/preserve every last bit of those melons.
Go me.
These popsicles used up the last of it. It was an "oh crap I made too much watermelon juice" kind of thing. Tossed with some sugar syrup and lime zest and, oh yea, some tequila (for good measure, you know), into the freezer they went.
Don't ask me where the layers came from. I still have yet to master the whole suspended-evenly-throughout-the-popsicle technique (if there IS such a thing, if so, please share!). My lime zest sunk and the water separated completely from the melon (or something?), but you know what? They were still delightfully refreshing.
When life gives you melons… just add tequila. Apparently.
Tequila Watermelon Popsicles
Ingredients:
1/4 cup water
1/4 cup granulated sugar
1 cup watermelon juice (from about 1/2 a small watermelon)
1 lime, zested and juiced
2 tablespoons tequila
Directions:
Combine water and sugar in a microwave safe container or glass measuring cup. Heat on high for 30 seconds to 1 minute, and stir until sugar is dissolved and mixture is clear. Set aside to cool.
To make watermelon juice, roughly chop watermelon. You'll need about 3 cups of chopped melon to produce about a cup of juice. Run melon through a food mill (if you have one), or crush and then strain through a fine mesh sieve.
Combine watermelon juice, sugar syrup, lime juice and zest, and tequila in a small bowl or pitcher. Pour into popsicle molds. Insert sticks and freeze until solid.
Did you make this recipe?
Let us know what you think!
Leave a Comment below or share a photo and tag me on Instagram with the hashtag #loveandoliveoil.