This hand-held version of my go-to banana bread is moist, flavorful, and chock-full of crunchy pecans and mini chocolate chips (trust me, banana bread is all the better with chocolate).
These banana bread muffins make for the perfect mid-morning or afternoon snack, when you need something to sustain you to the next meal. Personally, I'd rather have a banana bread muffin than a granola bar any day.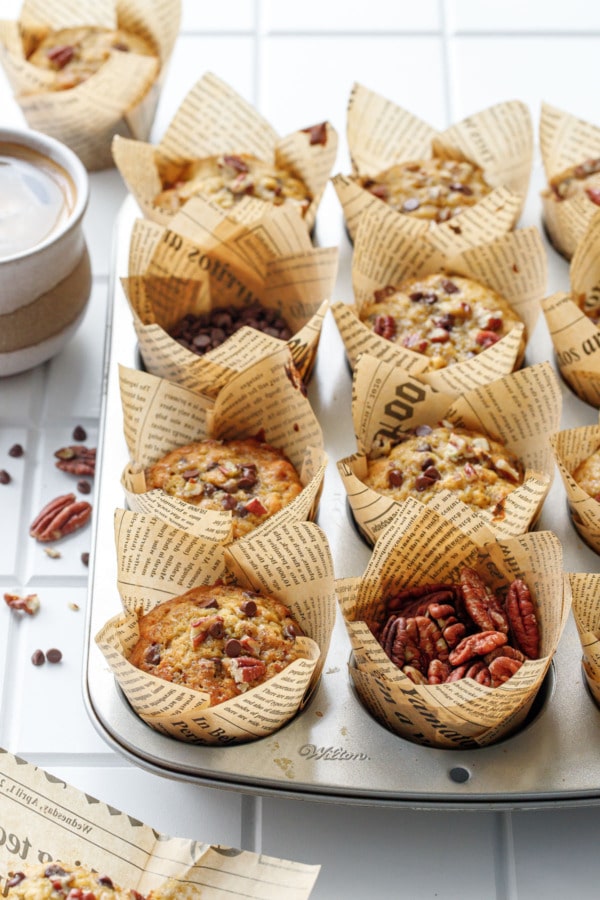 Bananas never go bad in our house, even the squishiest, brown-skinned fruit always finds its way into a quick bread of some sort. And yet, have you ever noticed that quick breads are never actually quick to bake? A full loaf can take upwards of an hour to bake!
But these quick and easy banana bread muffins are actually worthy of being called quick bread: their compact size means you can go from mash to mouth-full in less than 30 minutes (ok, maybe 40… you should probably let them cool a little bit before you dig in). Still, compared to the nearly hour-long bake time of most loaf recipes, it's a significant time saver.
If you ask me, banana bread may as well be one of the major food groups (along with french fries, tacos, matcha, and chocolate.) I mean, it totally counts as a daily serving of fruit, right? (Yes. It does.)
These tender, flavorful muffins stay moist for days (we had 1 muffin left 6 days later and it was still as moist as the day it was baked). It must be banana magic or something because normal muffins never keep this well.
As luck would have it (well, it's really basic geometry rather than luck if we're being technical about it), most banana bread recipes made in standard loaf pans will yield almost exactly a dozen muffins. This is true whether you're making a basic loaf, double chocolate, chocolate chip peanut butter, or even black sesame swirl… all of these banana bread recipes can easily be made as muffins instead of loaves.
And vice versa, you can also make this muffin recipe in a standard loaf pan if you're wanting a full loaf of banana bread instead.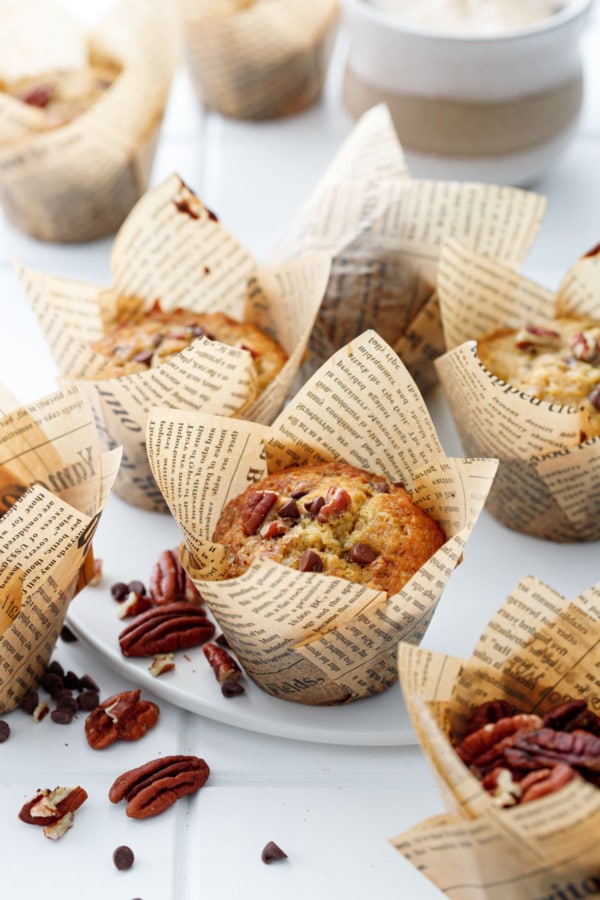 The recipe is pretty similar to my basic banana bread recipe, just baked in individual muffin tins. Oh, and despite my rants against nuts in banana bread I did opt to include them here, pecans though, not walnuts (which I still have very strong feelings against using in baked goods).
There's also a few tablespoons of yogurt, which helps add to the structure and moistness of the bread while also adding a bit of extra acid to help the baking soda do its duty.
The mix-ins are completely customizable; while I have strong feelings about walnuts in my baked goods (brownies, I'm looking at you), I do think pecans are a lovely addition, but other nuts would work just fine in their stead. The chocolate chips are optional too, though I can't see why you'd take the chocolate out of something but hey, you do you.
The best bananas for banana bread are the ones you considered throwing out yesterday but forgot to do so. The bananas that are so far gone that you'd never even consider eating them raw.
You can also freeze overripe bananas, if you find yourself with a ton that need to be used (in this year of grocery delivery I think everyone's mistakenly ordered 7 BUNCHES of bananas instead of 7 individual ones… or maybe that's just us?)
To freeze bananas, peel and seal in an airtight bag or container, label and freeze for up to 6 months. I bag mine in the same increments I use to make banana bread, so 2-3 bananas per bag. Thaw them overnight in the fridge, and, despite being a bit watery, they'll be ready to bake into perfect, delicious banana bread the very next day.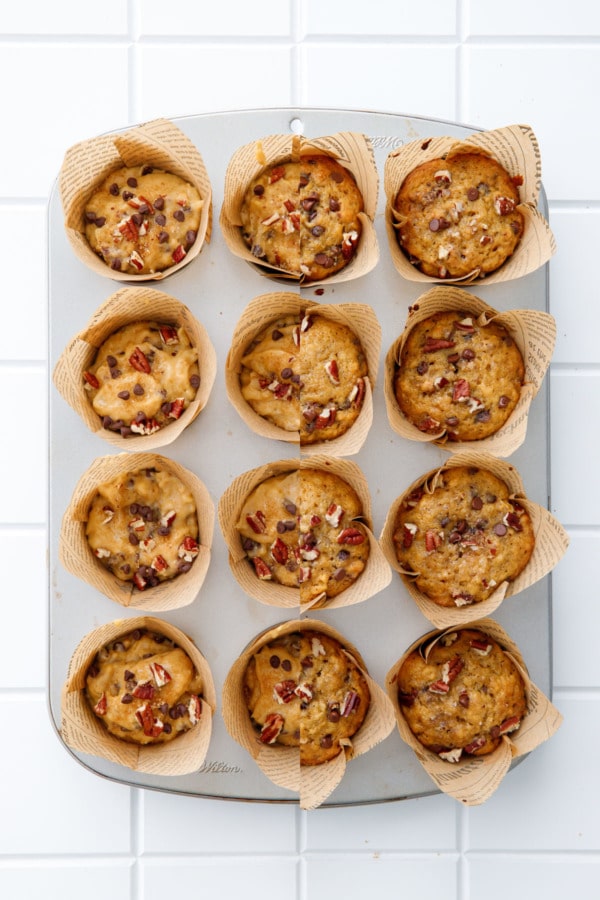 I have to say, these tulip papers make even ordinary muffins seem extra special. You can purchase pre-shaped tulip papers in a variety of colors (here are the exact newsprint ones I used).
You can also make your own: just cut out 6-inch squares of parchment and press them into your muffin tin using a juice glass or tart tamper (something with a flat base that is slightly smaller than the bottom of your muffin cup), creasing along the folds.
Regular muffin wrappers are fine here too, though I find you can't fill them quite as full (these muffins don't rise a ton, just be sure you don't fill your cups, whatever size they may be, more then 3/4 of the way full (about a 1/4 cup or a large cookie scoop full).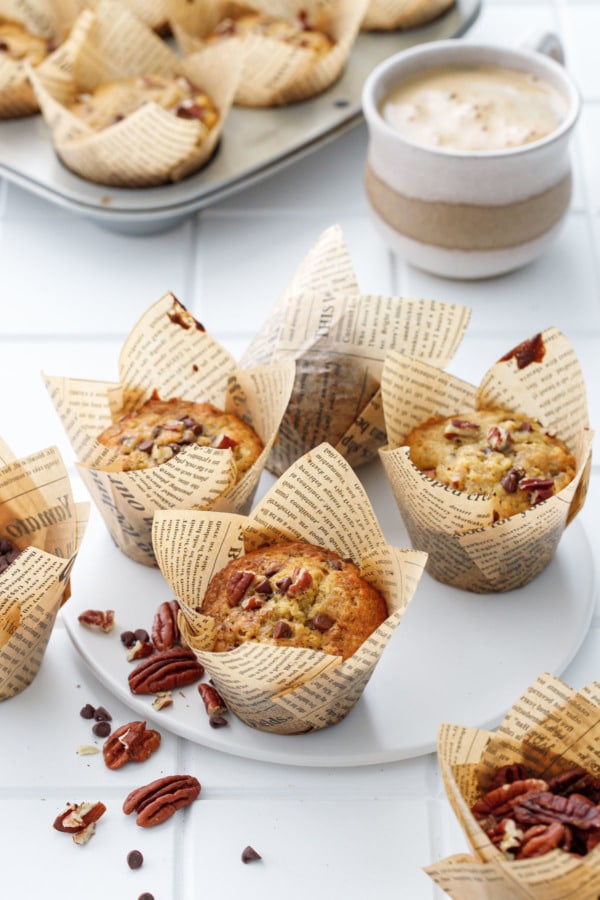 You definitely want to hit the sweet spot as far as doneness, as banana bread (unlike, say, cookies or brownies), isn't exactly appetizing if it's undercooked. Likewise if it's overcooked and dry. For me that was about 18 minutes on the dot: depending on your oven you might need slightly less or slightly more time.
Luckily the skewer test is quite reliable here – just insert a toothpick or cake tester in the center, it should come out with a few moist crumbs. If it's still gooey batter, give it a few more minutes. I also like to test two muffins on opposite sides of the pan to account for oven hot spots (in ours the back right tends to get a wee bit hotter, if your oven is equally uneven, rotating your muffins part way through is not a bad idea).
Standard sized muffins will take about 18-20 minutes to bake, compared with a full size loaf which is typically more like 50 to 60. Another reason why I love these muffins: satisfaction comes that much quicker.
Chocolate Chip Banana Bread Muffins
This hand-held version of my go-to banana bread is moist and flavorful and chock-full of crunchy nuts and mini chocolate chips. A perfect mid-morning or afternoon snack!
Ingredients:
1 3/4 cups (220g) all-purpose flour
1 teaspoon baking soda
1/2 teaspoon salt
3 medium-sized ripe bananas, peeled and mashed (a scant 1 cup, or 240g mashed)
2 large eggs, at room temperature
3/4 cup (165g) packed light brown sugar
2 tablespoons whole Greek yogurt
1/2 cup or 1 stick (113g) unsalted butter, melted and slightly cooled
1 teaspoon vanilla extract
1/2 cup (80g) chocolate chips, plus more for topping
1/2 cup (50g) chopped pecans or walnuts, plus more for topping
turbinado sugar, for topping
Directions:
Preheat oven to 350 degrees F. Line a 12-cup muffin tin with paper liners.
In a bowl, sift or whisk together flour, baking soda, and salt and set aside.
In another bowl, whisk together eggs, brown sugar, and vanilla until smooth.
Mash bananas in a bowl until mostly smooth (the riper your bananas, the easier they will be to mash). You should have a scant 1 cup. Whisk into egg mixture along with yogurt.
Drizzle in melted butter, whisking as you go, until incorporated.
Add dry ingredients and stir until just incorporated and no streaks of dry ingredients remain. Fold in nuts and chocolate chips.
Use a large cookie scoop to divide batter among muffin cups (about 1/4 cup each, taking care not to fill them more than 3/4 of the way full). Sprinkle with turbinado sugar, and some extra chopped nuts and chocolate chips (if desired).
Bake for 18 to 20 minutes or until a toothpick inserted near the center comes out with a few moist crumbs. Let cool on a wire rack. Store muffins in an airtight container at room temperature for up to 6 days.
You can also make this recipe in a standard size loaf pan (buttered and lined with parchment). Bake for about 50 to 60 minutes or until a long skewer inserted in the thickest part comes out with a few moist crumbs attached.
Did you make this recipe?
Let us know what you think!
Leave a Comment below or share a photo and tag me on Instagram with the hashtag #loveandoliveoil.