Tender, fluffy banana muffins studded with chopped pecans and topped with a crunchy crumbly streusel (since we're all in agreement that the tops are the best part anyway, why not make them even better with a crumb topping!)
If you're looking for a new way to use up those over-ripe bananas taunting you on the counter, look no further than these banana pecan muffins! They're tender and sweet and satisfyingly crunchy, like a cross between banana bread and coffee cake. In other words, the perfect way to start your day.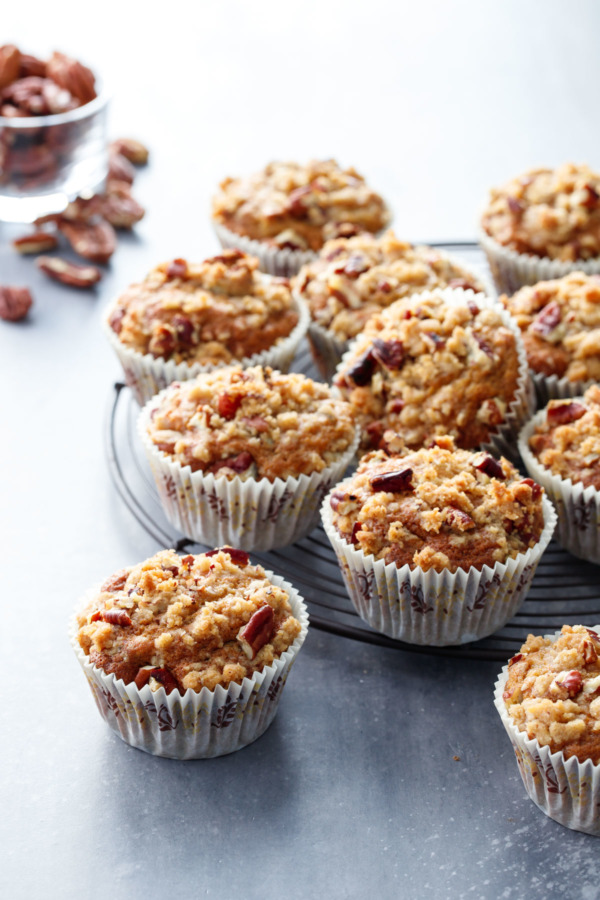 Ripe bananas are a constant battle around here, so I'm always throwing together a batch of banana bread so as not to let them go to waste. But rather than torture you with yet another banana bread recipe (I've got quite a few of them, actually, including my all time favorite double chocolate banana bread) I decided to do a banana muffin instead.
What a concept!
But I wasn't satisfied with a muffin-ified version of my banana bread. No, my muffins would be stellar, studded with chopped pecans (you should be proud of me for using nuts here rather than my default chocolate chips… because breakfast.) and finished with a crunchy streusel topping.
Because, let's be honest… a muffin without a crumb topping isn't even worth making.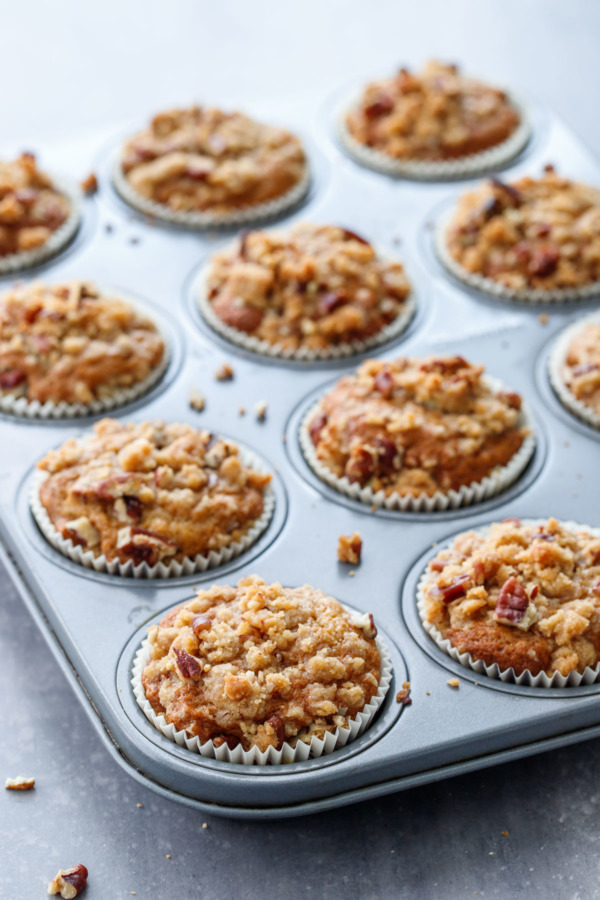 I originally tweaked my buttermilk crumb cupcake recipe to incorporate the ripe bananas, and while it was a good starting point, I found the batter a bit too delicate to support the weight of the crumb (leading to delicious, but embarrassingly sunken muffins). A bit more flour and a little less butter seemed to solve that problem, easily enough, and this recipe is the result!
Why are those cupcakes and these are muffins?
Let's see. Well, the fruit here, for one thing, makes them most definitely muffins. Also see: lack of chocolate chips (not that I have anything against chocolate chips for breakfast, but it makes the definition in this case a lot easier). No frosting, no dusting of powdered sugar, no mound of fluffy buttercream.
I don't think there's any question in my mind these are muffins.
Let's just leave it at that, shall we?
A good muffin is all about balance and contrast, and these muffins really have it all, plus a hint of cinnamon (just a hint though, we're not making spice cake here). Sweet but not too sweet, with a delicate crumb that's sturdy enough to hold up the topping, but tender enough to practically melt in your mouth.
The buttery crumb topping turns crunchy in the oven, for a perfect textural contrast to the soft cake. The pecans are also add texture and crunch, albeit in a completely different way than the crumb (we need more suitable words to describe crunchy things, because not all crunches are created equal, and the thesaurus entry for "crunchy" is notably lacking).


If you want a more classic banana nut muffin, just use a mix of pecans and walnuts (although personally I believe walnuts have no business in baked goods, or anywhere, really).
You can also leave off the crumb topping if you prefer (why on earth would you do that, though? The crumb is certainly the best part!)
This recipe will give you about 14 muffins if you scrape every last bit of batter from the bowl. Or 12 and a few licks of the spoon, if you prefer. ;)
Banana Pecan Crumb Muffins
Tender banana pecan muffins studded with a crunchy crumb topping, like banana bread meets coffee cake in muffin form.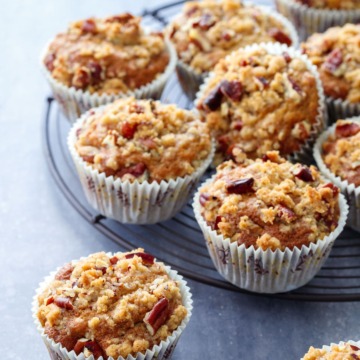 Ingredients:
For Muffins:
1 1/2 cups (7 ounces) all-purpose flour
1 teaspoon baking soda
1/2 teaspoon baking powder
1/4 teaspoon salt
1/2 teaspoon ground cinnamon
2 very ripe bananas, mashed (2/3 cup mashed)
2/3 cup packed light brown sugar
1 large egg
1 teaspoon vanilla extract
1/3 cup buttermilk
6 tablespoons unsalted butter, melted and cooled to lukewarm
1/2 cup (2 ounces) coarsely chopped pecans
For Crumb Topping:
1/3 cup all-purpose flour
1/3 cup packed light brown sugar
1/8 teaspoon ground cinnamon
pinch salt
2 tablespoons unsalted butter, melted
1/3 cup coarsely chopped pecans
Directions:
Preheat oven to 350 degrees F. Line a muffin pan with paper liners.
Melt butter gently in microwave or in a saucepan. You can melt a full stick altogether, and separate out 2 tablespoons for the crumb topping. Let cool slightly to lukewarm.
In a bowl, whisk or sift together flour, baking soda, baking powder, salt and cinnamon. Set aside.
Mash banana in a medium bowl until fairly smooth (the riper your banana, the easier this will be). Add sugar and whisk to combine. Whisk in egg, followed by vanilla and buttermilk. Add 6 tablespoons of lukewarm melted butter and whisk until incorporated.
Pour wet ingredients into bowl with dry ingredients, and whisk until almost incorporated, being sure to scrape the sides and bottom of the bowl to incorporate any flour sticking there. Add chopped pecans and fold until evenly distributed and no streaks of dry flour remain.
Spoon into prepared muffin cups, using a scant 1/4 cup of batter per cup (each cup should be no more than 2/3 full). I find a large cookie scoop works perfectly here: scrape off excess batter so each scoop is perfectly level.
For crumb topping, whisk flour, sugar, cinnamon and salt. Drizzle in melted butter and mix with a fork until evenly moistened and crumbly. Add pecans and mix with your hands, pressing some of the mixture together to form various sized pieces. Crumble about 1 tablespoon on top of each muffin.
Bake for 22 to 24 minutes or until puffed and golden brown, and a toothpick inserted into the center comes out cleanly. Place on a wire rack to cool.
Muffins will keep in an airtight container for up to 3 days.
Did you make this recipe?
Let us know what you think!
Leave a Comment below or share a photo and tag me on Instagram with the hashtag #loveandoliveoil.