You've made your share of bread and biscuits, pancakes and crackers… but here's a brand new way to use up that discard: sourdough pasta dough. In fact, it's so good you might find yourself feeding your starter a little bit extra, just so you have enough left over for a batch.
Usually, the bulk of the flavor in any pasta dish comes from the sauce. But throw a little bit of your sourdough starter into your pasta dough, and what you'll get is a uniquely flavorful homemade pasta with a hint of tang that will elevate any recipe.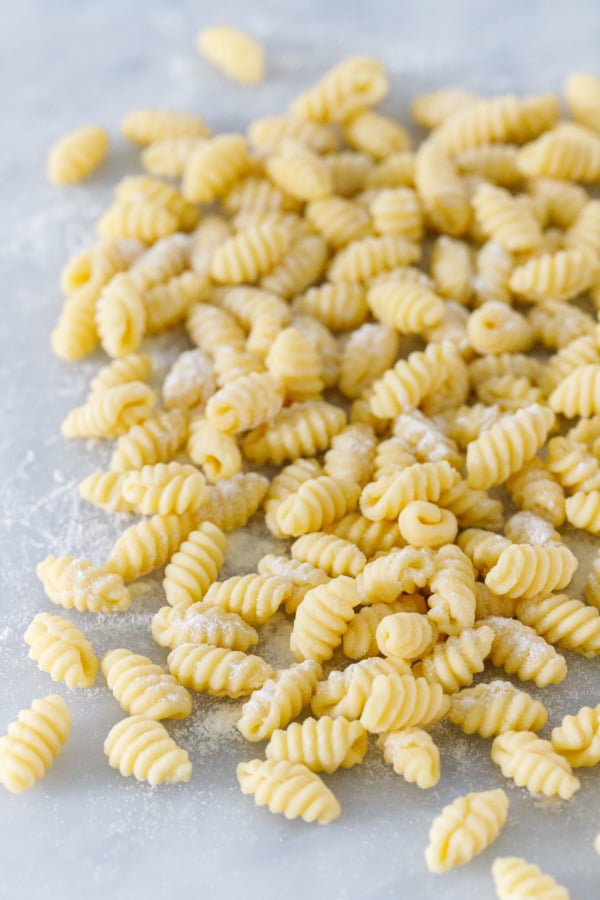 Seeing as sourdough starter is simply flour and water, it makes sense that any recipe calling for both flour and water could make use of sourdough starter instead.
This holds true for this sourdough pasta dough recipe, which replaces about a third of the flour/water content with sourdough starter. Mixed with a bit of pasta flour and a single egg, the result is a delightfully chewy pasta with a bit of underlying tang that brings worlds of flavor to your favorite pasta sauce.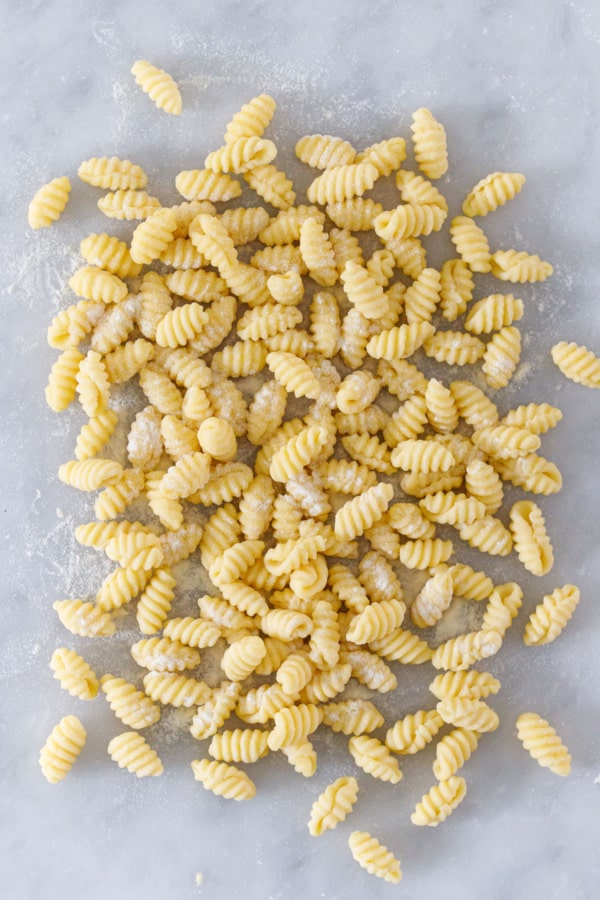 Did you know that there are two basic types of pasta dough? One with eggs and one with just semolina flour and water. I'm really not sure why homemade pasta recipes are always the egg-based kind, but it's this suffusion of eggy pasta recipes that has led us all to believe that's all there is, when this is certainly not the case (in fact, most commercial dried pastas you see in the store are actually semolina-based doughs since the shelf life is much longer without eggs).
This other style of pasta, which originates in Southern Italy, is made with a high protein durham wheat flour known as semolina (or, more specifically, the finely milled version known as semolina rimacinata), and uses water as the liquid binder. That's right, no eggs. Because of the higher protein content, this style of dough is more sturdy and toothsome, and holds more complex shapes beautifully, making it perfect for hand-rolled shapes like trofie, orecchiette, and, my personal favorite, gnochetti sardi.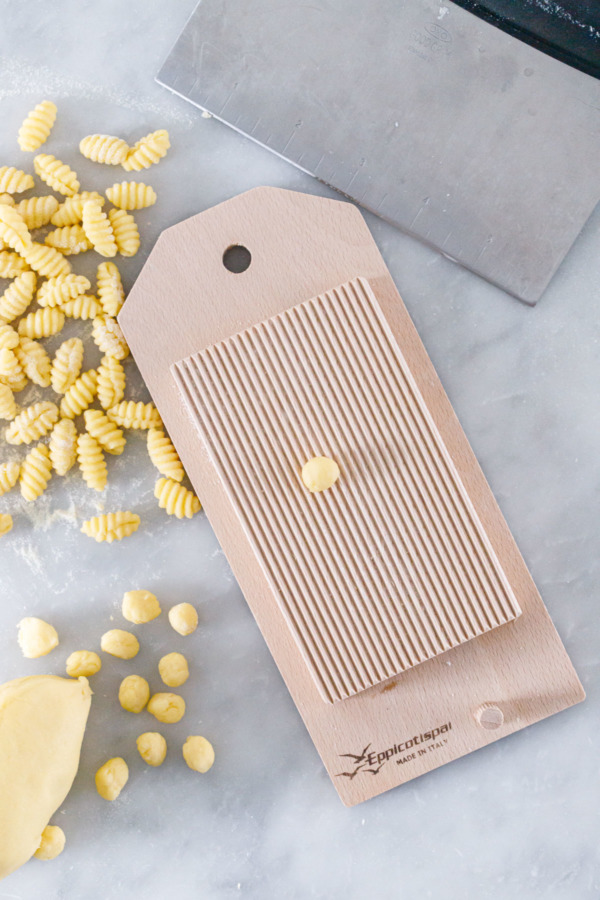 This sourdough pasta dough is somewhat of a hybrid between the two styles, with both egg and water (from the starter) as the binder, and a mix of AP/bread flour from the starter combined with semolina.
To arrive at this final iteration, we made… a lot of pasta. We tested a sourdough base both with and without egg, and compared pasta made with 00 flour to a semolina-based dough. Ultimately we decided we liked the semolina dough with a single egg, which gives the dough a lovely rich flavor and a silky smooth texture, not to mention a gorgeous yellow color.
The fact that the dough is a hybrid means it is incredibly versatile, and works well for hand rolled shapes like trofie and gnochetti sardi as well as flat noodles like fettuccine and pappardelle.
I find mixing pasta by hand the easiest method, but you can use a mixer or even food processor here to mix your dough.
If doing it by hand, place your dry ingredients in a bowl (some folks opt to do this on a flat surface but I can never seem to do that without the damn breaking). Make a well in the dry ingredients, then add your egg and sourdough discard to the well.
Use a fork to whisk the wet ingredients, slowly incorporating the flour around the edges as you go. When the dough gets too thick to mix with a fork, use your hands to continue to mix and knead the dough until it comes together and is no longer sticky. You may not need all the flour in the bowl, just knead until it feels like it isn't absorbing any more of the flour.
Continue to knead the dough on a work surface until smooth and no longer grainy, this usually takes me a couple of minutes. Then wrap the dough in plastic wrap and set aside to let it rest for 30 minutes. This rest period allows the flour to fully absorb the liquid and for the gluten to develop; after 30 minutes you'll find it noticeably smoother, almost silky in texture, though it can also be refrigerated overnight if need be.
From here the dough can be shaped into any shape your heart desires!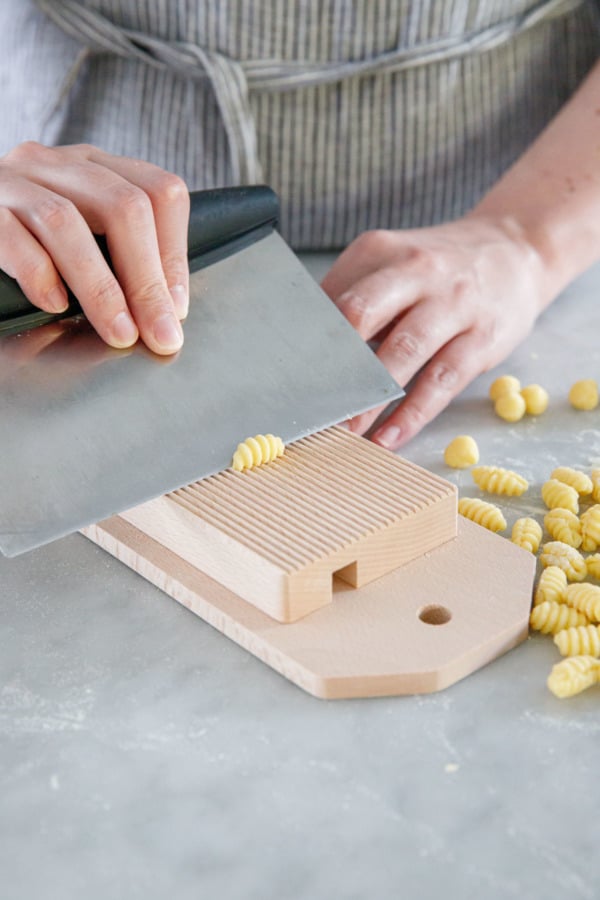 Get in Shape
The shape pictured here is not one you've probably seen in your local grocery store. Called gnochetti sardi, or sometimes malloreddus, is similar in shape to potato gnocchi, but smaller and made with a durham wheat pasta dough. It's made by smooshing a ball of pasta dough across a ridged gnocchi board, though I've seen that you can also use a cheese grater or a fork to give it a bit of texture too.
This short video shows you how this shape is made (it's much easier to see than describe in words). Start with a chickpea-sized ball of dough, and smoosh and swoosh it on a gnocchi board using a bench scraper or butter knife. Smoosh and swoosh obviously being very technical terms for this movement, which uses a bit of the surface tension to hold the dough in place while the knife flattens, presses into the striations, and causes it to spiral in on itself.
We served our fresh gnochetti sardi with a creamy pesto-like basil sauce (I'll be sharing the recipe very soon!) The recipe originally called for trofie, which are thin spirals of semolina dough. I personally find it particularly tedious to make and very tricky to make right, and thus prefer gnochetti sardi all around, both in its appearance and texture, as well as for ease of preparation.
Flour Power
Semolina rimacinata, or semola di grano duro, is slightly different from the coarser, cornmeal-like semolina that's more common here in the states (I use this stuff to keep my pizza sticking to my pizza peel, and that's about it). Using coarse semolina for pasta would result in a crumbly dough that's somewhat sandy in texture. Semolina rimacinata is more finely ground, more the texture of rice flour than cornmeal, and absorbs liquid much better, making for a silky smooth and elastic pasta dough. It's definitely worth planning ahead and ordering the correct flour for this pasta.
00 flour works here too (substitute equal weight, ignore the volume measurement entirely). The resulting pasta is quite tasty, but more of an off-white instead of golden yellow in color. You can also use a blend of the two, or even something like King Arthur's pasta flour blend.
When substituting flours, be sure to use an equal amount by weight, NOT volume. Case in point: 1 cup of semolina flour weights about 170g, while 1 cup of 00 or AP weights more like 125g. So you can see how if you measure out 7/8 cup of 00 flour, it's going to be much less than the same volume of semolina (confused? This article explains it a bit more clearly). That said, pasta dough is pretty smart, it'll absorb the flour it needs and leaves the rest behind (conversely, if you find your dough particularly sticky, just knead in a bit more flour).
Can you use regular AP flour? Technically, yes. AP is similar in protein content to 00 flour, it's just not as finely milled, so the dough will just be a little rougher and not quite as silky in texture. I find it's well worth having some 00 flour on hand though; it's my favorite flour to use in pizza dough and focaccia as well as homemade pasta.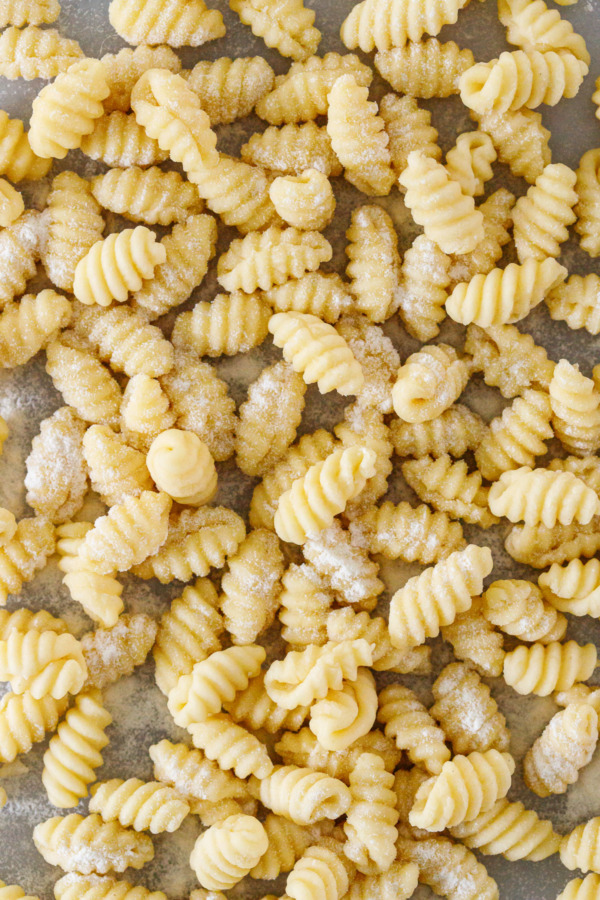 A Fresh Start(er)
This recipe calls for 100g of sourdough starter at 100% hydration (fed with equal parts flour and water). If your starter has a lower or higher hydration, you'll just want to adjust the quantity of flour accordingly. It doesn't matter if your starter is freshly fed or a week old, though the later will produce a stronger, more sour flavor in the final pasta.
If your sourdough starter uses whole wheat or rye flour, I recommend feeding it once using all white flour (AP organic or organic bread flour ideally) the night before you want to make your pasta. Heavier wheat flours will result in a thicker, gummier pasta, which isn't ideal, and this extra, all-white feeding will help alleviate that a bit. If your starter is a white flour starter to begin with (as mine is), you're good to use it as is.
If you don't have a sourdough starter, now is a great time to start one! Here's a great article to help you get your starter started.
Just like you can pretty much substitute sourdough starter into any recipe calling for flour and water, likewise you can substitute flour and water for sourdough starter in this recipe, though the results will be less flavorful overall (you're losing those natural yeasty flavors that are so unique to sourdough). But, as long as you know that sourdough starter is equal parts flour and water by weight, the swap is pretty simple.
For example, this recipe calls for 100g of sourdough starter, you could simply replace that with 50g of water and 50g of flour (for a total of 200g of AP/00, semolina, or a mix of the two).
Storing & Freezing
The pasta dough can be made a day ahead of time if necessary. Wrap tightly in plastic wrap and refrigerate until ready to use.
You can also shape the pasta ahead of time, just toss the finished pasta with semolina flour (to prevent sticking) and spread out on a cookie sheet. I like to let the pasta air dry for an hour or so, then cover and refrigerate overnight.
If you want to store it longer, fresh pasta freezes beautifully. Just take that same cookie sheet and pop it in your freezer until the pasta is frozen solid, then transfer to an airtight bag. It'll keep for about a month. When it comes time to cook, you can boil the pasta straight from frozen, just add an extra 30-60 seconds to the cook time.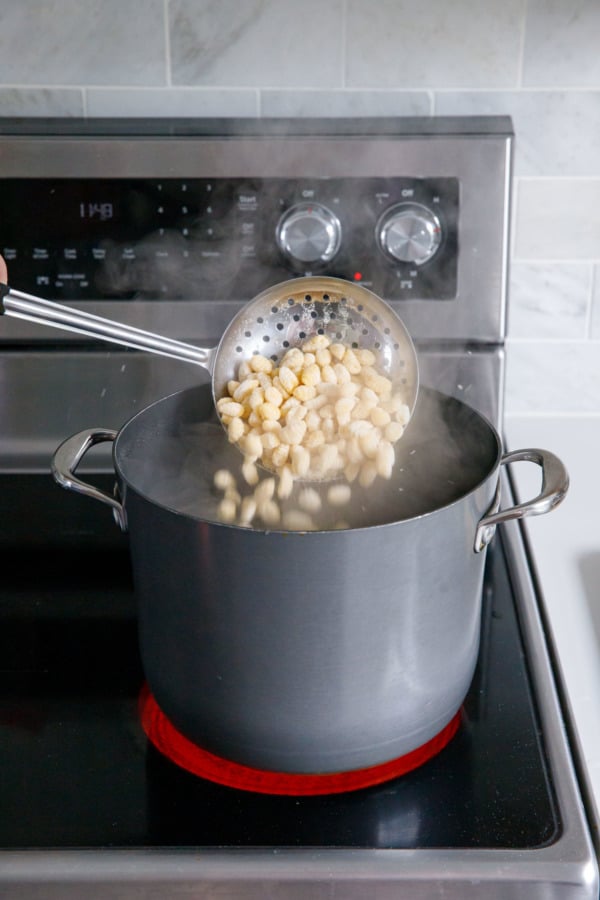 Cooking Fresh Pasta
Unlike dried pasta, fresh pasta still has a high water content so it cooks much quicker overall. It varies depending on the size/thickness of the specific shape, but typically 2 to 3 minutes is a good estimate. I cooked the fresh gnochetti sardi for exactly 3 minutes, about 3 minutes 45 seconds from frozen.
This recipe is a small batch recipe, yielding about 300g of fresh pasta dough, or about 3 servings or so (2 if you're really hungry). It can easily be doubled or even tripled if you have a lot of starter to use up, and a lot of time on your hands for shaping it (because let's face it, hand rolled pasta shapes like this are not quick by any means).
For reference, once I got the feel for it, it took me about 45 minutes to an hour to shape 3 servings worth of this gnochetti sardi. If you had a second set of hands who can help roll while you shape, it'd go much quicker.
Sourdough Pasta Dough
A uniquely flavorful homemade pasta dough made with sourdough discard for a hint of tang. This recipe yields about 3 servings worth, and can be used to make a variety of pasta shapes.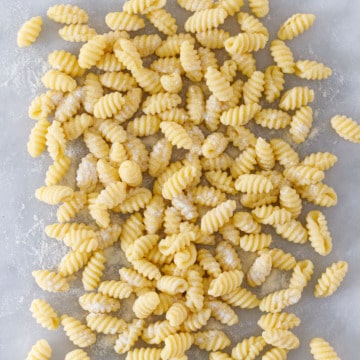 Ingredients:
150g (about 7/8 cup) semolina rimacinata (can be swapped for an equal weight of 00 or AP flour as well)
100g sourdough starter (preferably a white flour starter at 100% hydration)
pinch kosher salt
1 large egg
Directions:
Combine flour and salt in a mixing bowl. Make a well in the center of the dry ingredients and pour in sourdough starter and egg. Use a fork to whisk the wet ingredients in the well of flour, slowly incorporating more and more flour. When it gets too thick to mix with a fork, use your hands to knead the rest of the flour into the dough. There may still be a bit of dry flour left, that's ok, the dough will absorb what it needs and leave the rest behind. You can also use a mixer or food processor here if you prefer.
Knead dough for a few minutes until smooth and no longer gritty. Wrap dough tightly in plastic wrap and allow to rest at cool room temperature for at least 30 minutes or until ready to shape; it will also keep, tightly wrapped, in the fridge overnight.
This pasta dough will work for a number of different pasta shapes, including gnochetti sardi (pictured), as well as sheet pastas such as fettuccine or pappardelle.
To shape, divide pasta into quarters. Work with one piece at a time, keeping the remaining dough wrapped in plastic so it doesn't dry out. Roll or shape as desired, tossing lightly with semolina flour to keep the pasta from sticking to itself.
Cooking instructions: fresh pasta cooks very quickly compared to commercial dried pastas. Cook in a pot of boiling salted water for about 2-3 minutes or until al dente (slightly more or less depending on the shape).
Shaped pasta can also be frozen for up to 1 month; toss with a bit of semolina flour and spread on a cookie sheet. Freeze until solid, then transfer to an airtight bag. Add 30-45 seconds to cook time if cooking from frozen (no need to thaw first).
Did you make this recipe?
Let us know what you think!
Leave a Comment below or share a photo and tag me on Instagram with the hashtag #loveandoliveoil.