Light and tender chocolate banana muffins made with rye flour for a uniquely nutty texture, and topped with crunchy turbinado sugar and cacao nibs.
With chunks of dark chocolate and a delightful crunchy topping, these chocolate banana muffins are sure to satisfy your morning cravings (and I am not one to say no to chocolate for breakfast!)
A mashup between my double chocolate banana bread and my banana pecan crumb muffins, these chocolate banana muffins have an added element of interest in the form of rye flour, which adds a subtle nutty undertone and coarser mouthfeel than a muffin made with entirely all-purpose (that said, you can certainly use all all-purpose if you want, or any other whole grain flour of your choice). It doesn't make the muffins dense like whole wheat flour often can (in fact they are surprisingly light!) but it just makes them a bit less cake-like.
And because the crunchy muffin top is most definitely the best part of the muffin, I topped these with a generous sprinkle of coarse turbinado sugar, crunchy cacao nibs, and a few more chocolate chunks for good measure.
These muffins are surprisingly light in texture, especially when you consider that they are 30% rye flour.
It's a simple batter, mixed by hand with no electric mixer required. I used melted butter for added flavor, but a light olive or vegetable oil would work here as well (as would coconut oil, I presume!)
I added chunks of dark chocolate into the batter itself (because if a little chocolate is good, more is better!) and for that reason these muffins are much better enjoyed right out of the oven while there are still puddles of warm, melty chocolate hidden inside.
Don't forget to set aside a few chunks to sprinkle on top of the muffins. It's the same trick I often use with chocolate chip cookies, to have a few perfectly preserved chocolate chips perched on top of the final baked good. It makes for a beautiful appearance that hints at the surprises you can find inside.


As with all banana bread and muffin recipes, this one requires extra ripe bananas, ones with more brown than yellow in the peel (in other words, if you would consider eating the banana plain, it's probably not ripe enough).
I know I've found myself with a few of such bananas taunting me on the counter, threatening to bring all the fruit flies to the yard before I get a chance to do something with them. And it is situations such as this where these muffins are so perfect—they whip up in a jiffy, using those last 2 overripe bananas before they have a chance to go bad (seriously, there is no reason to ever let bananas go bad).
In a pinch, however, know that you CAN freeze ripe bananas. In the peel, no less! Then simply peel and thaw, draining out any excess water before mashing and using in your recipe.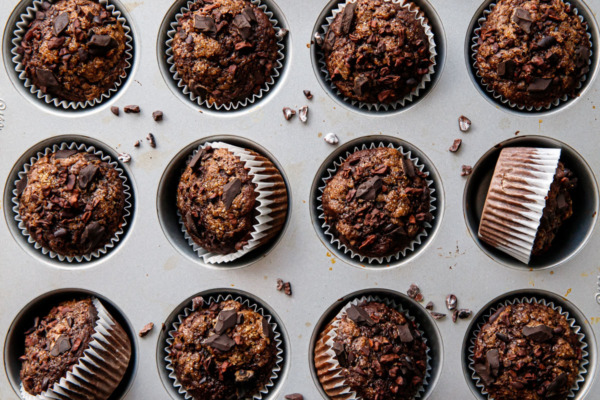 Chocolate Banana Rye Muffins
Light and tender chocolate banana muffins made with rye flour for a uniquely nutty texture, and topped with crunchy turbinado sugar and cacao nibs.
Ingredients:
1 cup (125g) all-purpose flour
1/2 cup (65g) rye flour
1/2 cup (35g) Dutch-process cocoa powder
1 teaspoon baking powder
1/2 teaspoon baking soda
1/2 teaspoon kosher salt
2 very ripe bananas, mashed (about 2/3 cup mashed)
1 large egg, at room temperature
3/4 cup (150g) packed light brown sugar
2 teaspoons vanilla extract
1/3 cup buttermik
6 tablespoons (80g) unsalted butter, melted and cooled to lukewarm
1 cup dark chocolate chips or chunks
cacao nibs, for topping
raw or turbinado sugar, for topping
Directions:
Preheat oven to 350 degrees F. Line a muffin tin with paper liners.
In a bowl, whisk together flour, rye flour, cocoa powder, baking powder, baking soda and salt.
In another bowl, mash banana until smooth. Whisk in egg and brown sugar, followed by vanilla. Add to dry ingredients along with buttermilk and melted butter; stir just until incorporated and only a few streaks of dry flour remains. Fold in chocolate chips (set aside a few chips for topping).
Scoop info muffin cups, a scant 1/4 cup (or a large cookie scoop) per muffin.
Sprinkle with cocoa nibs and turbinado sugar, and place a few chocolate chips on top of each muffin.
Bake for 16 to 18 minutes or until tops are puffed and a toothpick inserted in the middle comes out mostly clean. Let cool for 15 minutes before serving. Store leftovers in an airtight container for up to 3 days.
Did you make this recipe?
Let us know what you think!
Leave a Comment below or share a photo and tag me on Instagram with the hashtag #loveandoliveoil.