Perfection is these soft and chewy sugar cookies stuffed with a dark chocolate ganache and topped with a burst of freeze-dried strawberries.
Love is in the air… love for the timeless combination of chocolate and strawberry, that is! Also, my love of stuffed cookies is seemingly endless (am I the only one that finds a plain, not-stuffed cookie so incredibly boring now?)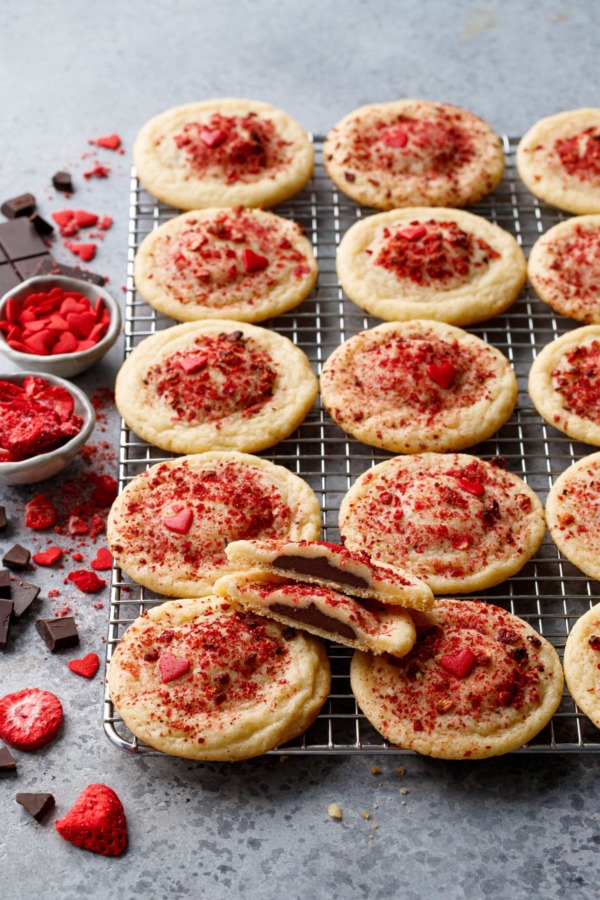 Yes I realize I made the perfect Valentine's day cookies in the middle of summer but, you know what? My love of chocolate and strawberry lasts all year round.
My first test run of these cookies resulted in two versions, one with the ground up freeze-dried strawberries mixed into the dough, and the other with plain dough and a coating of crushed berry powder before baking.
While the strawberry flavor was lovely on both versions, the strawberry-in-the-dough batch turned a not-so-enticing mauve color when baked. Nothing like the pretty pastel pink I envisioned. But such is life when you're using natural colorings.
My initial tests also showed me that, for the ones coated in crushed berries, it was best to just coat the top of the cookie in the crushed freeze-dried fruit, as the fruit tends to burn if it's on the bottom of the cookie.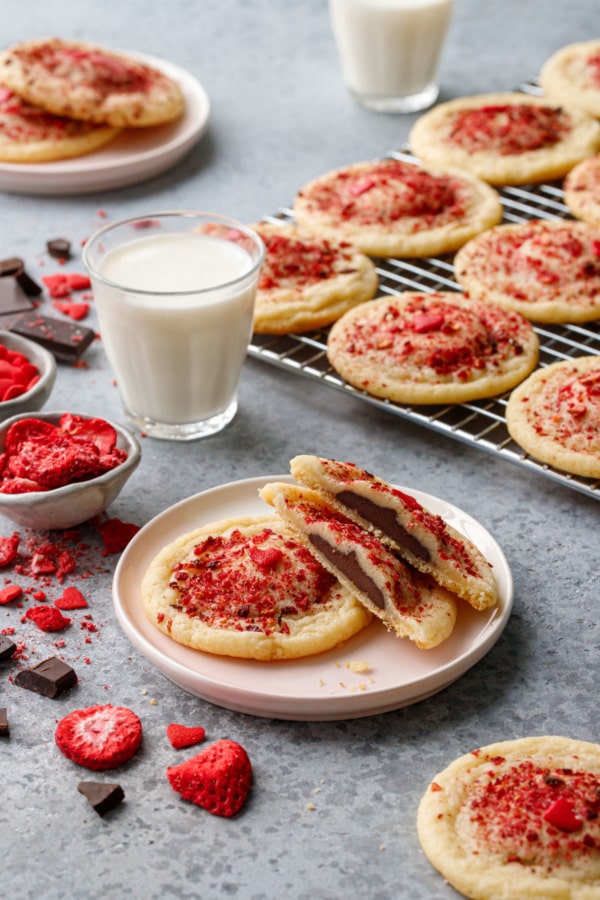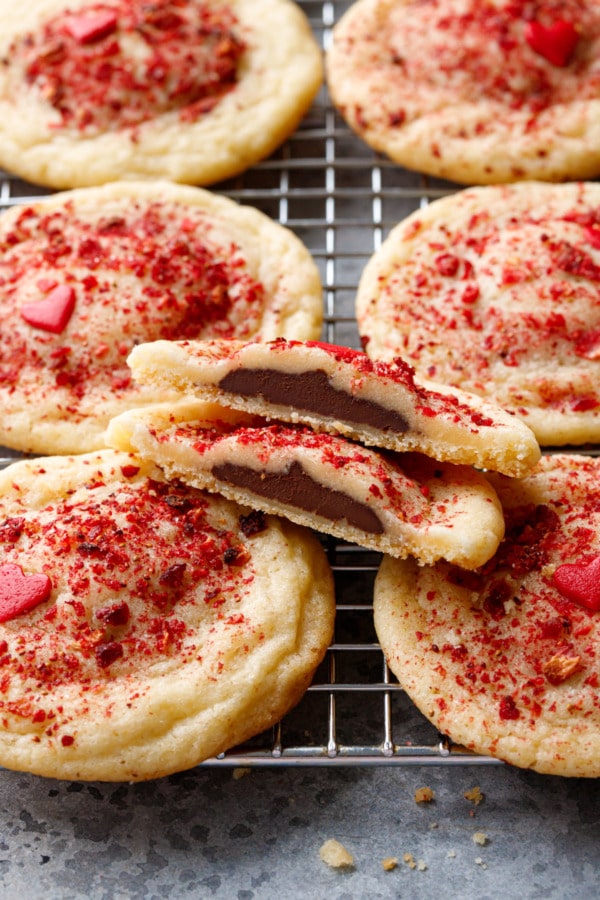 Freeze dried strawberries are getting easier to find these days, which please me to no end because I love baking with them. While I usually get them from Trader Joe's, I saw them at Target recently along with a slew of other freeze-dried fruits (and any freeze-dried fruit could be used in this recipe.)
Freeze dried fruit adds a ton of bright fruit flavor without all the extra liquid that fresh berries or even jam would add (fresh strawberry puree, more than any other fruit it seems, does really weird things to the texture of cakes and cookies).
I often use finely ground freeze-dried fruit as a flavoring addition (I have a coffee grinder that's pretty much dedicated to just this purpose), such as the ever-popular Strawberry Cake Roll and these Raspberry Amaretti. And I hope you'll trust me when I say that freeze-dried fruit makes the BEST fruit-flavored buttercream.
For this recipe, however, I ultimately decided I liked the look of more roughly crushed freeze-dried fruit rather than the finely pulverized powder. You want to give the tops of the cookies a nice thick coating of crushed up freeze-dried fruit mixed with sugar; it'll spread out a bit as it bakes and gives a really lovely rustic appearance to the tops of these cookies.
The little heart sprinkles were a last-minute addition that really adds a sweet finishing touch, I think!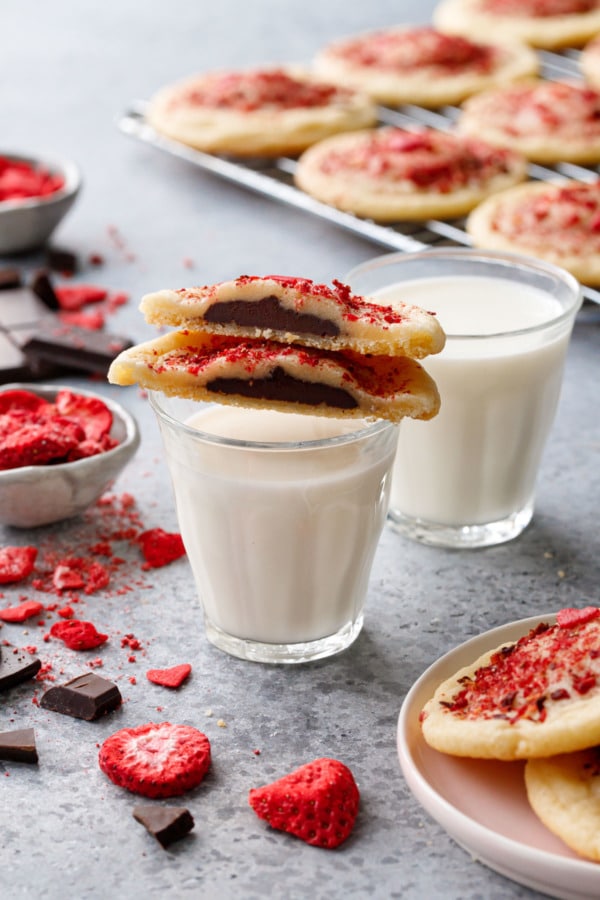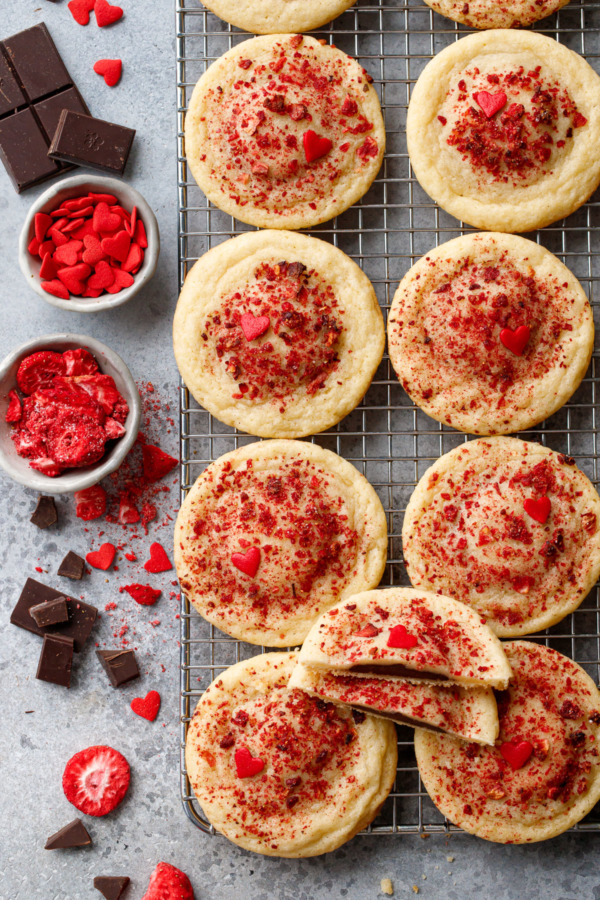 While the fruit coating lends a tangy strawberry flavor to each and every bite, I also added a smidge of strawberry extract to the dough itself just for a little extra strawberry punch, but this can certainly be omitted.
Could you make these cookies without the stuffing? Sure, you'd have a very satisfying strawberry-coated sugar cookie.
Could you make these cookies without the strawberry flavoring or coating? Yes siree, the basic sugar cookie and chocolate filling would be lovely on its own, and would also make for a perfect base for any number of other flavor combinations.
Could you use some chocolate candies (such as kisses or truffles) in the center instead of the ganache? Yes and yes again.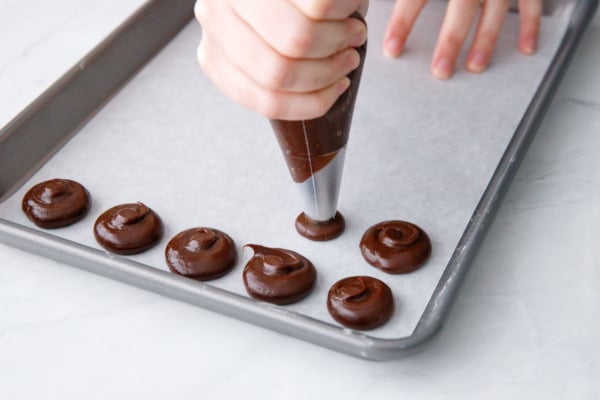 My stuffed cookie technique is one I developed way back in 2012 with these mint truffle stuffed cookies, and has remained relatively unchanged ever since.
No matter what you're using as filling, you ideally want a thick disc about an inch in diameter. I like to pipe my ganache centers as it allows me to get a consistent size and nice disc shape, but you can scoop them as well (let your ganache set up a little bit longer so it's easier to scoop out with a spoon).
When you're using a filling that's soft at room temperature, like ganache, then the centers need to be frozen first. Trust me, it'll make stuffing them a much easier task.
I use a small cookie scoop for this task, but a medium one would work too (just split the ball in half versus using two smaller balls). Roll and flatten each small ball, place the frozen filling in the center, then top with the second piece of dough. Seal the dough around the filling so it doesn't leak out as it bakes.
Ultimately you'll end up with a puck-shaped ball of dough, about 1-inch thick and 1 1/2 in diameter. I've found the puck shape makes the cookies bake more evenly around the disc-shaped filling. That said, if your filling is more spherical, like a kiss or a truffle, you'll probably want to form more of a ball instead.
These particular cookies are definitely best the within a day or two of baking; unlike some of my other sugar cookie recipes that rely on oil and cream cheese for extended softness, these butter-based babes do tend to dry out after a few days.
If you don't think you'll be able to finish them all before they dry out (which is not a hardship to do, mind you), you can always freeze the stuffed and shaped cookie dough balls for later. The strawberry coating is a bit tricky though, since some of it will probably fall off as the frozen dough balls jostle around in a bag, or you can give the cookies their coating right before you bake. That said, if you live in a humid climate, the crushed freeze dried strawberries will soften and clump like crazy after being exposed to the moisture in the air, so you'll only want to crush up the amount you'll use right away.
Chocolate Stuffed Strawberry Sugar Cookies
Perfection is these soft and chewy sugar cookies stuffed with a dark chocolate ganache and topped with a bloom of crushed freeze-dried strawberries.
Ingredients:
For Ganache:
3.5oz (100g) good quality semisweet (50-60%) chocolate, finely chopped
1/4 cup (60g) heavy cream
For Cookies:
2 cups (250g) all-purpose flour
½ teaspoon baking powder
½ teaspoon baking soda
½ teaspoon kosher salt
¾ cup (1½ sticks/170g) unsalted butter, at room temperature
1¼ cup (250g) granulated sugar
1 large egg, at room temperature
1 teaspoons vanilla extract
¼ teaspoon strawberry extract (optional)
½ cup (10g) freeze-dried strawberries
Directions:
To make ganache, place chopped chocolate in a heat proof bowl. Line a small baking sheet or flat plate with parchment paper.
Warm cream in a small saucepan until it just begins to bubble around the edges (do not let it boil). Pour over chopped chocolate. Let sit for 30 seconds then slowly whisk, working from the center outward in concentric circles until an emulsion forms. Continue to gently whisk until cream is fully incorporated and chocolate is melted. Let cool, scraping the sides and folding a few times to ensure the ganache cools evenly, for about 20-30 minutes or until ganache is thickened to the consistency of peanut butter.
You can either scoop teaspoonfuls of ganache onto parchment-lined baking sheet, or, for more precise centers, transfer ganache to a piping bag fitted with a 1/2-inch round tip and pipe approximately 1¼-inch rounds of ganache onto baking sheet (pipe them like you would macaron batter, you want flat-ish shaped rounds rather than tall kisses, if that makes sense!) You should end up with about 2 dozen centers. Freeze until completely set, at least 30 minutes.
To make cookie dough, whisk together flour, baking powder, baking soda, and salt in a bowl and set aside.
Place butter and sugar in the bowl of a stand mixer fitted with the paddle attachment. Beat on medium-high speed until lightened and somewhat fluffy, about 2 to 3 minutes.
Reduce mixer speed to low and add egg, mixing until completely incorporated. Scrape down the beater and the sides of the bowl, then mix in extracts. Add dry ingredients and mix on low speed until just incorporated and dough comes together.
Press a layer of plastic wrap on the surface of the dough. Refrigerate for 20 to 30 minutes or until it's just firmed up enough to work with.
Meanwhile, preheat oven to 350 degrees F. Line two baking sheets with parchment paper.
Place strawberries in a small bowl with 1 tablespoon of sugar. Crush using a pestle or the back of a spoon until coarsely crushed into a mix of lentil-sized pieces and smaller.
Use a small cookie scoop to portion out two balls of dough for each cookie (you can also use a medium cookie scoop and split each ball in half). Flatten dough balls into a pancake shape (if you find the dough sticky you can lightly dab your palm with a bit of flour first).
Place one frozen ganache dollop in the center of one flattened piece, then top with a second. Seal the edges around the ganache, then roll slightly into a flattened ball/puck shape.
Press the tops of dough pucks into the crushed strawberry mixture, then invert and place on prepared baking sheet, leaving 3-4 inches of space between cookies as they will spread quite a bit. Repeat with remaining dough, returning ganache pieces to the freezer in the interim so it doesn't get too soft. At this point the stuffed dough balls can also be frozen if you want to save them to bake later. Ideally freezing in a single layer in an airtight container so the strawberry coating doesn't get too jostled.
Bake for 9 to 11 minutes or until tops are puffed and no longer shiny and edges are just beginning to brown.
Remove from oven and immediately swirl a large round cookie cutter (larger than the diameter of the cookie) around each still-soft cookie. This will tuck in the edges and make your cookies perfectly round. Let cool on sheets for 10 minutes, then transfer to a wire rack to cool completely. Cookies will keep in an airtight container for up to three days.
Did you make this recipe?
Let us know what you think!
Leave a Comment below or share a photo and tag me on Instagram with the hashtag #loveandoliveoil.