This twist on a classic French vanilla bean ice cream is a revelation—the addition of fresh bay leaf makes for a unique and unexpected ice cream flavor that is anything but plain vanilla.
Unlike their dried compatriots, fresh bay leaves are full of nuanced flavor, as this twist on a classic vanilla bean ice cream proves: the fresh bay leaf imparts a truly unique flavor to a rich and creamy, but otherwise basic, custard-based vanilla ice cream.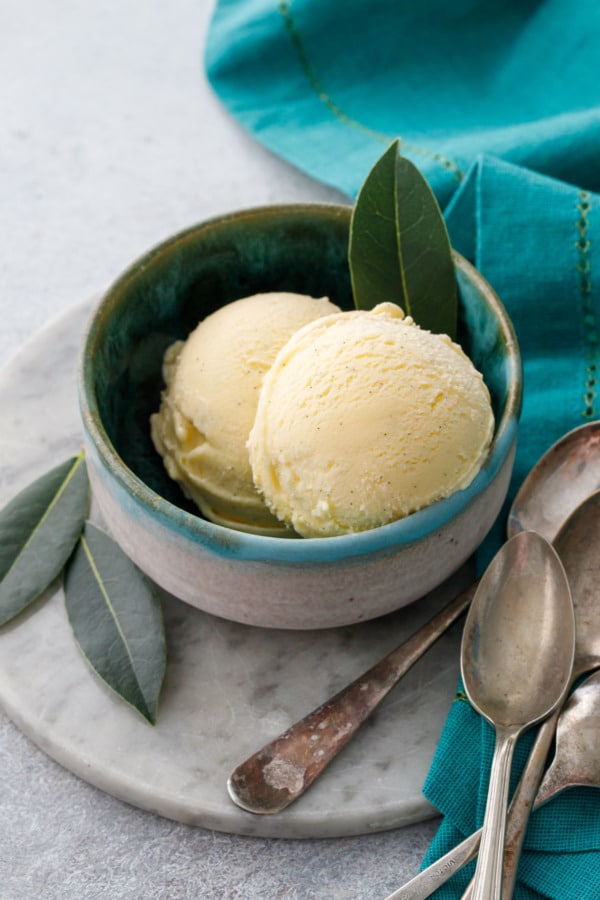 This is certainly one of the more unusual ice cream flavors I've made, but it's also one of the simplest, with little more than vanilla beans and fresh bay leaves flavoring the frozen custard.
Now, I know what you're thinking, bay leaves? Those dusty old leaves from a jar in the back of your cupboard taste like, well, dusty old leaves, if anything at all.
But fresh bay leaves? Fresh bay leaves are a revelation.
Once you taste this ice cream, which is basically just a simple vanilla bean ice cream with the addition of bay leaf, you will be amazed and just how much extra flavor comes from a few little leaves. It's quite extraordinary, really!
It will give you a profound new appreciation for these humble leaves.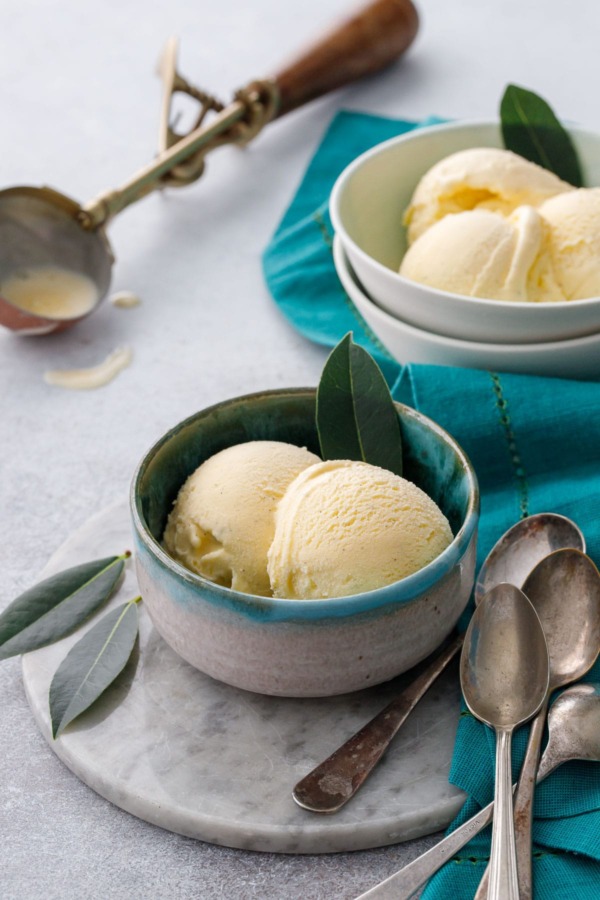 Fresh bay leaf is a flavor that's hard to describe other than to say there's nothing else quite like it.
When mixed with the sweetened custard and vanilla bean, there's a hint of something familiar there, though it's hard to put a finger on exactly what. It almost takes on an eggnog-like character, the bay leaf giving off subtle notes of nutmeg and spiced rum when paired with the sweetened cream and vanilla bean. The subtle spice reminds me a lot of the sakura/cherry blossom leaf flavor that I so adore.
Honestly I was surprised at the intensity of the bay leaf flavor, I totally wasn't expecting it. We've actually made a bay leaf-infused panna cotta before as part of a 3-course menu, which is what inspired this frozen iteration. Maybe it was the fact we used dried leaves then or it just didn't infuse it as long, but I don't remember the flavor being this pronounced.
Have I convinced you that fresh bay leaves are worth it yet?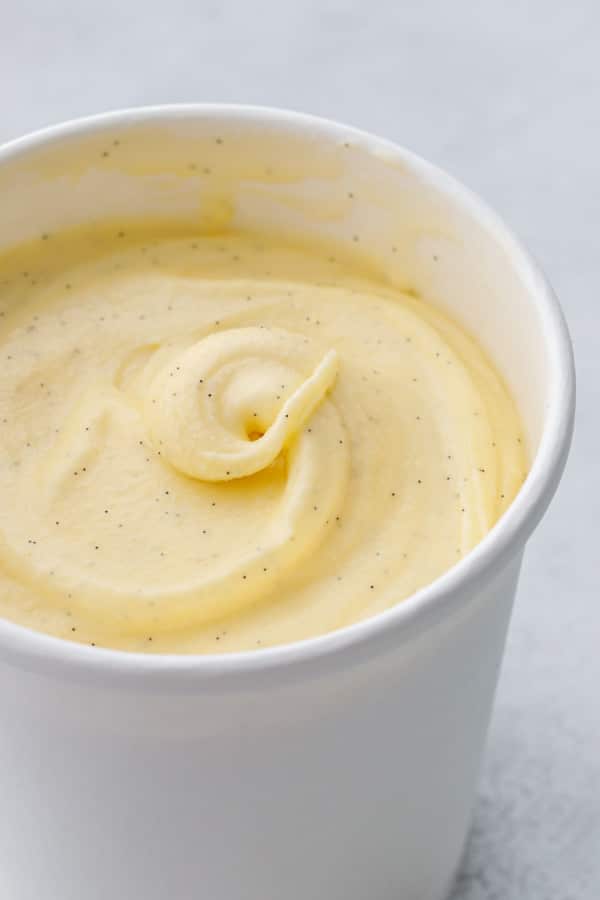 The bay leaf flavor is achieved by simply steeping the leaves in warm cream. The actual steeping time will depend on the freshness of your leaves and how strong you want the flavor to be. Don't be afraid to test the flavor after 15 or 20 minutes, you'll be able to taste the difference straight away. Let it steep slightly longer, or use more than 2 leaves if you want a stronger flavor.
Also, don't waste those used vanilla beans (lord knows they're not cheap). I rinse them off and put them in a little jar of vodka I have in the pantry at all times for just this purpose. I'll occasionally replace the beans or top it off with more vodka, so it's like a bottomless source of homemade vanilla extract. You could also cover the rinsed and dried beans with sugar and set it aside to infuse for a little while… and voila! Vanilla sugar.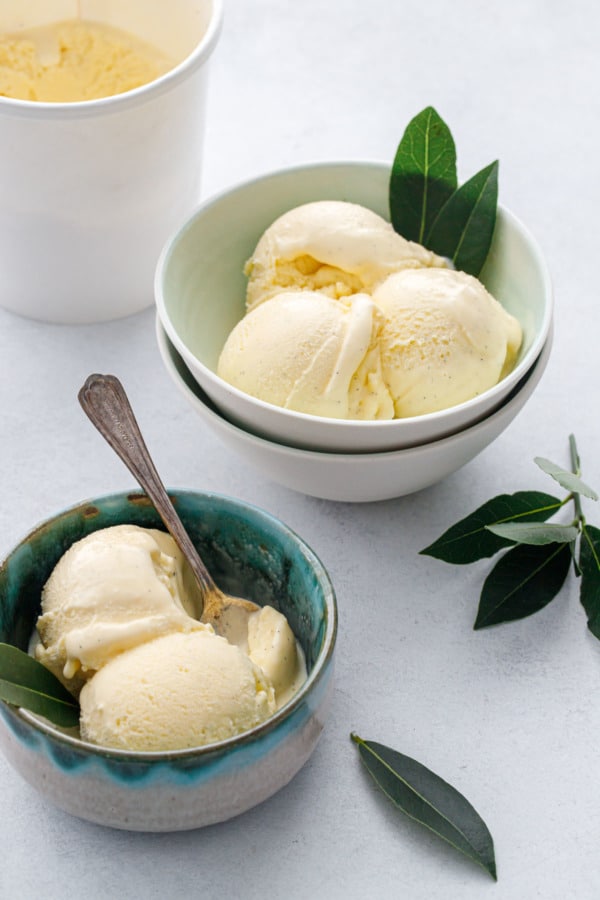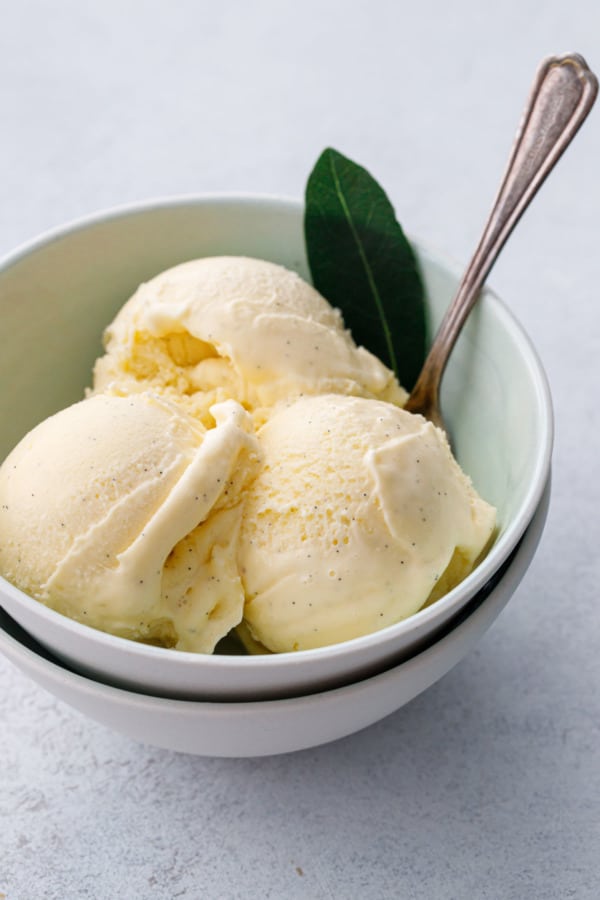 Turkish vs California Bay Leaves
Most bay leaves sold in stores are Turkish bay leaves, from the bay laurel or sweet bay tree (latin name: laurus nobilis). There is another variety, called the California bay or umbellularia californica, however the heady menthol/eucalyptus notes of this variety would not make for good ice cream. Most bay leaves that you find in the store are the Turkish variety even if they do not specifically say so.
I'm almost positive my little tree is the Turkish kind, a true bay laurel, even though the leaves are longer and less rounded than is often characteristic of this variety. I tried to go back to the garden store to see if the tag included the latin name, but there were no more bay laurels in stock. So, despite my lack of solid proof or botanical expertise, I'm going to make the assumption that, since there was no hint of menthol or eucalyptus flavor, what I have is indeed a true bay laurel or sweet bay. If any experts out there care to chime in with an opinion one way or the other I'd be glad to hear it!
I love having my own source of fresh bay leaves in the form of a little bay laurel that lives on my patio. I just have to remember to bring it inside next winter whenever the temperature drops too low, lest it die a slow and brittle death like my last one (they are somewhat cold hardy, moreso if they're in the ground vs a container, but they won't survive too many nights in a row of sub-freezing temperatures).
While you can use dried leaves here, I recommend at least going out and buying a new jar: the fresher the leaves, the better the flavor will be.
But if you can find fresh bay leaves, trust me, you won't regret the extra effort to acquire them.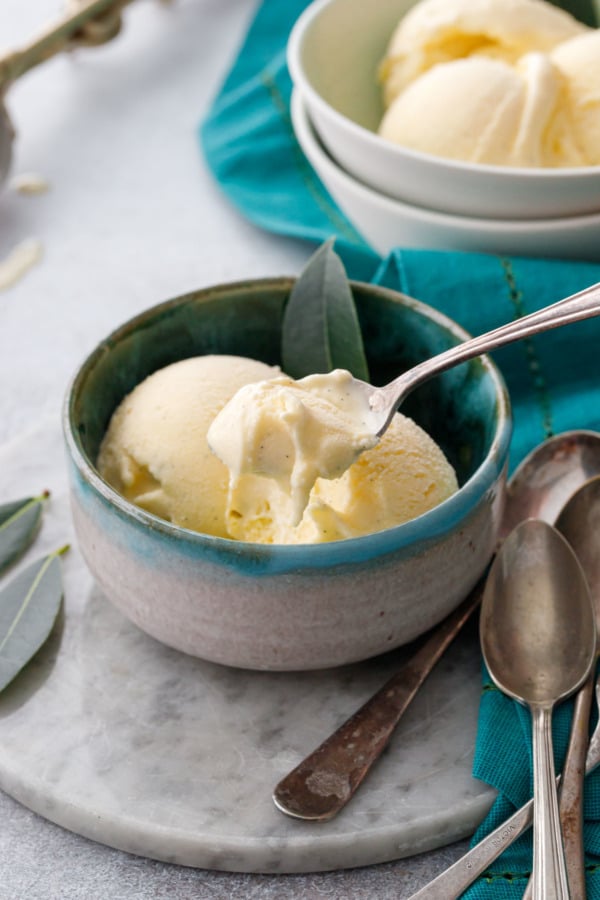 I have to say I'm rather pleased with myself for this recipe and these photos, and the fact that this little dish I made couldn't have been more perfect for this recipe.
I was finally able to return to my ceramics class this summer after a year-long break, and I can't tell you how much I missed it. I seem to spend most of my time staring at screens, from my work computer to my phone to the TV and my kindle (the majority of my spare time is spent reading, which I love, but it's still a screen). Being able to take time and express my creativity with not a screen in sight is… simply invigorating. I hadn't realized quite how much I missed it until I got back on the wheel again.
Anyway. I spent most of the last session making mugs, or trying to anyway (I still have issues with, uh, shrinkage… and my pieces always turn out smaller than I intended). Maybe next session is when I'll finally succeed in making a mug that can hold a full 8oz of matcha without threatening to overflow.
But this bowl is simply the perfect size for ice cream, even if it wasn't made with that in mind. The multi-tonal blues and greens on the interior were a happy accident that came from layering two different glazes with unexpected results, the deep emerald greens matching the verdant hue of the bay leaves almost exactly. I really couldn't have planned it better if I tried.
One of these days I'll get good enough on the wheel where I can plan things out, coerce the clay to do my bidding, but for now, I'll take these happy accidents when I can. Especially if ice cream is involved.
Fresh Bay Leaf and Vanilla Bean Ice Cream
This twist on a classic French vanilla bean ice cream uses fresh bay leaf for a unique and unexpected ice cream flavor that is anything but plain vanilla.
Ingredients:
1 1/2 cups heavy cream, divided
1 1/2 cups whole milk, plus more as needed
1 fresh vanilla bean, split and seeds scraped out
2 fresh bay leaves
2/3 cup (133g) granulated sugar
1 tablespoon corn syrup
1/2 teaspoon fine sea salt
5 large egg yolks
Directions:
Combine 1/2 cup cream and milk in a saucepan, along with bay leaves and the split vanilla bean and its seeds.  If you want you can lightly tear or crush the bay leaves with the back of a knife to release more of the flavor. Heat over medium-low heat, stirring occasionally, until mixture just starts to steam.
Remove from heat, cover and let steep for 30 to 60 minutes, until the bay leaf flavor is infused throughout the cream. Remove bay leaves and vanilla pods.
Meanwhile, assemble an ice bath by pouring remaining 1 cup of the heavy cream into a heat-proof bowl and nest inside a larger bowl filled with ice water. Alternatively, you can use a gallon sized freezer bag nestled in a bowl of ice water. Place a fine mesh sieve over the top of the bag or bowls.
Return infused milk mixture to medium heat. Add sugar, corn syrup and salt and cook, stirring occasionally, until it starts to steam and barely bubble around the edges (do not let it boil).
In a medium bowl, whisk together egg yolks until smooth.
Slowly whisk some of the hot cream mixture into the egg yolks, drizzling in 1/3 cup or so at a time, until about half of the cream mixture has been incorporated and yolk mixture is warm to the touch. You want to do this gradually; doing so will temper the egg yolks rather than cook them.
Pour yolk mixture back into the saucepan and return to medium-low heat, stirring constantly, until the mixture thickens slightly and coats the back of a spatula, about 5 to 7 minutes, or until it reaches approximately 175ºF. Do not allow it to boil. Remove from heat, and pour mixture through a fine mesh sieve into cold cream, discarding any solids. Let cool to room temperature, stirring occasionally. Cover with plastic wrap, carefully pressing wrap down onto the surface of the cream mixture. This will prevent a skin from forming on top of the custard. Refrigerate until completely cool, at least 3 hours or overnight if possible.
When ice cream base is thoroughly chilled, churn in an ice cream machine according to manufacturer's instructions. When it is the consistency of soft serve, transfer to a freezer-safe container. Press a layer of parchment paper on the top of the container to prevent freezer burn, then cover and freeze at least 2 hours or overnight until firm.
* I like to add a pinch of guar gum to my ice creams to improve the consistency and shelf life of the homemade ice cream. Simply whisk it in a small bowl with a little bit of the warm custard and add it to the rest of the custard.
Did you make this recipe?
Let us know what you think!
Leave a Comment below or share a photo and tag me on Instagram with the hashtag #loveandoliveoil.