Here's a satisfying street taco recipe that comes together in a flash. It's topped with a tangy chipotle-lime coleslaw that provides flavor, spice and crunch to these satisfyingly savory street tacos.
When Aristotle said the whole is greater than the sum of the parts, he was talking about tacos, right? Because these tacos are made up of some seriously good parts: thin slices of savory seared steak, toasted flour tortillas, a tangy chipotle-lime slaw, and a sprinkle of pickled jalapeños and fresh cilantro.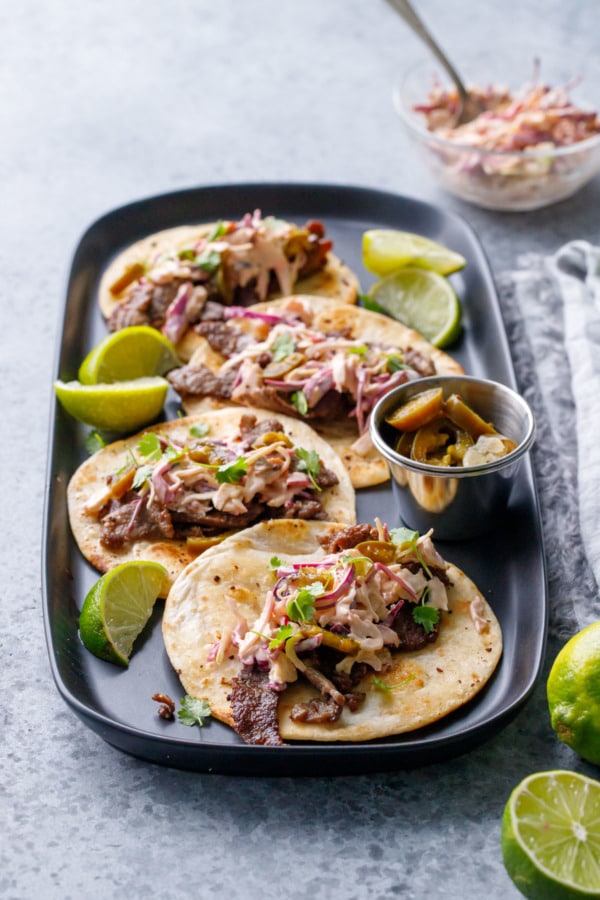 This post is sponsored by Duke's Mayonnaise and includes tracking links. For more information about tracking links and how to opt out, please visit All About Do Not Track prior to clicking any links found in this post.
The perfect taco hits all the right notes, combining spicy and sweet, soft and crunchy, salty and tangy.
And these steak street tacos do just that, with thin slices of steak browned to perfection, and topped with a bright and crunchy slaw made with a mix of Duke's Mayonnaise, smoky chipotle, and fresh squeezed lime juice.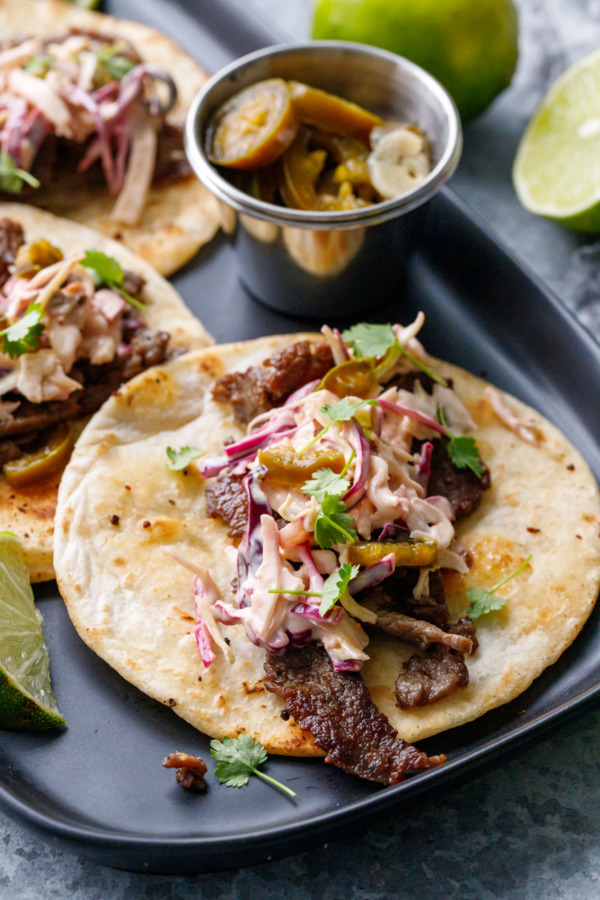 What makes it a street taco and not just a regular taco? The size, essentially.
Street tacos are generally smaller, about 4-5″ in diameter versus a more typical 6″ corn tortilla or 8″ flour tortilla. The handheld size makes them easy to eat standing in the street. We've found both corn and flour tortillas labeled 'street taco size' recently, and although we opted to use flour here, you could really use either.
Even better… warm the tortillas in the same skillet with all the flavorful fat and brown bits leftover from cooking the steak. Inspired in part by a drool-worthy binge-watch of the Taco Chronicles series (which I highly recommend checking out), specifically the episode on Suadero tacos. This particular kind of taco is made with seasoned beef cooked long and slow in a bath of its own fat (beef confit, essentially); the tortillas are also drenched in fat and toasted prior to being loaded up with the juicy, flavorful meat and simple toppings.
While our steak tacos are not even close to authentic Suadero tacos (the thin slices of steak cook in mere minutes, rather than slow cooking for hours as is traditional), we were certainly inspired by the preparation and especially the brilliant step of fat-soaking the tortillas.
Since we can't exactly travel to Mexico right now to enjoy the real thing, this will have to do.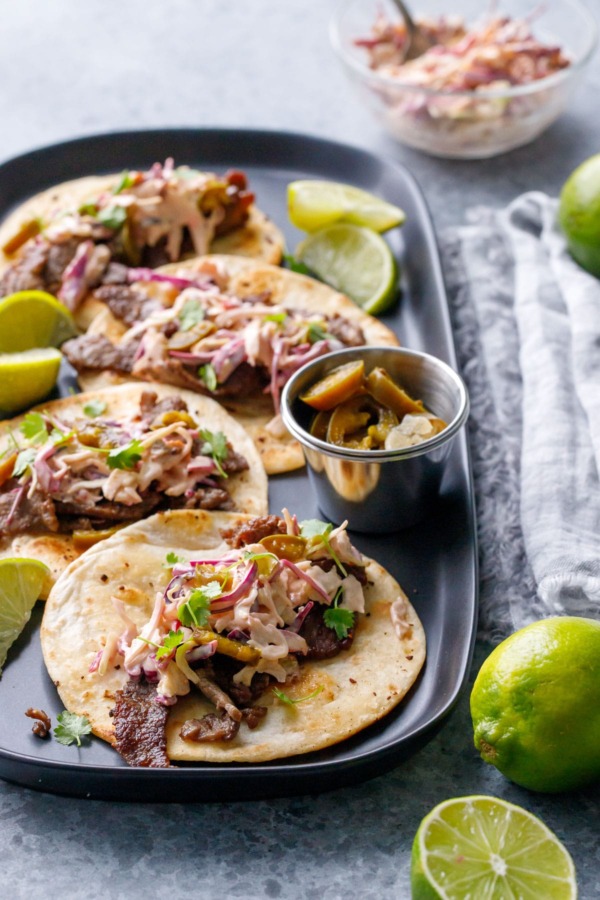 The slaw is simply made with finely shredded cabbage (we like a mix of red and green for a pop of color), tossed with lime juice, chopped chipotle peppers, and tangy Duke's Mayonnaise (a chef favorite for a reason).
The result is profoundly flavorful, subtly spicy, and delightfully tangy; it's the perfect garnish for these satisfying steak tacos. The hint of acid cuts the fat, and the creaminess coats the cabbage in a way that'll thrill your palate.
If you don't live or didn't grow up in the South, you may have never tried Duke's. I hadn't until I moved to Tennessee, when I started to hear people talk about Duke's Mayonnaise like it was a religion. "Mayo is mayo", I thought. Boy was I wrong. Because once I tried it… well, there's really no going back.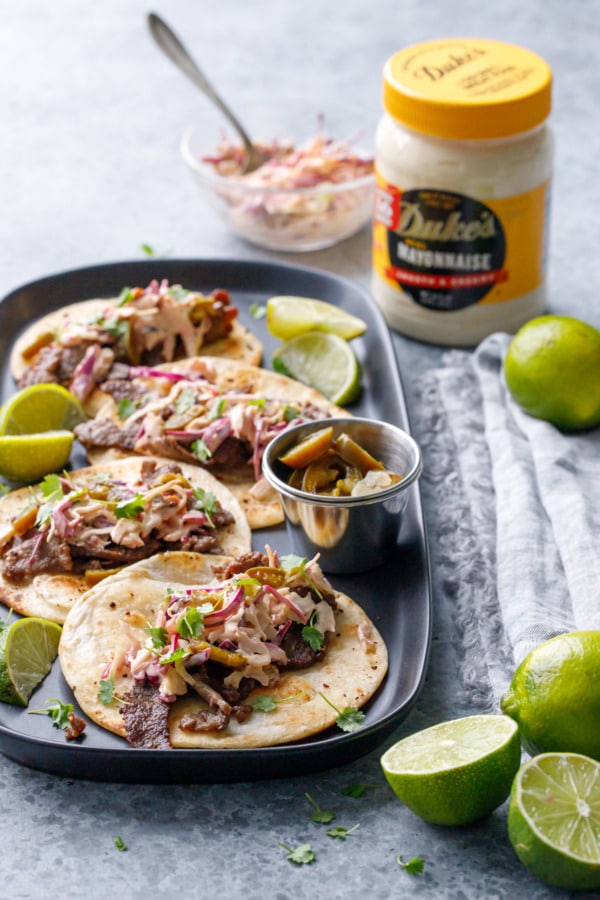 For the steak itself, we cooked the meat almost like a cheesesteak, thinly slicing the raw steak into very thin slices and then flash-searing it in a hot skillet. (It helps to freeze the steak for 20 to 30 minutes first, which firms up the meat and makes it much easier to slice.) This results in ultra flavorful, bite sized pieces of beef that take mere minutes to cook.
Conversely, if you prefer, you can sear your steak whole (don't freeze it in this case) and then slice it afterwards (let it rest for 15 minutes or so so you don't lose all the juices the second you slice into it).
While we liked that the pre-sliced method results in extra surface area for maximum brownage (and all those brown bits add up to some major flavor), if you like your meat pink you may prefer to cook first and then slice, then you can precisely control the doneness.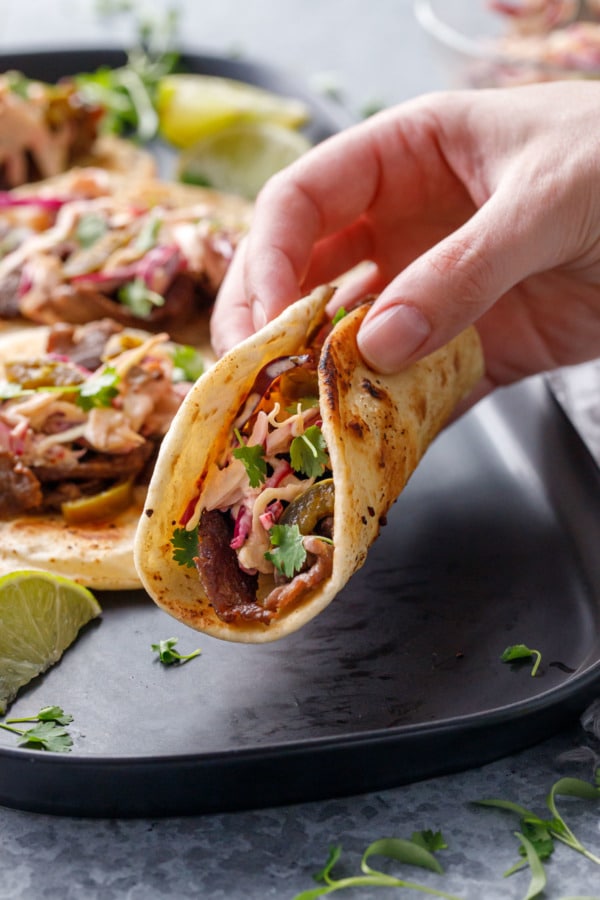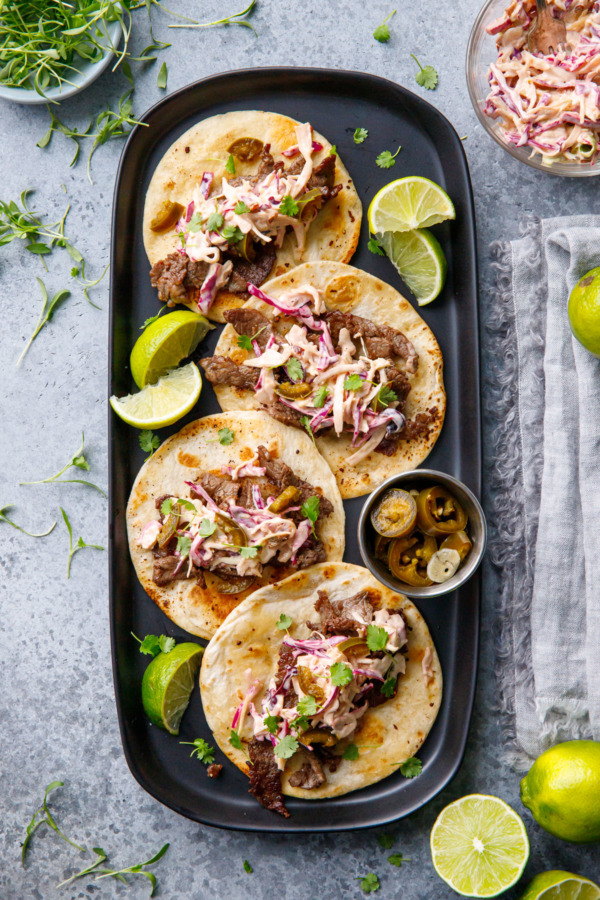 This recipe makes a generous 2 servings, or 6 street-sized tacos, but can easily be scaled up (though I do recommend cooking the meat in batches if you do).
The slaw itself is very versatile, and would also be great served as a side dish or topping for some BBQ sandwiches or even hot dogs, anything you want to give a spicy, tangy twist.
Check out the store locator to find Duke's Mayonnaise in a store near you. And have no fear… if you happen to live somewhere where Duke's is hard to come by (I'm looking at you, California), you can totally buy it online (you're welcome).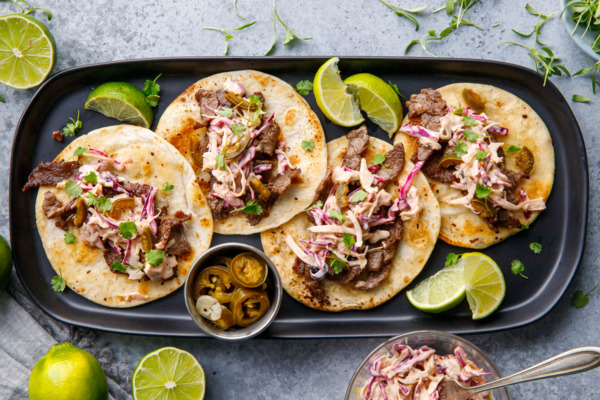 Steak Street Tacos with Chipotle Lime Coleslaw
Thinly sliced seared beef tacos topped with a tangy chipotle-lime coleslaw that provides flavor, spice and crunch.
Ingredients:
For Slaw:
1 1/2 cups finely shredded cabbage or coleslaw mix
2 tablespoons Duke's Mayonnaise
1 tablespoon lime juice
1 tablespoon finely chopped chipotle
pinch kosher salt
For Tacos:
1/2 lb flank or skirt steak, frozen for 30 minutes
salt and freshly ground black pepper
1 tablespoon vegetable oil
6 small tortillas (look for 'street taco' size)
finely chopped or micro cilantro
pickled jalapeños, chopped (optional)
Directions:
To prepare slaw, combine shredded cabbage, mayo, lime juice, chipotle and salt in a bowl and toss to combine. Taste and season with additional lime or salt as desired.
Slice semi-frozen steak into 1/8-inch thin slices, slicing across the grain as much as possible (freezing the steak for 30 minutes before slicing will make it easier to get nice thin slices). If your pieces are longer than 1-2 inches you can cut them in half (once cooked, they should be bite sized). Season with salt and pepper.
Heat vegetable oil in a heavy duty or cast iron skillet over medium-high heat until shimmering. Add steak and cook, stirring once or twice, for 1 to 2 minutes or until edges begin to brown (if you are doubling this recipe I recommend cooking the steak in two batches, otherwise the meat might not fully brown). Remove from skillet with a slotted spoon and cover to keep warm.
Return skillet to heat. Rub tortillas in the residual cooking fat left from the steak, ideally getting an even amount of fat on each tortilla. Arrange 3 tortillas in skillet and let sit for 1 to 2 minutes until soft and warmed through, then flip and warm the other side. Repeat with remaining tortillas.
To assemble, divide steak among warmed tortillas. Top with a generous spoonful of coleslaw, a sprinkle of fresh cilantro, and a few pieces of pickled jalapeño. Serve warm.
Did you make this recipe?
Let us know what you think!
Leave a Comment below or share a photo and tag me on Instagram with the hashtag #loveandoliveoil.
Disclosure: This post was created in partnership with Duke's Mayonnaise. As always, all opinions written are purely our own. We're incredibly grateful for opportunities like these that allow us to continue sharing delicious recipes with you, so thank you for supporting us and the brands we love.