It's a perfect time to get a jump on the holiday shopping season!
In lieu of a recipe today (last week was… less than productive and I wasn't able to get a recipe finished for today, though I do have a sponsored recipe scheduled for Thursday that I think you'll just LOVE). But I wanted to pop in here anyway to quickly share a few new items I've made available for sale recently in the L&OO shop!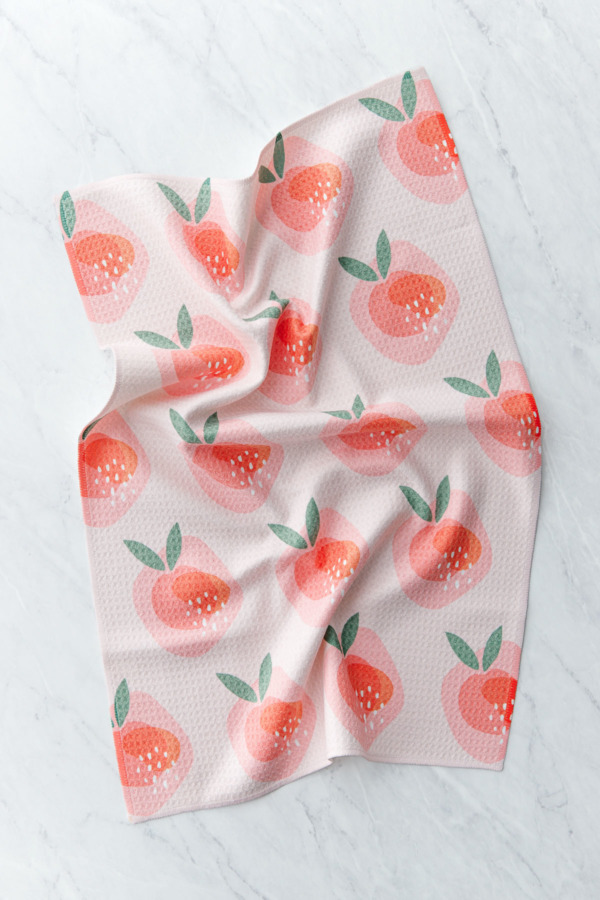 This adorable peachy towel is based on the design from my Drunken Peach Jam labels. It's printed on a super-absorbent microfiber towel (we are super picky about our kitchen towels, and this one definitely makes the grade).
It's my intention to add some additional designs in the future to make an entire fruity series! Thinking… lemons? Maybe some figs? Stay tuned!
Additionally, I've added two sets of original photo greeting cards, one fruity, one jammy (featuring some of my favorite images from That's My Jam). I only have a limited number of each set available, so don't wait too long! The cards are all blank inside which would make them perfect for holiday cards or any other occasion (I always like to have blank cards on hand when the need arises).
These will ship directly from me… so why not save on shipping and add a set of fruity notepads too while you're at it? We use these notepads all the time for our recipe notes and weekly grocery lists. They'd make great stocking stuffers or holiday gifts for friends and family!
Speaking of holiday gifts… I probably won't be doing any gift guides this year, but if you're looking to get a jump on some holiday shopping, my past gift guides and kitchen essentials posts are a great place to start!
As always, a huge thank you to all our readers for your continued support!