A hearty beef stew made with carrots, onions and celery and served over a heaping bed of creamy mashed potatoes: it's basically Shepherd's Pie in stew form.
It's officially spring, but winter isn't taking the hint. And while I'm hankering for shorts and sandals weather, that doesn't mean that I'll thoroughly enjoy a few extra days (or weeks) of soup season while I can. There's little more satisfying on a chilly day than a hearty beef stew or a heaping bowl of creamy, steamy mashed potatoes. But together? Well, you might stop wishing for spring to come afterall!
The idea for this recipe came after I posted a food styling tip in my facebook group about using instant mashed potatoes to style soup (the potatoes offer a moldable surface under the liquid to help 'prop' up the soup bits and make them more visible on the surface). Someone commented that this—mashed potatoes served with soup—was actually a thing, and, well, it got me thinking that it'd actually be pretty darn delicious.
I originally wanted to do a loaded potato soup with mashed potatoes, but thought that might be a bit too much potato for one bowl. Ultimately we settled on a hearty beef stew served over a mound of creamy mashed potatoes. Like an inverted Shepherd's Pie, if you will (and indeed, Shepherd's Pie Stew is the alternative name for this recipe).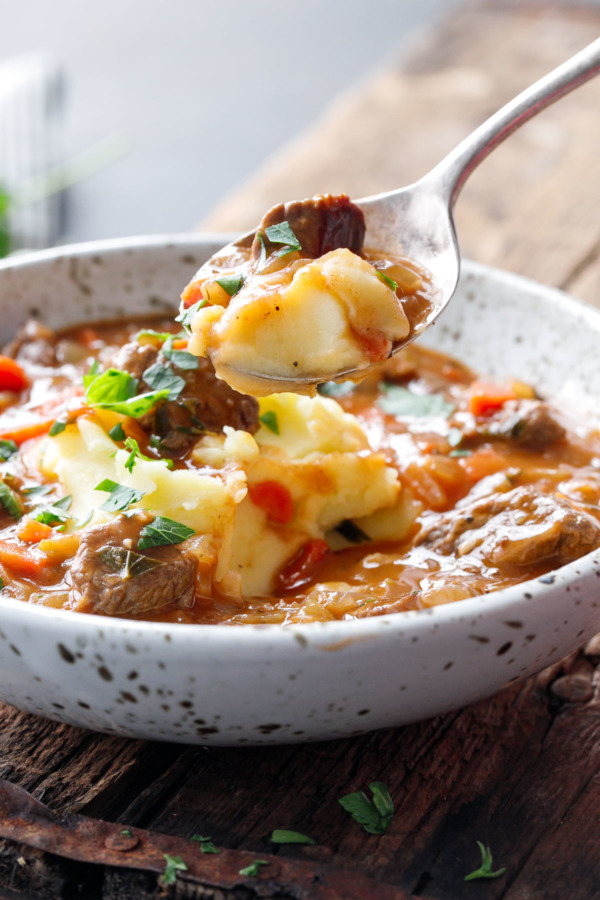 The stew itself is quite simple, intensifying the inherent flavors by reducing it on the stove until it's thick and luscious and bursting with flavor. Inexpensive chuck stew meat serves as the base, combined with your basic stew veggies and little more than chicken stock, tomato paste, and a dash of soy sauce for depth of flavor.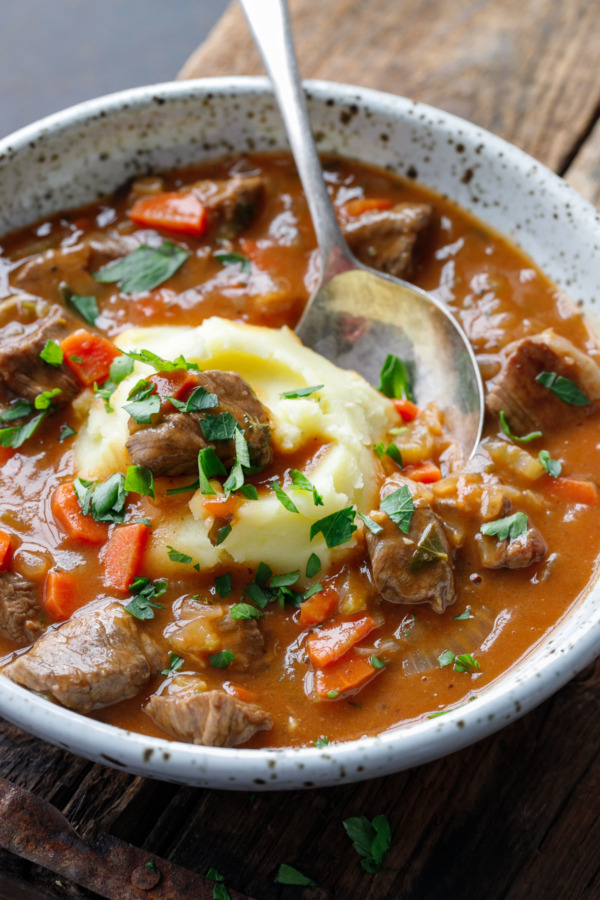 I used a very basic version of my favorite mashed potato recipe, with slightly less butter and cream than usual (the slightly thicker potato makes a sturdier base, and the stew is plenty rich as it is!) But feel free to use your favorite mashed potato recipe instead.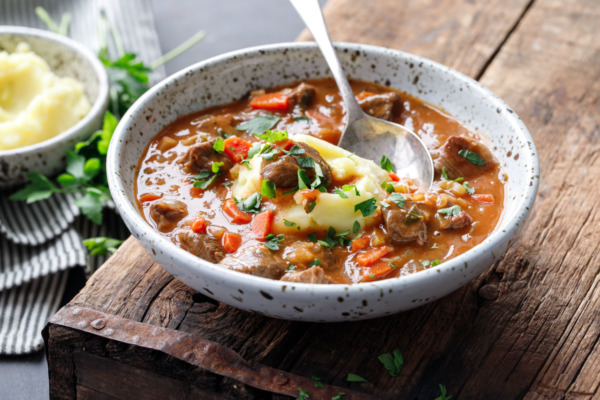 Loaded Beef Stew with Mashed Potatoes
A rich and hearty beef stew recipe served over a bed of creamy mashed potatoes: it's like Shepherd's Pie, in stew form!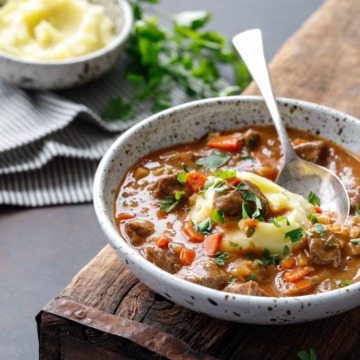 Ingredients:
1 tablespoon vegetable oil
1 lb chuck stew meat, cut into bite-sized chunks
1 medium onion, chopped (about 1 cup chopped)
2 medium carrots, sliced into medallions and halved
1 stalk celery, finely chopped
2 garlic cloves, minced
2 tablespoons all-purpose flour
2 tablespoons tomato paste
1/2 cup marsala wine
2 1/2 cups chicken stock
1 tablespoon soy sauce
1 tablespoon chopped fresh parsley
1 teaspoon chopped fresh thyme or 1/2 teaspoon dried
1 1/2 pounds yukon gold potatoes, peeled and cut into chunks
1/4 cup (1/2 stick) unsalted butter
1/4 cup heavy cream
1 teaspoon kosher salt
Directions:
In a large dutch oven or heavy saucepan, heat oil over medium-high until shimmering. Add beef and cook until browned on both sides, about 5 minutes. Transfer to a plate.
Return saucepan to medium heat. Add onion, carrot, celery and garlic (use a splash of oil if your beef was on the leaner side) and cook until softened and fragrant, about 7 minutes.
Add flour and stir until evenly coated. Add tomato paste.
Add marsala wine and simmer until liquid is mostly gone. Add chicken stock along with browned beef, herbs, and soy sauce. Bring to a simmer and cook for 25 to 30 minutes or until liquid is thickened and saucy.
While stew is cooking, bring potatoes to a boil in a large pot of salted water. Boil for about 10 minutes (more/less depending on how large your potato chunks were) until potatoes are fork tender. Drain well, then return potatoes to pan (which should still be hot at this point – the residual heat will help cook off the remaining water and keep the potatoes warm). Mash with a potato masher or run through a potato ricer. Add butter and continue mashing until fully melted and incorporated. Stir in cream. Season to taste with salt and pepper.
To serve, spoon a mound of warm potatoes into serving bowls. Ladle stew over top. Serve warm. Stew and potatoes can also be made ahead of time and reheated prior to serving (and the stew itself freezes quite well too).
Did you make this recipe?
Let us know what you think!
Leave a Comment below or share a photo and tag me on Instagram with the hashtag #loveandoliveoil.