Fall for this autumn-inspired grilled cheese: with a layer of apple butter, thinly sliced fresh apples, sautéed shallots and thyme, and perfectly gooey, melty cheese that blurs the line between sweet and savory.
I call this French-toast style grilled cheese, battered and butter-toasted until it's perfectly golden brown, and let me tell you, it is life changing, falling somewhere in between a traditional grilled cheese and a monte cristo.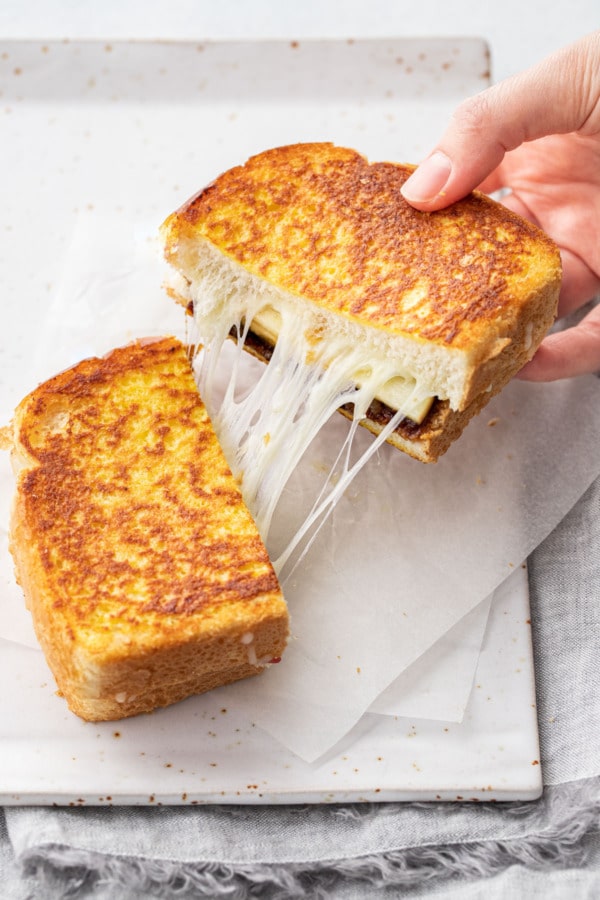 This recipe was created in partnership with Roth, award-winning cheeses made in Wisconsin with milk from local family farms. Now available at a store near you!
No, your tastebuds aren't tricking you, this next-level grilled cheese somehow manages to be both sweet and savory.
In one bite you'll taste the alpine-style cheese, nutty and mild and ultra melty. The next brings a hint of autumn spice and fruity sweetness from the apple butter, and a fresh crunch from the slices of thinly sliced apple. But then! There's the shallot, sautéed with a bit of butter and thyme, for a subtle savory push. And finally, the eggy bread, cooked to golden brown perfection that'll have your brain thinking you're eating a slice of perfect French toast.
It's a culinary mind melting experience, and I am here for it.
Cooking a grilled cheese French-toast style involves basically brushing the bread with an egg/milk mixture instead of butter. Doing so walks the line between sweet and savory, taking your tastebuds on a wild adventure. The egg wash also produces a gorgeously golden brown finish (and let's face it, we all eat with our eyes first anyway).
If you've ever had a Monte Cristo sandwich, it's a similar idea (although sometimes Monte Cristos are deep fried and topped with powdered sugar, and, well, let's just be reasonable here). You could even go full MC with this recipe and add a layer of thinly sliced ham or prosciutto in the mix.
Not only does the egg wash produce the most gorgeous golden brown crust, but it also gives the sandwiches a hint of egginess that just screams EAT ME FOR BRUNCH. Thought I'd be equally satisfied eating it for lunch. Or dinner, too, really (you know I'm always down for some B4D).
Roth Grand Cru alpine-style cheese is a mild white cow's milk cheese that I'd describe as somewhere between a mild cheddar and gruyere. The label (which includes pairing notes for all of Roth's cheeses, brilliant right?) says that it goes particularly well with hard cider, which is what inspired this cheese-and-apple flavor combination to begin with.
We also mixed in a bit of Roth's Original Havarti cheese for extra meltiness (you can use all one cheese if you like, but I prefer the depth of flavor and ultra-gooeyness that the mix of the two provides).
You can use store bought or homemade apple butter here. I find store-bought to be darker, thicker and more heavily spiced, the homemade stuff is lighter and fruitier and I definitely prefer it, although I fully admit I bought a jar for this recipe since I just didn't have the time, or the apples, to make it from scratch this time. Such is real life.


Tips for the perfect grilled cheese:
When making grilled cheese sandwiches, we always shred our cheeses (rather than slicing) which helps the cheese to melt quickly and evenly.
You also want to be sure to toast your sandwich in a non-stick skillet over relatively low heat (usually medium to medium-low on our electric skillet; gas skillets might be best on low). If your bread is browning in a minute or two then your burner is too hot! We also like to cover the pan during the last few minutes of cooking to ensure the cheese is fully melted throughout.
Have patience, grasshopper, and you will be heartily rewarded.
In terms of bread, treat this sandwich like you would French toast, and go for a thick sliced white bread or Texas toast, or even a nice brioche would be lovely too. We've found the light texture of these kinds of breads results in the optimal crispiness. That said, this flavor combo also goes particularly well with a nice seeded crusty bread if you'd rather take it in a more rustic direction.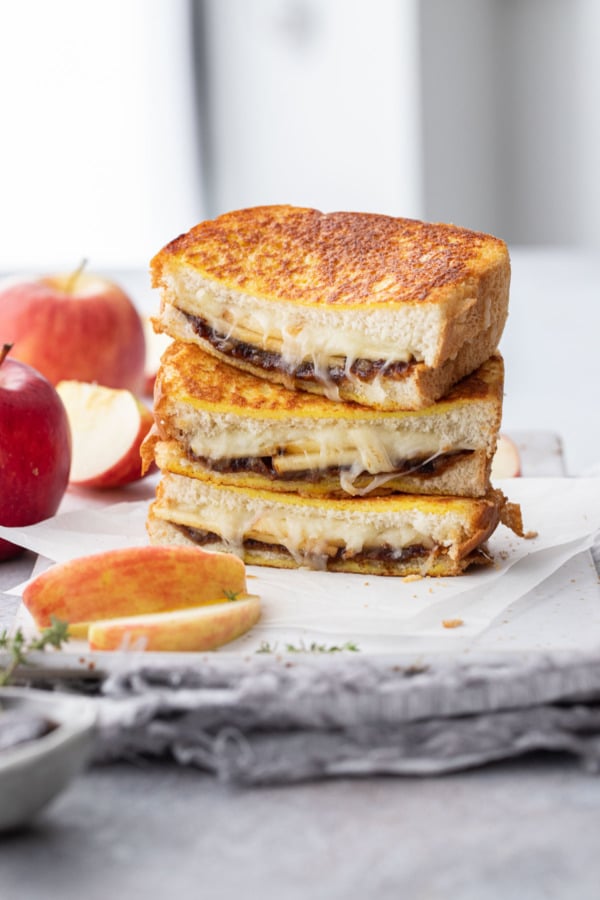 You can make this grilled cheese super simple, or take it up another level depending on your time and tastebuds at any given moment.
Level 1: add apple butter to your favorite grilled cheese.
Level 2: add a layer of thinly sliced apples for some extra crunch.
Level 3: add a bit of sautéed shallot and thyme to push it more towards the savory side.
Level 4: cook it French-toast style and reach peak awesomeness.
Roth cheeses, including the Grand Cru and Havarti we used in this recipe, are now available in stores nationwide (find one near you!) We were able to order both these cheeses from our local store on Instacart, and you can bet we will be restocking our cheese drawer regularly.
Apple Butter Grilled Cheese
The ultimate autumn grilled cheese, cooked French-toast style with apple butter, fresh sliced apples, and sautéed shallot with thyme.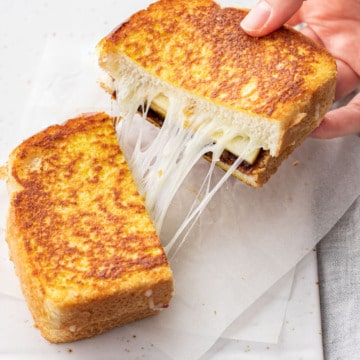 Ingredients:
1 tablespoon butter, divided
1 shallot, finely chopped (1 tablespoon chopped)
1/4 teaspoon chopped fresh thyme
1 oz Roth Grand Cru Alpine-style cheese, shredded (about 1/4 cup shredded)
1 oz Roth Original Havarti cheese, shredded (about 1/4 cup shredded)
2 tablespoons apple butter
1 apple, halved, cored and thinly sliced
4 slices thick-sliced white bread or Texas toast
1 large egg
1 tablespoon milk
Directions:
Heat 1 teaspoon butter in a nonstick skillet (you can use the same skillet you'll use to cook your sandwiches if you want). Add shallot and thyme and sauté until softened and fragrant, about 3 to 4 minutes. Remove from skillet and set aside.
To assemble sandwiches, spread 1 tablespoon apple butter on two slices of bread. Sprinkle with shallot. Arrange a layer of thinly sliced apples. Top with shredded cheeses and second piece of bread.
In a small bowl, whisk together egg and milk. Brush a thick layer on top of sandwiches.
Heat a large nonstick skillet or flat griddle pan over medium heat. Melt 1 teaspoon of butter in skillet until frothy.
Arrange sandwiches in skillet egg side down. Brush the side now facing up with remaining egg wash. Cook slowly for about 5 minutes or until cheese starts to melt and bottom is deep golden brown. If your bread starts to brown too quickly, reduce the heat and cover the skillet so the cheese has a chance to fully melt.
Flip sandwiches, add remaining 1 teaspoon butter to skillet (swirling to surround the sandwiches) and cook for an additional 3 to 5 minutes, covered as needed, until bottoms are golden brown and cheese is fully melted.
Cut sandwiches in half and serve while still warm and melty.
Did you make this recipe?
Let us know what you think!
Leave a Comment below or share a photo and tag me on Instagram with the hashtag #loveandoliveoil.
Disclosure: This post was created in partnership with Roth Cheese. As always, all opinions written are purely our own. We're incredibly grateful for opportunities like these that allow us to continue sharing delicious recipes with you, so thank you for supporting us and the brands we love.