These deeply rich and gooey chocolate cookies are studded with peanut butter and dark chocolate chips, with a crispy coating that makes for a perfect crunchy finish.
When it comes to cookies, the closer the cookie comes to cookie dough, the better I say. And these jumbo sized cookies are just that, with gooey middles and melty pockets of chocolate and peanut butter, all wrapped in a delightful coating of puffed quinoa that makes for a unique textural experience you'll simply adore.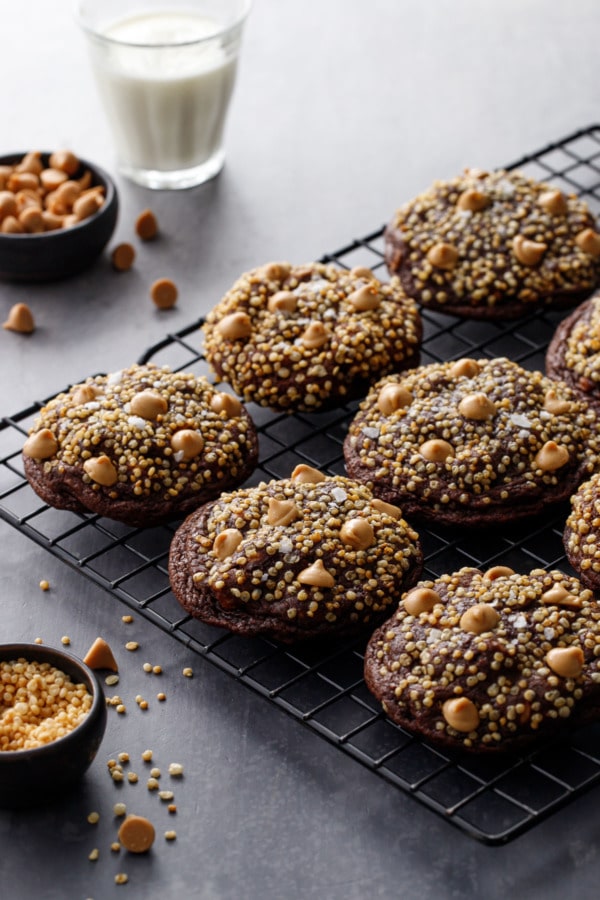 When a chocolate craving hits… only something ultra rich will truly satiate me. I often turn to my favorite brownies, but now that I've had these cookies, well, let's just say my allegiance may be changing.
I mean, just looking at these cookies has me drooling. They're sweet and salty. Gooey and crunchy. Dreamy dark chocolate and creamy peanut butter all rolled into one giant cookie.
Let me just warn you now, these cookies are rich. Like Warren Buffet rich. So you best have a tall glass of milk handy… and maybe a friend to share the goods (half of one of these monsters is more than satisfying).
I've seen similar thick and gooey cookies from the Levain bakery in New York City, and there are plenty of copycat recipes out there. This is not one of them, namely because I've never tried the real thing so who am I to try to replicate it?
That said, the cookies do look rather similar, with thick, rich chocolate middles and ample peanut butter chips that come out of the oven all lovely and molten (and indeed, I shouldn't have to tell you that these cookies are at their best when they are warm).
I don't think Levain has the crispy bits though, which is a darn shame because it makes these cookies a true textural delight – both to behold and then to devour.
The crunch in these cookies comes from puffed quinoa.
Puffed quinoa is a lot like crisped rice cereal, just made from grains of quinoa instead of rice. The puffs are smaller, obviously, but I also find they hold their crispness better than cereal does in this situation. I get my puffed quinoa from Nuts.com, but you can also find it on Amazon.
There's actually a professional pastry product out there called tiny crisp rice that would work here too; it is similar in size to the puffed quinoa but made from rice, and it holds its crunch much better than cereal (this is what pastry chefs use to add crunchy elements to chocolate truffles and the like).
That said, in lieu of puffed quinoa or tiny crisp rice, you can use crisped rice cereal here if you want; however, know that the cereal will loose is crispness after a day or so, becoming slightly chewy and stale tasting.
That's one of the beauties of the puffed quinoa: it stays crunchy for days (not that the cookies will last that long, but still).
Aside from being an amazing crunchy addition to cookies and pastry, puffed quinoa is also one of my favorite toppings for smoothie bowls (you know, to balance out those 3 cookies you ate yesterday).
The pucks of cookie dough are pressed into the puffed quinoa before baking, creating a cap of petite puffs that spread and coat the top of the cookie in a particularly pleasing way, both to the eyes and the tastebuds.
I also tried mixing the puffs into the cookies themselves, but they lost some of their crispness after baking; the final texture just wasn't ideal.
Limiting the crispy bits to just an outer coating, however, allows the quinoa to retain a perfect crunch while the heart of the cookie basks in its own gooey glory.
A good cookie is partially about texture, after all, and this pairing, of soft and melty with light and crunchy, is indeed a divine combination.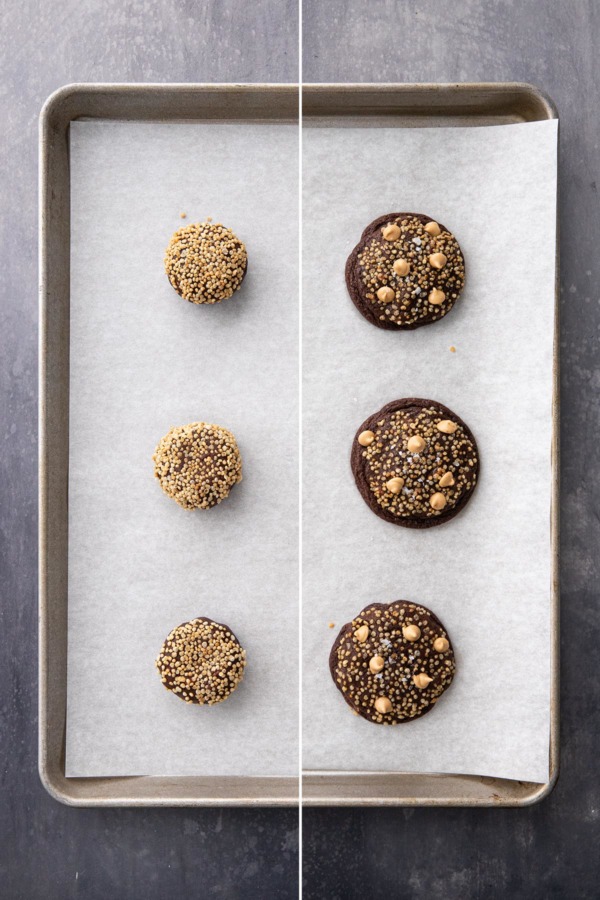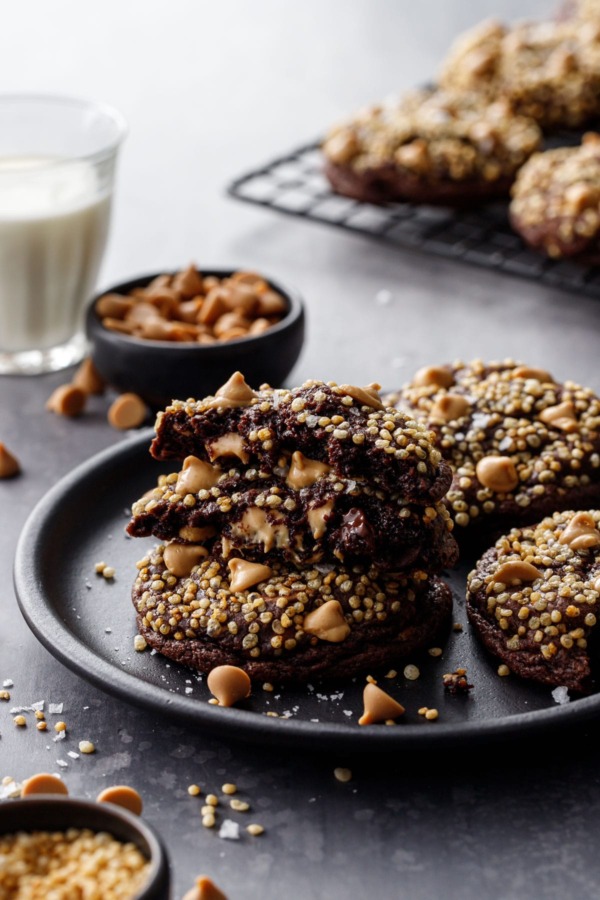 Since the layer of puffed quinoa hides the goodness that lies inside, I topped my cookies with a few more peanut butter chips, manually placed as soon as the cookies come out of the oven. With normal chocoalte chip cookies I add these external chips to the balls of dough before baking, but I find that exposed peanut butter chips get a little brown and almost 'toasted' when baked like this, so instead I added them immediately when the cookies came out of the oven.
Also, if you ever have issues with cookies spreading too much, grab two large spoons. When the cookies come out of the oven and are still hot, use the inside curves of the spoons to 'nudge' the over-spread edges back towards the center. You can also use this trick to fix oddly shaped cookies too. Just work quickly, as once the cookies cool too much you won't be able to coax them into more pleasing shapes. (I've also seen folks use a large round cookie cutter to do this too, as long as the cutter is larger than your largest cookie, place it down over the cookie and swirl it around the cookie a few times, shaping the warm cookies into perfect circles).
This recipe makes 11 jumbo cookies (using a large cookie scoop, about 60 grams per ball), or about 16-17 average sized (medium cookie scoop, about 35-40 grams each).
One benefit to the larger size is the gooier middles, which, being a cookie dough lover and all, I am a huge fan of.
If you want gooey cookies, cook these on the low end of the time range. For crispier edges and a less doughy center, a few minutes more should be just about right.
Chocolate Peanut Butter Crunch Cookies
These deeply rich and gooey chocolate cookies are studded with peanut butter and dark chocolate chips, with a coating of puffed quinoa that makes for a perfect crunchy finish.
Ingredients:
1 1/8 cups (140g) all-purpose flour
1/4 cup (22g) Dutch-processed cocoa powder, sifted
1/2 teaspoon baking soda
1/4 teaspoon kosher salt
1/2 cup (113g) unsalted butter, at room temperature
1/2 cup (110g) packed light brown sugar
1/4 cup (50) granulated sugar
1 large egg, at room temperature
1 teaspoon vanilla extract
2/3 cup (100g) peanut butter chips, plus a few more for topping
1/2 cup (80g) dark chocolate chips
1/3 cup puffed quinoa
flake sea salt, for finishing
Directions:
Preheat oven to 350 degrees F. Line a baking sheet with parchment paper.
In a bowl, sift together flour, cocoa powder, baking soda, and salt. Set aside.
In a large mixing bowl or the bowl of a stand mixer, cream butter and sugars until light and fluffy, about 2 to 3 minutes. Add egg and mix on medium-high speed, scraping down the sides of the bowl as needed, until emulsified. Mix in vanilla extract.
Reduce mixer to low and slowly add dry ingredients until just incorporated. Fold in chocolate and peanut butter chips. The dough will be somewhat sticky, although still workable. If you want to you can chill for 15 minutes or so to make it easier to handle, though it's not necessary.
Use a large cookie scoop to form 2-inch balls (approximately 60g each). Flatten slightly to form each ball into a puck-shape. Press tops into puffed quinoa, then arrange, puff side up, on prepared cookie sheet. Repeat, leaving at least 2 inches between cookies.
Bake for 10 to 12 minutes or until cookies have spread evenly and the edges are set; centers will still appear slightly shiny and under-cooked. Remove from oven. If your cookies have spread too much, use two large spoons on the still-hot cookies to gently push the excess back in a bit. While the cookies are still hot, place a few peanut butter chips on top; the residual heat will soften them into the tops of the cookies. Sprinkle with flake sea salt too if desired. Let cookies cool, then transfer to a wire rack. Repeat with another baking sheet and remaining dough.
Cookies will keep in an airtight container for up to 5 days.
Did you make this recipe?
Let us know what you think!
Leave a Comment below or share a photo and tag me on Instagram with the hashtag #loveandoliveoil.