Do teenagers still plaster their walls with magazine pages and pullouts of their favorite boy band heart throbs? While I was never one to obsess over famous strangers when I was younger, now that I'm older I feel like I'm making up for it. Except my perforated pages aren't photos of shirtless boys, but rather of decadent desserts.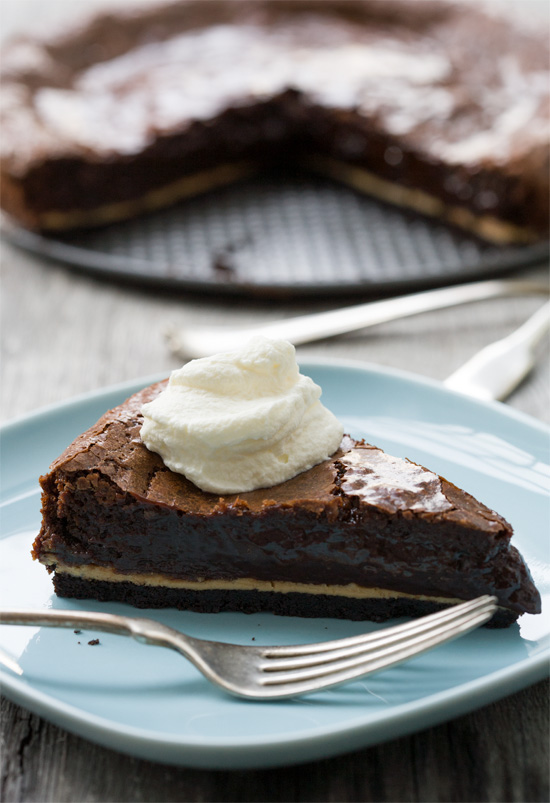 Despite my penchant for losing things I managed to hold on to this one for a while. The worn out page kept reappearing every time I reorganized the stack of magazines, or the pile of linens and photo props. I kept putting it back somewhere safe, forgetting about it, only to rediscover it months later when the resurgent mess demanded another purge. Despite all the books and papers and piles of stuff to throw or give away, it managed to stick around.
I think it was meant to be.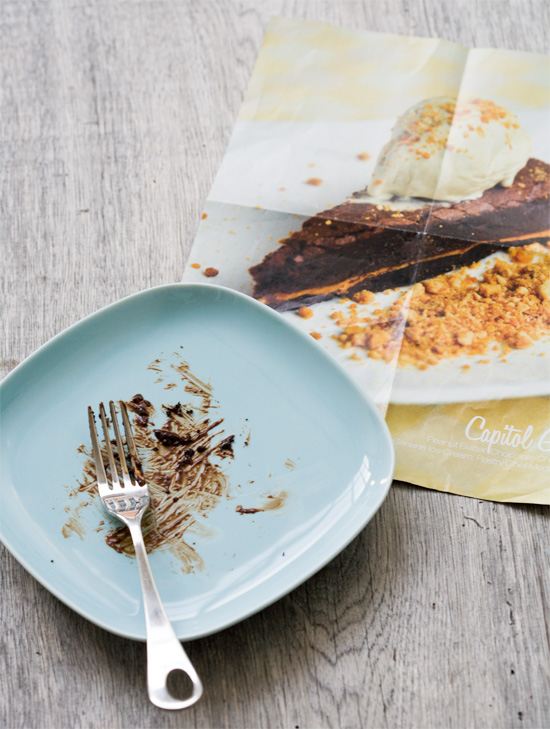 Now that I've brought the glossy daydream to life…
Let me tell you about this pie.
This pie deserves its own centerfold.
It's chocolate peanut butter chess pie, yes. But you know what you could also call it?
Brownie batter pie, that's what.
Brownie batter pie with a ribbon of peanut butter, delicate crispy edges and a chocolate cookie crust. Gooey and fudgy and rich enough to reach a higher tax bracket. Have some ice cream or milk handy because oh boy is it intense.
For the love of all things pie you might want to drop what you're doing and make this, like, immediately.
You have to admit you'd choose this pie over that little Bieber kid any day (Justin who?)
Chocolate Peanut Butter Chess Pie
Ingredients:
For Crust:
1 1/2 cup chocolate wafer cookie crumbs (about 8 ounces or 35 cookies)
5 tablespoons unsalted butter, melted
For Filling:
1/2 cup (1 stick) unsalted butter, cut into cubes
8 ounces good quality dark chocolate, roughly chopped
1 2/3 cups sugar
2 tsp vanilla extract
1/2 tsp salt
4 eggs
1/2 cup creamy salted peanut butter
Directions:
Preheat oven to 325 degrees F.
Lightly butter the bottom and sides of a 9-inch springform pan or spray with nonstick spray. Combine cookie crumbs and melted butter until crumbs are evenly moistened. Press crumb mixture into prepared pan. Place pan on a cookie sheet (to prevent any butter from leaking onto your oven floor) and bake for 7 to 8 minutes or until set. Remove from oven and cool completely.
Melt chocolate and butter together in a double boiler or a heatproof bowl set over a pot of gently simmering water (the bowl should sit over, but not touch the water). Remove from heat and whisk in sugar, followed by vanilla and salt. Whisk in eggs, one at a time, until smooth.
Spread peanut butter in an even layer in the bottom of the cooled crust. Pour in filling and bake (again setting the pan on a cookie sheet) for 40 to 50 minutes or until the pie is set and shiny on top, but still slightly jiggly in the center. Let cool to room temperature then refrigerate for at least 2 hours until fully set. Slice and serve with freshly whipped cream or vanilla ice cream.
Did you make this recipe?
Let us know what you think!
Leave a Comment below or share a photo and tag me on Instagram with the hashtag #loveandoliveoil.