Don't waste that sourdough discard! Instead, use it it to make these wonderfully flaky, yeasty biscuits, baked to perfection in a cast iron skillet.
Replacing the buttermilk in a traditional biscuit recipe with sourdough discard results in a biscuit that is noticeably yeasty, almost like a buttermilk biscuit slash dinner roll hybrid (and the result is delicious!)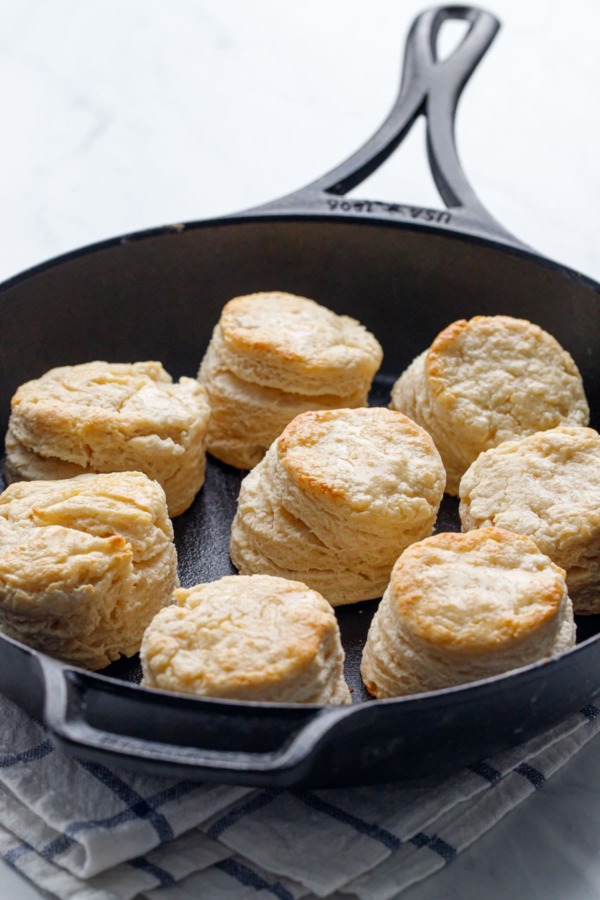 This recipe was created in partnership with Lodge®, makers of our favorite cast-iron cookware manufactured right here in Tennessee!
Seeing that my sourdough cracker recipe has become one of the most visited posts on this blog, it seems you all are really looking for ways to use up that extra sourdough discard!
And I totally get it. Discard seems like such a waste, especially when you feed your starter a few times to revive it (assuming you refrigerate your starter between bakes like I do, it usually needs a feeding or two to wake back up), and then start the process of making the levain (some of which also gets discarded) prior to mixing up your final dough.
What I've started doing is putting the discard from each feeding as well as any leftover levain in a single container, and setting that aside for either a big batch of crackers, or now a skillet full of these wonderfully flaky sourdough biscuits.
The recipe itself isn't that complicated, I basically just swapped the buttermilk I normally use in my biscuits for mature sourdough starter discard leftover from my breadmaking process (with some quantity adjustments to make sure the consistency of the dough is right).
The result is a lovely, flaky biscuit that has a slightly yeastiness to it, making it taste like a biscuit/dinner roll hybrid of sorts. They aren't quite as light and fluffy as traditional buttermilk biscuits, but they still have a lovely lift and perfectly flaky layers.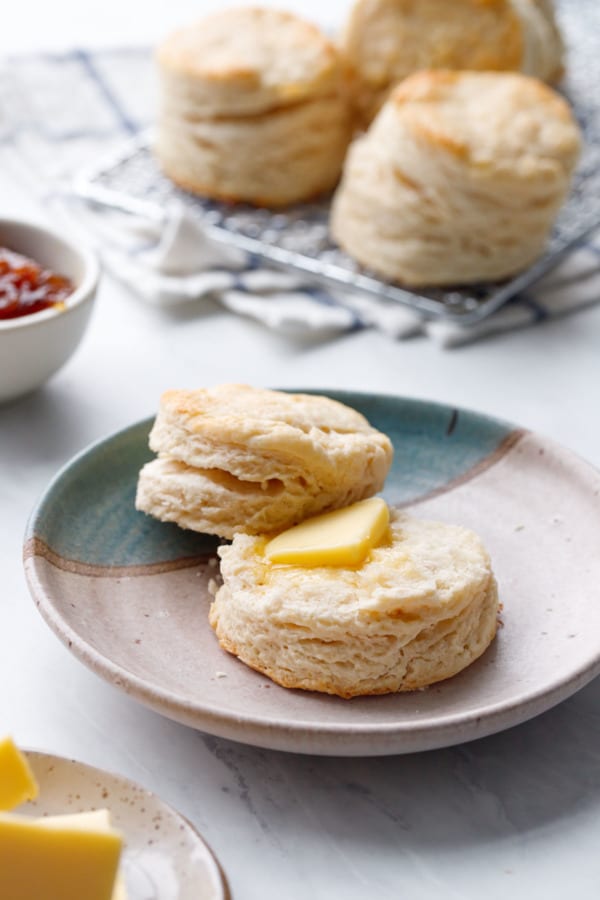 These towering, flaky biscuits traverse the line between sweet and savory. Drizzle them with honey or slather them with butter and/or your favorite fruit jam for a breakfast treat worth devouring.
Or maybe you're in more of a savory mood… in which case go big for breakfast with slices of thick smoked bacon and scrambled eggs with gooey sharp cheddar cheese on top (Mc-what, you say? This is so much better!)
Do lunch right and sandwich them with a dollop of stoneground mustard, thinly sliced country ham and a pickled green tomato, or how about some shaved Pecorino with a ribbon of cured pancetta.
Needless to say I can think of a million different ways to eat a biscuit like this one.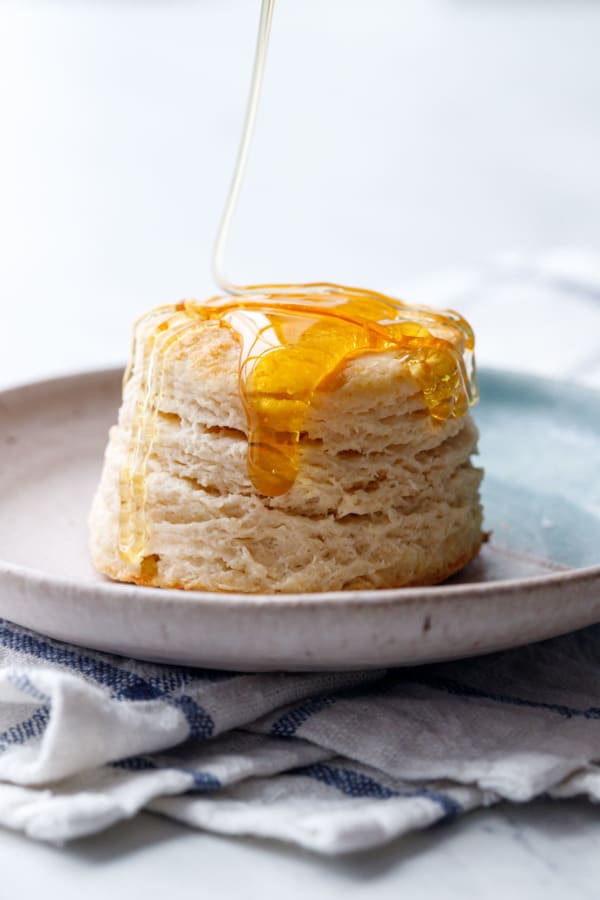 The sourdough discard I used was 1 to 3 days old; I set aside the discard from the initial feeding as well as the levain, combining both in a container and refrigerating it until I was ready to bake (having the starter cold is important here for the same reason you use cold butter).
I used an all white-flour starter at 100% hydration. If your starter is more wheat flour, you'll likely have a slightly denser biscuit though I imagine the flavor would be particularly lovely with a bit of sprouted wheat or rye flour in the mix.
Depending on the consistency of your discard, you may need more or less milk to bring the dough together: just add it a tablespoon at a time and stop when it comes together into a shaggy dough (it should stick together but not stick to your hands).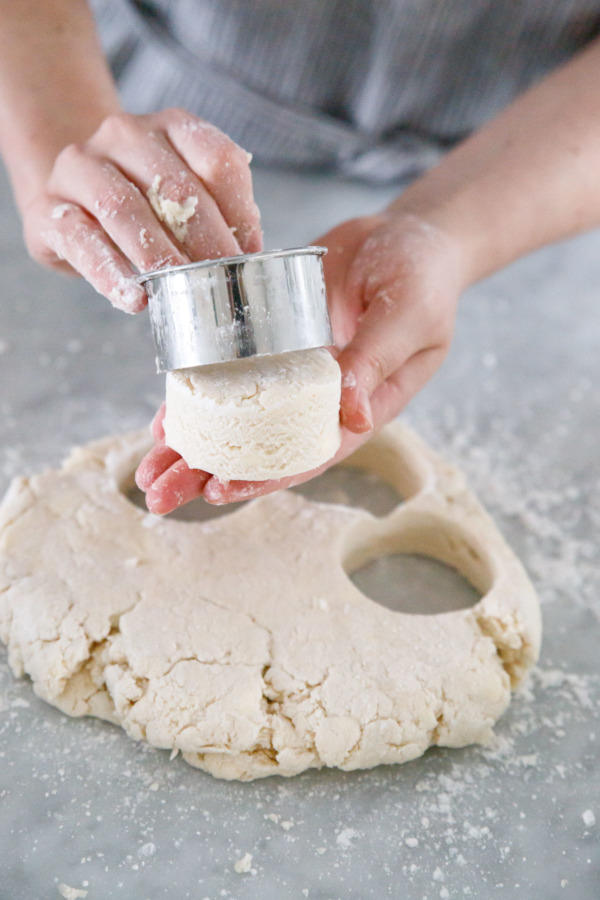 For the loveliest layers, fold the dough once or twice as you pat it out to about 1-inch thick. Then, when you're cutting out your biscuits, be sure you don't twist the cutter! Twisting will actually 'seal' the layers of flour and butter and your biscuits will not rise quite so dramatically.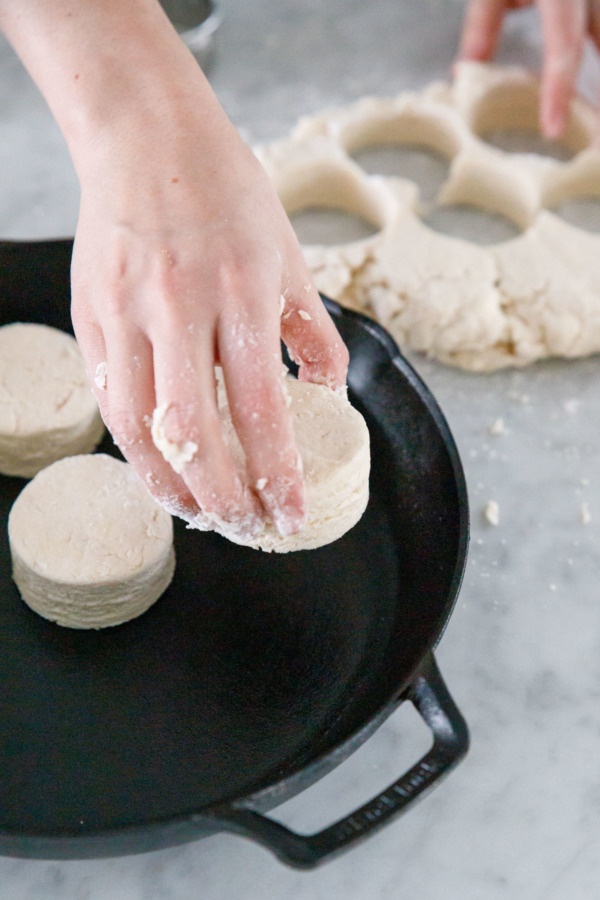 When it comes to baking biscuits, my vessel of choice is a cast iron skillet, like this new lighter weight Blacklock skillet from Lodge. I've found that baking sheets will often produce biscuits that are too dark on the bottom, whereas cast iron cooks the biscuits much more evenly.
If you used the slightly smaller, 7-inch Blacklock skillet so all the biscuits were touching, each biscuit would support each other and they'd rise even taller.
But personally, I like crispy edges to my biscuits and cooking them with a bit of space between them is ideal, even if they do go a bit topsy turvy as they bake.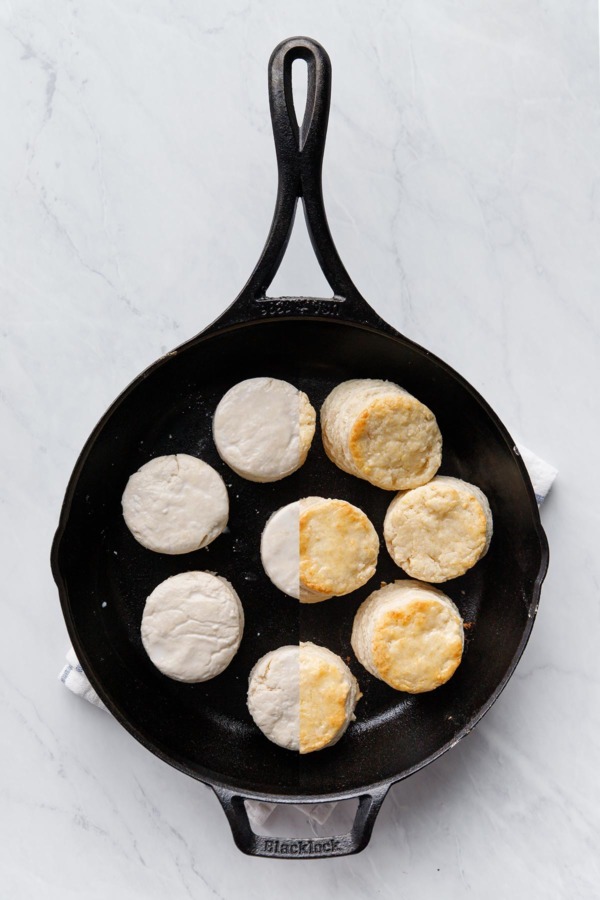 You'll need about a cup of sourdough discard to make one skillet worth of biscuits. If you don't have enough discard, you can add equal parts flour and water (by weight) until you have 250 grams. Let it sit for a bit until bubbly – the longer it sits the more pronounced the sourdough flavor will be.
I recommend chilling the discard for at least a few hours before you use it. One of the keys to fluffy, flaky biscuits is keeping everything very cold (not unlike pie crust), and starter, especially active, recently-fed starter, can be on the warm side.
Don't have a sourdough starter? Now's the perfect time to start one yourself! It'll take anywhere from 5 to 15 days to mature. Here's a great article for beginners on how to make your own sourdough starter from my friend Kristin (she's got a ton of sourdough resources if you're ready to dive down that particular rabbit hole).
My starter, Jane Dough, is version 3.0 (the first two I started with various wheat flours turned real stinky, real fast. Jane prefers 100% organic all-purpose flour (King Arthur is her favorite but she'll tolerate Bob's if that's all I can find).
Using organic flour for a sourdough starter really does make a difference, as it's processed differently and is more appealing to the yeast.
But for the biscuits themselves, my preferred flour is a bleached soft wheat flour like White Lily, either all-purpose or self-rising (I've made notes on how to adapt if you're using self rising flour below).
The reason I prefer soft wheat flour is the lower protein content produces a lighter, fluffier biscuit. Especially since we're using sourdough discard here, which is made with a higher protein flour and sometimes even a little whole wheat flour, the soft wheat flour will help to offset that (these biscuits are definitely a bit denser than non-sourdough biscuits for this reason).
How do you know if your flour is soft wheat? Check the protein content. Typical all-purpose flour will have about 3 to 4g of protein per cup (brands like King Arthur tend to be on the high side). White Lily all-purpose, on the other hand, has 2g.
You can also use a mix of all-purpose and cake flour (which is a bleached flour much lower in protein), which will approximate something similar to White Lily.
(At this point your pantry probably looks a lot like mine, with various bags and tubs of at least 8 or 9 different kinds of flour, actually more like 12 if you count things like rice flour and almond flour. Such is the life of a baker…)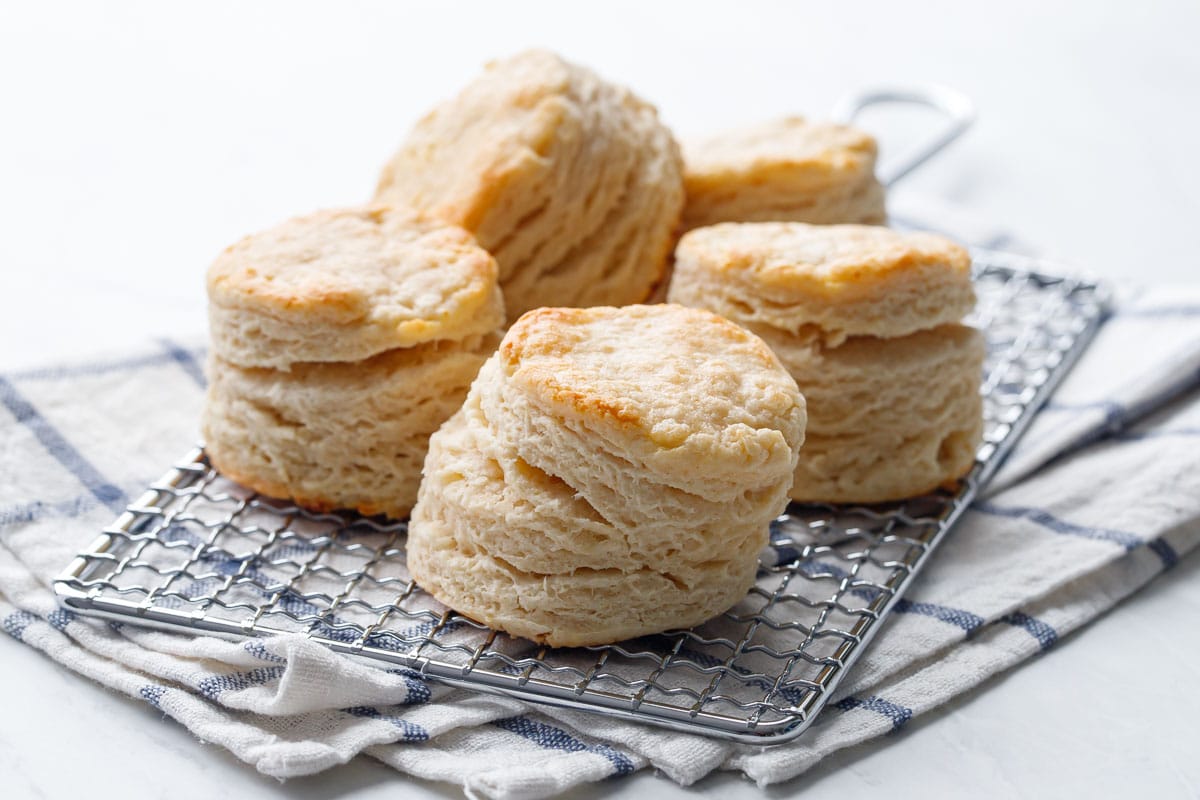 Flaky Sourdough Biscuits
Don't waste that sourdough discard! Instead, use it it to make these wonderfully flaky, yeasty biscuits, baked to perfection in a cast iron skillet.
Ingredients
2 ¼

cups

/

281

g

bleached all-purpose flour OR self-rising flour*

1

tablespoon

baking powder

,

omit if using self-rising flour

¼

teaspoon

baking soda

1

teaspoon

kosher salt

,

omit if using self-rising flour

6

tablespoons

/

85

g

unsalted butter

,

cold and cut into cubes

1

cup

/

250

g

mature sourdough starter at 100% hydration

,

chilled

¼

cup

/

60

g

whole milk

,

more or less as needed

1

tablespoon

melted butter

,

for brushing
Instructions
Preheat oven to 450 degrees F. Lightly butter the bottom of a 10-inch cast iron skillet.

In a bowl, whisk together flour and baking powder, baking soda, and salt (if using self-rising flour, omit the baking powder and salt). If it's particularly warm in your kitchen you can chill the bowl and flour mixture before continuing.

Add cold cubed butter and cut in with a pastry blender or two knives until butter forms pea-sized pieces coated in flour.

Add sourdough starter and 2 tablespoons of milk and mix with a fork until dough starts to come together in a shaggy dough. If dough seems particularly dry (this will depend on the maturity/hydration of your starter), you can add more milk as needed. I found about ¼ cup of milk was just about right.

Knead and fold the dough in the bowl a few times to incorporate any remaining dry crumbs (just until it comes together, you don't want to overwork it).

Turn dough out onto a work surface. Press into a circle about 1 inch thick.

Cut into rounds using a 2¼ to 2½-inch circle cutter or biscuit cutter. Dip your cutter in flour then press it straight down into the dough and lift back up without twisting (twisting will 'seal' the layers and prevent the biscuit from rising properly). Evenly space in prepared cast iron skillet.

You can press the scraps of dough together once more and cut a few more biscuits from this, just know these re-rolled biscuits won't rise quite as high.

Brush tops of biscuits with milk.

Bake for about 15 minutes or until tops of biscuits just start to turn golden brown.

Remove from oven and immediately brush with melted butter; serve warm.
Notes
If you are using self rising flour, omit the baking powder and salt (still add the baking soda as this helps with browning).
If you are using regular all-purpose flour, I recommend a bleached soft-wheat flour like White Lily or Martha White; the soft wheat as well as the bleaching process makes for a more tender biscuit. Regular All Purpose will work but the biscuits will just bit a bit denser.
All images and text ©
for Love & Olive Oil.
Did you make this recipe?
Let us know what you think! Leave a Review below or share a photo and tag me on Instagram with the hashtag #loveandoliveoil.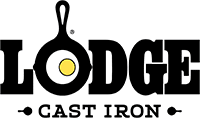 Disclosure: This post was created in partnership with Lodge. As always, all opinions written are purely our own. We're incredibly grateful for opportunities like these that allow us to continue sharing delicious recipes with you, so thank you for supporting us and the brands we love.