With lovely layers of moist chocolate cake, dark chocolate ganache, crunchy chocolate crumble and a luxurious pistachio buttercream, this chocolate pistachio naked cake is a three-layer masterpiece!
Naked cakes (called so because they don't have an outer layer of frosting) are impressive and surprisingly easy to assemble, resulting in a stunning presentation that shows off the different layers of texture and flavor.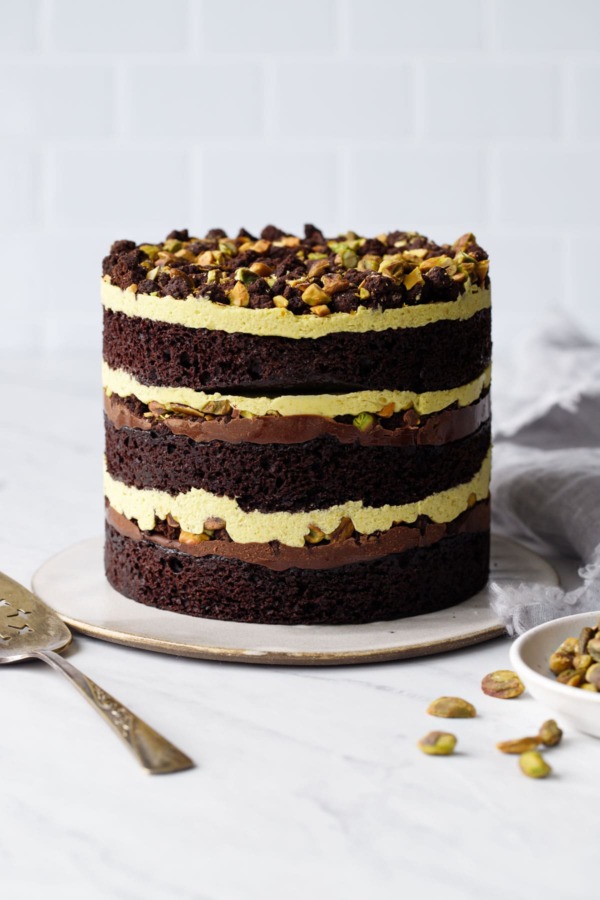 It's January again… and you know what that means.
It's Taylor's birthday!
Which means… cake. Chocolate cake, if we're being specific.
I didn't have any grand plans to make an over-the-top fondant-covered masterpiece this year (been there done that have no desire to do it again lol), but still wanted to make him something extra special, and extra delicious.
He only ever wants chocolate cake, so I've had to get creative over the years to give him the chocolate cake he wants but also something unique and interesting that would make for a good blog post.
I hadn't done a naked cake in a while, so I flipped through the Milk Bar cookbook for some inspiration and stumbled across the pistachio layer cake recipe. I still had a few jars of pistachio butter/cream/paste leftover from previous pistachio experiments, so I decided to combine the pistachio buttercream recipe with a moist chocolate cake, chocolate crumb, and chocolate ganache for good measure (because there is no such thing as too much chocolate).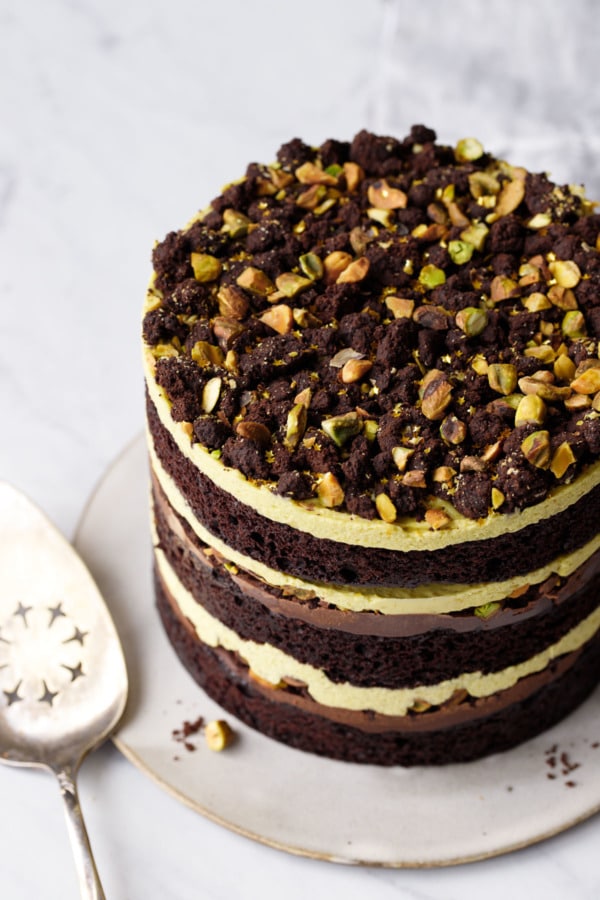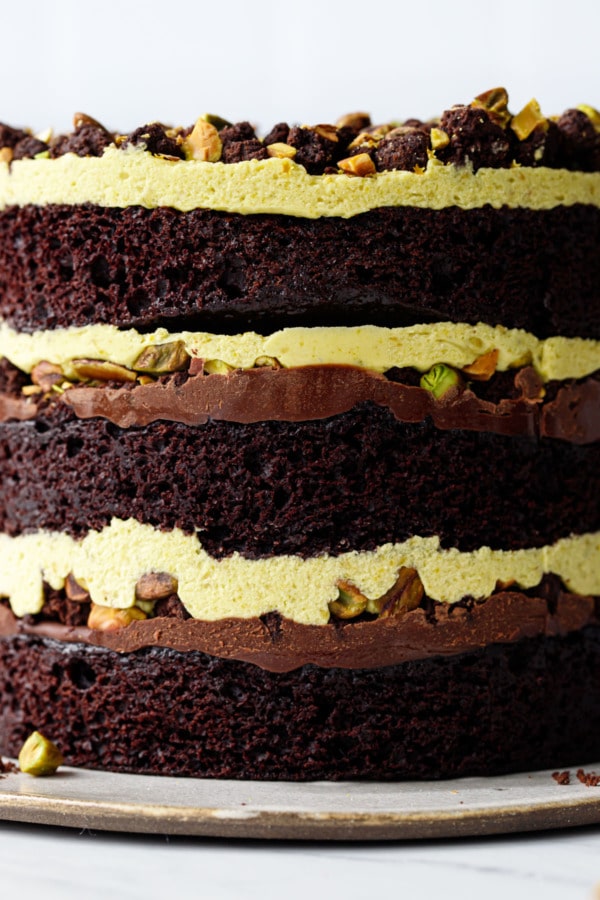 The pistachio buttercream is from the Momofuku Milk Bar cookbook, as are the chocolate crumbs.
Let me just say this buttercream is incredible, and maybe my favorite part of this cake. It only uses a mere 1/4 cup of powdered sugar, which surprised me (most buttercreams are at least 1 to 2 cups). But in this case, the bulk of the frosting is pistachio paste (pistachio butter works, as does pistachio cream, albeit a bit sweeter) so you really don't need more sugar to bring it together. Brilliant!
The cake is adapted from my Ultimate Chocolate Cake (Taylor's birthday cake from last year), and the ganache in between is just a basic dark chocolate ganache using some good quality 60% dark chocolate, which is just dark enough to be intense but not so dark that it tastes bitter.
While the ganache is fabulous, don't get me wrong, I wish there was a way to keep it slightly softer after chilling. I just makes the cake a bit hard to cut, especially when it sets up with a thick layer of crunchy chocolate crumbs embedded in it.
Still, a little mess never stopped anyone from enjoying a cake as good as this one, certainly not me!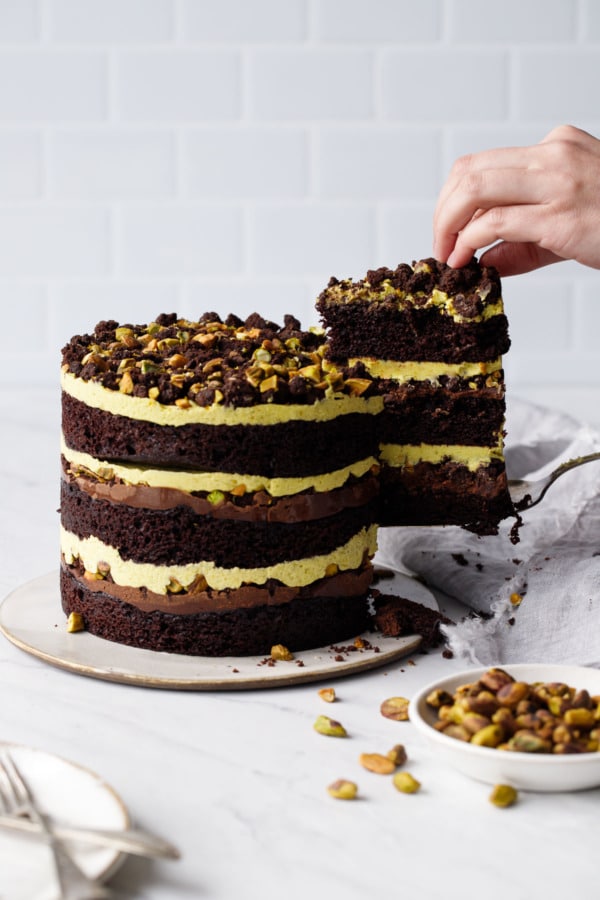 This is by no means a neat cake. When you slice into it the layer of ganache and chocolate crumbs will put up some resistance compared to the cake and buttercream, and when you finally get your knife through it you'll have crumbs and chopped pistachios everywhere.
This is not a cake that's going to give you a picture perfect slice.
But messy is good, or in this case, messy is downright delicious.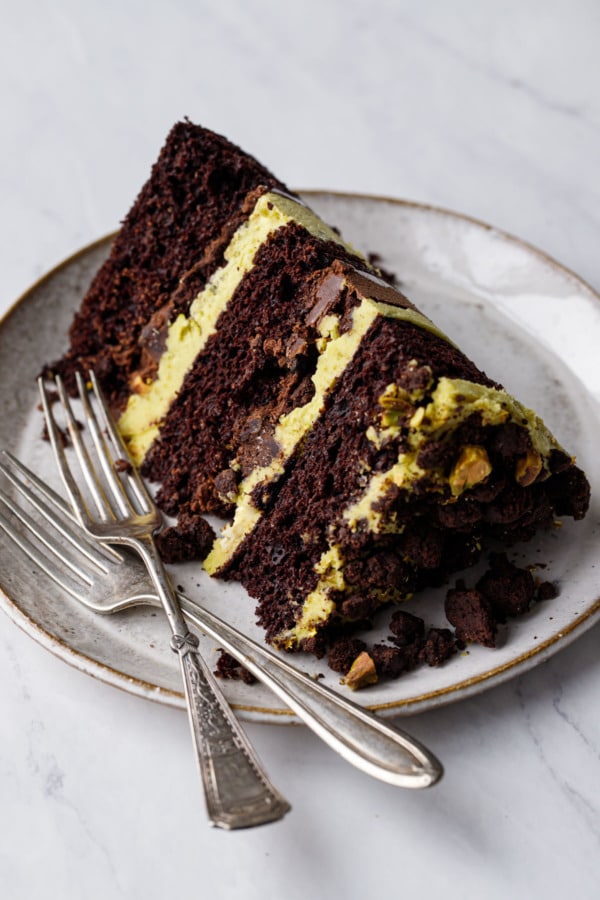 Assembling a Naked Cake
To put together a naked cake you'll need a few things: a 6-inch cake ring (or a 6-inch cake pan with a removable bottom) and wide strips of acetate (I used 4-inch wide acetate, 3-inch would also work; you can also find pre-cut cake collar strips, just make sure they're long enough to wrap the entire cake). Unfortunately plastic wrap/parchment paper won't work here, as those materials are not stiff enough to support the structure of the cake. You really do need acetate for this.
The cake itself is baked in a quarter sheet pan, then cut out into perfect 6-inch rounds with the cake ring or a 6-inch cutter. You'll get 3 layers out of this: two full circles (cut out of opposite corners, as close to the edges as you can get), and then the last layer, which goes on the bottom, is cobbled together from the scraps. Don't worry, you'll still have a few scraps left to snack on. 😉
You can assemble this cake in a 6-inch cake ring or, like I did, a 6-inch cake pan with a removable bottom (a springform pan would work too). Whatever you use, place a piece of parchment underneath the bottom layer and a ring of acetate around the edge; this is what will contain the various layers and produce those clean, defined layers once you peel it off.





Then you start to layer.
Start with the bottom layer of cake (fill in the gaps with cake scraps so you have a solid layer). Spread on half of the chocolate ganache, then sprinkle with a handful of chocolate crumbs and a few chopped pistachios. (Putting the layer of crumbs in between two 'sticky' layers is key; otherwise the layers won't stick and everything will fall apart when you slice it – just keep this in mind if you opt to skip the ganache or something).
Press the crumbs down into the ganache, then spread or (and I found this method much easier) pipe a third of the buttercream on top of the crumbs. The crumbs are loose and messy, and if you tried to spread the buttercream on top of the crumbs you'll have a hard time of it. Rather, you can pipe a loose spiral of frosting on top of the crumbs, then use the back of a spoon or an offset spatula to spread it out into an even layer.
Remember that you want the ganache and buttercream, as well as a few crumbs and pistachios, to go all the way to the acetate so the layers will look clear and defined when you peel it off.
Gently place the second cake layer on top, press lightly so it sticks, then repeat with more ganache, crumbs and pistachios, and another layer of buttercream.
The third cake layer will sit above the first layer of acetate. At this point you should slide a second layer of acetate in between the first and the cake pan or cake ring; tape it if you need to to keep it tight and together. Just remember that the acetate should always sit higher than the top level of your cake.
The cake is topped with a final layer of buttercream and another handful of chocolate crumbs and more chopped pistachios. I also added some edible gold glitter stars for a little bit of extra glamour.
The Milk Bar cookbook has you freeze the cakes overnight, but this one really only needs to be refrigerated overnight for the layers to properly set.
That said, you could also freeze it for up to a week if necessary. Try to cover it well if you do this, just so it doesn't absorb any weird freezer flavors.
It's important to bring this cake to room temperature before slicing it; the ganache is firm enough as it is, you don't want it frozen solid. If you've frozen your cake, thaw it overnight in the fridge, then let it sit at cool room temperature for at least 30 minutes before removing the acetate and slicing into it.
Another tip? Save the acetate after you've peeled it off! For any leftover cake you can press the acetate back on the sides and into the sliced area to keep the cake fresher longer. (Doing this and covering the cake with plastic wrap, it'll keep reasonably well in the fridge for up to 3 days).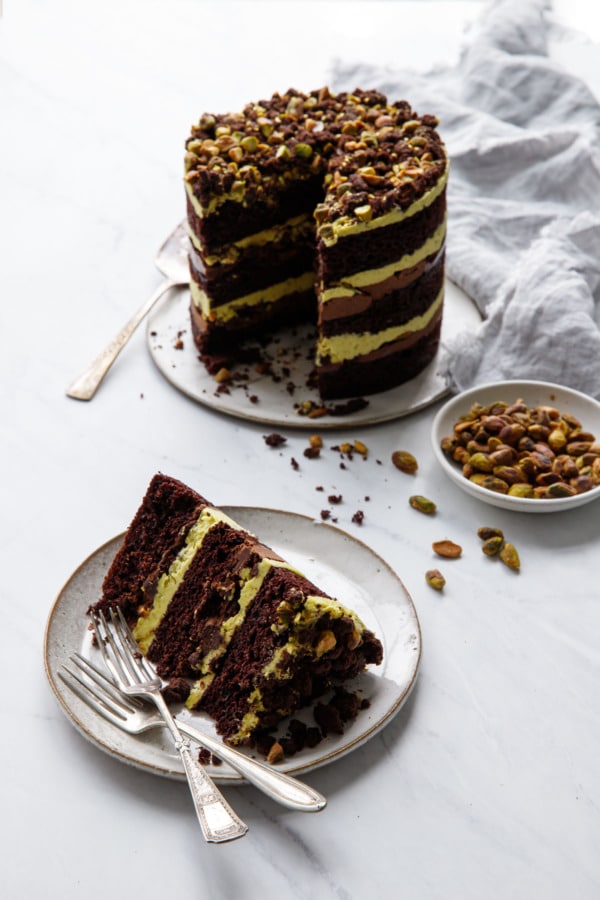 In terms of timing, I recommend making the cake and the chocolate crumb 2 days ahead of time. Cool the cake and cover it tightly, then refrigerate or freeze overnight. (The crumbs can just go into an airtight container once cooled, they'll keep at room temperature for up to a week).
Then the following day, make your ganache and buttercream and assemble the full cake. Cover and refrigerate overnight to serve it the next day, or cover it tightly and freeze for up to a week (remember to thaw it in the fridge the night before you want to serve it).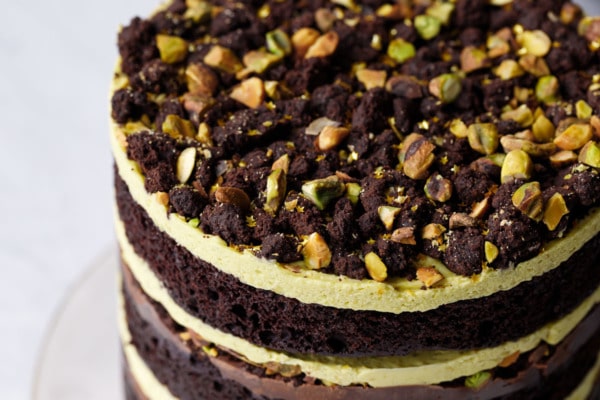 Chocolate & Pistachio Naked Layer Cake
A towering 3-layer naked cake with layers of moist chocolate cake, chocolate ganache, crunchy chocolate crumbs and a luxurious pistachio buttercream.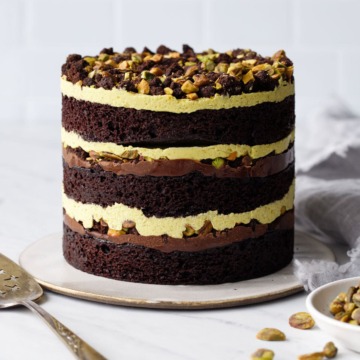 Ingredients:
For Chocolate Cake:
1 cup (200g) granulated sugar
1 cup (120g) all-purpose flour
1/2 cup (60g) Dutch process cocoa powder, sifted
1 teaspoon baking soda
1/2 teaspoon baking powder
1/2 teaspoon kosher salt
2 large eggs, at room temperature
3/4 cup full fat buttermilk
1/3 cup light olive oil or grapeseed oil
2 teaspoons vanilla extract
For Chocolate Crumb:
2/3 cup (105g) flour
1 teaspoon (4g) cornstarch
1/2 cup (100g) sugar
1/2 cup (65g) good quality Dutch process cocoa powder
4 g kosher salt (1 teaspoon)
6 tablespoons (85g) butter, melted
1/2 cup chopped pistachios, for garnish
For Pistachio Buttercream:
1/2 cup (1 stick/113g) unsalted butter, at room temperature
1/4 cup (40g) powdered sugar, sifted
3/4 cup (230g) pistachio paste or pistachio butter
pinch salt
1/4 teaspoon pistachio extract (optional)
For Ganache:
3 ounces (86g) dark chocolate (60-70%), finely chopped
1/3 cup (76mL) heavy cream
1 tablespoon unsalted butter, softened and cut into cubes
Directions:
For Chocolate Cake:
Preheat oven to 350 degrees F. Line the bottom of a (9-by-12-inch) quarter sheet pan with parchment; lightly butter bottom and sides.
In a mixing bowl, whisk together sugar, flour, cocoa powder, baking soda, baking powder and salt until evenly incorporated.
In a small bowl or 2-cup glass measuring cup, whisk together egg, buttermilk, oil and vanilla. Pour into bowl with dry ingredients and mix until just combined and no streaks of flour remain.
Pour into prepared baking sheet and spread into an even layer.
Bake for 15 to 20 minutes or until top is springy and a toothpick inserted near the center comes out with a few moist crumbs attached but no raw batter.
Place pan on a cooling rack and let cool completely. Once cooled, the cake can be tightly wrapped with plastic wrap and refrigerated overnight or frozen for up to 1 week.
For Chocolate Crumb:
Preheat the oven to 300 degrees F.
Combine the flour, cornstarch, sugar, cocoa powder, and salt in a mixing bowl or the bowl of a stand mixer fitted with the paddle attachment. Whisk on low speed until well mixed.
Add the melted butter and blend until the mixture starts to come together in small clusters.
Spread the clusters on a parchment-or Silpat-lined sheet pan. Bake for 20 minutes, breaking them up occasionally. Let  cool completely. The crumbs will harden further as they cool. (Make ahead: store in an airtight container for 1 week at room temperature or 1 month in the fridge or freezer.)
For Pistachio Buttercream:
Cream butter with an electric mixer on medium-high speed. Add powdered sugar and beat until smooth and fluffy.
Add pistachio paste, salt and pistachio extract and beat until light and fluffy, scraping down the sides of the bowl as needed.
For Chocolate Ganache:
Place chopped chocolate in a heat-proof bowl.
Heat cream in a small saucepan over medium-low heat until it just starts to steam and barely bubble around the edges (do not let it boil).
Pour hot cream over chocolate and let sit for 30 seconds, then start gently whisking, working in concentric circles starting in the center until smooth and glossy.
Add butter, one cube at a time, gently whisking until smooth before adding the next.
To Assemble:
Invert the cake onto a fresh piece of parchment paper; peel off the parchment from the bottom of the cake. Use a 6-inch cake ring to stamp out 2 circles from the cake, cutting them out from opposite corners of the rectangle, getting as close to the edges as possible. These are your top 2 cake layers.
Cut out two almost half-circles (as large as you can) from the remaining scraps of cake. These, along with any leftover scraps, will come together to make the bottom layer of the cake.
Clean the cake ring and place it in the center of a sheet pan on top of a round of parchment paper (you can also use a 6-inch cake pan or springform pan with a removable bottom if you want — place a 6-inch round of parchment in the bottom of the pan). Line the inside of the cake ring with 1 strip of acetate.
Piece together the two half circles and additional cake scraps as needed to form a flat even layer in the bottom of the cake ring, using the back of your hand to tamp the scraps together.
Use the back of a spoon to spread half of the ganache in an even layer over the cake.
Sprinkle one third of the chocolate crumbs and a few chopped pistachios evenly over the ganache, pressing them lightly into the ganache so they stick.
Use the back of a spoon to spread one-third of the pistachio buttercream as evenly as possible over the crumbs; alternatively, you can transfer the buttercream into a piping bag fitted with a 1/2-inch round tip and pipe the buttercream on top of the crumbs (just be sure you don't pipe too thick a layer, you want to save enough for the other 2 layers). Spread to the edges using the back of a spoon or an offset spatula.
Set a second cake round on top of the frosting, and repeat layers of ganache, crumbs, and buttercream.
Gently tuck the second strip of acetate between the cake ring and the top ¼ inch of the first strip of acetate, so that you have a clear ring of acetate 5 to 6 inches tall – high enough to support the height of the finished cake. (Depending on the width of your acetate, you . may need to do this before adding the second layer instead).
Nestle the remaining cake round into the frosting. Cover the top of the cake with the remaining buttercream. Sprinkle with the remaining chocolate crumbs and more chopped pistachios, if desired.
Place the sheet pan in the refrigerator and chill for a minimum of 12 hours to set the cake and filling. You can also cover and freeze the assembled cake for up to 2 weeks (if frozen, put it in the refrigerator to thaw the night before you want to serve it).
At least 1 hour before you want to serve the cake, place the cake on a platter or cake stand. Gently remove the cake from the cake ring and carefully peel off the acetate. Let sit at cool room temperature for about an hour before slicing and serving. The finished cake can be refrigerated, wrapped in plastic wrap, for up to 3 days.
Did you make this recipe?
Let us know what you think!
Leave a Comment below or share a photo and tag me on Instagram with the hashtag #loveandoliveoil.