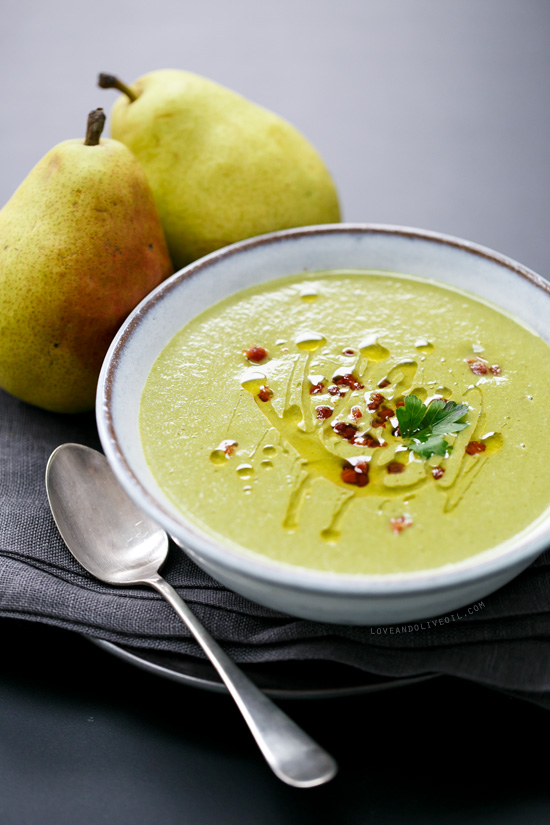 A plain bowl of green soup is about as exciting as a cardboard cubicle, hence the decorative olive oil drizzle (ooo, pretty!) and sprinkle of crispy pancetta bits on top.
(And, oh man I can't believe I'm doing this) but my ability to present and photograph a bowl of green soup has come a long way. Scary. At the same time, proof as to just how far I've come in 8 years (hint: a LONG way).
Something about the way a drizzle of olive oil (or even lemon olive oil, if you so desire) floats transparently on top of a bowl of creamy soup like a culinary Jackson Pollock makes my heart happy. Even if the soup itself is, well, just soup (I've never been much of a soup person, can you blame me?) But this one is surprising, even for me, with a fresh hit of spinach and fruity pear and a surprising creaminess for a soup that has no cream whatsoever (although I do admit to finishing it with a heaping spoonful of mascarpone cheese, do you blame me?)
Despite its grinchy green color, this soup has a heart the size of Houston, and is pretty healthy to boot.
It didn't come together as effortlessly as it looks; rather, it required more than a few rounds of testing before it passed our stringent taste test.
Because the first time we made it, it tasted like a hot green smoothie.
Not good. Not bad, but not great either.
Next time around we added some pancetta bits and that made ALL the difference. It took it from an oddly sweet, fruity soup, to a bright and savory bowl of green goodness. The result is a fresh and fruity, yet surprisingly savory soup. Serve it with some fresh-baked crusty bread suitable for dipping.
A lot of the creaminess comes from the cashews, which also give the soup some added protein, as well as a heaping scoop of mascarpone cheese to finish it off (mascarpone being my favorite way to finish off a creamy soup. I mean, if you want to take your tomato soup to the next level, that's the ticket right there).
It would make an excellent starter or accompaniment alongside something meaty and hearty. I mean, with all the spinach in there you may as well be serving a salad (and dare I say I've seen numerous spinach, pear, and pancetta salad recipes out there). See what I mean? So instead of having to decide on soup OR salad…. why not have both… at the same time?
Spinach and Pear Soup with Pancetta
Ingredients:
2 ounces Pancetta, cut in small cubes
1/2 medium onion, chopped (about 1/2 cup chopped)
2 ripe comice or green anjou pears, cored and chopped (ok to leave the skin on)
1/2 cup cashews
1/2 teaspoon ground coriander
4 cups low-sodium chicken or vegetable broth
6 ounces fresh baby spinach
2 tablespoons chopped parsley
salt and freshly ground black pepper, to taste
1/4 cup mascarpone cheese (optional)
olive oil, for drizzling (optional)
Directions:
Heat a large saucepan or dutch oven over medium-high heat. Add pancetta cubes and sauté for 5 to 7 minutes or until brown and crispy. With a slotted spoon, transfer cooked pancetta to a paper-towel lined plate, leaving any rendered fat in the pan.
Reduce heat to medium and add onions to pan; cook until soft and transluscent, about 5 to 7 minutes.
Add chopped pears, cashews, and coriander and cook for 2 minutes. Add chicken broth and bring soup to a simmer and let simmer the soup for 5 minutes or until pears are softened.
Add spinach and parsley and simmer for 1 minute more or until spinach is completely wilted. Remove from heat.
Transfer soup to blender, working in batches if necessary, and puree until smooth and creamy (use caution when blending hot liquids). Return to saucepan and set over medium heat to rewarm. Season with salt and pepper to taste. For a creamier soup, stir in 1/4 cup mascarpone cheese until melted and smooth.
Divide among serving bowls. Drizzle with olive oil (if desired), and sprinkle with pancetta bits. Serve warm with crusty bread for dipping.
Did you make this recipe?
Let us know what you think!
Leave a Comment below or share a photo and tag me on Instagram with the hashtag #loveandoliveoil.