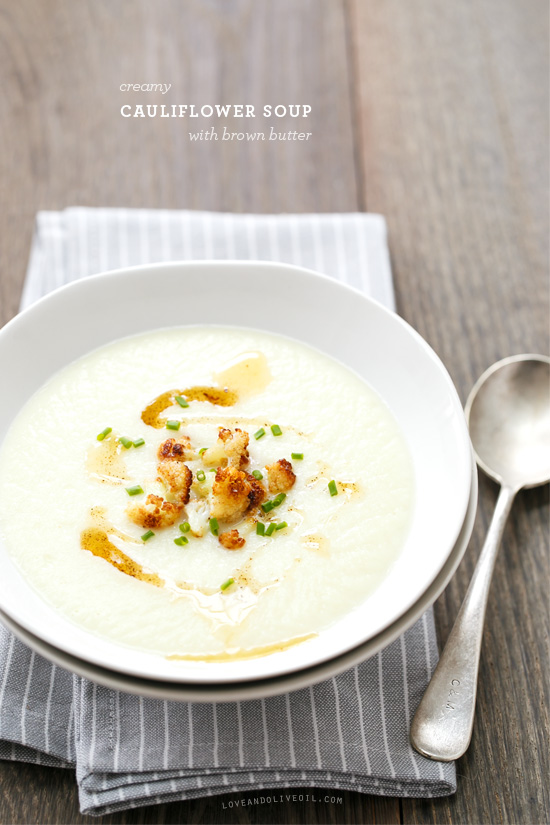 I'm not one to wax poetic about soup.
Soup is soup and often quite boring soup at that.
For me, soup is usually a vehicle for eating more bread. Creamy soups at least, I have a hard time eating a bowl without at least a few slices to dip.
But this soup… this soup is worthy of poetic praise.
Be grateful I'm not an aspiring poet, otherwise you very well might find yourself cringing amidst sappy (er, soupy?) sonnets like an episode of the Bachelor gone bad (thank god there were no poets this season is all I'm saying).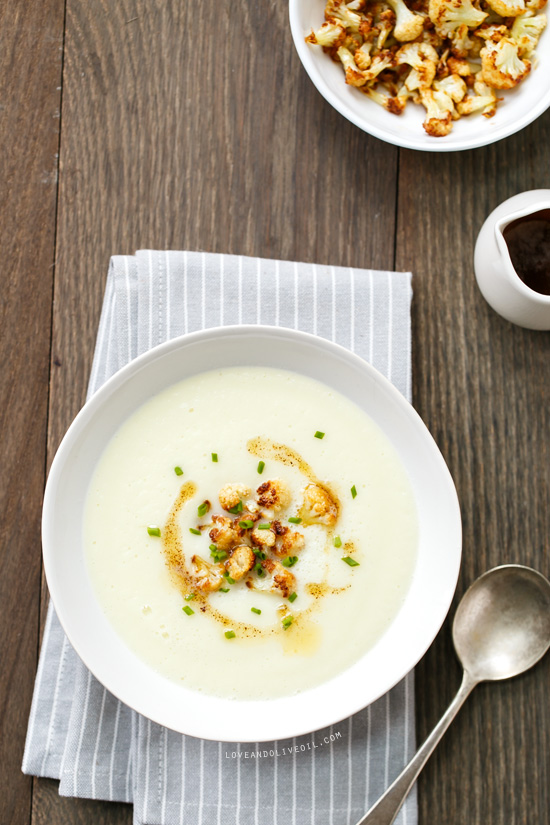 What makes this soup so incredible, what takes it from limerick to lyric? Three words: crispy cauliflower florets. Ok a few more: with brown butter. And a splash of vinegar. Without them this is just another boring, albeit creamy as all get out, cauliflower soup. But with that brown butter drizzle, those crispy florets with a hint of vinegar tang… this soup makes me want to sing (luckily, I'll spare you that too).
While the process of making this soup might seem somewhat complicated (Note to self: don't look at the word "cauliflower" for too long or your eyes will start to go crossed) it actually comes together quite quickly. While the soup is simmering, the remaining florets are cooked to a lush golden brown in a bath of sizzling butter. Believe me that the sheer quantity of butter called for in this recipe is absolutely required, and totally justified once you taste the final product.
I have to give credit to friend/neighbor Michelle for enlightening me with this recipe; one look at her gorgeous bowl of creamy perfection and I knew I had to make it. And I haven't stopped making it since. Next time I might try it with a bit of chicken broth instead of all water, just to give the soup base a bit more depth. But other than that it is perfect. Undeniably perfect. And anything but boring.
Creamy Cauliflower Soup with Brown Butter
Ingredients:
1 head (approx. 2 pounds) cauliflower
7 tablespoons unsalted butter, divided
1 leek, white and light green parts only, halved and thinly sliced
1 small onion, halved and thinly sliced
salt & pepper
4 1/2 cups water
1/2 teaspoon white wine or sherry vinegar
3 tablespoons fresh chives, snipped
Directions:
Trim the cauliflower, removing any green leaves and leaf stems. Remove stem and core; trim and slice into thin pieces.  Cut 1 1/2 cups of small florets and set aside for later. Coarsely cut the rest of cauliflower into thick slices and chunks.
Melt 2 tablespoons of butter into a large saucepan set over medium low heat. Add onion, leek, and a pinch of salt and saute until softened, about 7-10 minutes.
Add water and increase heat to high. Add the half the cauliflower chunks and the stem pieces; bring to a boil, then reduce heat to maintain a simmer. Let simmer gently for 15 minutes, then add other remaining cauliflower chunks and cook for about 15 to 20 minutes, or until cauliflower is crumbly and tender.
Meanwhile, melt the remaining 5 tablespoons of butter in a pan. When butter is melted and frothy, add the reserved florets. Cook over medium heat until the florets and the butter are both browned, stirring occasionally, about 12 to 14 minutes minutes. Transfer the florets with a slotted spoon to a small bowl; toss with vinegar and coarse sea salt. Pour browned butter into a small bowl and set aside.
Ladle soup into blender and puree until smooth (use caution when blending hot liquids). Return soup to the saucepan over medium-low heat until heated through. Season to taste with salt and pepper. Additionally, you may choose to add up to a 1/2 cup more of water if desired for a thinner consistency. To serve, ladle into serving bowls and garnish with florets, snipped chives, and freshly ground black pepper; drizzle with browned butter and serve.
Did you make this recipe?
Let us know what you think!
Leave a Comment below or share a photo and tag me on Instagram with the hashtag #loveandoliveoil.