Spiced with cinnamon, cayenne and smoked paprika for hint of sweet heat, these crunchy candied pistachios will quickly become your new favorite snack.
Coated with a crunchy layer of crystalized sugar infused with an umami-rich spice blend, these sweet & spicy candied pistachios are completely addictive and perfect for munching (hello, perfect holiday party snack!)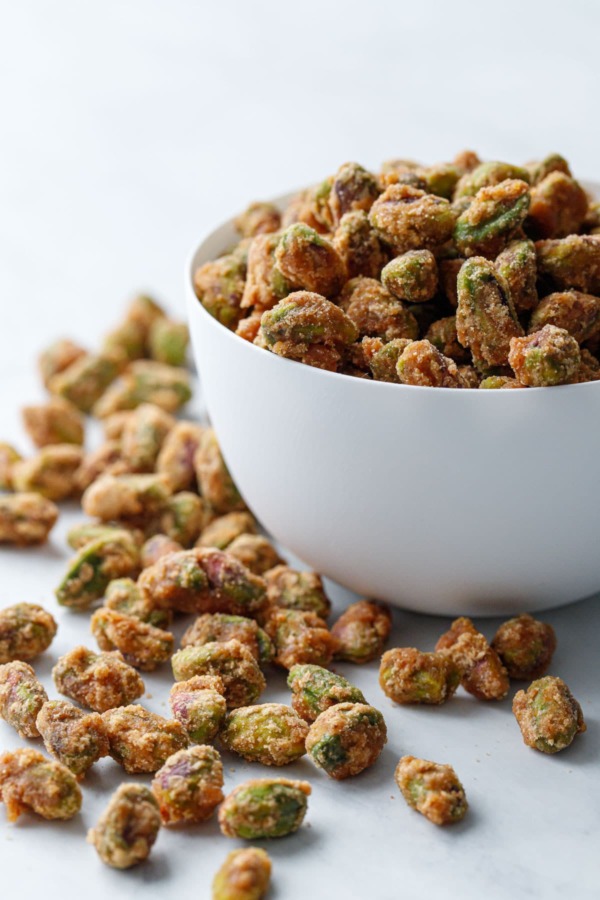 I first started playing with candied pistachios when I was testing my ultimate pistachio lover's gelato recipe. I didn't end up using the candied nuts in the final recipe, however, as the moisture from the ice cream all but dissolved the delicate sugar coating and made them indistinguishable from non-candied nuts, so I figured why spend the extra time?
Still, I had tested so many different methods for candying nuts with amazing results, and I didn't want all that work to go to waste. So I tucked the recipe into my back pocket (or, more accurately, into the back pocket of my recipe notebook) to revisit another day.
That day is today.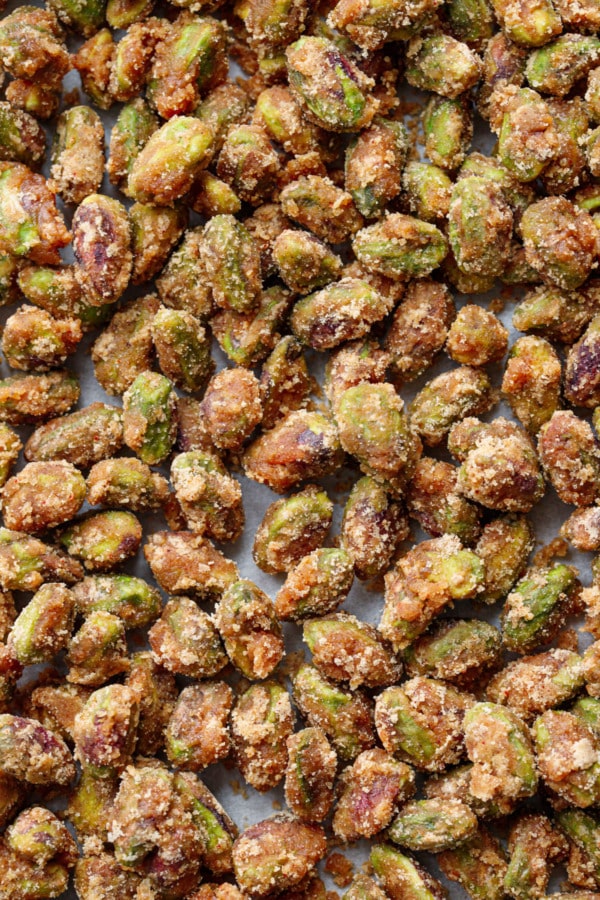 While my original batches were un-spiced, I was really looking for a bit more flavor and knew I wanted to add some heat. I ultimately settled on a subtle mix of spices including cinnamon, cayenne and smoked paprika, for a subtly spicy and sublimely snackable nut.
They're ridiculously addictive; if you're not careful you'll devour the entire batch, one small handful at a time, before you even realize what you've done. They're that good.
I've probably candied over a dozen batches of pistachios at this point, and nothing has come close to the 'accidental' crystallization I somehow managed to achieve with my very first batch (for whatever reason I'm almost entirely incapable of boiling a plain sugar syrup without it crystalizing). That batch had the most delicate layer of crystalized sugar evenly coating the nuts, something I've not been able to reproduce.
That said, this method, while still plenty crispy even if it's not quite as lacy and delicate, is much more reliable.
For whatever reason, boiling the sugar with salt and spices prevents it from crystalizing as it cooks; only when you add the pistachios does the crystalization begin.
If you leave out the spices here (if you were wanting to make plain crystalized nuts without any spice, for example) you might have issues with the sugar crystallizing well before it reaches the appropriate temperature. If this is the case, I recommend adding 1/2 teaspoon of corn syrup just to keep the syrup stable.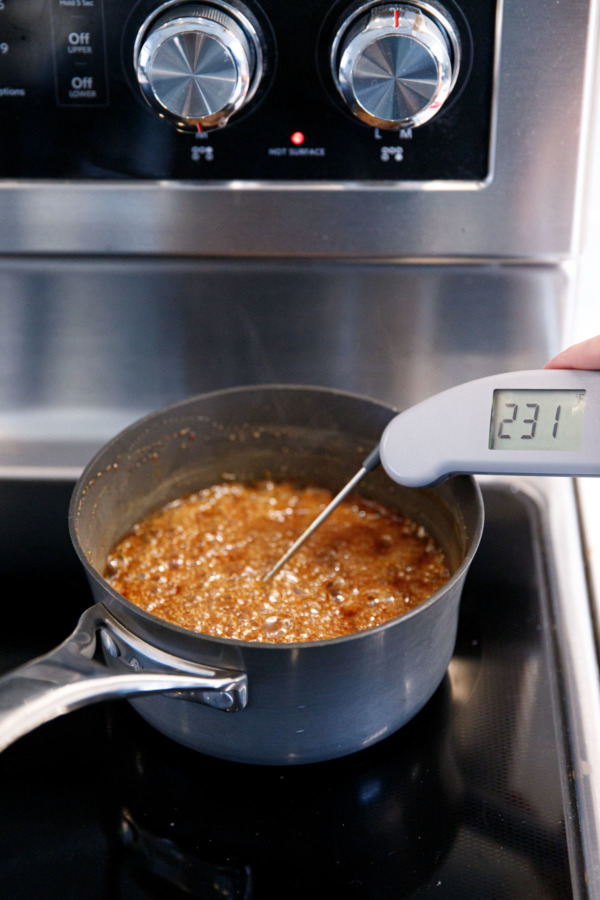 You'll probably notice this recipe is quite a bit different from most other candied nut recipes out there, the most common methods including tossing the nuts with egg white and sugar and baking, cooking the nuts in a saucepan with sugar and spices until the sugar melts, or caramelizing some sugar and then tossing with nuts (this last method produces more of a toffee or brittle than a true candied nut, in my opinion).
My main criteria for a good candied nut is one that is ridiculously crunchy, but won't break your teeth. (the toffee method described above, for example, often results in hard, caramelized sugar that softens as you chew and pulls out your fillings—definitely not good eats).
The crunch of crystalized sugar, on the other hand, is softer, less teeth-breaking, and much more pleasant overall. I also find crystalized nuts stay crunchier longer, whereas caramelized nuts tend to absorb any residual humidity and get soft and sticky after merely a day. The extended shelf life makes these candied pistachios great for perfect homemade holiday gifts!
The recipe is written for 8 ounces of pistachios (1 1/2 cups), but feel free to double or even triple this recipe—just increase the proportions accordingly. Use a larger pan to fit the increased volume, just make sure the sugar syrup forms a thick enough layer that it can be read with a digital thermometer (if the sugar is spread out too thinly it will be hard to get an accurate temperature reading).
The syrup will also double in volume when it first starts to boil, so be sure your pan is tall enough to accommodate the increased volume.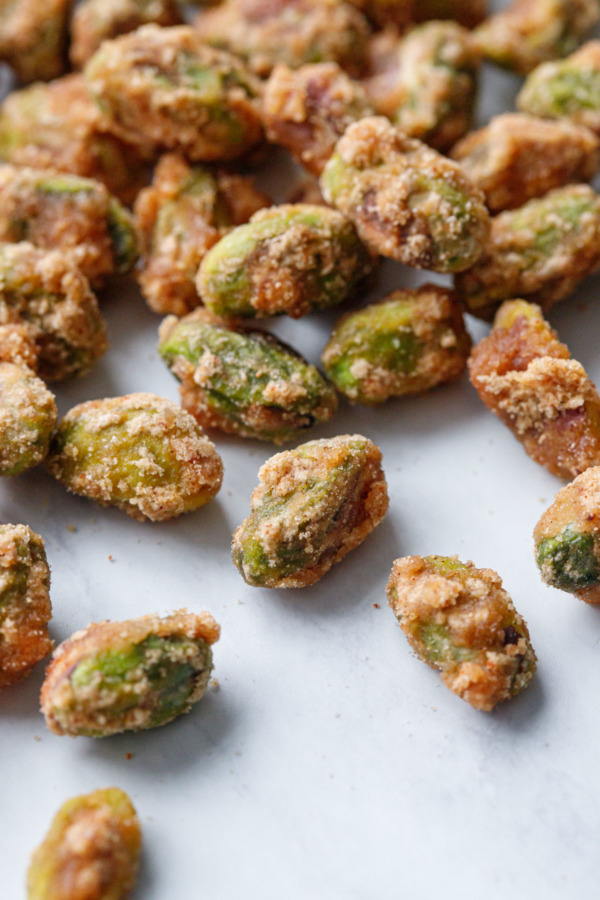 Can I use [insert nut here] instead of pistachios? Of course! This same recipe would work swimmingly with pecans, almonds or walnuts as well! Or do a blend of nuts for a super snackable mix.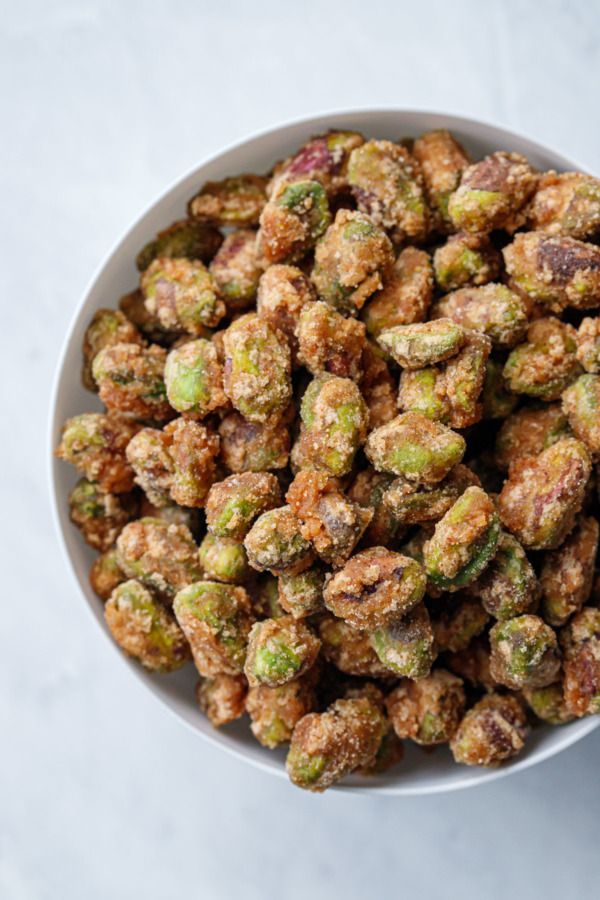 These sweet and spicy candied pistachios would make a fabulous snack for your guests to nibble on while you finish up your holiday feast.
They also make for a great homemade holiday gift: just package in a pretty gift bag, tie with decorative twine, and gift away! (Edible holiday gifts are the best, don't you agree?)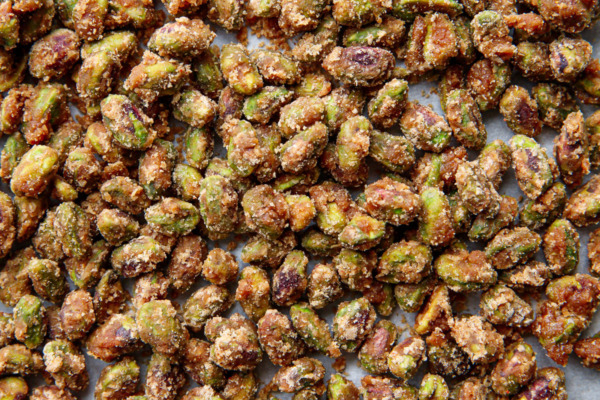 Sweet & Spicy Candied Pistachios
Spiced with cinnamon, cayenne and smoked paprika for hint of sweet heat and coated with a layer of crunchy crystalized sugar, these sweet and spicy candied pistachios will quickly become your new favorite snack.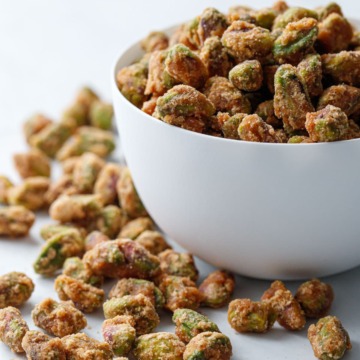 Ingredients:
1 1/2 cups (8oz) raw shelled pistachios
3/4 cup granulated sugar
1/2 teaspoon kosher or fine sea salt
3/4 teaspoon ground cinnamon
1/4 teaspoon cayenne pepper
1/4 teaspoon smoked paprika
Directions:
Preheat oven to 225 degrees F. Spread pistachios into a single layer on a baking sheet. Place in the oven when you start your sugar mixture (it should take about 10 minutes).
Whisk together sugar, salt, cinnamon, cayenne, and paprika in a small saucepan. Pour 1/4 cup water around the edges to wash down any stray crystals from the sides, and gently stir until sugar is evenly moistened.
Heat over medium-high heat, stirring occasionally, until sugar comes to a boil; it will bubble up to almost double in volume. Continue to boil until sugar reaches 238ºF; at this point the foam should have subsided and mixture will be noticeably thicker. Remove from heat and dump warm pistachios into pot with sugar.
Stir and turn over pistachios until completely coated with sugar mixture. Continue to stir strongly; as the sugar cools it will begin to crystalize and clump together. Continue to stir until nuts are completely coated with crystalized sugar – the coating should look more like wet sand rather than a syrup.
Dump nuts onto a parchment-lined baking sheet, spreading out and breaking apart large pieces. Let cool completely, at least 1 hour (nuts will get crunchier as they cool).
Store in an airtight container for up to 1 week (if it's particularly humid, you may want to store them with one of those little silica packets you often get with freeze dried fruit or kale chips, for instance, to help absorb excess moisture and keep the nuts crunchy).
Did you make this recipe?
Let us know what you think!
Leave a Comment below or share a photo and tag me on Instagram with the hashtag #loveandoliveoil.