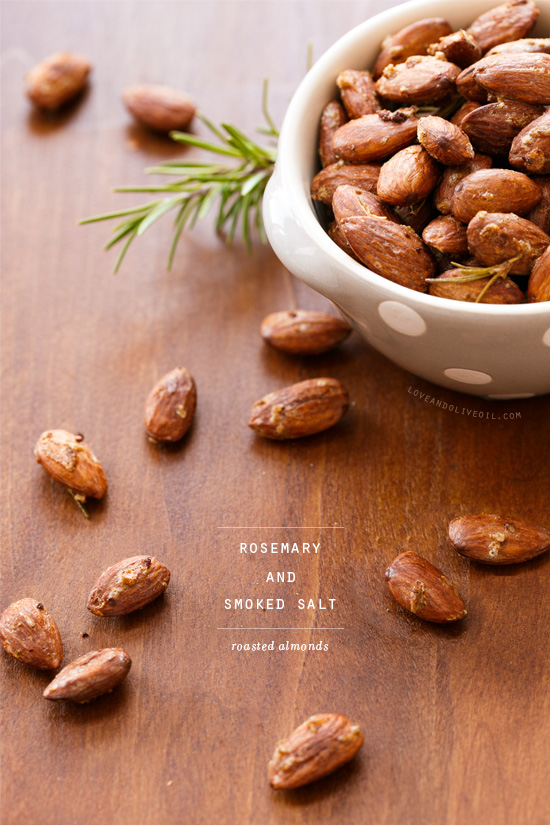 We've all had candied nuts; the sweet bites that turn shopping malls into hotboxes of sugary fragrance that no one in their right mind can resist.
Regardless of whether you feel that's fair to subject unsuspecting shoppers to such temptation, there's no denying that candied nuts are truly delicious. They are also, surprisingly, easy to make at home.
This recipe gives a normally sweet snack a savory twist, with a smoked salt and herb mix from SaltWorks®, Inc. The Wildfire® salt blend is just one of their many smoked salt products that I was fortunate enough to sample. My original draft of this recipe included smoked salt, fresh garlic, rosemary, and orange peel; so when I looked closer at the Wildfire ingredients and noticed it, too, contained smoked salt, garlic, and rosemary, I felt like the salt had read my mind.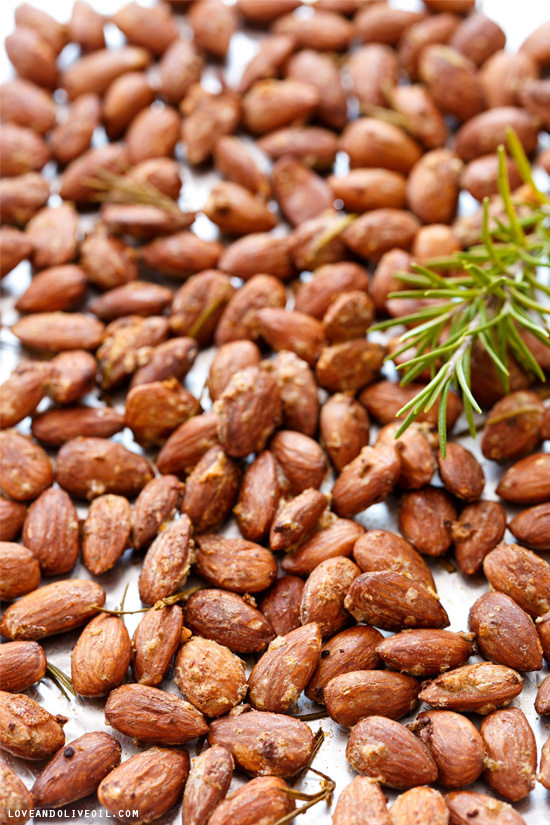 The nuts are first coated with egg white, much like a candied nut recipe to help the seasonings "stick", but instead of sugar and spices they are tossed with a savory smoked salt seasoning, fresh rosemary, and orange peel.
Some of you may be lucky enough to have a smoker in your household (the food kind, not the nasty habit kind), but for the rest of us, smoked salts are a fantastic way to infuse some fabulous, smokey notes into everyday dishes. They bring a meaty satisfaction to meat-less dishes, and lend unique flavor and aroma with every sprinkle. Needless to say, I'm a fan.
Stay tuned, because tomorrow I'll be back giving away an incredible assortment of salts from SaltWorks®, Inc, including the Wildfire® blend used here (but that's just the tip of the salt block.) If you love salt you won't want to miss it!
Roasted Almonds with Rosemary and Smoked Salt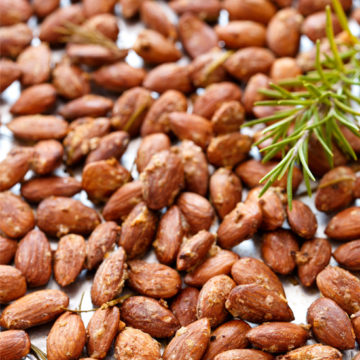 Ingredients:
1 large egg white (2 tablespoons)
2 cups raw almonds
2 teaspoons Wildfire® Smoked Sea Salt & Herbs
1/2 teaspoon dried orange peel or 1 teaspoon finely grated fresh orange zest
leaves from 2 sprigs fresh rosemary, stems discarded
Directions:
Preheat oven to 350 degrees F. Line a large baking sheet with aluminum foil; spray with cooking spray.
Whisk egg white in a medium bowl until frothy. Fold in almonds until evenly coated. Sprinkle with smoked salt, orange peel, and rosemary leaves and toss until evenly distributed. Spread nuts in a single layer on prepared baking sheet.
Bake for 18 to 20 minutes or until toasted and dry in appearance, stirring once or twice in the middle of the cooking process to prevent nuts from sticking together. Let cool for at least 10 minutes before serving, or store in an airtight container for up to 3 days.
Did you make this recipe?
Let us know what you think!
Leave a Comment below or share a photo and tag me on Instagram with the hashtag #loveandoliveoil.
Disclosure: This post was sponsored by SaltWorks®, Inc. As always, all opinions written are purely our own. We're incredibly grateful for opportunities like these that allow us to continue sharing delicious recipes with you, so thank you for supporting us and the brands we love.