These sweet cream scones are flavored with espresso and studded with dark chocolate chunks—perfect with your morning coffee or your afternoon tea.
Whether you enjoy these scones with coffee or with tea or dollops of thick clotted cream, these espresso chocolate chip scones are sure to please!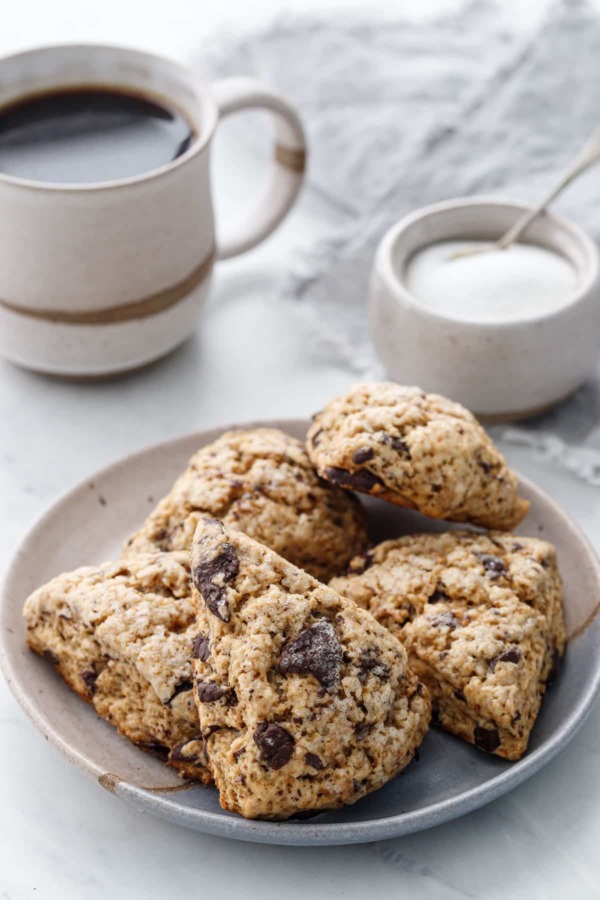 Tasked with baking two dozen scones for a tea-party themed gathering, I was stuck as to just what flavor I should make (because you should know me well enough to know that plain-ass scones just won't do). Mired with indecision, I took it to my trusty facebook group for a vote.
As the day wore on a clear winner emerged: espresso chocolate chip. Cherry chocolate chip was a close second (perhaps I'll make those next!)
Decision made, I adapted my favorite apricot thumbprint scones, adding a bit more flour so I could more easily shape them into wedges. With a little (ok, a lotta) espresso powder and a hearty dose of chopped dark chocolate, I'd say this recipe is a winner!
(OK, so… lest you think everything I bake comes out perfect… I fully admit to completely forgetting the sugar in my first batch. Luckily I taste tested before delivering them to the party, otherwise I'd never get invited to anything else, ever. It's only 1/2 cup, these really aren't overly sweet scones, but trust me when I say it's really noticeable without the sugar. So, yeah. Lesson learned.)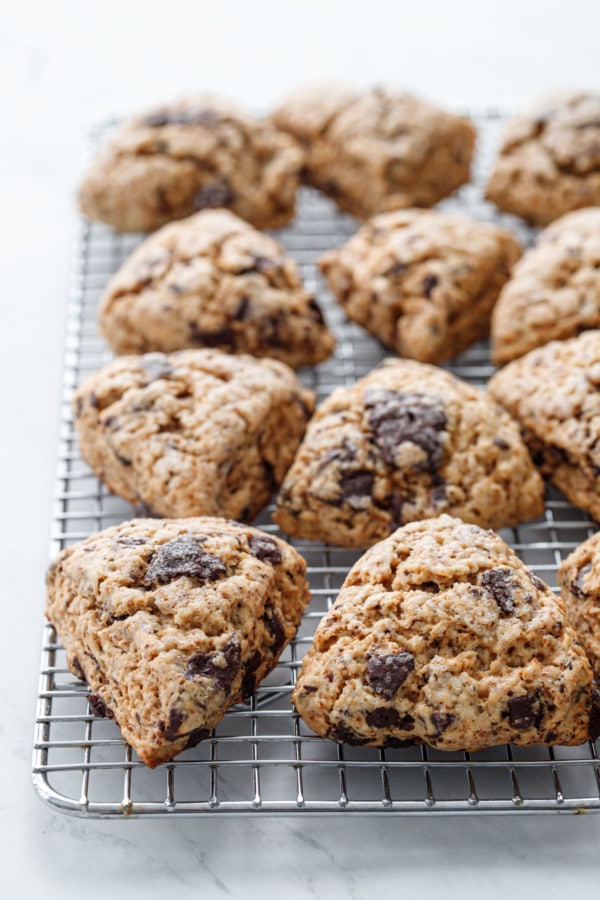 These are cream scones, meaning they're made with little more than flour and heavy cream. No butter or buttermilk here!
Personally I much prefer the even sweetness and tender texture of a cream scone. I find cream scones to be lighter and fluffier, so if you tend to think of scones as dry, dense pucks, I suggest giving this recipe a try—you'll be shocked at the difference! (That said, if you love butter and buttermilk scones, give this strawberry almond scone recipe a try—it's anything but dry!)
No butter also means these scones come together lickety split, with just a fork and your hands—no finicky pastry cutter or food processor necessary.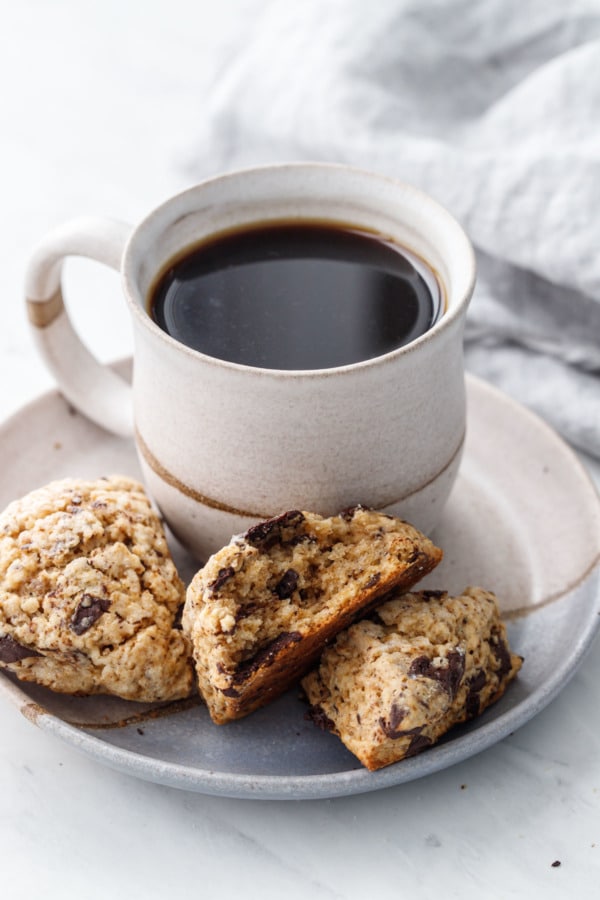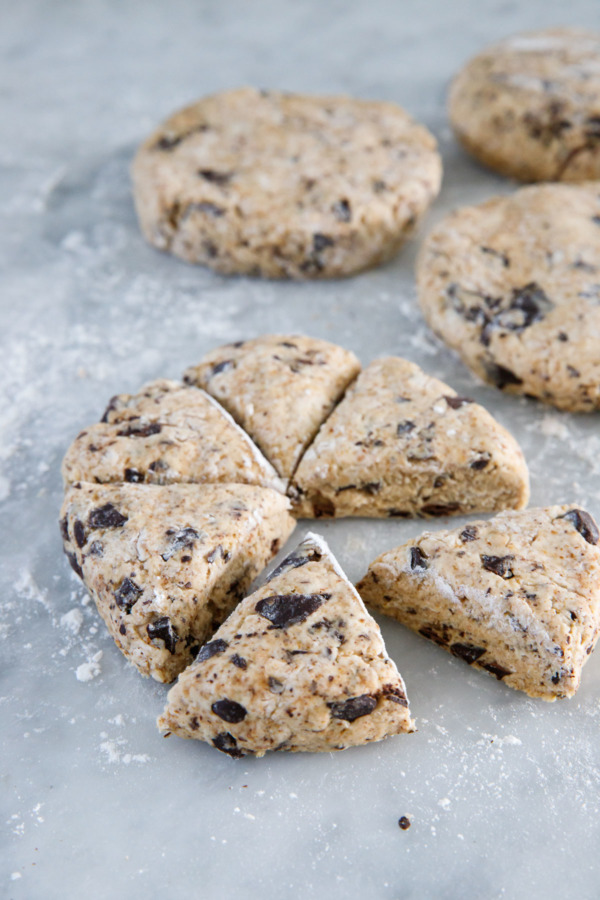 To shape, pat the scone dough into circles and cut into wedges. My scones are on the smaller side, so I made 4 even circles and cut them into 6 wedges each. You could divide the dough into 3 or even 2 circles if you wanted larger scones, just adjust the baking time accordingly (they'll likely take a few minutes more).
You can also make drop scones with this recipe by simply scooping out spoonfuls of dough and dropping it right onto the cookie sheet. This method results in more rustically shaped scones, but it's incredibly easy and far less messy to boot.
Before baking, the scones are brushed with more cream and sprinkled with sugar (I used an organic sugar which is a bit coarser and less processed than granulated). This gives the scone a beautiful crackly, crunchy top.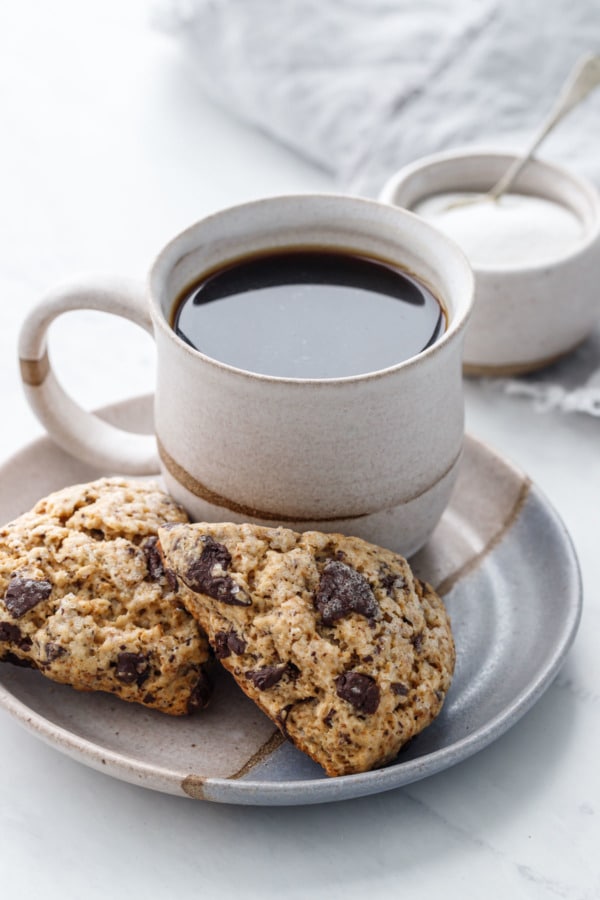 The hint of espresso powder pleases without overpowering, and notes of bitter, fruity dark chocolate throughout offset the sweetness perfectly. I shouldn't have to say that using high quality chocolate makes a difference here – if you wouldn't want to eat a square of it on its own, it doesn't have any place in these scones.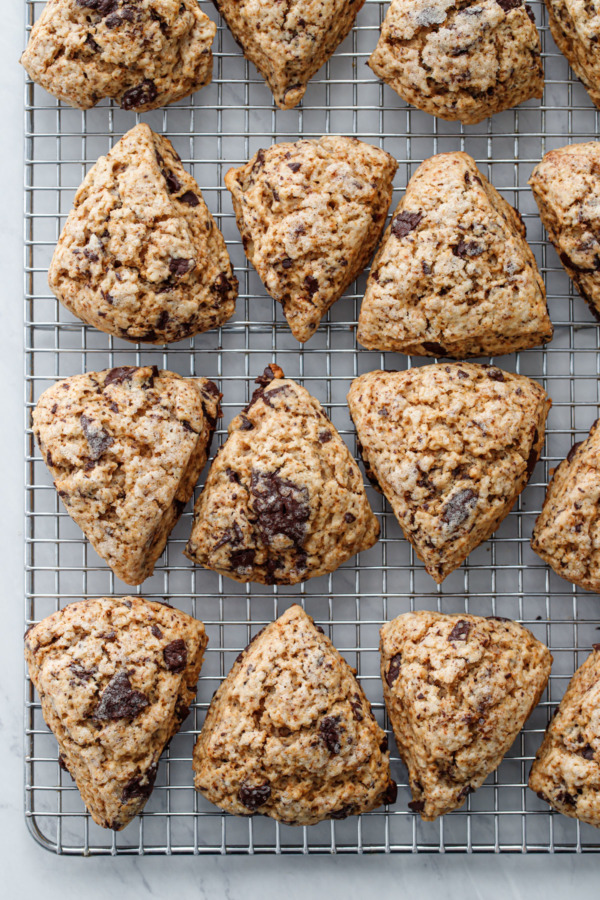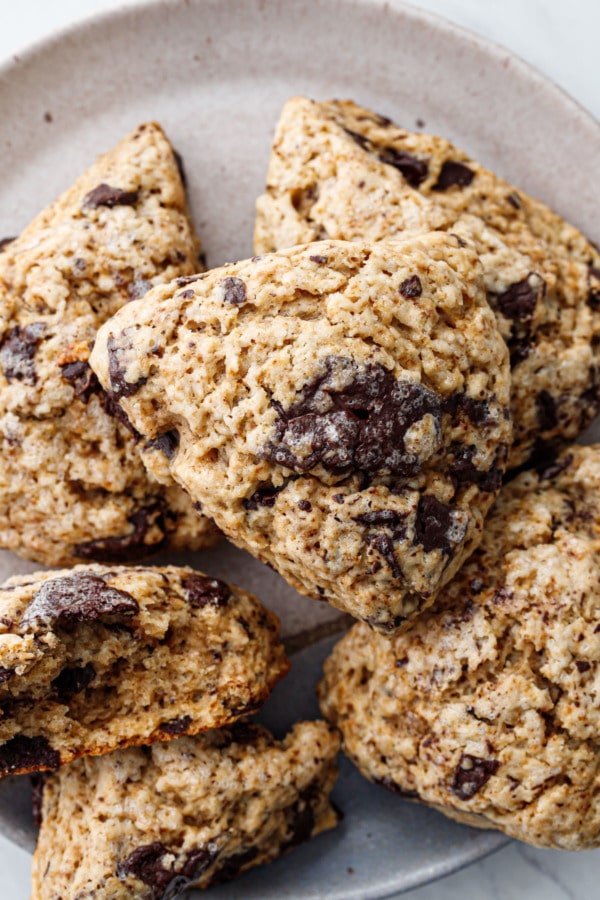 I think these scones would be fabulous with an espresso glaze, but they're just as satisfying when served naked. (Er, the scones naked that is, not the person serving them.)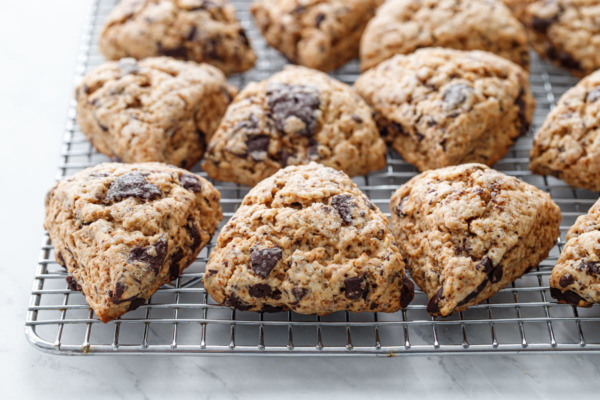 Espresso Chocolate Chip Scones
Sweet cream scones flavored with espresso and studded with dark chocolate chunks. Perfect with morning coffee or afternoon tea!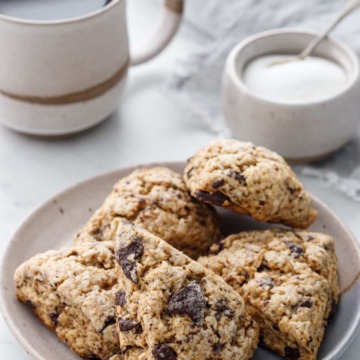 Ingredients:
3 1/2 cups (430g) all-purpose flour (bleached, if possible)
1/2 cup (100g) granulated sugar
2 tablespoons (6g) instant espresso powder
1 1/2 tablespoons (16g) baking powder
3/4 teaspoon kosher salt
2 1/4 cups heavy cream, plus more for brushing
4 ounces dark chocolate, finely chopped, or 1/2 cup chocolate chips
coarse or raw sugar, for sprinkling
Directions:
Preheat oven to 400 degrees F. Line two baking sheets with parchment paper or silicone baking mats.
In a large mixing bowl, whisk together flour, sugar, espresso powder, baking powder and salt.
Add cream and mix with a fork until evenly moistened, then fold in chocolate chips. Knead once or twice just until dough comes together in a shaggy ball.
Split dough into quarters and shape each into a ball. On a lightly floured surface, pat out each piece into a 1-inch thick circle, then cut each circle into six even wedges. Transfer to prepared baking sheets, leaving 1-2 inches of space between scones. (Alternatively, you can also scoop out spoonfuls of dough using a spoon or cookie scoop, and drop directly onto baking sheet. Leave a bit more space between them to allow for additional spreading).
Brush tops of scones with heavy cream and sprinkle generously with raw sugar.
Bake for about 15 minutes or until bottoms are lightly browned. Let cool for 15 minutes before serving.
Did you make this recipe?
Let us know what you think!
Leave a Comment below or share a photo and tag me on Instagram with the hashtag #loveandoliveoil.