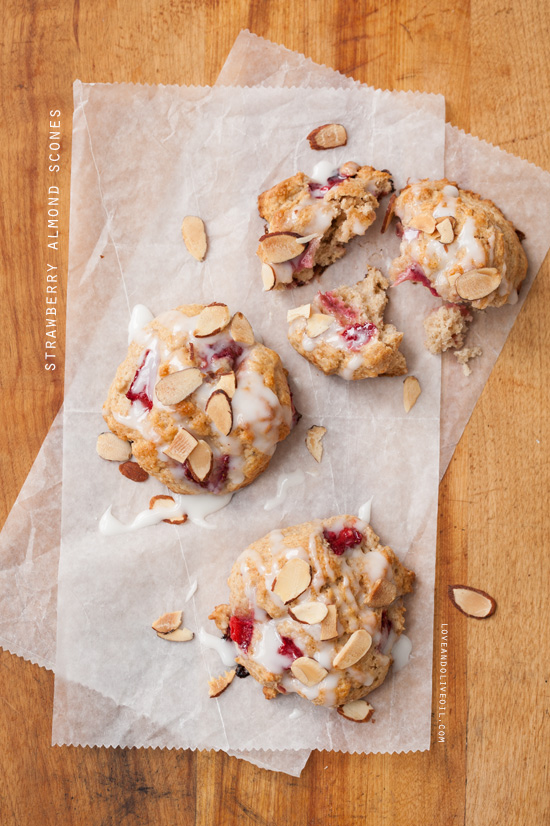 Life is good. You know how I know? The biggest dilemma I was faced with this past weekend was what to do with the rest of my coveted strawberries.
Two batches of jam, three smoothies, and four bellyaches later, there were only a handful of less-than-perfect berries left, crying to be used. Rather then send them into the deep freeze for later use, I threw them into a batch of these delicious-sounding scones.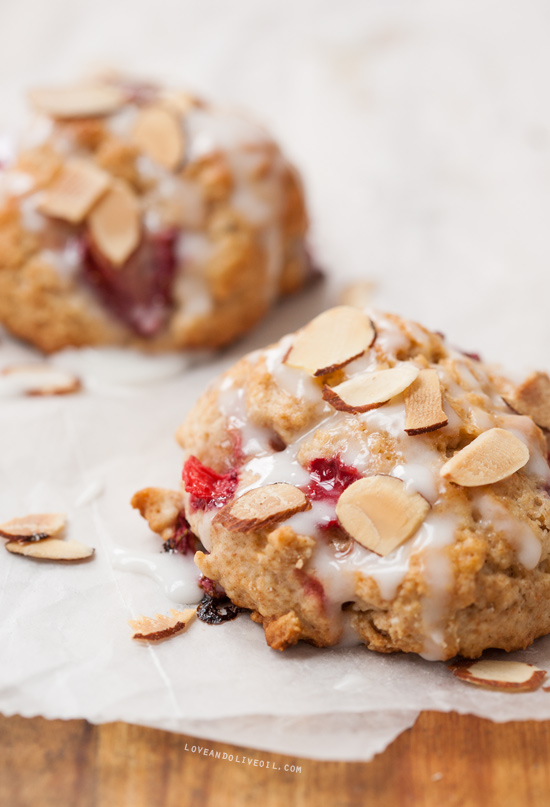 While the flavors were spot-on, I felt that the texture was not quite as scone-like as I would have liked. Granted, I took them out of the oven sooner than the directions instructed, however if I hadn't I would have ruined another baking sheet with the singed remains of strawberry ooze. As a result, the texture was almost muffin-like, light and fluffy and soft. Good, no doubt, but not what I'd define as a scone.
I loved the sweet buttermilk glaze, though, and so did the cat. We turned our backs for 5 seconds only to find that she'd broken in to the partially open container and was now madly licking the glaze off the top of one scone like her life depended on it.
I take it back. We DO have bigger dilemmas than just strawberries…
Strawberry Almond Scones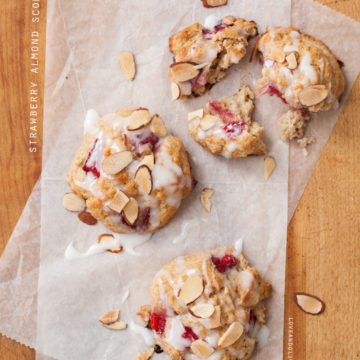 Ingredients:
For Scones:
1 1/2 cups all-purpose flour
1 1/2 cups whole wheat pastry flour*
1/4 cup plus 2 tablespoons granulated sugar
1 tablespoon baking powder
1/2 teaspoon baking soda
1/2 teaspoon salt
1/2 cup (1 stick) cold unsalted butter, cubed
1 1/4 cups buttermilk, plus more for brushing
1/4 teaspoon almond extract
1 1/2 cups sliced strawberries
2 tablespoons turbinado or raw sugar
For Glaze:
1/2 cup sliced almonds
2 cups confectioners' sugar
3 tablespoons buttermilk
1/2 teaspoon pure almond extract
*Whole wheat pastry flour is finer than regular whole wheat flour, and produces a lighter scone overall. If you don't have any, substitute all-purpose instead.
Directions:
Preheat the oven to 400 degrees F and line two baking sheets with parchment paper or silicone mats.
In a large mixing bowl, whisk together both flours with the granulated sugar, baking powder, baking soda and salt. Using a pastry blender or your fingers, cut in the butter until the mixture resembles coarse meal. Stir in the buttermilk until just incorporated, then gently fold in the sliced strawberries.
Using an ice cream scoop or a spoon, scoop the dough into 16 mounds on the prepared baking sheets. Brush the scones with buttermilk and sprinkle with the turbinado sugar. Bake in the upper and lower thirds of the oven until the scones are golden and cooked through, rotating the pans from front to back and top to bottom halfway through baking. This should take about 20 to 30 minutes, but keep an eye on them as the berries have a tendency to burn. Remove from oven and let cool on a wire rack for 30 minutes.
Meanwhile, lower the oven temperature to 350 degrees F. Spread the almonds in a thin layer on a small baking sheet and toast for about 8 minutes, until just golden. Remove from oven and let cool.
To prepare glaze, in a small bowl, whisk the confectioners' sugar with the buttermilk, almond extract, and salt. Drizzle the scones with the glaze, then top with the almonds, pressing if necessary to adhere. Let dry for 10 minutes, then serve. Scones are best enjoyed the day they are made.
Did you make this recipe?
Let us know what you think!
Leave a Comment below or share a photo and tag me on Instagram with the hashtag #loveandoliveoil.