Soft and yeasty and dimpled with slices of fresh peach and a sprinkle of fresh thyme, this homemade focaccia bread will transport you straight to Italy.
A good basic focaccia is ripe for countless topping variations, and this summer peach and thyme version is no exception. The perfection of the roasted fruit paired with the fresh herbs and yeasty bread is simply flawless.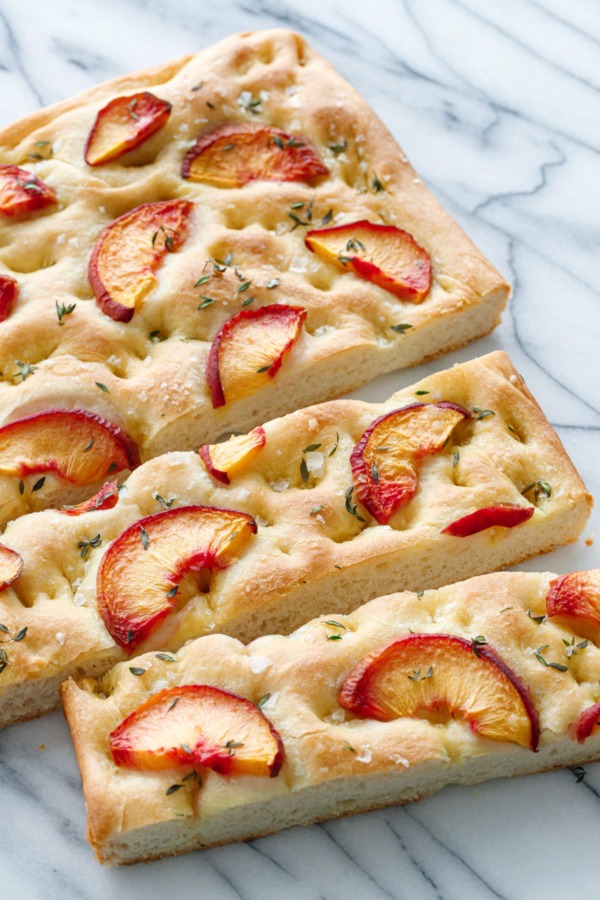 Good, authentic focaccia is light, airy and yeasty, crispy around the edges but soft and pillowy in the middle. The characteristic dimples serve as vessels to collect the salt and oil, infusing the bread with intense flavor (and yet, no oiliness, despite the sheer amount of oil that is used).
This recipe is nearly identical to my Potato & Rosemary Focaccia Bread, although I did swap out some of the 00 for a fine semolina flour just for a bit of variation in texture and taste.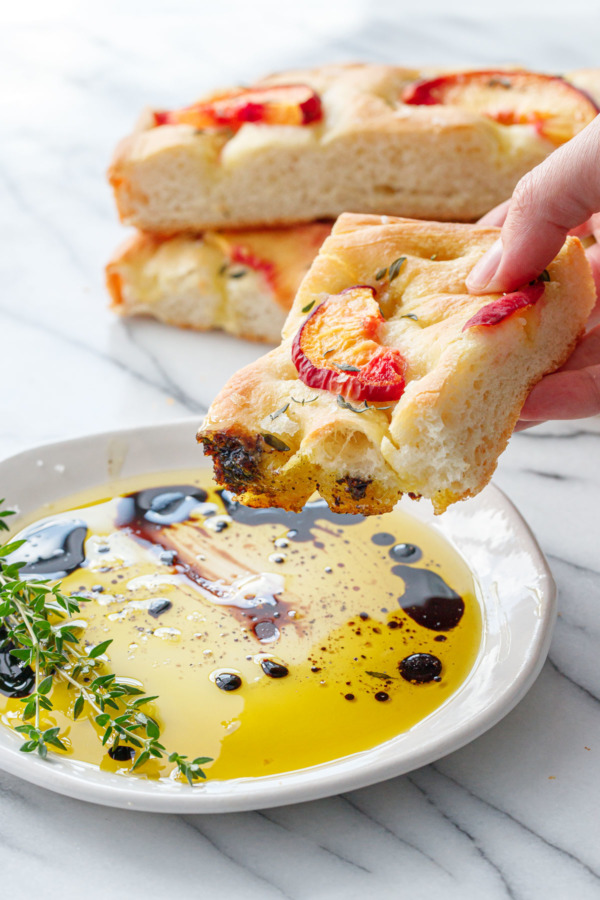 We served this peach focaccia bread with a dish of olive oil, drizzled with balsamic vinegar and sprinkled with salt and freshly ground pepper. I think the balsamic works especially well with the flavors of this bread.
Or, better yet, serve it with warm goat cheese or whipped feta and a drizzle of honey. Hello.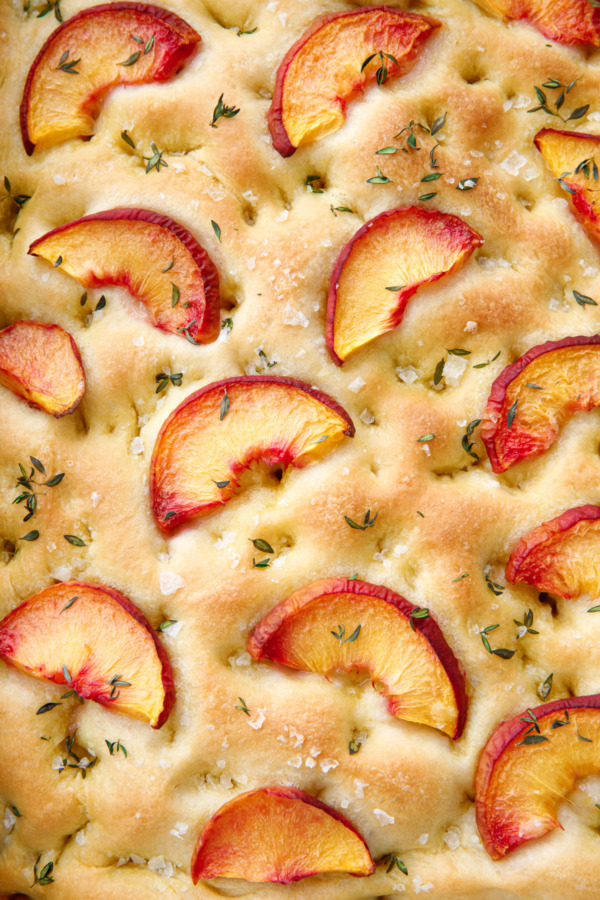 As mentioned, this recipe uses a mix of 00 flour and fine semolina flour (the same kind you'd use for pizza crust or homemade pasta). Both of these flours are more finely milled, resulting in a lighter texture, and the semolina is slightly higher in protein, which allows the dough to absorb more water (and more water means more steam, which creates more bubbles in the bread, leading to a more airy structure).
If you don't want to go out and buy two different specialty flours, I implore you to at least use all 00 here if at all possible. You can technically use all-purpose or bread flour instead (270g total or just over 2 cups). But, keep in mind that the 00 flour gives this bread an incredibly light texture and refined crumb; all-purpose flour is going to result in a slightly denser and chewier focaccia overall.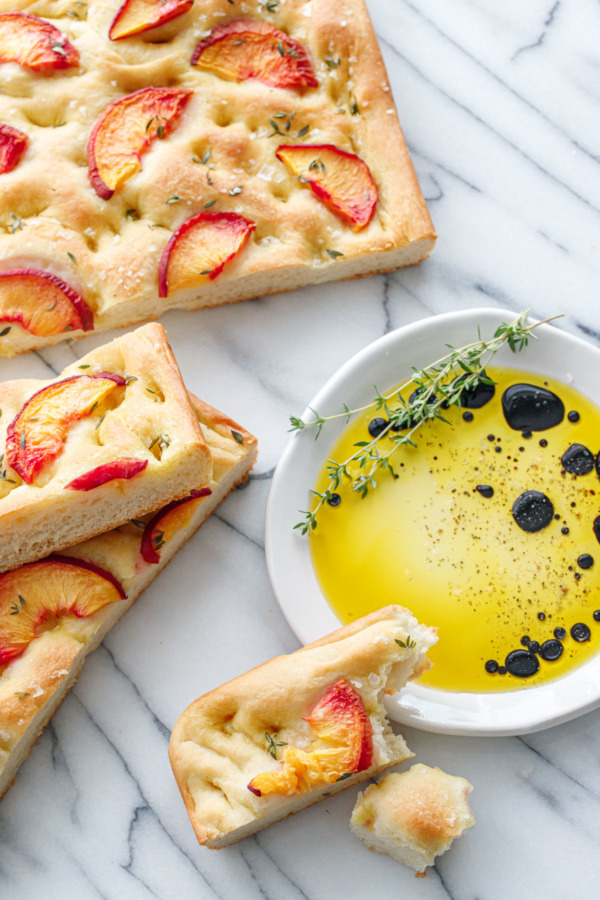 The other secret to perfect focaccia, besides the superfine flour, is a double rise and triple fold process that produces an impeccably light and airy final product.








First press out your risen dough into a 13-by-9-inch baking pan (you can also use a quarter sheet pan, though your bread will probably end up more of an oval shape). Arrange the baking pan with the long edge facing you. Fold in half left to right, then fold in half from top to bottom, then fold once more from right to left. Then rotate the piece of dough 90-degrees so the long edge matches up with the long edge of the baking pan.
Lightly cover and let rise for about 1 hour until doubled in size, then press it out once again to fill the baking pan. This time you want to be very rough with it, stab your fingers down through the dough to the point where they almost break through to the bottom. These will become the signature dimples that characterize true focaccia bread.
Finally, add your toppings. In this case, thinly sliced peaches and a sprinkle of fresh thyme (I think oregano and/or basil would be lovely too!) as well as a generous sprinkle of coarse sea salt.
All in all you'll want to allow about 3 hours from start to finish, including rising and bake time.


This could certainly be made with any stone fruit: peaches, plums, or cherries even. (In fact, I originally set out to do a stone fruit focaccia but the disappointing lack of red-fleshed, freestone plums pushed me in a slightly different direction).
Alternatively, swap out the fresh thyme for whatever fresh herbs you might have on hand, or even use dried (1 tablespoon of fresh equals about 1 teaspoon of dried herbs, for comparison). I imagine oregano, basil or even tarragon would be lovely here.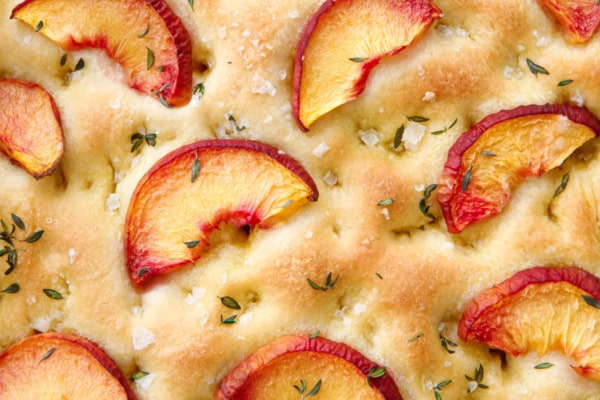 Peach & Thyme Focaccia Bread
Soft and yeasty and dimpled with slices of fresh peach and a sprinkle of fresh thyme, this homemade focaccia bread will transport you straight to Italy.
Ingredients:
1 tablespoon active dry yeast
3/4 cup lukewarm water (90-100 degrees F)
1 1/2 cups (200g) 00 flour
1/2 cup (80g) fine semolina flour (or substitute 70g more 00 flour instead)
1/4 cup olive oil, plus more as needed for preparation
2 teaspoons honey
1 teaspoon kosher salt
1 large peach, pitted and thinly sliced
chopped fresh thyme, for topping
coarse flake sea salt, for finishing
Directions:
In a small bowl, whisk yeast into lukewarm water until dissolved and frothy (if your yeast doesn't fully dissolve or get frothy, that means it is dead; throw it out and get fresh yeast).
In the bowl of your stand mixer, combine flours, olive oil, and honey. Add yeast and mix with the paddle attachment until just incorporated; add salt, then switch to the dough hook and knead on low speed for 5 minutes or until smooth and still slightly tacky. Turn out dough onto a lightly floured surface and knead once or twice, forming dough into a smooth ball.
Pour a glug or two of olive oil into the mixing bowl and roll dough ball in the oil until coated. Cover lightly with plastic wrap or a clean kitchen towel and let rest in a warm place for 30 minutes until noticeably puffed.
Generously oil a non-stick quarter sheet pan. Turn out dough onto pan and press out into a rectangle. Fold in half lengthwise, then fold in half crosswise, then fold in half once more to form a rectangle. Turn 90º so long side of rectangle is parallel to the long side of the sheet pan. Cover loosely with plastic wrap and set in a warm place to rise until doubled in size, about 1 hour.
Preheat oven to 400 degrees F.
Remove plastic wrap, then press out dough once again to fill the entire sheet pan at an even thickness. Poke your fingers down into the dough to form indentations, pressing out your fingers and moving your hands to tear up the dough a little bit (no need to be gentle with this, you want the craggy texture and it's ok if you tear holes clear thorough the dough). Drizzle generously with a few tablespoons of olive oil, spreading the oil out with your hands to fairly evenly coat the surface of the dough.
Arrange peach slices over top of dough, then sprinkle with thyme and a generous pinch or two of coarse sea salt. Loosely cover and let rest for about 30 minutes until slightly puffed and oven is thoroughly preheated.
Bake focaccia for 20 to 25 minutes or until top is light golden brown and the bread sounds hollow when tapped. Remove from oven and let cool for 10 minutes before lifting from pan and slicing into pieces; serve warm.
*If using all-purpose or bread flour, use a total of 270g (a little over a cup) in place of the 00 and semolina flours. The weight isn't quite equivalent, since the semolina flour is much heavier for the same volume. Note that AP flour will produce a slightly denser and chewier final product.
Did you make this recipe?
Let us know what you think!
Leave a Comment below or share a photo and tag me on Instagram with the hashtag #loveandoliveoil.