Fruit, on a pizza? It might sound weird, but the sweet-and-savory combination here is surprisingly delicious. With a drizzle of balsamic glaze and a sprinkle of coarse salt and pepper, it's perhaps the perfect pizza for summer.
It might sound like a strange combination, but, if you think about it, tomatoes are actually fruits so why not treat them as such? And if one fruit goes well with cheese (goat cheese, in this case), it seems logical that others would too: peaches in particular. They're not going to last forever, so make the most advantage of the tree-ripened peaches while you still can!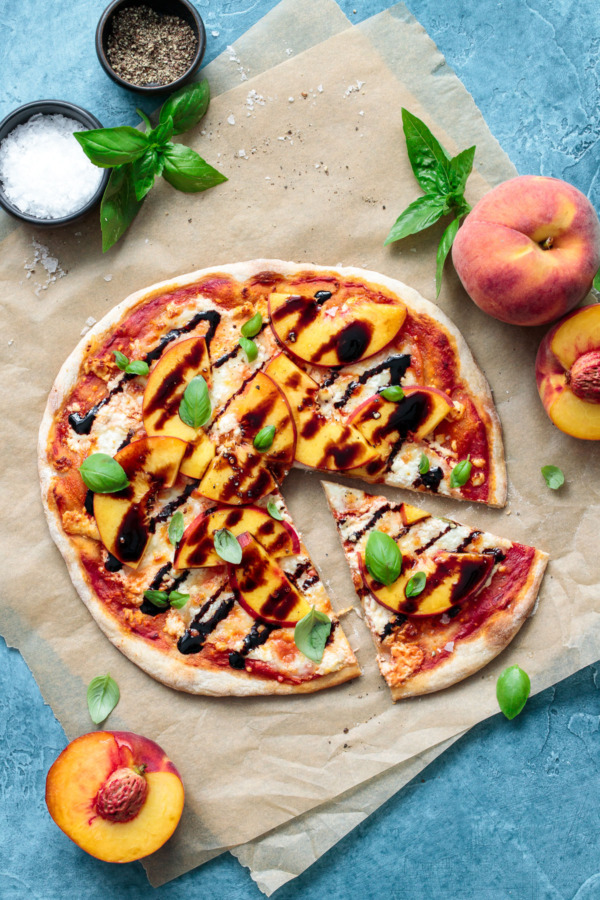 So I realized after testing this recipe a few times that we had made something very similar years ago. The main difference between that pizza and this one is that the peaches were cooked. Here, I've opted to preserve the bright freshness of the ripe peaches by placing them on the pizza after it comes out of the oven.
This version also has tomato sauce, which makes it an actual pizza in Taylor's mind at least (anything without tomato sauce he calls flatbread out of principle). The tomato plays surprisingly well with the peach, a combination I'd discovered years ago when I whipped up a tomato peach jam that blurs the line between savory and sweet. I mean, tomatoes are fruits, afterall, so why not treat them as such?
If you're intrigued by the mention of this unique jam, different variations of the recipe can be found in both our cookbook (as an accompaniment to our parmesan beignets), and in my jam ebook series.
Needless to say, peach and tomato it's a combination I turn to quite regularly, so the fact that it works equally well here in pizza form is no surprise.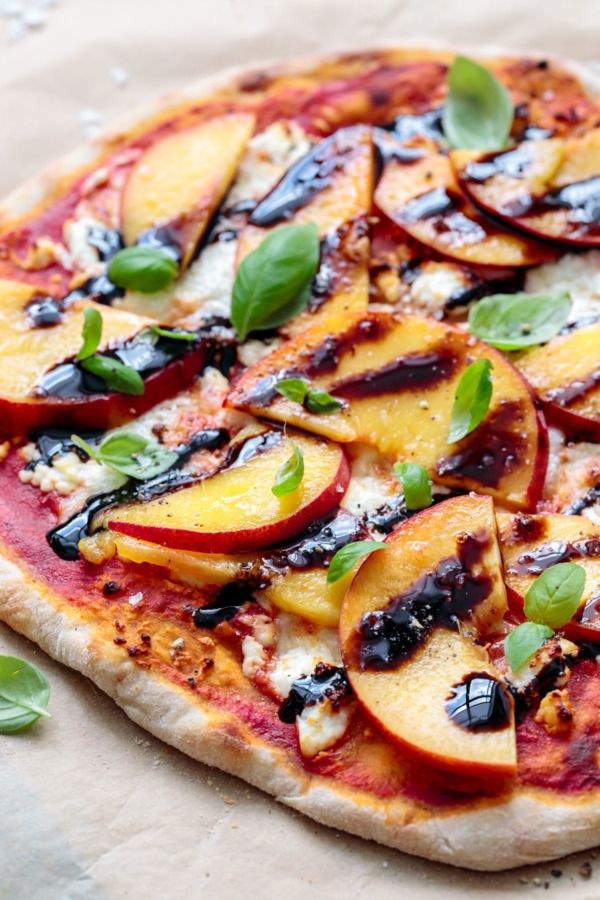 I love using micro basil (or any microgreens, actually) when I can find them. Which is why I've been particularly excited to have found a regular vendor at the farmers market that sells all different kinds of them, freshly cut to order. I really hope he sticks around through the fall and winter too!
The small, young leaves are perfect for dishes like this, as they offer the perfect punch of basil flavor without any cutting or tearing required. I also find young basil to have a more delicate, herbal flavor; older, more mature basil tends to be harsher and sharper (the authentic pestos from the Ligurian coast of Italy are all made using young basil; it's one reason why it's the best pesto in the world and nothing else quite measures up.)
As for pizza crust, use your favorite here, whether it be thick and chewy or thin and crispy. I've been playing with sourdough pizza crust lately (my recipe isn't quite perfected, but I'll definitely share it when I do!) and the slightly tangy dough makes for the perfectly compliment to this sweet-leaning pizza.
No peaches? I think this recipe would also work well with plums, pears, and even blackberries (think of the fruits that often get paired with cheeses, and go from there!)
Peach, Goat Cheese & Balsamic Pizza
This perfect summer pizza features savory tomato, mozzarella and goat cheese, fresh sliced peaches, micro basil, and a drizzle of sweet balsamic vinegar glaze.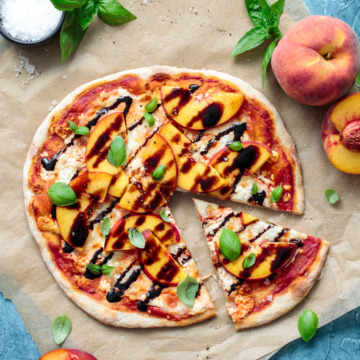 Ingredients:
1 batch of your favorite pizza crust
1/4 cup San Marzano tomato purée
1/2 cup fresh mozzarella cheese, drained and dried and cut into slices, or 1/2 cup shredded mozzarella cheese
2 ounces crumbled goat cheese
2 peaches, halved, pitted and thinly sliced
balsamic glaze*, for drizzling
fresh micro basil or torn basil
coarse flake sea salt and freshly ground black pepper
Directions:
Preheat oven to 500 degrees F. Place a pizza stone or a metal baking sheet in the oven to preheat. If using a pizza stone, let it preheat at least 30 minutes so it's nice and hot.
Roll out pizza dough on a lightly floured surface. You can either make one large pizza here or 2 smaller ones.
Place dough on a pizza peel dusted with semolina flour.
Spoon tomato sauce onto crust and spread out with the back of your spoon in a very thin layer.
Arrange mozzarella slices on top; sprinkle with goat cheese.
Bake for 10 to 12 minutes or until crust is golden brown and cheese is bubbly.
Remove from oven. Arrange peach slices over top. Drizzle with balsamic glaze. Sprinkle with fresh basil, salt and pepper. Slice and serve while still warm.
*You can pretty easily find pre-made balsamic glaze nowadays, or make your own by simmering 1 cup of balsamic vinegar with 1/4 cup brown sugar until thickened and reduced by half.
Did you make this recipe?
Let us know what you think!
Leave a Comment below or share a photo and tag me on Instagram with the hashtag #loveandoliveoil.