I hereby declare this officially unofficial blueberry week. Our lips might be stained permanently purple by the end of it. Not that that's a problem or anything.
It's become part of our summer tradition to make the 40 minute drive outside of the city, braving the heat and the sun and the massive bugs to pick as many blueberries as our baskets can hold. What seems like a ridiculous amount of berries inevitably gets eaten well before we have a chance to fulfill all our lofty recipe aspirations, at which point we promptly go back out and pick some more.
Ok, so I didn't eat ALL 16 pounds of blueberries on my own, that would have caused a massive tummyache. But I love throwing a giant handful of berries on my cereal in the mornings, without having to worry about running out. Most, however, made their way into an assortment of indigo-hued desserts and adult beverages (recipes which I will be sharing with you during this week of blueberry).
The rest I've frozen for a rainy day. Or a cold day. Or just a day sometime in the near future when blueberries aren't in season and I find myself with a massive craving.
Freezing blueberries is one of the easiest things you'll ever do. Trust me, come November when you have a wild idea to add blueberries to your cranberry sauce, you'll thank yourself for having the foresight to freeze some.
There's no prep except washing/drying the berries, and, once frozen, they'll keep for up to a year. We all know how expensive frozen blueberries are, so freezing your surplus is the best way to enjoy them throughout the year. I also like to freeze excess fruit because I can only make so many batches of jam in a row before my knees give out. Freezing allows me to spread out the canning as I have the motivation and energy.
I do recommend freezing your berries immediately while they're still plump and firm. If it turns out you need them you can always thaw them out again, but I always err on the side of over-freezing rather than risk having a single berry go bad.
To freeze your berries, first you'll want rinse them well. This isn't as important if you've found yourself a no-spray blueberry farm, but I still give the berries a thorough wash regardless.
Then spread the berries out on paper towels to dry. You want them to be completely dry before you freeze them, otherwise they'll ice over and stick together.
Once the berries are completely dry, spread them out in a single layer on a sheet pan (I've found that about 2 pounds of berries is a perfect amount to fit on one sheet pan). Place the entire pan in the freezer for at least 12 hours, or until they sound like marbles rolling around on the metal pan.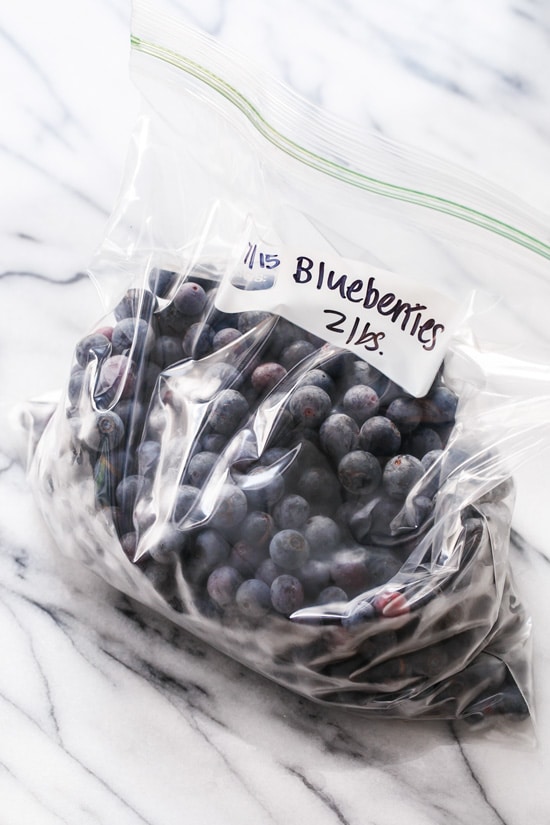 Once they are thoroughly frozen, transfer them to a gallon-sized zip top freezer bag, labeled with the contents, quantity, and date. As good as I think my memory is, I inevitably forget just how long that bag of whatever has been there and end up throwing it out rather than risk it, so believe me when I say labeling is key. The quantity is important too, so when find yourself needing exactly 1 cup or 2 pounds of berries, you'll know exactly how much you have.
Of course, you can apply this technique to other fruit and berries as well. Blackberries can be frozen in exactly the same way. For strawberries, wash and hull the berries (and halve or quarter them if you like) before laying them, cut sides up, on your baking sheet (they'll stick to the pan otherwise). For peaches or other stone fruit, halve, pit, and slice them into wedges, then arrange the wedges skin side down on the baking sheet, making sure the slices don't touch each other. For cherries, just wash and pit before doing the same.
Before you know it, your freezer will be overflowing with frozen fresh fruit, just waiting to be whipped into a pie or pureed into a smoothie or simmered into a batch of homemade jam.