Fresh strawberry pie bursting with ripe spring berries and a hint of floral rose. The berries in this pie are not baked, just held together with a binder of sweet strawberry jam, making for a beautiful seasonal pie that is dressed to impress.
This is a pie truly worthy of celebrating the first strawberries of spring: ripe and juicy and bursting with flavor – characteristics that are preserved and enhanced here, rather than cooked away. Instead, fresh, whole strawberries are tossed with a quick jam made with a splash of rose water that really gives the pie an extra special hint of flavor.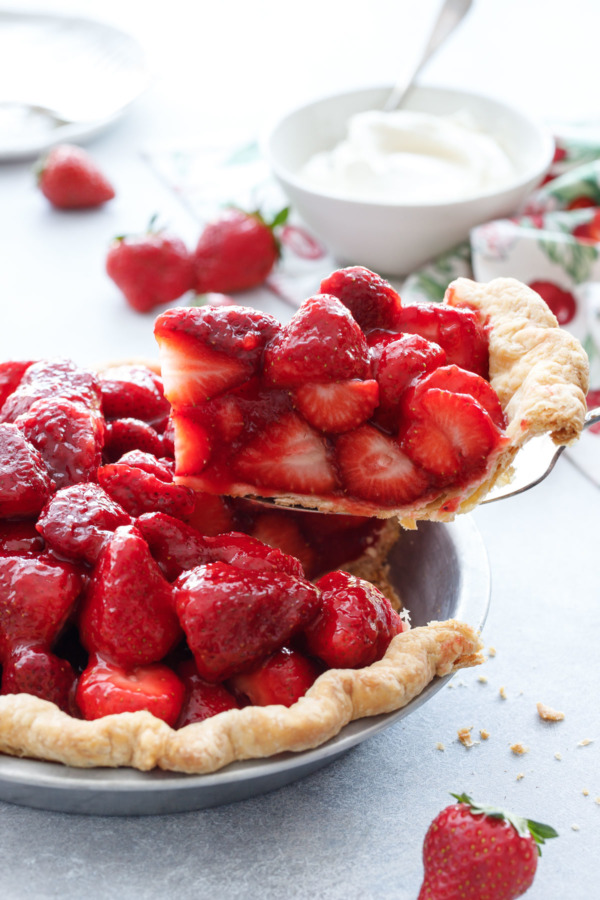 I first tried fresh strawberry pie last summer during our family reunion in Northern California. While I was having disastrous results trying to make a bundt cake (high altitude baking is no joke, y'all!) my cousin Brooke and her family whipped up two amazing fruit desserts, including a rustic peach galette and a fresh strawberry pie that blew my mind (maybe the trick to high altitude baking is pie? lol).
Needless to say, I've been waiting ever so patiently since then for the local strawberries to ripen so I could recreate the pie that's been haunting my dreams.
The recipe comes from America's Test Kitchen, and is basically just fresh strawberries tossed with a quick strawberry jam to bind it all together. I adapted the recipe to use Pomona's Universal Pectin (the original uses low sugar Sure-Jell – instructions for both are below).
What I love about this recipe is that the strawberries themselves are not actually baked, and so each bite preserves the bright, fresh flavor of the berries that I simply adore.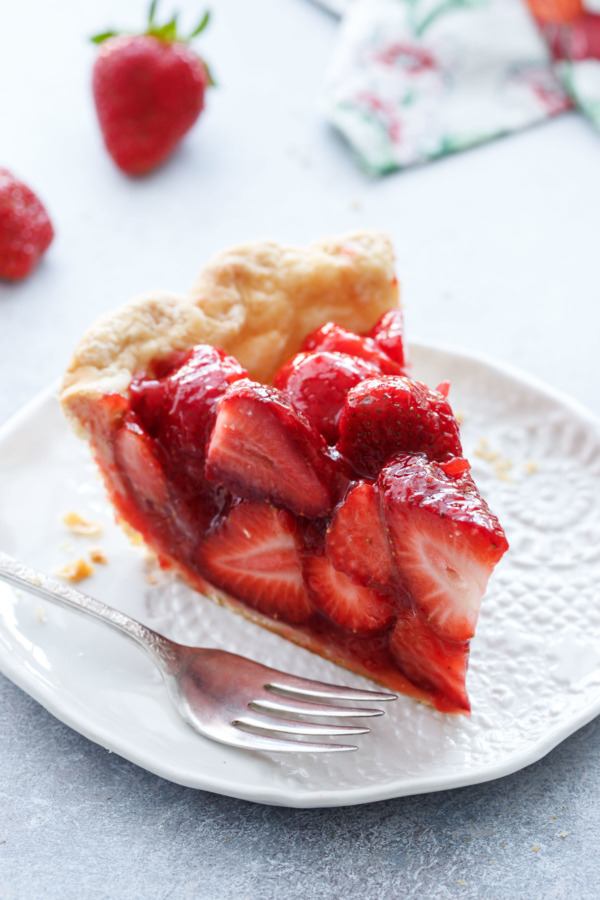 I originally wanted to enhance the strawberries by infusing the flavor of rose geraniums. I am not entirely sure where this idea came from, I think I saw reference to a rose geranium strawberry jam years ago, and for whatever reason the combination just stuck with me. Alas, scented geraniums are not easy to come by locally (most people spring for the decorative kind so that's what all the garden centers sell). I found a place online that sells them (I ordered some of the Old Fashioned Rose variety – they should arrive in a few weeks!) but my first bucket of spring strawberries wasn't going to wait for that.
I'll be honest I have no idea what rose geraniums smell or taste like. I imagine roses (makes sense, right? lol). So, in lieu of rose geraniums I turned to the most logical replacement: rose water.
I've combined strawberries and flowers before in jam recipes, both Strawberry Hibiscus and Sakura Strawberry. Strawberry rose seemed like another winning combo… and it only took one bite to confirm that hunch. I mean, WOW (don't be surprised if you see this one turned into a jam at some point).
The rose flavor is subtle, not overpowering (too much of any strong floral scent and your pie would taste like grandma's boudoir). And if you didn't know it was there you might not even be able to identify what exactly that flavor is. It teases the palate, elevating the strawberries from "mmm that's a really good strawberry" to "what is this wizardry?!"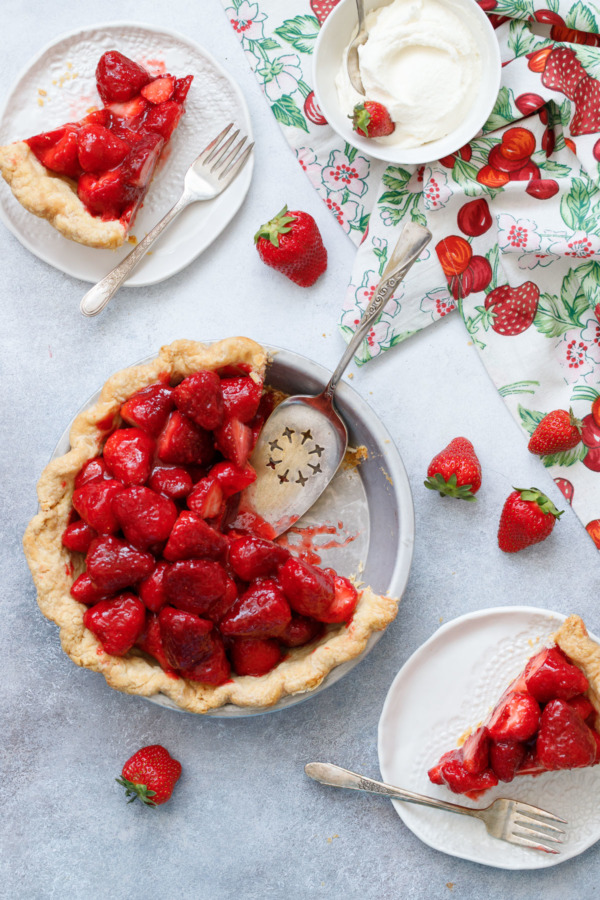 Let's talk about the strawberries themselves, since that's pretty much all that's in this pie (aside from some sugar and thickeners, of course) you really can't get away with using out of season, shipped-across-the-country berries. Put on your galoshes and brave the berry fields, picking only the plumpest, juiciest berries (or, you know, visit your local farmers market and pick up a bucket… just don't be afraid to ask for a sample before you buy.)
The best berries are the ones that you can smell before you see, the berries that, regardless of size, are firm and juicy and vibrant ruby red throughout the entire berry. They're succulent, not crunchy, with an intensity of flavor that explodes in your mouth. Indeed, those are the kind of berries you want for this pie.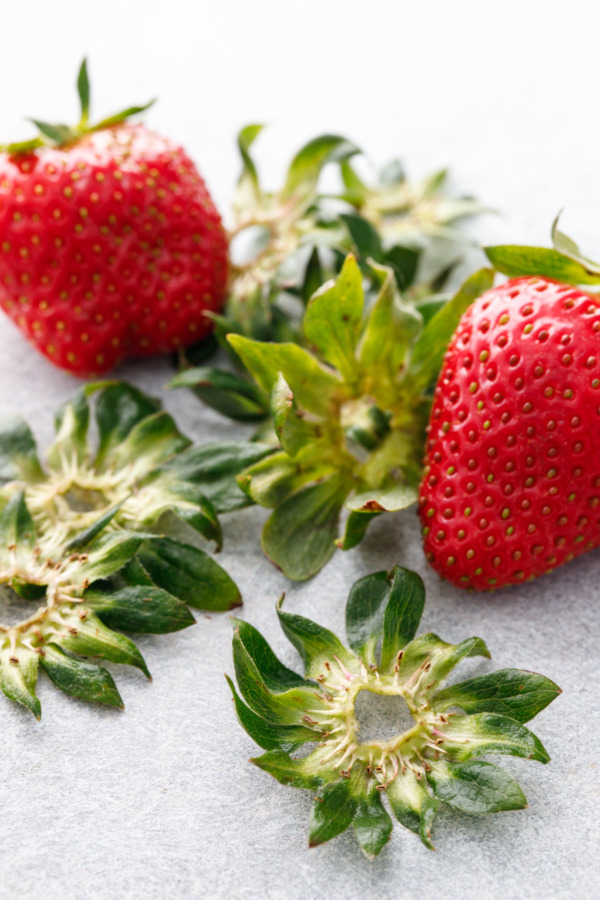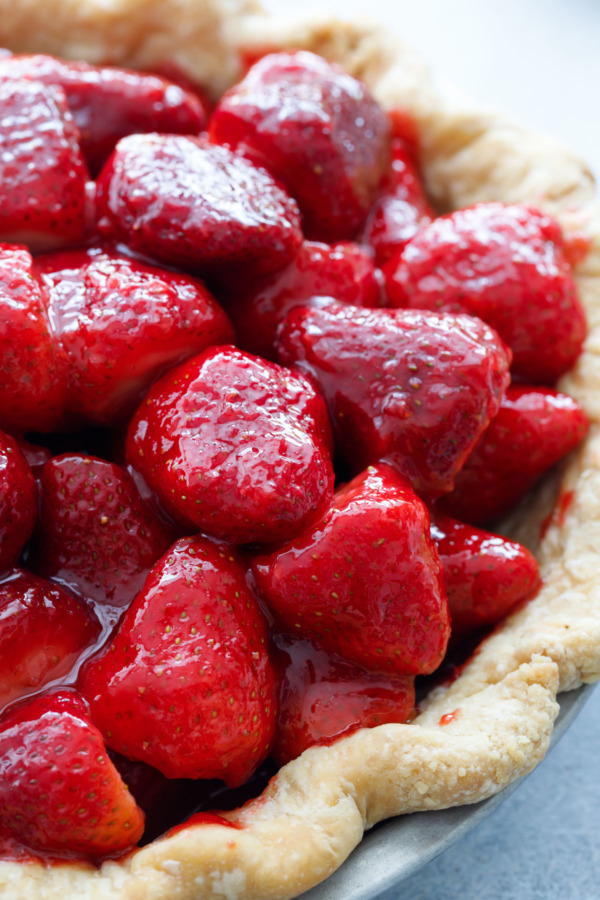 Once you've acquired said bucket, pick through and sort your berries by their appearance (I give you permission to be judgemental in this one situation). The ugly ones, about 1/2 a pound of them, will get puréed to make the jam that binds the whole pie together. The other 2 to 2 1/2 pounds of the prettier berries will remain whole (well, mostly whole, you still need to remove the hulls).
The variation in the amount of berries in the recipe below considers a few factors: how big your pie pan is, and how towering you want your pie to be.
As I've discovered, not all 9-inch pie pans are created equal. My favorite pan is a basic 9-inch aluminum pan, lightweight without any fancy coating, edge or handles. It's starting to show a lot of wear and tear, splotches and scratches in the bottom where slices have been cut, but I love it. And it's exactly 9-inches wide.
Most pie pans these days are slightly larger, what I'd call 9.5 inch pie pans. These include the standard glass Pyrex baking pans as well as other high quality non-stick pie pans.
You can also find deep dish pie pans, which will give you space for more berries than my shallow little tin will. Hence the range of berries in this recipe. Use your best judgement.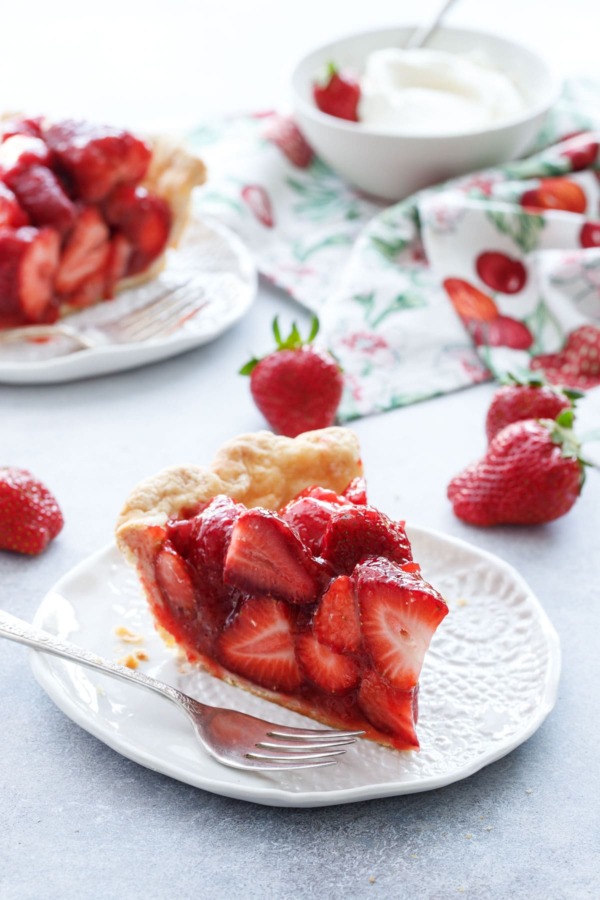 To pre-answer the inevitable question: you cannot make this ahead of time. Once assembled, best served within 5 hours or so of making it, after that the strawberries tend to get a little weepy and the crust loses its flakiness.
That said, you can plan ahead, make your separate elements ahead of time, which will definitely reduce your active time when it actually comes time to assemble the pie:
Make your pie dough the day before. You can either chill the ball of dough overnight, or chill it for at least an hour, then roll it out and bake it the day ahead as well. Cover with plastic wrap and let it sit overnight and room temperature.
You can also make the jam ahead of time. Refrigerate it overnight in an airtight container, then, when you're ready to use it, just rewarm slightly until it returns to its fluid state (don't boil it, just warm it until it loosens).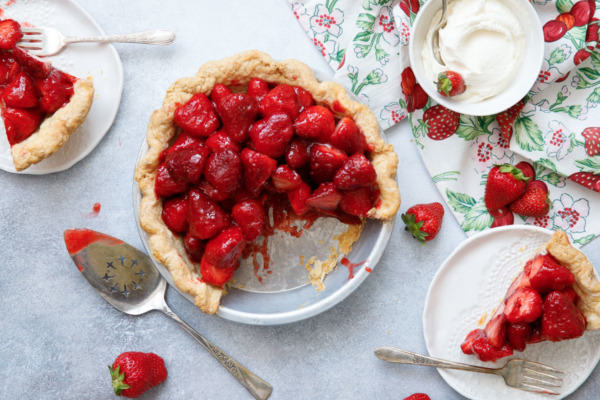 Fresh Strawberry Rose Pie
Fresh strawberry pie bursting with ripe spring berries and a hint of floral rose, made with fresh strawberries held together with a binder of sweet strawberry jam, this pie is a perfect celebration of spring.
Ingredients:
For Crust:
1 1/3 cups (6oz/170g) all-purpose flour
1/4 teaspoon kosher salt
1/8 teaspoon baking powder
1 stick (1/2 cup) very cold unsalted butter, cut into cubes
1 1/2 teaspoons apple cider vinegar
3 to 5 tablespoons ice water, as needed
For Filling:
2 1/2 to 3 pounds (about 4 pints) fresh strawberries, rinsed, dried and hulled
3/4 cup (5 1/4 ounces) sugar
2 tablespoons cornstarch
1/4 teaspoon fine sea salt
1/4 teaspoon Pomona's Universal Pectin (*see note to substitute Sure-Jell low sugar pectin)
1/4 teaspoon calcium water (only if using Pomona's pectin)
1 tablespoon freshly squeezed lemon juice (from 1 lemon)
1 tablespoon rose water (optional)
fresh whipped cream, for serving
Directions:
To prepare crust:
Place the flour, salt, and baking powder in the bowl of a stand mixer fitted with the paddle attachment. The colder the better for all the ingredients and tools.
With the mixer on low speed, slowly add the cold butter a few cubes at a time, until the butter breaks up into pea-sized crumbs (any larger chunks you can break up with your fingers).
Add the apple cider vinegar and one tablespoon of ice water at a time, mixing on low speed until it just barely comes together into a crumbly dough (you should be able to pinch a piece of dough and have it hold together). Knead the dough once or twice to form a ball, then form into a disc. Wrap tightly in plastic wrap and refrigerate for at least 1 hour or overnight.
Preheat your oven to 350 degrees F. Let the crust come to room temperature for 20 to 30 minutes (it should be still cool but pliable).
Roll out crust into a round large enough to fit into your pie pan with a 1-inch overhang. Gently transfer rolled out crust to pie pan, easing it into the pan so as not to stretch the dough. Trim any uneven edges so there is a nice even overhang around the entire pie.
Fold the overhang under itself, then crimp as desired. Refrigerate for at least 30 minutes.
Line pie with a piece of foil, lightly draping the foil over the crimped edges. Fill with granulated sugar to weight it down  (pie weights work too, also dried rice or beans).
Bake crust for 50 to 60 minutes or until lightly golden around the edges. Remove from oven and carefully lift out foil with weights. If the crust still seems underdone, pop it in the oven for another 10 minutes or so until golden brown and puffed. Place on a wire rack and let cool.
For the Filling:
Pick out about 8 ounces of the least-attractive berries; hull and cut in half. Process berries in a food processor until smooth, 20 to 30 seconds, scraping down bowl as needed. You should have a scant 1 cup purée.
Whisk sugar, cornstarch, Pomona's pectin, and salt in a bowl and set aside.
In a medium saucepan, stir together berry puree, lemon juice, rose water, along with calcium water (if using Pomona's pectin). Cook over medium-high heat, stirring constantly with heatproof rubber spatula, and bring to full boil. Add sugar-pectin mixture and stir vigorously until completely dissolved. Return to a boil, scraping bottom and sides of pan to prevent scorching, for 1 to 2 minutes to ensure that cornstarch is fully cooked; it will become very thick. Transfer to a small bowl and let cool to room temperature.
Meanwhile, pick over remaining berries to find the most attractive ones; if you have any extra-large berries you can cut them in half, otherwise, leave them whole. Place in a large bowl.
Pour glaze mixture over berries and fold gently with rubber spatula until evenly coated. Scoop berries into cooled pie crust, arranging them into a nice looking mound, rearranging as necessary and flipping berries so the cut sides are facing down.
Refrigerate about 2 hours until fully set, then slice and serve. This pie is best enjoyed within 5 hours of chilling, topped with freshly whipped cream.
*To use Sure-Jell for low-sugar pectin (be sure you are using the low-sugar variety, regular Sure-Jell will NOT work here), whisk 1 1/2 teaspoons pectin with sugar and cornstarch and add to pan at the same time as berries, lemon juice and rose water. Bring to a boil and simmer for 2 minutes to cook off all the cornstarch. You do not need the calcium water part if using this kind of pectin.
Did you make this recipe?
Let us know what you think!
Leave a Comment below or share a photo and tag me on Instagram with the hashtag #loveandoliveoil.