Packed with flavor and quick and easy to prepare, chicken piccata is one of our favorite weeknight dinners. We've topped ours with salty capers, thinly sliced preserved lemon and a sprinkling of fresh parsley.
For a quick dinner that'll please the whole family, chicken piccata is just the thing! The thinly-pounded chicken breasts cook in a jiffy, darkening to a rich golden brown that's crisp around the edges and topped with a rich pan sauce flavored with lemon, white wine, and just enough butter to make it oh-so-satisfying.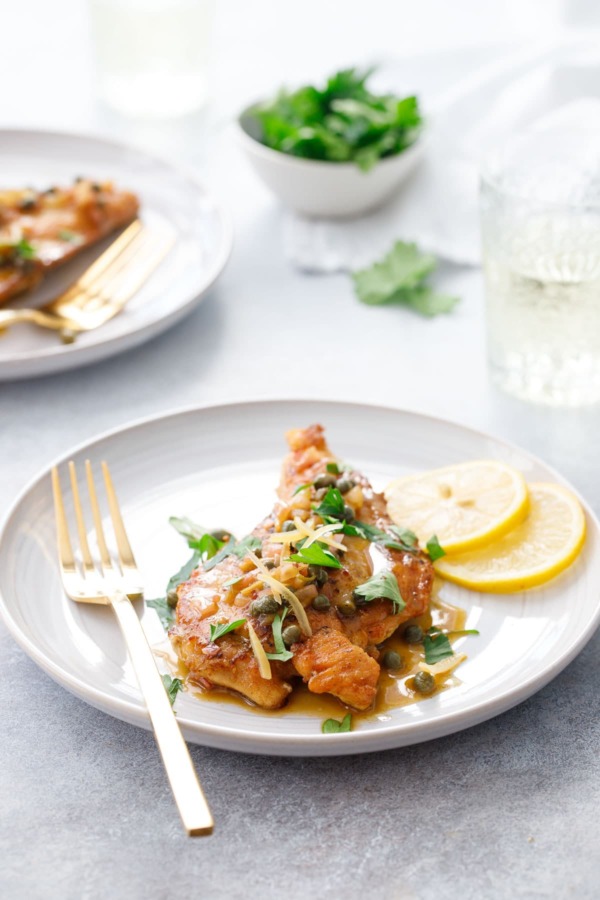 You all said you wanted more quick and easy weeknight dinners…
Well, I aim to please. ;)
This is exactly the kind of recipe you'll find us cooking week after week. As much as we love our bone-in roasted chicken breasts, sometimes, after a long work day, even 45 minutes sounds like an eternity.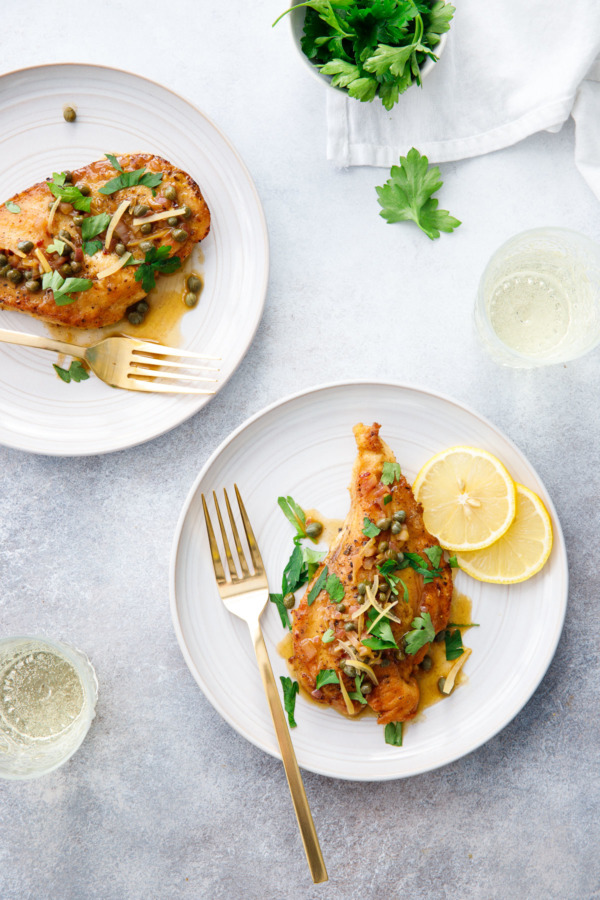 Chicken piccata is perhaps one of the easiest dinners out there. Sure it takes a bit of extra time to pound out the chicken breast to an even 1/2-inch thickness, but I'd argue that time is easily recouped when you go to cook them (the thin meat only needs 2-3 minutes per side). A few more minutes to quickly make the lemon butter pan sauce, and dinner is served!
Also: pounding chicken is surprisingly satisfying.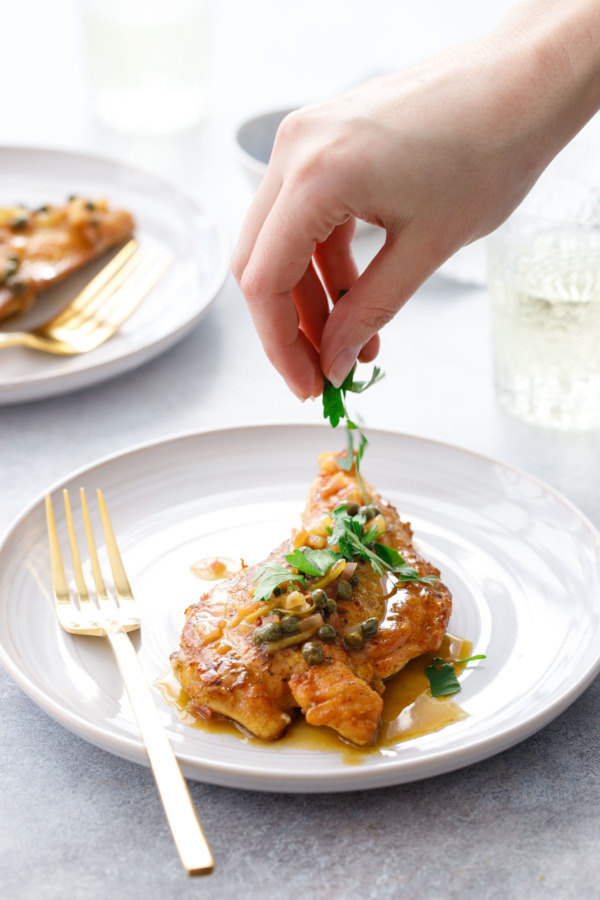 Traditional chicken piccata is always served with a lemon-butter sauce. Some recipes include wine, some don't (ours does, we find it makes for a much more balanced flavor and you don't need as much butter to be sure you have sufficient sauce).
One thing you won't often see in other chicken piccata recipes? Thin slivers of preserved lemon. This is one of our new favorite ingredients, so don't be surprised if you see it popping up more often.
I will note that not all brands of preserved lemons are created equal. The first jar we tried tasted like straight up Pine-sol (blech). Belazu/Beldi is the best brand we've tried (it's the brand Ottolenghi uses so you know it's good) and it's definitely worth tracking down if you can (unless of course you've got homemade preserved lemons, which always trump store bought.)
When prepping the preserved lemon for this recipe, you won't be using the entire lemon, only the outer peel. I like to quarter them, then carefully peel off the outer layer of the peel from the flesh, or use a small pairing knife if you prefer. Then thinly slice the rind into matchsticks. The leftover inner pulp you can but back in the jar for another use (don't squeeze it and use the juice in place of the fresh lemon juice, it's far too salty).
While they are quite a lovely addition, the preserved lemons are certainly optional, so you can leave them out entirely, or use a bit of thinly sliced fresh lemon peel instead (take off a few pieces of peel using a vegetable peeler, then cut them into thin ribbons).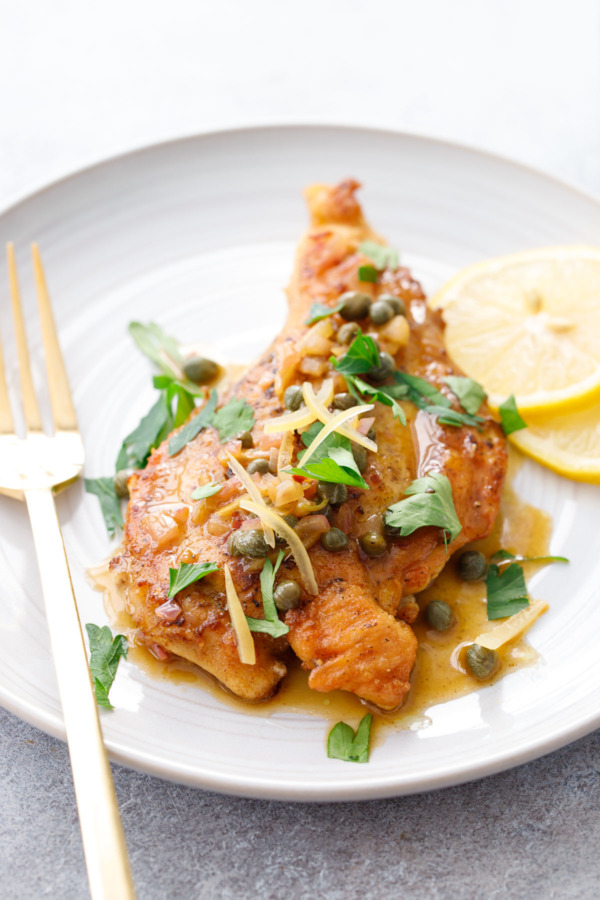 Chicken pictatta is always lightly floured, never breaded (that's chicken Francaise, if we're getting technical, which gets a flour, egg, and breadcrumb dip although the sauces are often quite similar).
We also found that mixing a bit of rice flour into the all-purpose made for a crispier final product. Good news: for a gluten-free version, you can simply use all rice flour and the results will be just as good!
When purchasing your chicken, you have two options. Either look for a fairly large (about 3/4 pound) butterflied chicken breast, which you'll cut in two and then pound to 1/2-inch thick. Or you can pick up two smaller breasts (about 5-6 ounces each) and leave them whole, but still pound to 1/2-inch thick. You don't want your chicken to be any thinner, otherwise it'll cook through before the crust has a chance to brown (in which case you'll end up with either pallid or overcooked chicken). Most butchers should be able to butterfly a chicken breast for you if they don't have them already in the meat case (where they're often labeled chicken cutlets).
This recipe would also be great with turkey. Cutlets would be perfect, if you can find them… otherwise slice a turkey breast into 3/4-inch thick slices and then pound to 1/2-inch as specified in the recipe.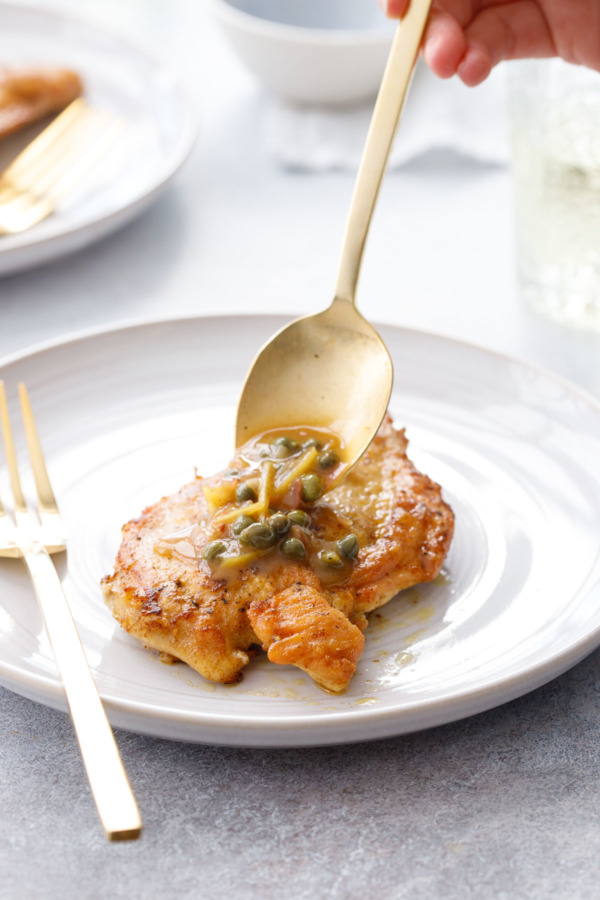 I've written this recipe for 2 servings, but you can easily double it for 4 servings, although I would recommend cooking the chicken breasts in batches of 2, as overcrowding the pan will prevent the chicken from browning as nicely (hold the cooked breasts in a warm oven while you prepare the other 2).
Served with quick sautéed green beans or crispy roasted broccolini, you'll have a delicious and (mostly) healthy dinner in no time. :)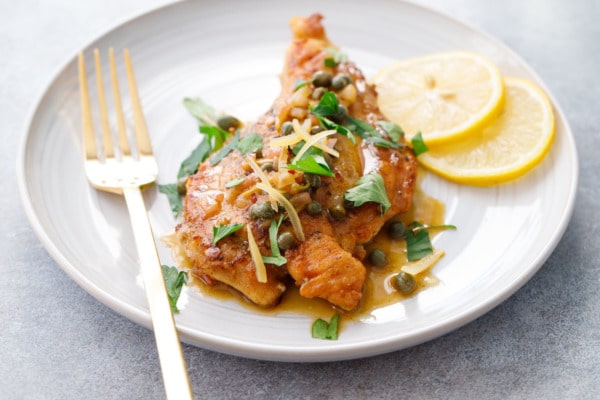 Easy Chicken Piccata with Preserved Lemons
Quick and flavor, this chicken piccata dish is topped with salty capers, tangy preserved lemons and fresh parsley.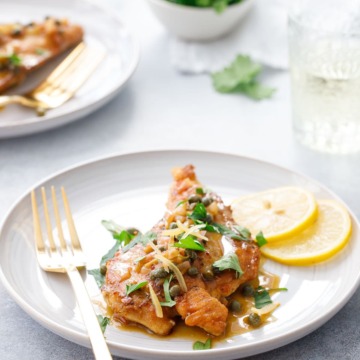 Ingredients:
1 large or 2 small butterflied chicken breasts or chicken cutlets (about 3/4 pound)
salt and freshly ground black pepper
2 tablespoons all-purpose flour
2 tablespoons rice flour*
3 tablespoons butter, divided
2 tablespoons avocado or grapeseed oil
1 large shallot, finely minced (about 3 tablespoons)
1/4 teaspoon red pepper flakes
1/4 cup dry white wine
2 tablespoons freshly squeezed lemon juice
1 tablespoon drained capers
half of a small-medium preserved lemon
freshly chopped parsley, for garnish
Directions:
If using a large butterflied chicken breast, cut in half into two equal sized pieces. Sandwich one piece between two layers of plastic and pound to an even thickness of about 1/2-inch. Chances are just the bigger lobes of the breast will need pounding, whereas the thinner tip is probably already about 1/2-inch. Ideally you want the entire piece of chicken an even thickness throughout. Repeat with second piece. Set aside until just before the pan is hot and ready (salting and flouring the chicken too early will draw out some of the water from the breast, moistening the flour and resulting in less browning. A few minutes is ok, but don't dredge your chicken any sooner than that).
In a shallow dish or rimmed plate, mix together all purpose and rice flours.
Preheat a large nonstick skillet over medium-high heat. Since the chicken will be in the pan so briefly, you want to be sure it is nice and hot. Add olive oil and 2 tablespoons of butter, swirling the pan until the butter is melted and starts to foam up. Once the foam has subsided a bit, that's when your pan is ready to add the chicken (but if you wait too long the butter may start to brown).
While the pan is preheating, season both sides of chicken breasts generously with salt and pepper.
Dredge chicken breasts, coating both sides in flour mixture. Tap off excess, and immediately place floured chicken breasts into the hot skillet.
Cook chicken, without moving it too much, for 3 minutes or until bottom is nice and golden brown. Carefully flip chicken using a spatula and/or tongs. Cook the second side for 2 to 3 minutes or until browned and chicken is cooked through (it'll register 165 degrees F in the thickest part). Carefully remove chicken to a plate and set aside.
If you are doubling this recipe, I recommend cooking your chicken in batches so as not to overcrowd the pan. If so, you can hold the cooked chicken in a warm oven as you cook the second batch.
Return skillet to heat and reduce heat to medium. Add shallots and red pepper flakes and stir briefly until fragrant and shallots are beginning to soften, about 1 minute.
Add white wine (careful, it will sputter and steam quite a bit) until slightly reduced, 1 to 2 minutes. Then add lemon juice along with capers and preserved lemon and return to a simmer for another minute or so more. Whisk in remaining 1 tablespoon butter.
Transfer chicken to serving plates and spoon pan sauce generously over top. Sprinkle with fresh parsley and serve.
*If you'd like you can use 1/4 cup all-purpose flour instead, or make this recipe gluten-free by using all rice flour. We thought the combo produced the nicest browning, but either will work too. :)
Did you make this recipe?
Let us know what you think!
Leave a Comment below or share a photo and tag me on Instagram with the hashtag #loveandoliveoil.