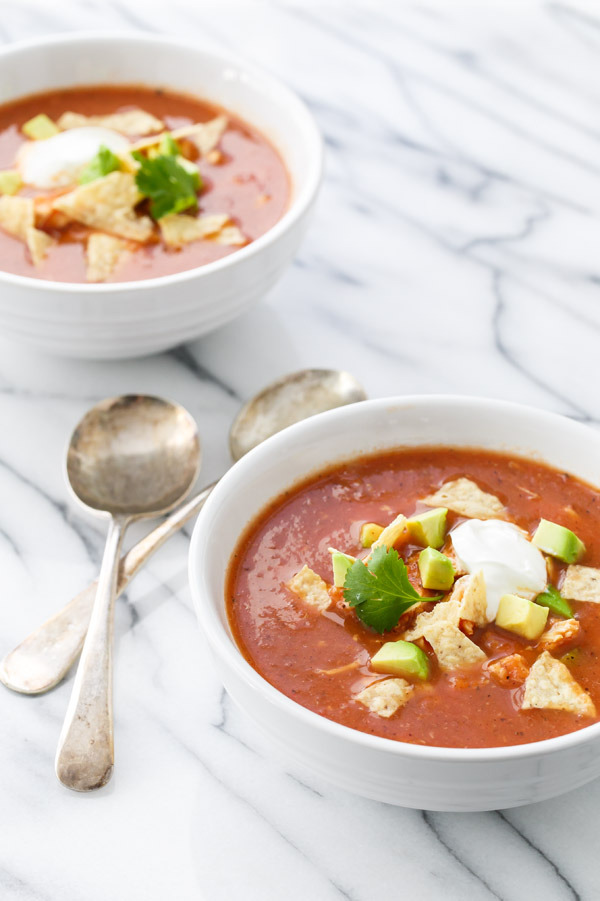 This recipe was created in partnership with Walmart.com, whose low prices and great selection make building a well-stocked pantry even easier. Thanks for supporting us and the brands we love!
I'm excited to say we are now the proud owners of a slow cooker.
I know, it's almost unbelievable that we, ambitious home cooks that we are, have never owned one before.
But now that we finally have the storage space for it, we figured it was about dang time. (Spoiler alert: we're already in love.)
This slow cooker chicken tortilla soup is only the beginning… you can expect plenty more slow cooker recipes in the future.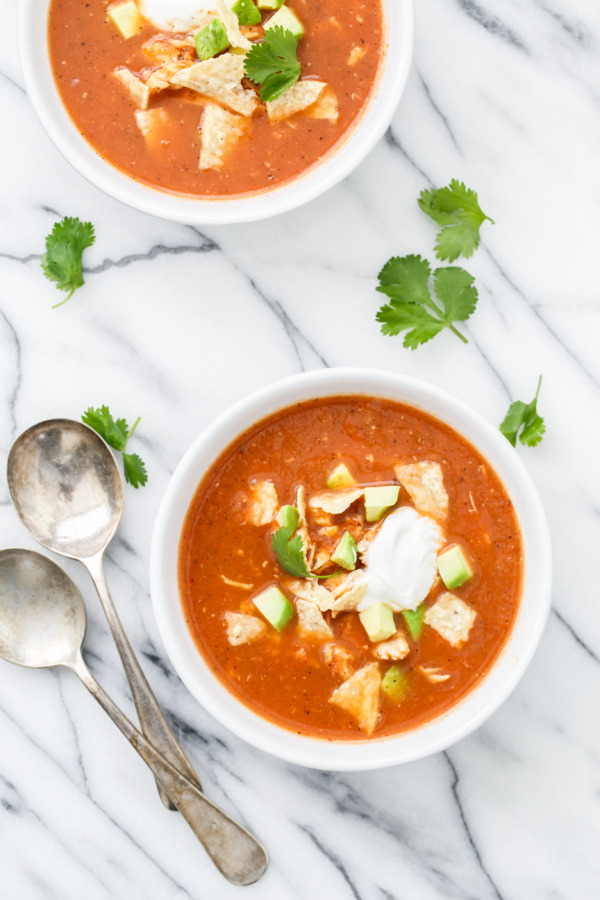 Our favorite tortilla soup recipe is already easy, but we've gone ahead and made it even easier by preparing it in a slow cooker with ingredients you probably already have in your pantry. Simply assemble the ingredients in the morning, and by dinnertime you'll have a filling and flavorful soup that will warm you up from the inside out.
We're excited to have teamed up with Walmart for this recipe as well as 3 other quick and easy recipes featuring canned tomatoes, all developed to make the most of your well-stocked pantry this winter.
Whether you are snowed in or simply not in the mood to run to the store, having a stocked pantry is a necessity for on-the-fly cooking, especially in the wintertime. You may not think you have the ingredients to make a hearty, satisfying dinner in your pantry, but you'd be surprised what you can do with a few pantry staples and items from your freezer.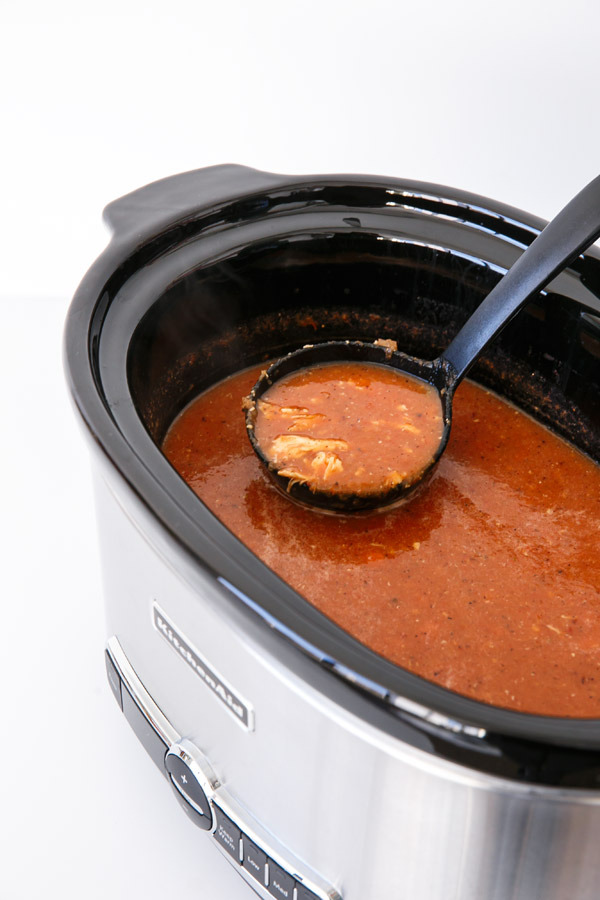 What's in a well stocked pantry? In addition to olive oil, chicken broth, pasta and a general assortment of spices and seasonings, the one thing that I ensure is always in my pantry is canned tomatoes. Lots and lots of canned tomatoes. I always keep an assortment on hand, including diced, crushed, and pureed, for nights when I simply can't make it to the grocery store or, frankly, don't feel like it.
Head over to the Walmart.com Ideas blog now for tips on stocking your winter pantry as well as 3 more pantry-based recipe ideas using canned tomatoes, including our favorite go-to pasta recipe (with a kick!), taco-stuffed potatoes, and a quick homemade pizza sauce that the whole family will devour!
Slow Cooker Chicken Tortilla Soup
Hearty and satisfying, this tortilla soup is made in the slow cooker for a quick and easy winter dinner.
Ingredients:
1 (28 oz) can fire-roasted canned tomatoes (diced or crushed)
1 (4 oz) can fire roasted green chilies
1 (32 oz) container chicken stock
2 boneless skinless chicken breasts (thawed if frozen)
1 coarsely chopped onion
3 crushed garlic cloves
1 teaspoon dried oregano
1/2 teaspoon ground chili powder
salt an pepper, to taste
lime juice, to taste
tortilla chips, sour cream, shredded cheese, avocado, and cilantro (optional, for topping)
Directions:
In a slow cooker, combine tomatoes, green chilies, and chicken stock. Add chicken breasts, onion, garlic, oregano and chili powder. Cook for 5 to 6 hours on LOW or until chicken registers at least 165 degrees F using an instant-read thermometer inserted in the thickest part of the meat.
Remove cooked chicken breasts and shred or chop into bite-sized pieces. Transfer soup base to a blender and puree until smooth (use caution blending hot liquids, work in batches if necessary). Return to slow cooker along with chicken. Season to taste with salt, pepper and a squeeze of lime juice. Serve warm topped with whatever toppings you have on hand, including crushed tortilla chips, shredded cheese, sour cream, avocado and cilantro.
Did you make this recipe?
Let us know what you think!
Leave a Comment below or share a photo and tag me on Instagram with the hashtag #loveandoliveoil.
Disclosure: This recipe was created in partnership with Walmart. As always, all opinions written are purely our own. We're incredibly grateful for opportunities like these that allow us to continue sharing delicious recipes with you, so thank you for supporting us and the brands we love.