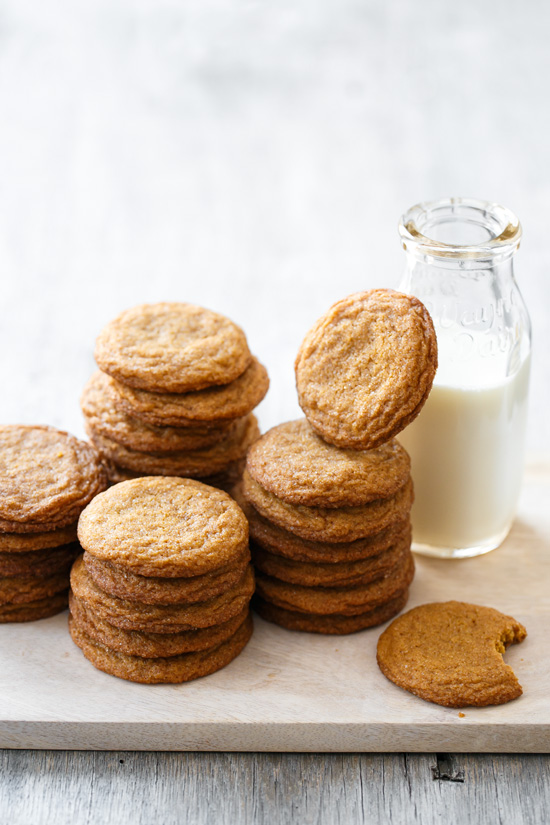 If a gingerbread man knocked up a snickerdoodle… this is what you'd get. Not to be bawdy or anything, but that's pretty much the best way to describe these softly spiced cookies.
Holiday is perhaps my favorite time of year, only because I have a legitimate reason to make batch after batch of holiday cookies. No other time of year is that acceptable (not like I let that stop me, though, still…) While I often turn to my tried-and-true holiday staples (like my grandmother's gingerbread or these mint-stuffed chocolate cookies), sometimes it's nice to mix it up a bit with something new. Like these, an updated twist on an old-fashioned recipe that are sure to be a new holiday favorite.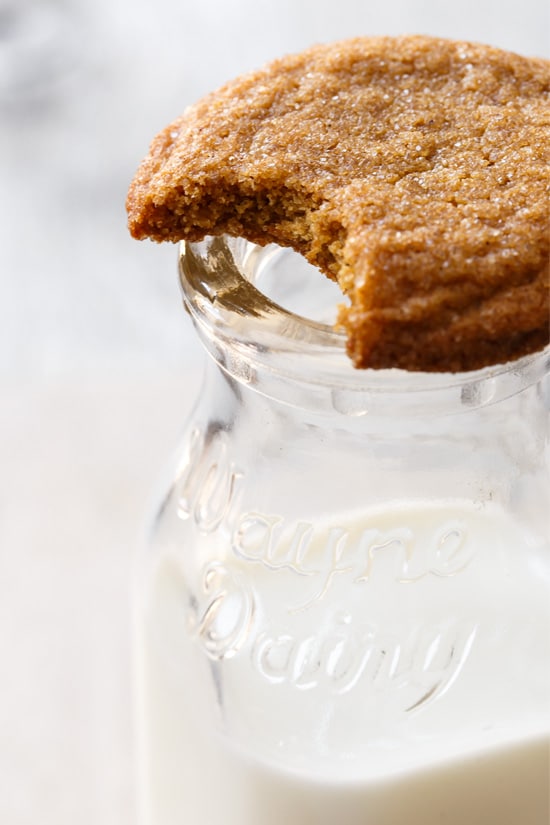 Normally snickerdoodles are light, almost white in color, and then rolled in cinnamon sugar. This version, however, is a ruddy brown with a richer flavor from the added molasses. While they might seem plain (they are not stuffed or salted, nor filled or frosted) they are anything but ordinary. Soft and chewy in the middle, with crispy edges and bottoms, these cookies will please both the soft cookie lovers and the crispy cookie lovers among us. I swear, these cookies could bring about world peace.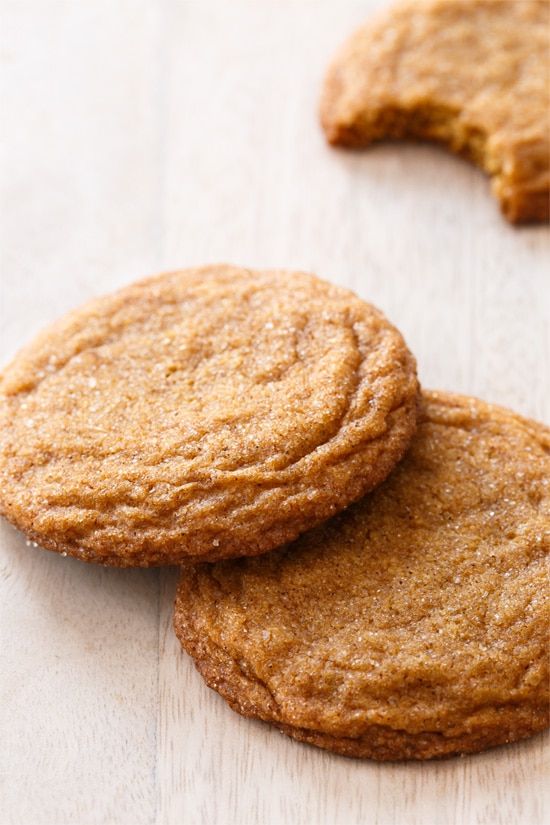 I've also made a version of these that get rolled in a cocoa/cinnamon/sugar mixture, instead of just cinnamon sugar, and you can certainly do that as well for an added element of intrigue. Use granulated sugar for a delicate sparkly exterior, or coarser turbinado sugar for a crystalline appearance and added crunch.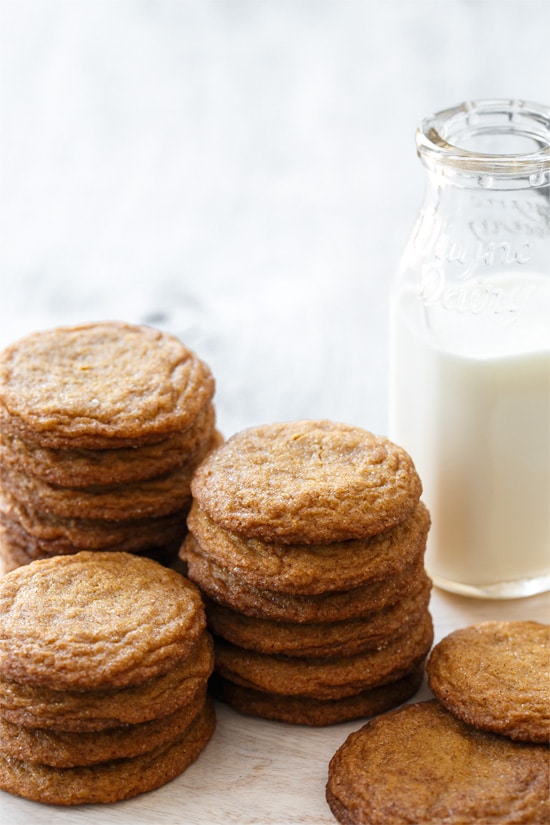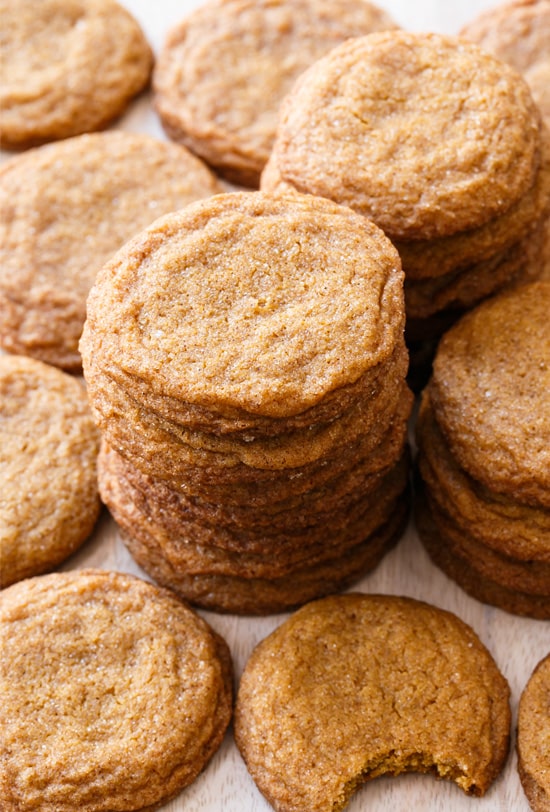 One of the best aspects of these cookies is that they'll stay soft for days because of the hygroscopic, or moisture absorbing properties of molasses (take that, 8th grade science class!) Because of that they'd make great care package cookies, arriving just as soft and chewy as the day they were baked.
Molasses Snickerdoodles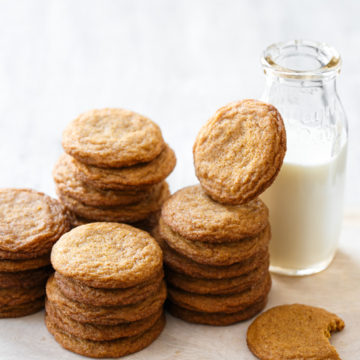 Ingredients:
1 3/4 cup all-purpose flour
1/2 teaspoon cream of tartar
1/2 teaspoon baking soda
1/8 teaspoon salt
1/2 cup (1 stick) unsalted butter, room temperature
3/4 cup granulated sugar
1/4 cup light molasses
1 large egg
1 teaspoon vanilla extract
3 tablespoons granulated or turbinado sugar
1 teaspoon ground cinnamon
Directions:
Preheat oven to 375 degrees F.
In a bowl, whisk together flour, cream of tartar, baking soda, and salt until well blended. Set aside.
In a large mixing bowl or the bowl of a stand mixer, beat butter and sugar on medium-high speed until light and fluffy, 1 to 2 minutes. Add molasses and beat until combined, scraping down the sides of the bowl as needed. Add egg and vanilla and mix until smooth. Add dry ingredients and mix on low speed until incorporated and no dry flour remains.
In a small dish, mix sugar together with cinnamon until well blended.
Drop dough by the tablespoonful into sugar mixture, rolling until completely coated. Dough will be sticky, but the sugar mixture should keep it from sticking to your hands. Arrange on non-stick or parchment-lined baking sheets, leaving 2 inches of space between cookies. Repeat with remaining dough.
Bake for 9 to 10 minutes or until cookies are just set on top and bottoms are lightly golden brown. Let cool for 5 minutes on baking sheets then transfer to a wire rack to cool completely. Cookies will keep, stored in an airtight container, for up to 5 days.
Did you make this recipe?
Let us know what you think!
Leave a Comment below or share a photo and tag me on Instagram with the hashtag #loveandoliveoil.