Old-fashioned hot fudge sauce is a tried-and-true classic: just the way your grandmother used to make it (or, more accurately, the way my grandmother used to make it, since this is based on her recipe).
This old-fashioned fudge sauce is divine drizzled on ice cream, but it's also great blended into a classic chocolate malt, layered in an ice cream cake or simply stirred into a tall glass of milk.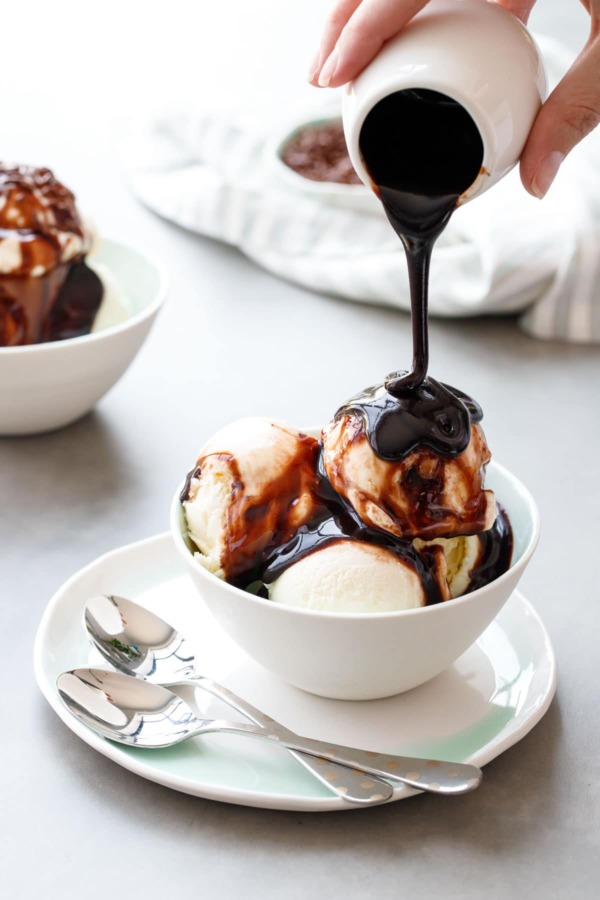 There are few things more satisfying than a big bowl of homemade vanilla ice cream, drizzled and drenched in rich chocolate fudge sauce.
You're one cherry away from the ultimate fudge sundae. All that's missing is a pile of rainbow sprinkles.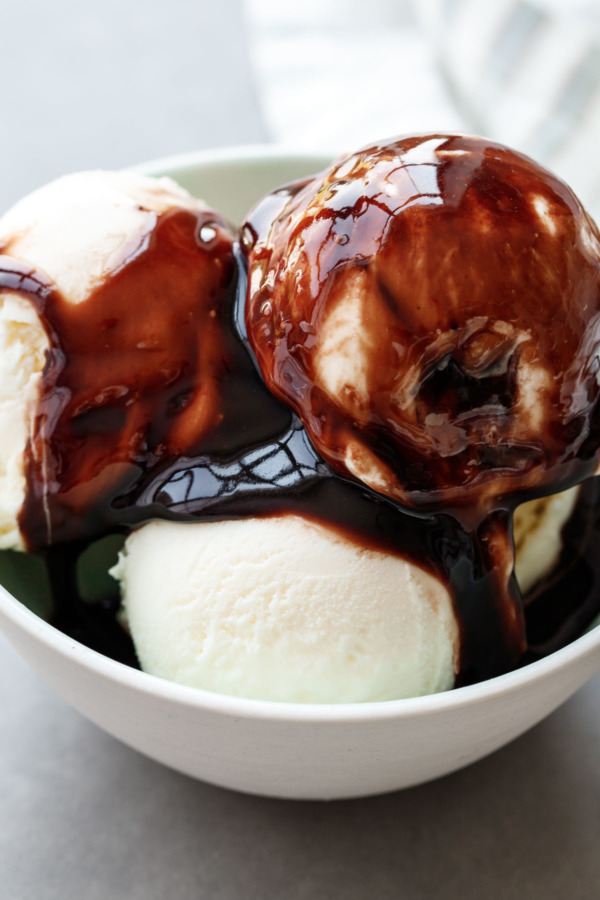 There are generally two kinds of hot fudge sauce recipes: the melted-chocolate-and-cream ones (often touted as quick and easy – they are basically a really loose chocolate ganache), and then the old-fashioned kind, like this recipe, that's no less quick and easy despite the "old fashioned" label that might imply otherwise. Think of the kind of fudge sauce you'd get at a retro soda fountain. That's what we're making here.
Based on my grandmother's recipe, this hot fudge sauce is made with cocoa powder, sugar and invert syrup – it's liquid fudge, essentially. The lack of dairy in this recipe makes it perfect for gifting or storing longer term (although I highly doubt it'll last very long at all, it's that good!)
I'd argue that having a good, classic fudge sauce recipe in your arsenal is essential.
But once you've got that mastered, well, feel free to go crazy!
For example, this basic recipe can easily be adapted into a chocolate peanut butter fudge sauce or a maple version that is incredible on chocolate chip pancakes (you're going to have to buy the book to get that particular recipe!)
Looking for some more flavor variations?
Add a splash of creme de menthe or peppermint extract for a chocolate mint fudge sauce that would be perfect for the holidays.
Add a pinch of cayenne pepper and cinnamon for a spicy Aztec chocolate fudge sauce.
Whisk in a tablespoon or two of bourbon just as the sauce comes off the heat for a boozy chocolate delight.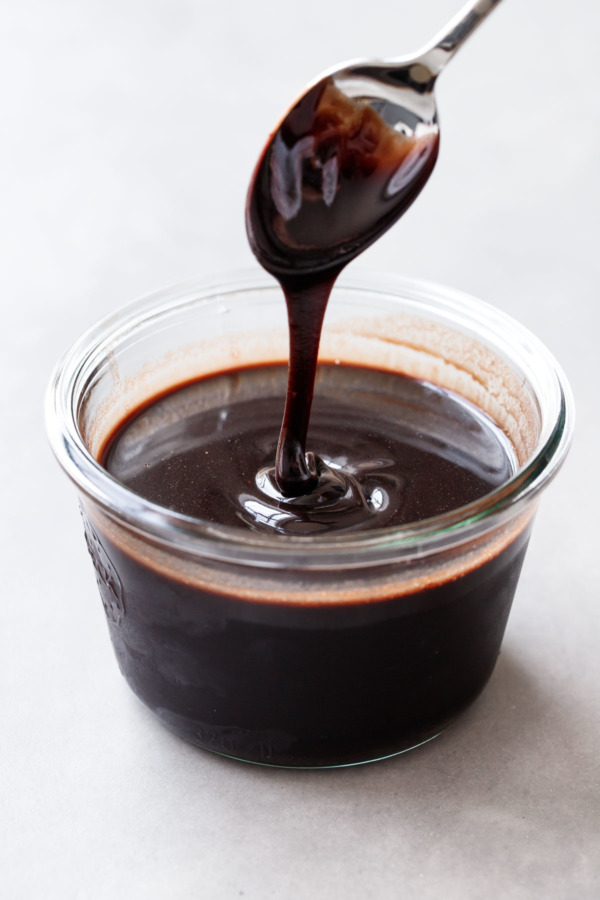 This old-fashioned fudge sauce is a bit thinner than the thick, scoopable stuff you might find in a jar. The invert syrup here keeps it liquid even at cold/frozen temperatures, which means it's going to stay gooey and oozy even when layered and frozen in an ice cream cake.
It also means you don't have to warm it up if you don't want to, it's perfectly drizzable in its refrigerated form (but, that said, warm fudge sauce on cold ice cream is a thing of beauty).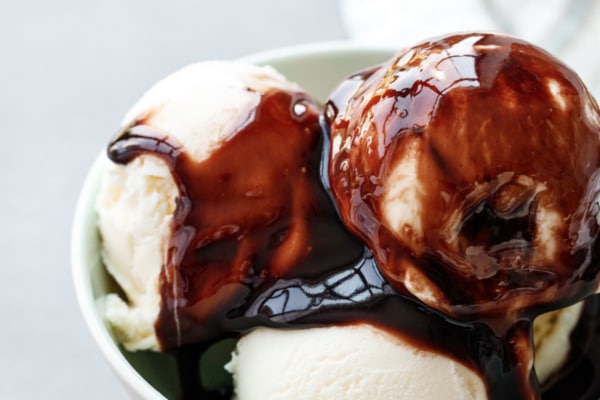 Old Fashioned Fudge Sauce
Old-fashioned fudge sauce inspired by my grandmother's recipe, with a cocoa-powder base that's perfect for drizzling on ice cream or stirring into milk.
Ingredients:
1 cup granulated sugar
1/4 teaspoon fine sea salt
1/3 cup good quality dark or Dutch process cocoa powder
2 tablespoons flour
1 cup boiling water
1/4 cup golden syrup (can also use maple syrup or light corn syrup)
1 tablespoon butter
1 teaspoon vanilla extract
Directions:
Place sugar and salt in a medium saucepan. Sift cocoa powder and flour over top and whisk to combine. Whisk in boiling water, golden syrup and butter.
Bring to a boil over medium heat, stirring occasionally; boil for 8 to 10 minutes or until thickened slightly and reduced by about a third.
Remove from heat and transfer to a heatproof bowl; stir in vanilla.
Let cool to room temperature, stirring occasionally, for about 30 minutes (don't refrigerate the sauce until it has completely cooled otherwise it may become grainy).
Transfer cooled sauce to a glass jar or airtight container and refrigerate for up to 2 weeks. Warm gently in the microwave before serving.
Did you make this recipe?
Let us know what you think!
Leave a Comment below or share a photo and tag me on Instagram with the hashtag #loveandoliveoil.