Everyone loves a good chicken Caesar salad, but now you can enjoy it in a handy-dandy pita package (no fork necessary!) It's a perfect make-ahead lunch or an easy weeknight dinner that the whole family will love!
Flavorful yogurt-marinated grilled chicken breasts packed into a soft pita pocket along with romaine lettuce, cherry tomatoes, and a homemade yogurt-based Caesar salad dressing that you'll simply adore.
This recipe was created in partnership with ALDI, our new favorite source for high-quality food at affordable prices.
So, what's for dinner? It's a common question around here. We plan our menus once a week, and sometimes putting together 7 days worth of breakfasts, lunches and dinners can be an extremely trying task. We find ourselves returning to a few basic staples each week, until we get tired of that staple, then we're left with a gaping void in our meal plan and sometimes wind up eating boxed mac and cheese for dinner (I fully admit it).
But your (and our) new favorite dinnertime staple is here to save you from boxed pasta purgatory: it's perhaps the perfect meal, complete and satisfying, with flavorful grilled chicken tucked inside a warm pita pocket along with romaine lettuce, cherry tomatoes, and a homemade Caesar dressing.
Ok, so it's not technically a true Caesar (there are no anchovies, for one, and we used Greek yogurt as our base) but the flavors are delightful and more than a little Caesar-ish: just in a slightly healthier, easier, and less fishy form. This same dressing does double duty as a marinade as well, infusing the chicken breasts with moisture and flavor before grilling. Talk about a time-saving trick!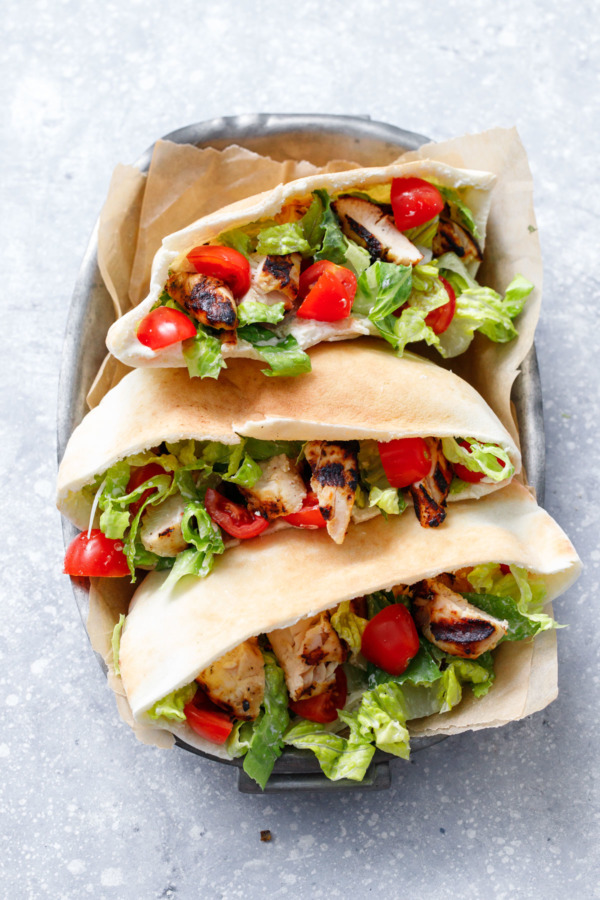 The chicken is best when left to marinate for at least 3 hours, but feel free to let it go overnight if that's easier for you. Cutting the breasts into easy-to-manage strips (you can also use chicken tenders) lets the flavors absorb more fully, and expedites the cooking process.
We cooked our chicken on the grill (gotta love that charcoal flavor!) but this recipe works just as well inside with a grill pan or nonstick skillet.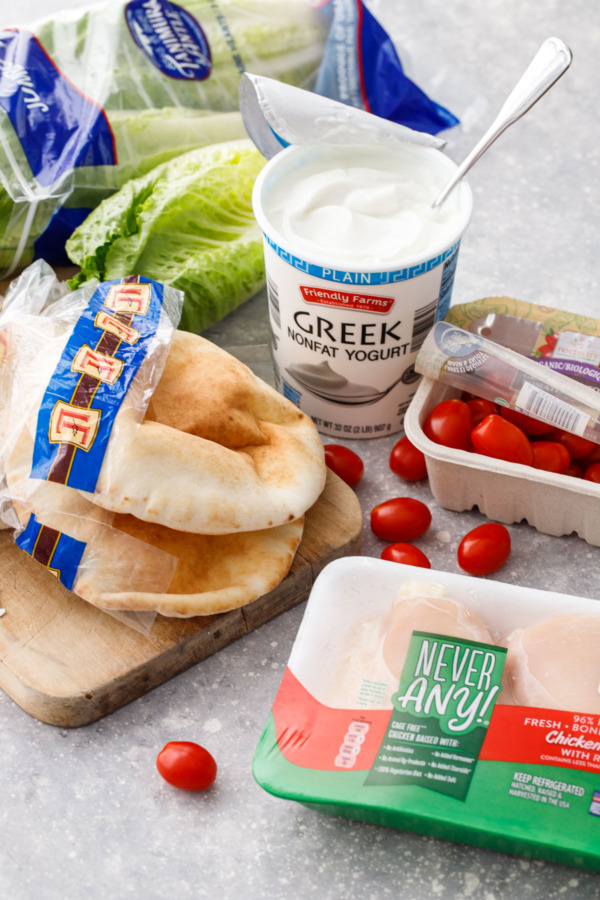 For this recipe we picked up pretty much everything we needed at our neighborhood ALDI, including fresh chicken breasts, romaine lettuce, juicy cherry tomatoes and thick, creamy nonfat greek yogurt.
In all honesty, I wasn't really a regular ALDI shopper before. I'd been a few times, found a few delicious deals, but stuck to my usual store routine most of the time. I know I definitely hadn't been there since the store was remodeled (ALDI has been completely remodeling many of its stores nationwide.)
But when I walked in this time… well, I was really blown away.
The beauty of ALDI is not having to run around town to find the best quality and best priced ingredients, which, for one, is a huge time-saver (and I'm the type of person who will drive 20 minutes for the superior product and/or to save a few bucks). The brands might not be ones you recognize (most of the products are private label which is one way ALDI can offer such competitive prices) but the quality is nothing short of what I'd expect from name brands, at a fraction of the cost (talk about #winning).
ALDI is really an unexpected treasure trove of natural and organic foods, so if you haven't been yet, or haven't been lately, it's definitely worth the trip. The newest products available at ALDI expand their already large selection of fresh, healthy, and organic product offerings, like the Never Any! line of meats which are raised free from antibiotics, added hormones, steroids and animal byproducts.
The L'oven Fresh White Pita Bread at ALDI is one of the better packaged pita brands we've tried (and we're very picky about our pita!) But even the best packaged pita bread can be dry and hard to open, luckily the solution to bring it back to life is simple.
Wrap the pita bread in damp paper towels and place on a plate, then cover tightly with plastic wrap. Microwave for 30 to 45 seconds to 'steam' the pita, warming it and softening it at the same time.
So, there you have it.
A delicious answer to the pesky "what's for dinner" question…
At least for tonight.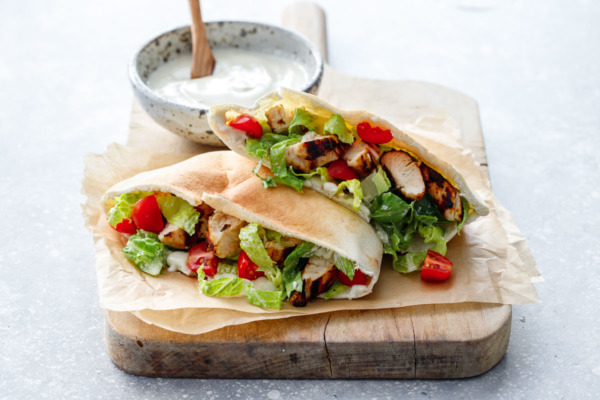 Chicken Caesar Salad Pita
Your favorite chicken Caesar salad served in a handy pita pocket, with yogurt-marinated grilled chicken, romaine lettuce, cherry tomatoes, and a flavorful yogurt Caesar dressing.
Ingredients:
1 1/2 cups Friendly Farms Plain Greek Yogurt
5 garlic cloves, finely minced
2 tablespoons freshly squeezed lemon juice
1 tablespoon dijon mustard
1 teaspoon kosher salt
1/4 teaspoon freshly ground black pepper
3 tablespoons extra virgin olive oil
2 large boneless skinless Never Any! ABF B/S Chicken Breasts (about 1.25 pounds)
2 tablespoons grated parmesan cheese
2 hearts of romaine, cut into 1/2-inch ribbons
4 L'oven Fresh White Pita Breads
4 ounces cherry tomatoes, quartered
Directions:
In a bowl, combine yogurt, garlic, lemon juice, mustard, salt and pepper and whisk until smooth. Spoon about 1/2 cup into a gallon-sized zip-top bag. This will serve as your chicken marinade. To the rest, stir in parmesan cheese (this will be your dressing). Cover and refrigerate dressing until ready to use.
Slice chicken breast diagonally into long, 3/4-inch wide strips. Place cut chicken into plastic bag with marinade. Seal, then smush around until chicken is evenly coated. Refrigerate for at least 3 hours or overnight; take chicken out of refrigerator about 30 minutes before you plan to cook it.
Preheat a grill to high, or a grill pan or skillet set over medium-high heat. Lightly oil grill or skillet.
Remove chicken from bag, scraping off excess marinade. Cook, flipping only once, until both sides are browned and internal temperature (measured using a digital thermometer inserted in the thickest part of the piece) reads 165 degrees F. Cook time will vary depending on the cooking method used. When done, remove from heat and let cool slightly, then coarsely cut into bite-sized pieces.
Wash and dry romaine, then cut crosswise into 1/2-inch wide ribbons. Place in a bowl along with 1/2 cup of reserved yogurt dressing. Toss until evenly coated.
To warm pita, wrap in a single layer of damp paper towels and place on a microwave-safe plate. Stretch a layer of plastic wrap tightly over top. Microwave for 30 to 45 seconds or until pita is heated through. Carefully remove plastic wrap (it will release hot steam). Slice each pita in half and gently pry open the pocket.
Spread a spoonful of yogurt dressing on the bottom of each pita. Stuff with lettuce and tomatoes and top with grilled chicken. Enjoy immediately.
Did you make this recipe?
Let us know what you think!
Leave a Comment below or share a photo and tag me on Instagram with the hashtag #loveandoliveoil.
Disclosure: This post was created in partnership with ALDI. Price and availability may vary. As always, all opinions written are purely our own. We're incredibly grateful for opportunities like these that allow us to continue sharing delicious recipes with you, so thank you for supporting us and the brands we love.