For lovers of raw cookie dough, these jaw-dropping ice cream sandwiches are the ultimate treat: featuring layers of raw cookie dough and a rich, brown sugar ice cream in between.
This is chocolate chip cookie dough ice cream deconstructed, with two thin layers of safe-to-eat raw cookie dough in place of where the cookies would typically be. And in between lies an ultra rich and creamy brown sugar frozen custard, excellent on its own but divine when paired with cookie dough.
Ok, so I admit that I already have a cookie dough ice cream sandwich recipe in my book (in fact, it's on the cover!) It's a great recipe, I'm not saying it's not (I wouldn't have put it in the book if it wasn't), with a thick layer of homemade chocolate chip cookie dough ice cream sandwiched between two sweet and salty dark chocolate cookies. I mean, it sounds amazing, right? Because it is.
But though they might both be called the same thing, I promise you I'm not repeating myself here (and I admit I've repeated recipes before, albeit not intentionally). Rather, these cookie dough ice cream sandwiches are a different beast entirely. The cookie dough is the main focus here, pure and unadulterated with no chocolate cookie to distract you from your cookie dough bliss.
That, and, well, let's face it, they're easier. These are the ice cream sandwiches that you'll make when you're craving cookie dough and ice cream sandwiches but don't want to deal with the time/effort to make the cookies.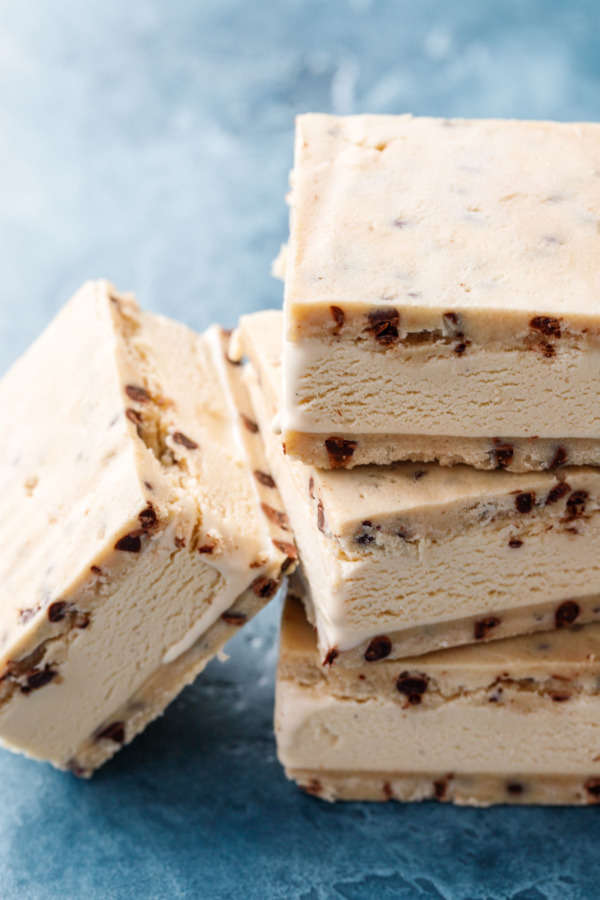 Lest we focus solely on the cookie dough itself and forget about the ice cream… this isn't any ordinary ice cream. It's brown sugar ice cream, or frozen custard, if you will (characterized by the egg base that makes this ice cream incredibly rich and creamy).
The brown sugar ice cream is excellent on its own, too, in case you were wondering (and depending on how thick you make your sandwiches you might very well have some leftover, poor you).
Also, I strongly believe that few things compare to homemade ice cream, but you could certainly swap in a quart of store-bought vanilla or cookie dough ice cream here as well if you're short on time.
Now, these are not neat and tidy ice cream sandwiches. You best eat these with a napkin handy, because they will make a mess. You could also wrap each cut sandwich in foil or parchment which would make things a bit neater to eat, but still, unless it's the middle of winter your sandwich will likely get soft and melty before you can finish it.
But isn't that part of the delight of ice cream sandwiches anyway?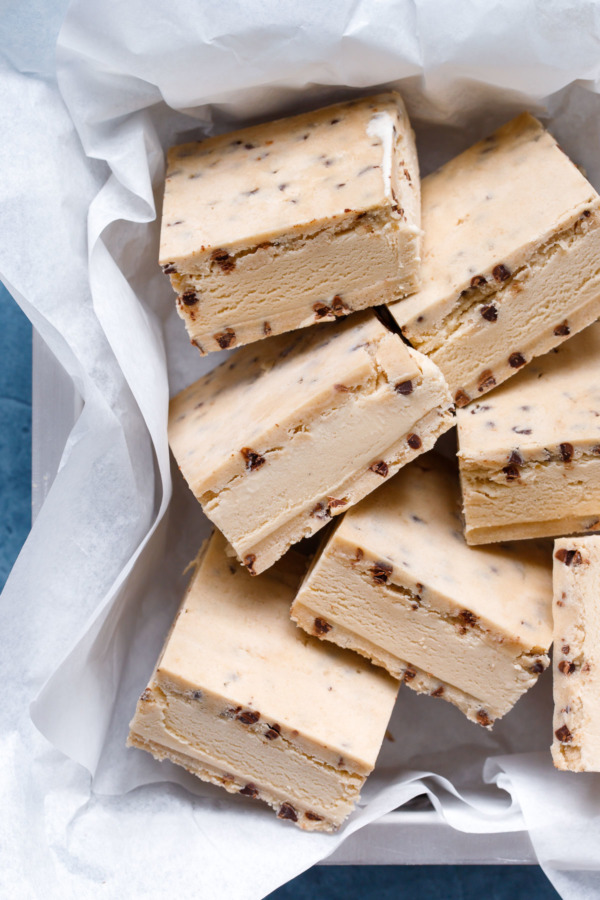 But raw cookie dough, you ask? Isn't that dangerous?
Not in this case, as this raw cookie dough is made to be eaten raw, without any eggs. It's the same raw cookie dough recipe that served as the base for most of the recipes in my book.
But what about the raw flour, you say? (And indeed, raw flour was shown to be a source of a salmonella outbreak in commercial cookie dough some years back). If this concerns you, simply spread your flour on a cookie sheet and bake it at 350 degrees for 5 minutes. Just be sure you sift the toasted flour before adding it to your cookie dough, since the process of toasting it will make it somewhat clumpy.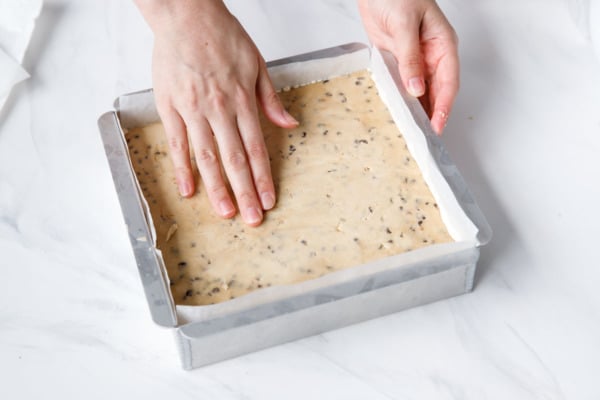 Ideally you'd have two 8×8 pans to make this recipe. Otherwise, line your one pan with parchment, press in half the cookie dough, lift it out with the parchment, then line it again with another piece of parchment to make the second piece. Freeze both pieces thoroughly before assembling.
Lining your pans with parchment paper is essential to the assembly process. Use one of the methods described here, being sure to leave a nice overhang on at least two of the edges (you will use this overhang as handles to lift out the cookie dough and the final sandwich block before slicing).
I trimmed off about 1/4 inch from the edges, just to clean things up before cutting into 9 even square bars. You could also cut these into 16 squares instead for smaller sandwiches.
This is the same assembly process as these blackberry buttermilk ice cream sandwiches. Alternatively, you could also assemble the sandwiches using cookie cutters as described here.
Also? These would be excellent dipped in chocolate. I mean… right?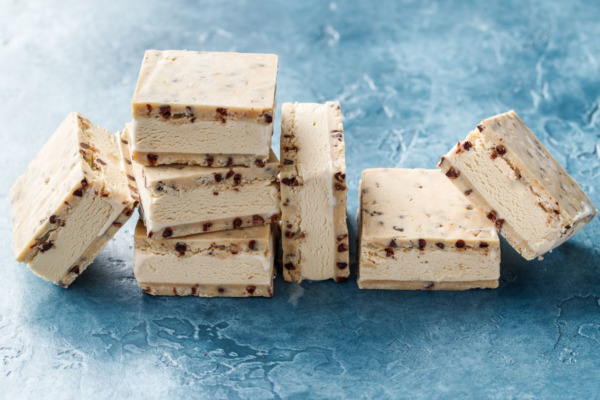 Cookie Dough Ice Cream Sandwiches
Creamy homemade brown sugar ice cream sandwiched between two layers of safe-to-eat raw cookie dough: it's the ultimate frozen treat for cookie dough lovers everywhere!
Ingredients:
For Ice Cream:
2 cups heavy cream, divided
1 cup whole milk
1/2 cup packed light brown sugar
1/4 cup packed dark brown sugar
pinch fine sea salt
4 large egg yolks
1 teaspoon vanilla extract or paste
For Cookie Dough:
12 tablespoons (1 1/2 sticks) unsalted butter, at cool room temperature
1/4 cup granulated sugar
3/4 cup packed light brown sugar
2 tablespoons packed dark brown sugar
1 teaspoon vanilla extract
1/2 teaspoon fine sea salt
1 1/4 cups (5 ounces) all-purpose flour*
1 tablespoon milk or cream
1/2 cup mini semisweet chocolate chips
Directions:
To prepare ice cream, pour 1 cup of the heavy cream into a heat-proof bowl and nest inside a larger bowl filled with ice water. Place a fine mesh sieve over the top of both bowls. Alternatively, you can use a gallon sized zip-top freezer bag and place it in a bowl of ice water (this will cool down the ice cream base just as, if not more quickly than two bowls).
In a saucepan, combine remaining cream, milk, sugars, and salt. Cook gently over medium heat, stirring regularly, until sugar is dissolved and mixture starts to steam (do not let it boil).
In a small bowl, whisk egg yolks. Slowly whisk in some of the warm cream mixture, 1/3 cup at a time, until about half of the cream mixture has been incorporated and yolk mixture is warm to the touch. You want to do this gradually; doing so will temper the egg yolks rather than cook them.
Pour yolk mixture back into the saucepan and return to medium heat, stirring constantly, until the mixture thickens slightly and coats the back of a spatula, about 5 to 7 minutes, or until it reaches approximately 165 to 170ºF. Do not let it to boil.
Pour mixture through a fine mesh sieve into the bowl with the cold cream, discarding any solids. Add vanilla paste or extract and let cool to room temperature, stirring occasionally. Cover with plastic wrap, carefully pressing wrap down onto the surface of the cream mixture. This will prevent a skin from forming on top of the custard. Refrigerate until completely cool, at least 3 hours or overnight if possible.
While ice cream is chilling, prepare the cookie dough. In a large mixing bowl or the bowl of a stand mixer, beat together butter and sugars for 1 to 2 minutes or until light and fluffy. Add vanilla and salt and mix until incorporated, scraping down the sides of the bowl as needed.
Add flour and mix on low speed until incorporated; then add milk and mix until combined. Mix in chocolate chips. Cover and refrigerate dough for at least 30 minutes so it will be easier to work with.
Line two 8-by-8-inch square baking pans with parchment paper. Divide chilled dough in half (about 10 ounces per pan). Press one half of dough into each pan. It helps to use a flat glass or tart tamper to help you press the dough into a thin, even layer (I used a fondant smoother which has a nice square edge and makes this particularly easy.) If you only have one baking pan, press in half the dough, then lift out the entire piece; line the pan with another piece of parchment and repeat. Freeze cookie dough layers in the baking pans for at least 1 hour or overnight, until ready to use.
Churn ice cream in an ice cream machine according to manufacturer's instructions.
When ice cream is the consistency of soft serve, spoon into baking pan on top of one layer of cookie dough, spreading into an even layer (you can choose to use all of the ice cream or just some of it depending on how thick you want your sandwiches – I used about 2/3 of it).
Invert second layer of cookie dough and gently place on top of ice cream, pressing very lightly to adhere. You can leave the piece of parchment stuck to the top if you like, otherwise wrap in plastic wrap or foil and freeze overnight until solid.
To serve, gently lift out entire block using parchment paper as a handle. Place on a cutting board and cut into squares using a large knife. Serve immediately, or wrap sandwiches in waxed paper and return to freezer until ready to serve.
*The flour in this recipe is raw. If that concerns you, toast your flour first by spreading it in a baking sheet and baking at 350 degrees F for 5 minutes. Let cool and sift before using.
All images and text ©
Lindsay Landis
/ Love & Olive Oil
Did you make this recipe?
Let us know what you think!
Leave a Comment below or share a photo and tag me on Instagram with the hashtag #loveandoliveoil.