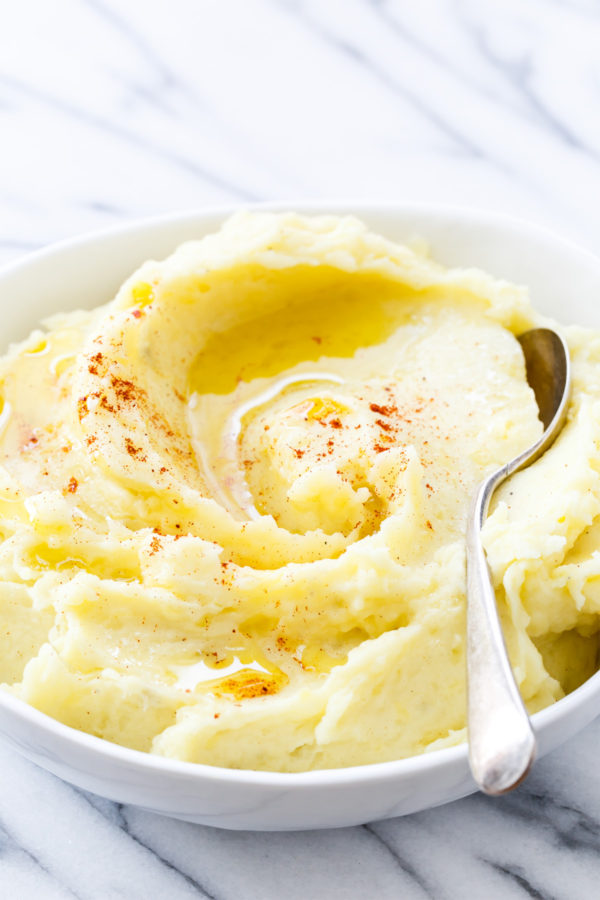 Perfectly fluffy, creamy and buttery: that's what defines the perfect mashed potato in my mind, and these potatoes fit that description to a T. But you'd be surprised to know that these perfect mashed potatoes are not made with butter at all, rather, they're swirled and infused with extra virgin olive oil.
I feel like every Thanksgiving it's the same thing: how to make traditional mashed potatoes even better. I've added brown butter and goat cheese, gobs of roasted garlic and even sesame oil for an Asian twist. And yet never, until now, have I tried adding olive oil. File this one under, why didn't I think of it before… especially with my blog name being as it is (I'm sensing a theme here).
Trust me, you'll be shocked at just how creamy and buttery these potatoes taste when made with olive oil and a splash of milk. That's the beauty of extra virgin olive oil, it can so easily take the place of butter with no ill effects, and in fact I'd argue it makes these potatoes even butterier than if they were made with butter, if that's even possible.
I've spent many Thanksgivings perfecting my mashed potatoes, and that goes beyond just the creative flavor additions. It turns out, the trick is to drain the potatoes after boiling, and then return them to the pot set over low heat. Then, using a potato masher, mush and mash them for a minute or two while they're still on the burner. Doing this allows the excess moisture from the boiling process to evaporate (and it's excess moisture that is the cause of gluey potatoes). Also, no matter whether you are using butter or olive oil, add the fat to the potatoes first, mixing fully to incorporate, and then add your milk or cream. This too will help you achieve your ultimate goal of smooth and fluffy potatoes.
Olive Oil Mashed Potatoes
Ingredients:
3 pounds Yukon gold potatoes, peeled and chopped
1/2 cup OMAGGIO Limited Reserve Extra Virgin Olive Oil, plus more for drizzling
1/2 cup whole milk, plus more as needed
1 1/2 teaspoons kosher salt
1/2 teaspoon freshly ground black pepper
smoked paprika, for garnish (optional)
Directions:
Chop potatoes to evenly sized chunks. Bring to a boil in a large pot of salted water; cook for 10 to 15 minutes (depending on the size of the chunks) until potatoes easily split apart when poked with a fork.
Drain potatoes, then return to pot and set over low heat. Mash potatoes with a potato masher on the heat for 1 to 2 minutes (doing so will allow the excess moisture to evaporate). Remove from heat and continue mashing until mostly smooth.
Add olive oil and mash to incorporate, then add milk, salt, and pepper and mash until smooth and creamy. Optionally add 2-4 additional tablespoons of milk to achieve desired consistency.
Transfer to a serving bowl. Drizzle with olive oil and sprinkle with smoked paprika, if desired. Serve warm.
Did you make this recipe?
Let us know what you think!
Leave a Comment below or share a photo and tag me on Instagram with the hashtag #loveandoliveoil.
Disclosure: This is a sponsored post on behalf of FoodFanatic. All opinions are my own.