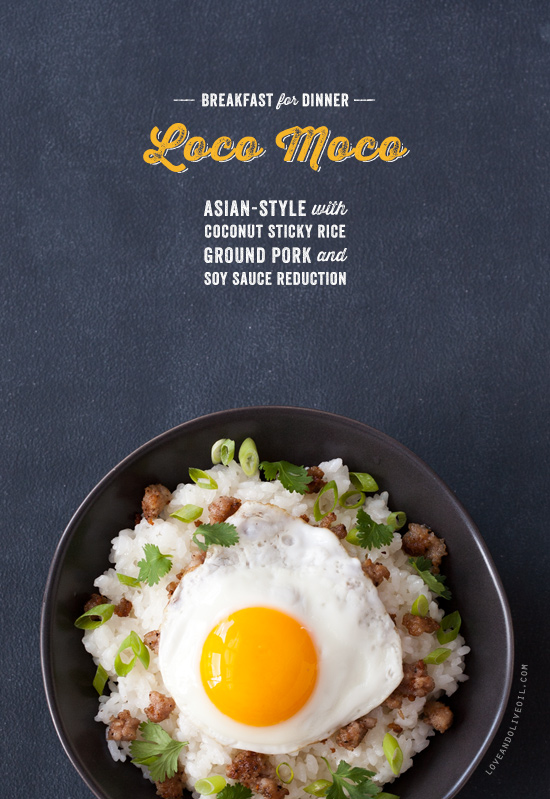 "So, if you had to pick, what's your favorite recipe in the book?"
Throughout this entire process, that question comes up over and over. And when I was promoting The Cookie Dough Lover's Cookbook, I had a hard time answering it. I mean, it's kind of like choosing a favorite child, right?
For Breakfast for Dinner, however, despite the fact that each and every recipe deserves to be a favorite in its own right, one recipe stood out above the rest.
Yep, we both agree (shocker! I know!) that our hands-down favorite recipe in the whole book is our take on the Hawaiian classic, Loco Moco.
The original dish typically consists of a generous portion of white rice topped with a hamburger patty—or grilled Spam—and a sunny-side-up egg, plus lots of brown gravy. Our version takes the basic rice/meat/egg concept and elevates it with coconut-infused sticky rice, savory ground pork, and a sweet-and-salty soy sauce reduction.
I apologize if we've offended any loco-purists out there, but man oh man is it good.
Crazy good, in fact, and entirely worthy of its name.
It's been just over a month now that the book has been out in the wild, and we couldn't be more pleased at the positive feedback we've been getting. Seems like we are not alone in our love for breakfast for dinner.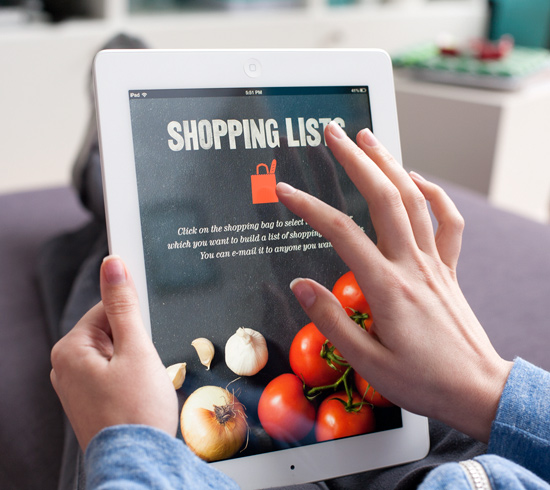 And now (exciting news!) Breakfast for Dinner is now available as an enhanced eBook! We're so excited that Quirk chose our book as their first ever enhanced ebook, full of cool interactive features like step-by-step instructions, recipe notes and ingredient tips, menu ideas, recipe finder, a shopping list, and more. And it's on sale now for only $14.99 in the Apple iBookstore. Just don't spill on your new iPad, mmmkay?
Of course, if you're one of those people who has to hold a physical book in your hands (I totally get it), you can still purchase a copy at your local bookstore, on Amazon, or grab a super special autographed copy in the L&OO shop. :)
Loco Moco
Ingredients:
For Coconut Rice:
1 cup white sticky rice*
1/2 cup coconut milk
For Soy Reduction:
1/4 cup low-sodium soy sauce**
2 tablespoons light brown sugar, packed
1/2 teaspoon sriracha
For Pork:
1/4 pound ground pork
1/8 teaspoon salt
1/8 teaspoon black pepper
For Topping:
1 teaspoon vegetable oil
2 large eggs
2 green onions, thinly sliced
2 tablespoons roughly chopped fresh cilantro
Directions:
Combine rice with 1 cup cold water; cover and refrigerate for 6 to 8 hours. Pour rice and any remaining liquid into a saucepan. Stir in coconut milk and bring to a boil over medium heat. Cover and reduce heat to medium-low; simmer for 10 minutes, or until rice is tender and liquid is absorbed. Remove from heat; keep covered and let stand for at least 5 minutes.
In a small saucepan, combine soy sauce, 2 tablespoons water, brown sugar, and sriracha. Simmer over medium heat, stirring occasionally, until thickened and reduced by half, 6 to 8 minutes.
Heat a large nonstick skillet over medium-high heat. Add pork and season lightly with salt and pepper. Cook, breaking it up with a wooden spoon, until it begins to brown, about 7 to 9 minutes. Transfer to a bowl and cover with aluminum foil to keep warm.
Carefully wipe out skillet (it may be hot) and return to medium heat; brush with vegetable oil. Crack eggs into opposite sides of the pan to keep them from running together. Cover and cook for 3 to 4 minutes. If you prefer firmer yolks, cook for another 1 to 2 minutes.
Divide rice between serving bowls. Top with ground pork and a fried egg. Drizzle with soy reduction, sprinkle green onion and cilantro on top, and serve.
*Sold as Sho-Chiku-Bai sweet rice, or sometimes just called sweet rice, white sticky rice can be found at specialty grocers and Asian food stores. You can use sushi rice instead, though it may need more liquid and a slightly longer cooking time.
**Regular soy sauce won't work here; it makes the reduction too salty.
Did you make this recipe?
Let us know what you think!
Leave a Comment below or share a photo and tag me on Instagram with the hashtag #loveandoliveoil.