So, we've talked about Kitchen Essentials. Now let's turn our focus to baking. While some of the tools overlap (a scale and a stand mixer are crucial in many situations, both sweet and savory) baking has a unique set of needs that requires different tools. A set of baking pans, for instance.
Below I've outlined my most used baking tools, cake pans, and gadgets. If you're a new baker looking to stock your kitchen, this is a great place to start. It also makes a great gift guide (hint hint), if you happen know a newlywed couple or a graduate just getting settled in their first apartment or a beginning baker… you might want to bookmark this post for later. :)
Disclaimer: while this post is not sponsored and no brands have paid to be included here, many of these products were received as part of past/present brand partnerships. That said, should our kitchen be reduced to rubble today, we wouldn't hesitate to buy them again ourselves tomorrow. Meaning, everything on this list is something we own and love and use on a regular, if not daily, basis. There are also affiliate links in this post, FYI. And if you're reading this post in RSS or email you might want to click through to the post page for easy clickable links to every item on this list!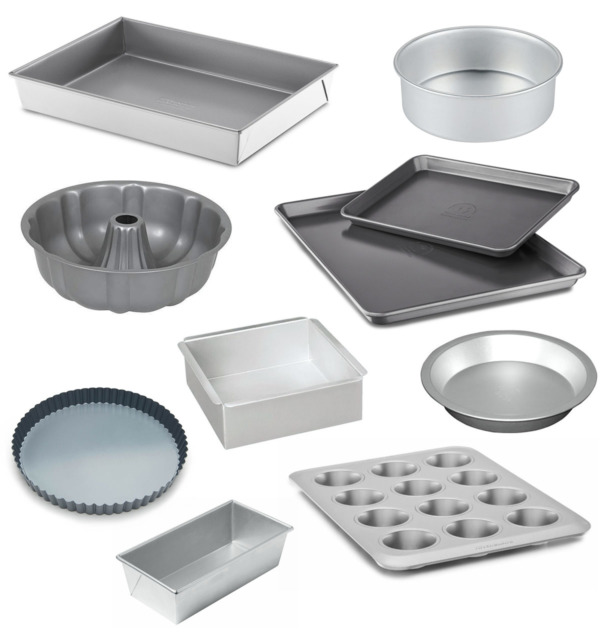 Baking Pans
A good set of baking pans makes all the difference between a sunken, burnt cake and a perfect one. In general a nice thick pan with a light to medium colored finish is going to be your safest bet (I typically avoid glass for bakings since it conducts heat so much differently and can drastically affect baking times).
As far as brands, I have a mix of brands in my kitchen, including KitchenAid, OXO, Chicago Metallic and Calphalon (and all these brands sell sets with the basic sizes you need to get started). Parrish Magic Line is a great, less expensive brand that makes my favorite aluminum cake pans.
For rectangle/square pans, look for ones with straight sides and corners if you want perfectly squared off brownies and bars (avoid the pans with rounded corners if you care about that sort of thing). They are a bit trickier to clean, mind you, but you won't end up with 4 weirdly rounded pieces in the end.
Do you need nonstick? Well, that depends. Nonstick pans are often better insulated and therefore will bake more evenly, but I have plenty of non-non-stick pans (aka stick pans) that are nice and thick and conduct heat incredibly well. I pretty much always line my pans with parchment or silicone baking mats anyway, so the nonstick isn't really necessary, for me at least. That's a personal decision. Whatever you choose, I'd suggest avoiding really dark finishes, as they tend to brown too quickly and can result in burnt bottoms and edges.
To help you navigate the seemingly endless assortment of baking pan sizes, here's a list of my most commonly used sizes to get you started:
Half sheet pans – A good set of sheet pans is crucial for any baker and will easily be the most used pans in your kitchen. I like half sheet pans, which you can use for sweet and savory applications as well as cookies (you really don't need a separate cookie sheet in my opinion). You might want to try a few different styles to see what you like best, and, to be honest, it often depends on the cookie (often times if my first pan of cookies comes out too spread out or weird, I'll try another pan first before deeming them a failure).
As a rule, darker baking sheets will brown more, while aluminum or lighter colored ones far less so. I'd start with a good quality medium to light colored set of non-stick sheet pans (My favorites are from KitchenAid, OXO, and King Arthur) and go from there, maybe adding an inexpensive aluminum sheet pan, quarter size sheet pan, or a jelly roll pan to your collection (useful styles and sizes to have if you have the space).
13-by-9-inch rectangle pan – for brownies, bar cookies, and rice krispie treats (oh my) a 13-by-9 rectangle pan will be your go-to. Look for a pan with nice square corners and straight sides for neat and tidy bar cookies and brownies if you care about that sort of thing.
8-by-8-inch square pan – An 8-by-8 pan is exactly half of a 13-by-9, making it perfect for smaller batches of brownies and bars (I'll often halve large recipes and use this pan). I prefer the 8″ square for this reason, but if you have a 9″ instead, just make note if you are using recipes meant for one in the other (bake time might change). And if you're really into small batch baking, you can also get a 6-by-6 version that will perfectly hold a halved 8-by-8 recipe.
Round cake pans – A set of 8-inch-round cake pans is the most versatile size (9″ is fairly standard as well, but it's easier to adapt a 9″ recipe to an 8″ one [just discard some of the batter] than the other way around). Or, if you are regularly baking for fewer people, 6-inch cake pans are perfect for making half batches. I'd recommend at least 2 of the same size, preferably 3 if you plan to make multi layer cakes (it's much easier to bake them all at once than having to reuse the same pan multiple times). Look for cake pans with straight vertical sides, which will make trimming easier (it baffles me why so many round cake pans have tapered sides… I'm not baking a pie for gosh sakes!)
Cheesecake pan – I personally hate springform pans. They're usually thin and don't bake evenly and they leak when you try to use them in a water bath. A few years ago I discovered these beautiful aluminum cake pans with removable bottoms. When it comes to baking crack-free cheesecakes, they are far superior to even the best springform pan, but I've also used them for cookie cakes and ice cream cakes and anything that can benefit from the removable bottom. If you insist on getting a springform pan, a 9-inch size is the most versatile; look for one with nice thick walls, the heavier the better.
Pie pan – I like a basic 9″ aluminum pie tin without any frills, ruffles or handles. Seriously, this is one situation where you really don't need anything fancy. You also won't be upset when you inevitably get knife marks from cutting slices out of pies; just replace it when it gets too beat up.
Muffin pan – A standard 12-cup muffin pan has many uses, from muffins to cupcakes to bite-sized stuffins (stuffing muffins). I personally like my Wilton aluminum pan the best, since I always use liners anyway a non-stick surface isn't as big of a deal to me, and after baking many many batches of cupcakes, this one bakes up the most even. One thing to note: not all 'standard' muffin pans are the same size. You want one that fits a cupcake wrapper without scrunching (unfortunately, as much as I love most of their other bakeware, I have to give KitchenAid a big red mark here since their muffin cups are noticeably smaller.)
Mini muffin pan – Because everything tastes better when it's mini! You can find mini muffin pans with both 12 and 24 cup capacities. My mini muffin pans are nonstick and darker than my regular muffin pan (although they are both Wilton), but the nonstick is preferable here since I will often use this pan for mini tarts or other desserts without cupcake papers.
Loaf pan – 8.5×4.5 is technically the standard size for loaf pans (this is what I use because I love the nice square corners, but the uncoated surface means I always have it lined on at least 3 sides with parchment paper). 9-by-5-inch is a fairly common as well, and you'll see recipes written for both. Just note they are not completely interchangeable, so whatever size you have compared to the recipe you are following, adjust bake time and batter quantity as needed to compensate.
Bundt pan – not essential, but bundt cakes are some of the easiest and most elegant cakes you can prepare. A standard 10-inch (12-cup) bundt pan will get you started, but this is one situation where really good nonstick is important (trust me, because you've never buttered and floured it quite as well as you think you have).
Tart pan with removable bottom – different than a pie pan in that it has short, fluted sides and a removable bottom for easy cutting and serving. A 9-inch round tart pan is standard, but this rectangle size is an equivalent volume and makes for really elegant looking tarts. If you like miniature things, I also love this mini tart pan that makes 4 individual size tarts in a single pan.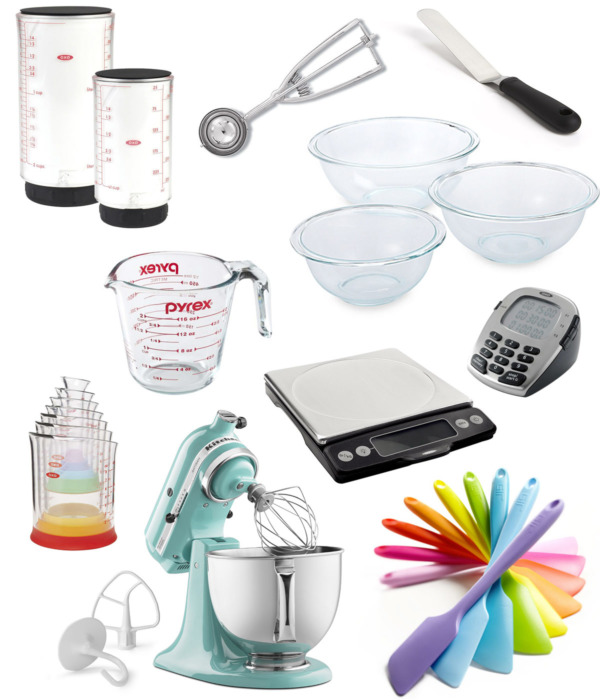 Mixing & Measuring
Kitchen Scale – For truly accurate baking, a scale is key. For things like flour especially, cup measurements are entirely inaccurate, and for that reason, baking by weight is preferred by pro bakers everywhere. This OXO® Good Grips Scale one is our favorite, but any scale that accurately measures ounces and grams is perfectly acceptable.
Kitchen Timer – You have to be able to accurately time your baked goods. This Triple Timer from OXO has 3 counters, so it's perfect for when you are multitasking. I'll often start one timer on a countdown and start another counting up, so if I have to put something back in the oven for a few more minutes, I'll have a final count of just how long it baked.
Stand Mixer – A stand mixer is the ultimate baker's assistant, not so much cookies and simple baked goods (any electric mixer will work for that), but when you get into things like marshmallows and meringues that require beating for upwards of 10 or more minutes, well, let's just say I don't have the arm strength for that.
Mixing bowls – I have a set of Pyrex mixing bowls as well as a set of lighter weight plastic ones. Bowls really are a personal preference, you've got to find the set that works for your baking style. The Pyrex bowls are great because they are microwave safe, but the plastic ones are light weight and easier to wrangle in some situations.
Measuring cups – An essential essential. You really can't bake anything without measuring cups (unless you do it all by weight, of course!) You'll need at least a basic set of dry measuring cups and spoons as well as a 1 and/or 2 cup liquid measurer (because dry and wet ingredients are measured differently). I also personally love these plunger measuring cups for things like peanut butter, sour cream, or shortening. And for more accurate measures of smaller quantities of liquids like vanilla and lemon juice, these OXO® Mini Beakers are the bomb.
Ultimate Spatula – These Ultimate Spatulas from GIR are my absolute favorite spatulas. I own a half dozen of them, both in the regular size as well as a few skinny and mini sizes. I love that they are completely silicone, which means no grime gets stuck where the handle meets the head. The silicone grip also makes it no slip and extremely comfortable to hold and use.
Offset Spatulas – For spreading batter in pans and frosting layer cakes. I have a large size and a smaller size for various uses. You really can't frost a cake without one (ok, technically you can, but it won't be pretty or easy).
Pastry Blender – For pie crusts and biscuits, a pastry blender beats a food processor (or two knives or whatever you've been using) any day.
Cookie Scoops – I use these scoops regularly for baking. The largest size is the perfect amount for standard size cupcakes, the middle size ideal for chocolate chip cookies, and the small size for truffles, mini cupcakes, and thumbprint cookies. Mine are Pampered Chef, but OXO also has a set with more comfortable grips.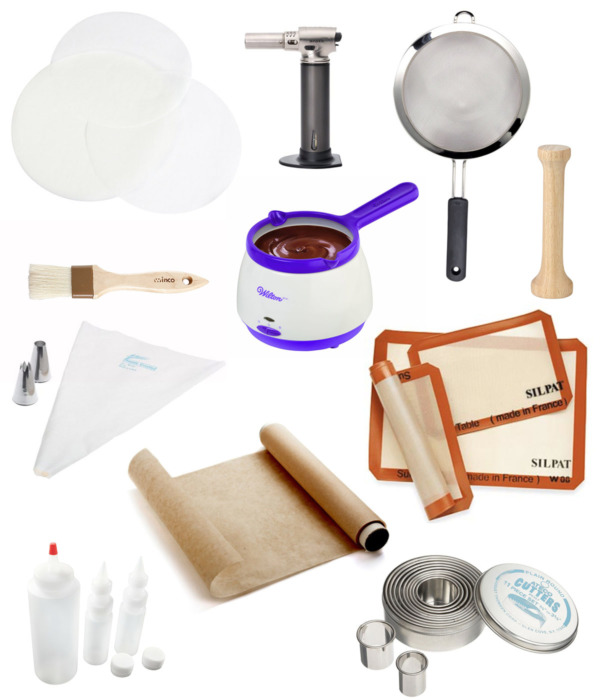 More
Parchment – Parchment paper is a great pan liner that prevents baked goods from sticking and makes for easy cleanup. Do NOT substitute waxed paper, it is not the same thing (waxed paper is not oven safe). I personally keep rolled parchment, parchment paper sheets, as well as some pre-cut parchment rounds for cake pans on hand at all times.
Silpats – These days, I pretty much always line my baking pans with something. Either parchment paper or silicone baking mats, but I never bake on naked baking pans. Silpats are great because you don't even have to wash them: just wipe them down to remove any residual grease and use them again and again. They are the absolute best for macarons.
Fine Mesh Sieve – I hate sifters. Useless unitaskers. But, for some recipes and ingredients, sifting is crucial, and that's why I love my fine mesh sieves. They serve many purposes in the kitchen, one of which being sifting flour, cocoa, or powdered sugar and removing the clumps. I have a 6″ and an 8″ size, as well as a mini one that's perfect for straining out lemon seeds and dusting powdered sugar.
Chocolate Melting Pot – It is so easy to burn chocolate, or overheat it so it gets greasy and separated. A double boiler is usually the recommended method over the microwave (since the heat is gentler, it's harder to overheat). But once I found this little gadget I was sold. It has a warm and a melt setting, and if I'm trying to keep the existing temper on some chocolate, I'll use the warm setting and take it off the heat periodically as well, in attempts to keep the chocolate below 88 degrees F.
Round Cutters – I use this set of basic round cookie cutters regularly, for everything from biscuits to doughnuts to coring cupcakes for fancy fillings. You can also find fluted and square cutter sets, but the round is definitely my most-used.
Piping Bag & Tips – I'd suggest one large and one small pastry bag (you can also spring for a box of disposables if you hate the cleanup, but I like the feel of a cloth pastry bag in my hands) and at least a 1/2-inch round tip and a jumbo star tip for cupcakes. You can certainly go tip crazy (there are millions out there), but those two are my most used.
Pastry brush – Whether you are brushing biscuits with butter or dusting excess flour from homemade mochi, a basic pastry brush is essential. I personally like a natural bristled brush (it doesn't melt if it touches something hot). And, while silicone brushes are easier to clean and great for meat and barbecue sauce-type applications, for baking, they aren't quite brushy enough for me.
Bench Scraper – If you're baking anything with dough, be it biscuits, pie crust, or bread, a bench scraper will make quick work of cutting, scraping, and folding doughs. Most also include a built in ruler along the edge (it's the tool you never knew you kneaded).
Tart tamper – For cookie-based crusts, a tart tamper is immensely useful (so much easier than trying to use your hands to pack a crust).
Microplane grater – for lemon zest, nutmeg and fresh ginger, a microplane grater gives you super fine shreds of zest, no extra chopping needed.
Squeeze Bottles – I use these restaurant-staples regularly, whether to store excess caramel sauce or get the perfect drizzle of chocolate or perform detailed frosting work. I have a set of 8oz bottles and 2oz bottles for various uses, each comes with removable lids and tips.
Kitchen Torch – From crème brûlée to marshmallows, a small kitchen torch will set your world on fire (also, get a fire extinguisher. I should have probably started this list with that, as it's by far the most essential, and yet [hopefully] least used, item in your kitchen!)
***
Of course, once you start baking in earnest you'll likely find more pans and gadgets and kitchen helpers that will seem essential too. This is just the basics, if I were starting over today and had to go out and buy brand new everything, this is what I'd start with.
I've told you, now, you tell me…
What are your essential baking tools?