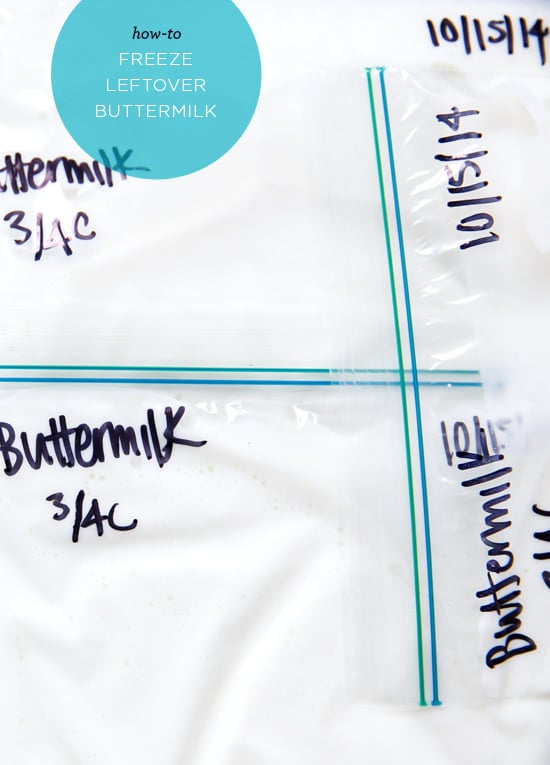 If you're like me, you lament the fact that buttermilk is only available in quart-sized containers. I mean, really, you can buy a pint or half-pint of cream, heck, you can even buy pint of milk these days, but only full quarts of buttermilk?
If you're also like me, buttermilk isn't exactly the most commonly used item in your kitchen. You need it every now and then when you are making some biscuits or pancakes or chess pie, but those use maybe a cup or two at most. Sure, since buttermilk is already slightly soured it does last longer than regular milks, but it won't last forever. And if you're (once again) like me in that you feel the good, full-fat stuff is well worth the extra money, you don't exactly like the idea of wasting it.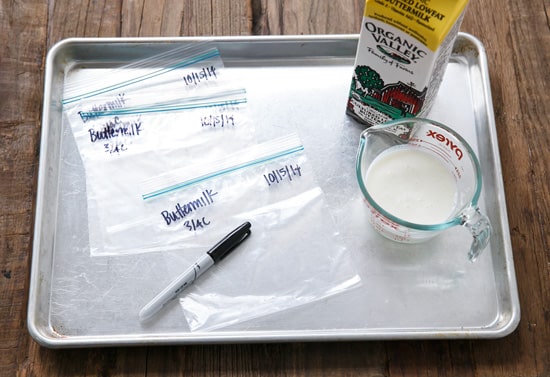 Luckily, freezing buttermilk is incredibly easy, and if you measure it out according to what you most use it for, (3/4 cup for one batch of biscuits in my case) you can thaw it out as needed.
First, make room in the freezer. You'll want space for a cookie sheet to lie flat and level in your freezer. I find arranging a bunch of boxes of waffles and bags of frozen fruit to form a sort of level platform. But maybe your freezer is more orderly than ours (it wouldn't take much) and you've got plenty of space. If so, lucky you. You should really freeze more stuff.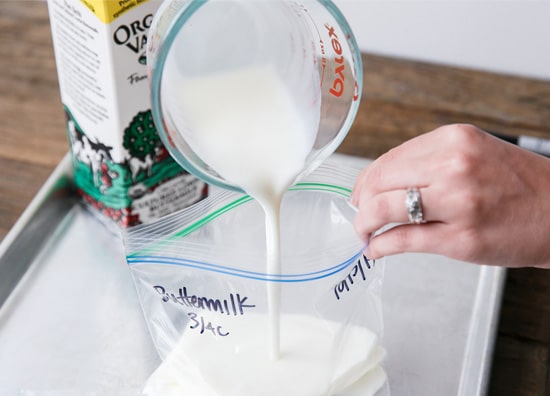 Label your bags. I recommend including the description and amount of what's inside, as well as the date. Because no matter how good you think your memory is now, you will not remember what that random bag of stuff is in 4 months. I promise you. Labeling is your friend.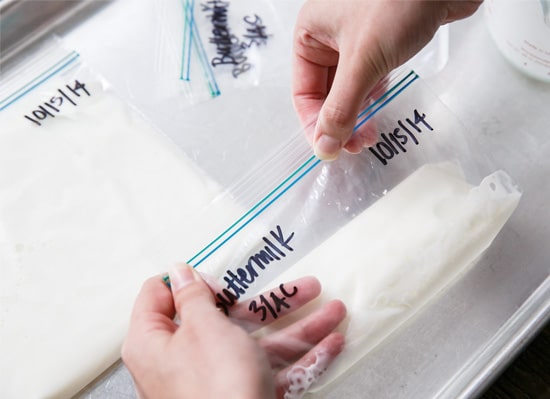 Portion out your leftover buttermilk into the labeled bags. Fold them over to press out any remaining air inside, then seal and lay them flat on a cookie sheet.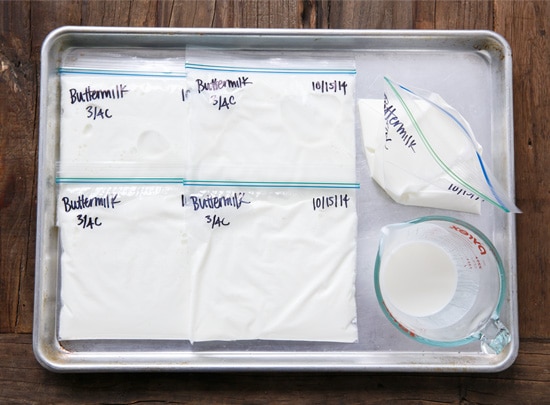 Why flat? Well, they'll freeze that way. And then you can stack them up nice and neat in your freezer, alongside your egg whites and tomato sauce and basil pesto (which you can also freeze the same manner). Like your own little frozen foods library.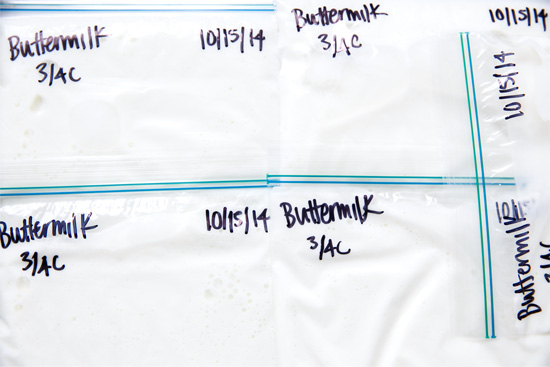 To thaw your buttermilk, just put the bag in the fridge overnight until it's thawed. Or, if you're like me (and really, most of you probably are in this sense) you forget to thaw it ahead of time and need to use it immediately. Fill a baking pan with lukewarm water and submerge the bag. Swap out the cold water for new lukewarm water once or twice as needed, and in about 20 minutes your buttermilk should be totally thawed. That's another benefit to flat-freezing: much quicker thawing times than if you were to freeze them in a blocky container.